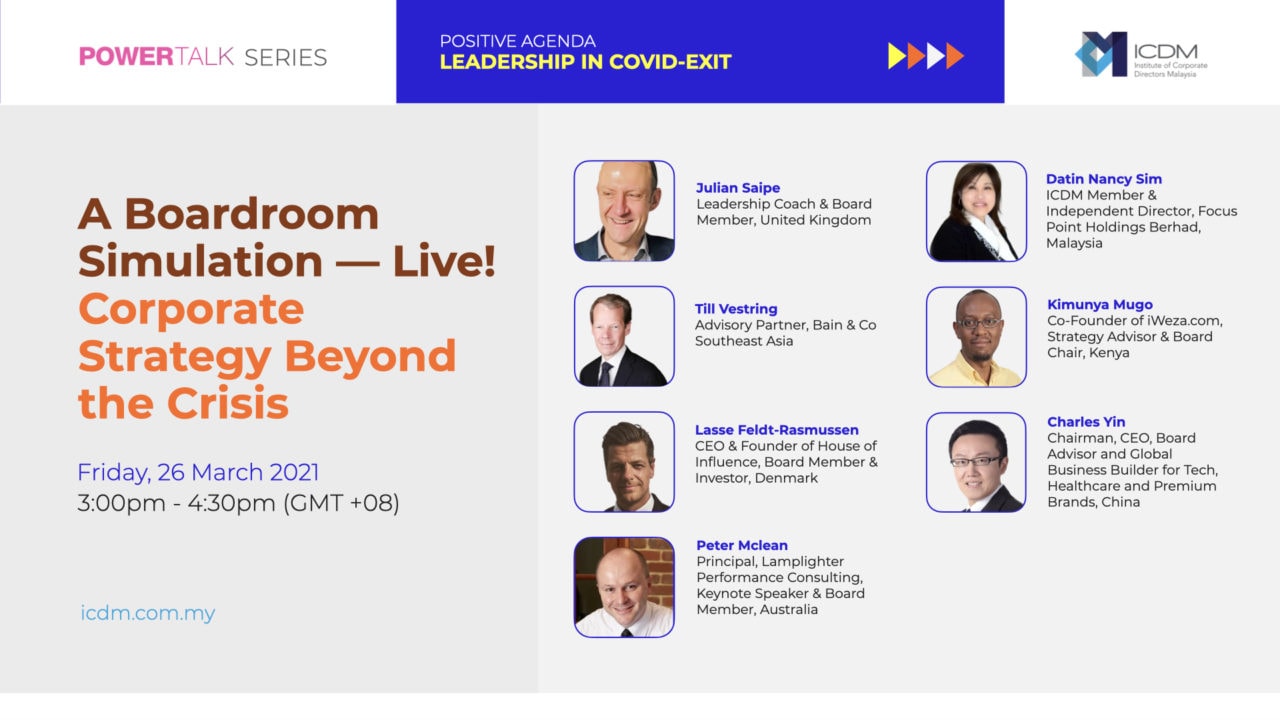 This session is part of the PowerTalk Series, themed "Positive Agenda: Leadership in Covid-Exit".

The business today is a continual change that faces constant threats – more so in current pandemic times where companies are seeking to turn massive complexities into meaningful change through effective strategies. Still, there are not enough debates in the corporate world about what strategy really means; and the development and execution of a corporate strategy is now seen to be a board's most important function – a key source of differentiation between companies.
So why is this exercise often challenging in practice?
Over the last decade, many corporate boards have sought a more substantial role for directors in the strategy-setting process. Furthermore, directors are facing increased calls from other stakeholders, including management and investors, to be more deeply involved in setting strategy. Some argue that strategy is a CEO-only role; and, on the flip side, there is a great deal of confusion among boards as to what they should and should not do when it comes to participating in strategy-setting. As a result, many boards often find themselves acting as nothing less than a rubber stamp of the CEO, whilst others find themselves in conflict with the management when they take on a more active role.
Often in the course of such conversations, board directors discover that many difficulties in strategy deliberations stem from the lack of a common vocabulary. The fact is, some boards may be lacking the appropriate expertise to deal with strategy in the modern environment; they may also lack the capacity to master the variety of strategic approaches that are required today.
At this session, our diverse panel will examine and deliberate on the 'enhanced' role of directors in relation to strategy in 6 key areas:
Defining the notion of strategy and what it means to you and the organisation
Balancing and exploring the different possible roles boards might play – supervision, co-creation or support or a combined role
Implementing stronger board dynamics that foster effective debates that will result in good decisions and actions
Dedicating more time to strategy, looking at strategy work as an iterative process, not a big bang or one-off event
Developing the right facilitation skills – keeping strategy discussions strategic and focused
Leveraging on external perspectives and integrating 'outside' voices into the strategic process
The session will start off with a virtual board simulation, based on a board corporate strategy meeting. The panel speakers will be designated specific roles, and will contribute to the boardroom deliberation on a particular strategy agenda. After the simulation, the panel will discuss what went well and wrong, touch on some best practices, as well as tips and guidance in increasing the value of the board, where it can be an effective partner of the management to guide the company's future direction.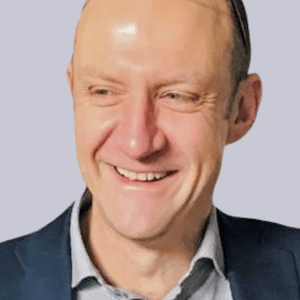 Julian Saipe
Leadership Coach & Board Member, United Kingdom

A former entrepreneur and business leader, Julian's work now includes leadership coaching and executive education, with the aim of bringing new consciousness to human performance. Julian's career spans 20 years of entrepreneurship, leadership, and humanistic psychology training and practice.
Julian began his career as an opera singer and performed at the Royal Opera House Covent Garden for 8 years. After a decision to give up professional singing, he founded Zafferano which became one of London's highly acclaimed food and event management brands. The Company was acquired in 2018 and Julian exited the business.
Julian now coaches Chairmen, CEOs, and executive teams, and runs leadership development training programmes internationally. He is an Adjunct Professor on the Talent Development Masters Program at IE Business School in Madrid, a Forbes Contributor & Member of the Coaches Council, and a speaker for Vistage International, a peer mentoring and coaching organisation for CEOs.
Julian sits on the advisory board for a range of technology businesses and is a board trustee for three charities in the fields of education, international and social development.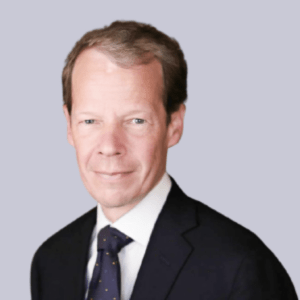 Till Vestring
Advisory Partner, Bain & Co Southeast Asia

Till joined Bain's Munich office in 1990 and has spent the last 25 years in Asia, with postings in Sydney, Hong Kong, Singapore and Tokyo. He previously served as Bain Southeast Asia's managing partner, as well as the leader of the firm's Asia Pacific Advanced Manufacturing & Services and Energy & Natural Resources practices.
Till has worked extensively with Southeast Asian companies on portfolio strategy, growth, M&A and merger integration, organisation and performance improvement programs. He has also worked with multinationals on growth strategy, M&A and merger integration across all major Asian markets, in particular in industrial goods and services.
He has published articles on strategy, M&A and cost competitiveness topics in the Harvard Business Review, Sloan Management Review and other publications.
Till has a Masters in Economics from the University of Bonn in Germany. Prior to receiving an MBA from the Haas School of Business, University of California at Berkeley, he worked as an analyst at Mark Producing.
He is a non-executive board member of two publicly listed companies (Inchcape plc, UK and Keppel Corporation Singapore.) and two private companies (Advanced Micro Foundry, Singapore and delaware International, Belgium).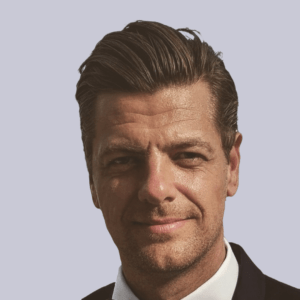 Lasse Feldt-Rasmussen
CEO & Founder of House of Influence, Board Member & Investor, Denmark

Lasse is specialised in navigating professionals through business conflicts and dealing with complex negotiations. He is an experienced board member, investor, and advisor. His specialty is securing alignment in boardrooms with founder representation and mixed levels of competencies.
Lasse has ten years of experience training and advising professionals in complex negotiations and holds a MSc. from Copenhagen Business School. Early career was focused on working capital management, but most of his career has been focused on negotiations, conflict management, and coaching of executives and business owners.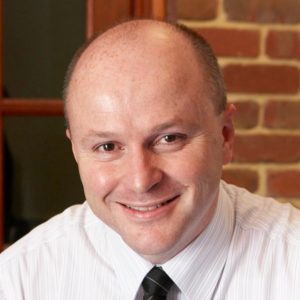 Peter McLean
Principal, Lamplighter Performance Consulting, Keynote Speaker & Board Member, Australia

Peter McLean has been called a miracle worker by his clients. The Principal Director and co-founder of Lamplighter Performance Consulting, he is an expert in human development and leadership, with a unique ability to blend and create innovative and powerful approaches from multiple disciplines. He has helped numerous businesses, CEOs, executives and professionals to grow and achieve their visions.
His broad international experience and work cover the gamut of industries as a professional, and as a consultant and executive coach, providing his clients with dramatic insight and strategic breadth with a personal bent. His client work has delivered many millions of dollars of measurable value, plus commensurately immeasurable value with dramatically changed leadership and lives.
As a speaker, writer, consultant and executive coach, Peter draws on his incredible breadth of professional experiences on 3 continents, his expansive education, including his unique doctoral research and qualifications, from IT and business to communication studies, theology, philosophy, psychology and leadership studies. His personal gifts and talents include being a pragmatic strategic thinker, problem solver and communicator.
Peter provides unique strategic, advisory, leadership, cultural and performance-based improvement services. He coaches individuals, groups and boards to help them create outstanding results. He is provides active leadership, exec director and NED services.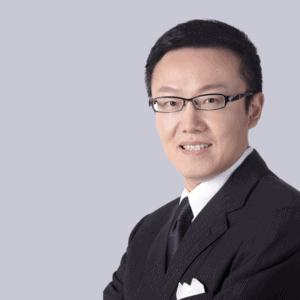 Charles Yin
Chairman, CEO, Board Advisor and Global Business Builder for Tech, Healthcare and Premium Brands & Founder China-Japan CEO Forum, China

Charles Yin is the Executive Chairman of Worldwide City Holdings (WCH) headquartered in Beijing and Hong Kong. He focuses on investing in companies with sustainable advantages and advising CEOs and board members at Fortune 500 companies and emerging multinationals in China and around Asia. Mr. Yin is actively involved in NPO activities and founded the China-Japan CEO Forum (cjforum.org) and World Leaders Center (wlc.cjforum.org), an invitation-only discussion roundtable for CEOs and chairpersons of leading companies in Japan, China and the rest of Asia. He is the author of a bestselling book Winning in China: 10 Principles and 50 Tips.
Mr. Yin has over 30 years of experiences in China (Beijing, Shanghai), Asia Pacific (Singapore, Hong Kong), Japan (Tokyo) and the U.S. (New York City), leading changes and making strategic investments in tech, health care, consumer products, luxury goods, retail and logistics companies.
Mr. Yin is a well-known and powerful figure among the CEOs and boards of many Fortune 500 companies and emerging Asian multinationals conducting business in China and Asia. Through the years, Mr. Yin has helped companies, governments and NPOs to achieve significant successes and overcome numerous C-level challenges. Mr. Yin sits on the advisory board and advises the CEO and board for Asia's leading tech, healthcare, premium brand, consumer product and logistics companies such as Sony, Takeda, Shiseido, Meiji, Yamato and serves as board of trustee for two NPOs and Japan's #1 globally ranked MBA school IUJ.
Mr. Yin is also one of the most sought out keynote speakers focused on corporate strategy, organization transformation, digital transformation, leadership development, cross-border M&A, post-merger integration, joint venture management, crisis management, innovation and negotiation in China, Japan and Asia.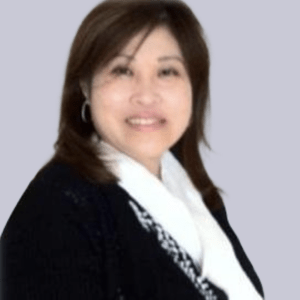 Datin Nancy Sim
ICDM Member & Independent Director, Focus Point Holdings Berhad, Malaysia

Datin Nancy is an experienced independent director with a demonstrated history of working in the insurance, consulting, real estate, and hospitality industry.
Her combination of local and international experience in Asia covers both the developed and emerging markets, working with start-ups in China, India, Vietnam. She has also worked regionally in locations like Japan, Hong Kong, Indonesia, Maldives, Singapore and the Philippines. Her core expertise covers partnering business leaders in setting-up new offices, IT shops, sales and acquisition of businesses and also human resource transformation, which includes setting-up HR, shared services practice, and HR & IT outsourcing.
As the Senior Vice-President of Human Capital at Great Eastern Life Assurance (M) Berhad, Nancy led her employer to win the Best Employer Award for Insurance for five years, and also the Life Office Management Association (LOMA), for Excellence in Education for more than six years running. As a hotelier, Nancy has also been nominated by her employees for the Women's At Work, Women's Manager of the Year 1992/1993 of which she was one of the top ten finalists. With her strong marketing capability, Nancy has also been instrumental in leading her past hotel organisations to win several Tourism Gold Awards in Malaysia.
She currently serves on various Malaysian PLC boards and committees.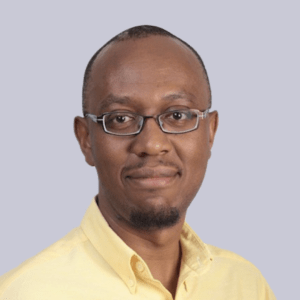 Kimunya Mugo
Co-founder of iWeza.com, Strategy Advisor & Board Chair, Kenya

Kimunya is a Certified Professional Coach (International Coach Federation-approved coach training programme), Clarity4D Accredited Business Partner, Strategic Planning Consultant and Communication & Branding specialist. He brings over 20 years of unique experience and competence that can enrich one's portfolio and growth.
Kimunya is the Chair of the Board of Kenya Network for Dissemination of Agricultural Technologies and has served as a Commissioner in the Sports & Environment Commission, National Olympic Committee of Kenya. He has also served as a Board Member of International Coach Federation Kenya Charter Chapter (2018-19).