By Prof Mak Yuen Teen
Case Overview
In April 2020, Singapore's oil trading colossus, Hin Leong Trading (Pte.) Ltd. (HLT), filed for bankruptcy protection. Founded by Lim Oon Kuin – who is widely known as O.K. Lim – HLT was one of the largest oil traders in Asia and was listed among the top 16 commodity trading firms worldwide, alongside big players like Vitol and Noble Group. Together with other companies owned by O.K. Lim and his family, the Group's oil business spanned across importing, refining, storing, ship chartering and management, bunker delivery and trading of oil.
Trouble began for HLT in early April 2020 when major banks from JPMorgan Chase & Co. to HSBC Holdings Plc demanded the immediate and urgent repayment of hundreds of millions of dollars in loans. Its collapse sent shockwaves through the oil trading industry.
The objective of this case study is to facilitate a discussion of issues such as corporate governance and regulatory framework for private companies; corporate governance of family controlled and family-managed companies; role of banks; roles of external auditors and regulators; and alleged accounting fraud.
The Family Armada
In 1955, Lim Oon Kuin (LOK), more widely known as O.K. Lim, came to Singapore from a small town in Fujian province, China, as a twelve-year-old boy.  At the age of twenty, he began working as a "one-man-one-truck" oil dealer and was famously known as the man who drove a single truck delivering diesel to taxi companies, bus companies, and fishing boat operators. Some knew LOK as a keen poker player who would either go big or go home. In 2014, he was ranked 14th richest in Forbes list of Singapore's 50 Richest.
Hin Leong Trading (Pte.) Ltd. (HLT) was incorporated in Singapore in 1973 as a private company under the Companies Act, with its address at 1 Playfair Road. LOK owned 75% of HLT, while his son Lim Chee Meng (LCM) owned 15.4%, and his daughter Lim Huey Ching (LHC) the remaining 9.6%. Since HLT has only three individual shareholders with no corporate shareholders, it is an exempt private company (EPC) under section 4 of the Singapore Companies Act.
In August 1975, Hin Leong Marine International Pte Ltd (HLM), a bunker supplier, was incorporated as a private company, with 54.55% owned by HLT, and the rest by LOK and LCM. Unlike its parent company, HLM is not an EPC as one of its shareholders is HLT, a corporate shareholder. Less than three years later, another bunker supplier, Ocean Bunkering Services Pte Ltd (OBS), was incorporated as a private company and became a wholly-owned subsidiary of HLT. Like HLM, OBS is not an EPC. That same day, the family incorporated Ocean Tankers (Pte.) Ltd. (OTPL) as a private company, which charters and operates tankers. It is jointly owned by LOK and LHC. OTPL is an EPC because it is not owned through another company and has only two individual shareholders.
In April 1989, Xihe Investment Pte Ltd (XHI), an investment holding company, was incorporated as a private company and became another wholly-owned subsidiary of HLT. The following year, Xihe Holdings Pte Ltd (XHH), a ship-owning company, was incorporated as another private company. Like OTPL, it is an EPC, owned by LOK and LCM. In September 2017, yet another ship-owning company, Xihe Capital Pte Ltd (XHC), was incorporated. Again, it is an EPC, owned by LOK and his two children.
The directors of all the companies in the Group comprise of LOK and/or his two children. Under XHH and XHC, there are many subsidiaries which are private ship-owning companies. Most of these companies are 90%-owned by XHH and XHC, with the Lim family members usually owning the other 10%.
Figure 1 shows the main companies owned by the Lim family.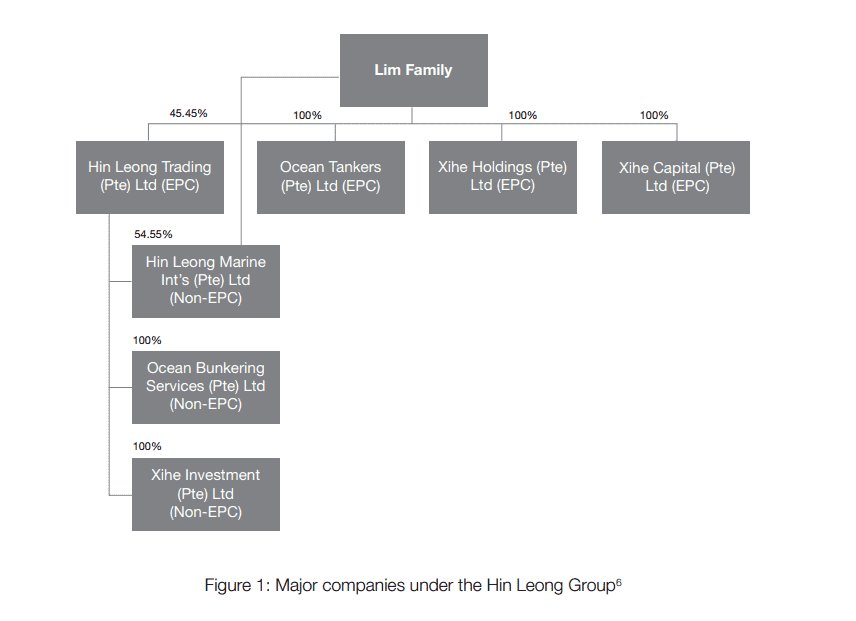 The Lim family also expanded into the oil storage business with the building of Universal Terminal, which became commercially operational in January 2008. Universal Terminal is owned by Universal Terminal (S) Pte Ltd (UTS), a private company which is 41% owned by the Lim family through another private company, and Singapore-incorporated companies owned by PetroChina and Macquarie Bank holding the remaining 59%.
The structuring of the business allowed the family to take on significant risks, while enjoying the limited liability protection of the corporate structure. Many of these companies operate within a regulatory framework based on minimal disclosures and lower auditing standards applicable to EPCs.
"Hin Leong is a company that likes risk…But this time the risk became too big."
Jorge Montepeque, a veteran oil market executive who knows O.K. Lim
The Growth Spurt
"Hin Leong was instrumental in helping the growth of Singapore as an oil hub and bunkering
location,"
Jean-Francois Lambert, a commodity industry consultant
By the end of the 1980s, the Group was widely recognised as one of the major oil traders in the international petroleum trading arena and was awarded the Global Traders Program status by International Enterprise Singapore.
After the 1997 Asian financial crisis, HLT grew in parallel with Asia's recovery. As Indonesia, Malaysia and others rebounded, so did the demand for diesel and fuel oil – the staples which HLT traded in. Back in 1997, HLT had taken a bet by buying 30 million barrels of jet fuel and diesel in the key Singapore market – worth nearly US$800 million – over a three-month span. As China's growth accelerated over the following decades, more ships stopped in Singapore for fuel due to the country's unique position, and HLT soon became a giant of the industry.
An early sign of trouble?
In 2012, the Monetary Authority of Singapore (MAS) fined Lim Oon Cheng (LOC), LOK's brother, for insider trading in the shares of Singapore Petroleum Company Limited and Keppel Corporation Limited, along with LOK's other daughter, Lim Huey Yih (LHY). LHY was the Senior
Vice-President of Business Development at HLT. LOC had made a profit of S$3.818 million on his insider trades and paid a civil penalty of S$9.597 million, while LHY earned S$896,340 and paid a civil penalty of S$2.241 million. LOC's civil penalty was the largest penalty ever handed down for insider trading in Singapore. Was this an early sign that all is not as it seems in the Lim household?
Sticky situation
"The country's Trade and Industry Minister Chan Chun Sing said in a Bloomberg TV interview
last week that he doesn't think Hin Leong's collapse would affect the wider market, and that 
he doesn't think the case has dented the country's reputation at this point."
Bloomberg
When HLT collapsed, it sent shockwaves through the industry. HLT was a colossal firm, with total Group revenues of US$20.3 billion and total comprehensive income of US$83 million for the year ended 31 October 2019. Total assets amounted to US$4.6 billion. HLT's total revenue was almost identical to the 2019 total revenue of China Aviation Oil (Singapore) Corporation Ltd (CAO). CAO, whose businesses are in jet fuel supply and trading, trading of other oil products and other oil-related assets, is listed on the Singapore Exchange (SGX). It had a market capitalisation of about S$855 million, and was ranked as the 96th largest listed company on SGX as at 31 December 2019, a ranking which includes large secondary listings. HLT's sister company, OTPL, had revenues of US$723.9 million and a total comprehensive loss of US$105.9 million for the year ended 31 March 2019.
The oil industry is highly exposed to macroeconomic factors such as commodity prices, currency fluctuations, interest rate risk and political developments. It has been riddled by accounting frauds and scandals, and the lack of transparency in the industry makes matters worse. Shortly after HLT imploded, a number of other scandals relating to companies in the sector or related sectors became public. One of these involved Inter-Pacific Petroleum Pte Ltd (IPP), where Goh Jin Hian (GJH), the son of Singapore's former Prime Minister, Goh Chok Tong, was a director. GJH was sued for breach of director's duties, which he has denied. The lawsuit was funded by two of IPP's bank creditors – Maybank and Société Générale – which sought to recover losses resulting from GJH's alleged negligence.
What started the fire?
"You see Singapore showing up in the commodity problems because they have gone out
and provided aggressive financial incentives for people to locate these commodity trading
businesses in Singapore. So you have a higher propensity for those businesses to be in
Singapore."
Michael Dee, former senior managing director at Temasek Holdings Pte Ltd
Due to the COVID-19 outbreak, oil prices collapsed, crushing the demand for crude oil. This was seen to be a catalyst for frauds to come to light.
As Singapore is often ranked as the leading oil trading hub in Asia, this industry is especially critical and receives considerable support from the government, including financial incentives to encourage commodity trading businesses to relocate to Singapore. Some observers have cited this as a contributing factor to the problems in the industry.
Playing foul on Playfair Road
"They presented a vastly misleading picture of its financial health to external parties and
deceived its lenders into extending financing even though Hin Leong has been insolvent since
the financial year ended Oct 31, 2012."
Goh Thien Phong, judicial manager from PwC
The report issued by the interim judicial managers, PricewaterhouseCoopers Advisory Services Pte. Ltd (PwC), extensively discussed the alleged fraud at HLT, including "account manipulation, forged documentation and fictitious profits, including the overstatement of derivatives trading gains and inventories".
Swimming with futures and swaps 
LOK admitted in court documents that he was fully aware of the estimated futures trading losses amounting to approximately US$808 million, which was accumulated over ten years. In order to conceal the losses from futures trading, HLT allegedly created fictitious derivatives and trading gains. The company only used two clearing members to execute futures transactions through Intercontinental Exchange. LOK and his son, LCM, were the only persons in the company who traded in futures, and LOK was said to be the principal futures trader for the company. However, the interim judicial managers uncovered a list of persons authorised to trade in futures via an unnamed clearing member. Further, there were five traders under the 2017 List of Authorised Traders who were not employees of the company, and it was unclear whether these employees executed any trades on behalf of the company.
For swaps trading, HLT traded with about 24 counterparties from 1 November 2018 to 31 October 2019. Of these, 19 were handled by LOK alone, and transactions with these counterparties were believed to be fictitious. There was no usage of the "Paperswap Email Account" to transact or confirm the purported deals with these counterparties which was used for the other five counterparties. Instead, physical documents found appear to be confirmations of supposed swaps deals with these counterparties. These were purportedly copied to the Paperswap Email Account. Furthermore, eight of the 19 counterparties said they did not enter into such transactions. To keep up pretences and support purported gains from the fictitious swap transactions, it was alleged that documents such as bank inward remittance advices were meticulously forged to disguise inter-bank transfers between the company's own bank accounts as third party cash receipts.
Rising levels of accounts receivables
LOK also allegedly instructed that the finance department cover the losses in HLT's books to reflect positive equity instead of ensuring proper bookkeeping and the disclosure of losses. The company was said to have systematically manipulated its account receivables and possibly inflated its value by at least US$2.23 billion as at its financial year ending 31 October 2019.
This was made possible through fictitious sales, dissipation of inventory, and inter-bank transfers among HLT's various accounts to give a false impression that the company did not need to record a provision for bad debts. There were sharp decreases in its accounts receivables starting from the month following the reporting date and the abnormal figures in the recovery account, an account which was opened immediately after reporting date.
HLT allegedly falsely recorded non-existent cash received from accounts receivable into control accounts through normal accounting double entries. Subsequently, it would transfer the balance in the control accounts, which included the inflated amounts, to the recovery account. This enabled the company to inflate the value of its account receivables balance and give the appearance of legitimacy by ensuring that its accounts receivables were kept current.
Going overboard with inventory
"Hin Leong's total oil inventory stood at US$212 million as of May 20, less than a third of the
US$646 million owed to banks that provided inventory financing facilities."
Interim judicial manager PwC
HLT was also said to have potentially overstated its inventory by at least US$0.8 billion through the inclusion of a substantial amount of inventory that might not have belonged to the company. There were significant discrepancies between the inventory records used for HLT's audited financial statements for the year ended 31 October 2019 and the inventory records maintained by OTPL. These discrepancies were from the inventory onboard the floaters Chang Bai San, Wu Yi San and Sea Coral. Further, the inventory records used for the audited financial statements included inventory stored on board various vessels which were not chartered by the company. Moreover, HLT allegedly did not purchase the inventory on these vessels as at or around 31 October 2019. This was said to be further confirmed by one of the rightful owners of the inventory, the Sea Latitude charterer.
One of HLT's finance staff, who was in charge of monitoring the movement of the company's inventory for operational purposes and maintaining records of the physical inventory onboard the vessels by location, was questioned by the interim judicial managers on the discrepancies. She said she was given a handwritten list of vessels which included vessels not in the records. She was assigned to allocate the excess quantity to the vessels set out in the handwritten list despite being unable to explain the basis of the allocation and unable to provide any details or records to support the quantity of inventory on these vessels.
Further, HLT allegedly obtained inventory financing facilities by pledging cargo it did not own or that did not exist, and by inflating the quantity of cargo it owned. It also sold inventory that was intended to be held as collateral for another party. It was revealed that based on LOK's instructions, HLT sold a substantial part of its inventory and used the proceeds as the general funds of HLT. This occurred even if the inventory was the subject of inventory financing provided by bank lenders. All these actions contributed to the huge shortfall in the company's inventory as compared to the figures reported in the audited financial statements for the financial year ended 31 October 2019.
More gold required
As constant liquidity was needed to conceal accumulated losses over the years, HLT obtained financing from banks through financing schemes structured around the sale and repurchase of cargo at a loss. Such schemes appeared to have no commercial benefit for HLT apart from the generation of additional funding.
The process of "teeming and lading" – a process whereby "amounts received from a subsequent debtor are allocated to an earlier debtor's account so that the accounts receivables balances always appear to be current" – continued repeatedly and the constant need to obtain funds from banks through discounting or other forms of financing remained important, on top of its oil trading and blending business model. HLT often used fabricated documents on a massive scale such as bank remittance advices, bank statements, bills of lading, sales contracts, sales invoices, swap trade confirmation, swap trade tickets, deal settlement slips, and inter-tank transfer certificates to mislead banks into extending financing. One of the forged documents stated that HLT had transferred more than one million barrels of oil to CAO to secure more than US$56 million in trade financing.
It was also uncovered that HLT was granted financing under 273 outstanding letters of credit facilities from 23 banks to fund purchase of cargo from various suppliers, which contributed to the hefty liability of US$3.5 billion.
Law at sea
"To me, one of the major problems here is that even though it is very large with more than
US$20 billion in revenues, it could still be considered an exempt private company because it
has fewer than 20 shareholders and no corporate shareholders. To me, that is a big gap. The
family has the protection of limited liability of a company with very few safeguards. A recipe
for disaster."
Professor Mak Yuen Teen, Corporate Governance Advocate
Under section 18 of the Companies Act in Singapore, a private company is one whose constitution restricts the right to transfer shares and limits the number of shareholders to no more than 50. Under section 4 of the Companies Act, an EPC is a private company in which no beneficial interest is held directly or indirectly by a corporation and which has not more than 20 shareholders. It also includes any private company that is wholly owned by the Singapore government which the Minister of Finance, in the national interest, declares by notification in the Gazette to be an EPC.
There are differences in certain provisions in the Companies Act between private and public companies, and between exempt private companies and other private companies. For example, section 199(2A) states:
"Every public company and every subsidiary company of a public company shall devise and maintain a system of internal accounting controls sufficient to provide a reasonable assurance that
(a) assets are safeguarded against loss from unauthorised use or disposition; and
(b) transactions are properly authorised and that they are recorded as necessary to permit the preparation of true and fair financial statements and to maintain accountability of assets."
EPCs are not required to file annual accounts as long as they are solvent. Therefore, stakeholders which may have dealings with EPCs, such as suppliers, would not have access to their accounts.
Under XHH and XHC, there were 62 private ship-owning companies and 10 single-purpose ship-owning private companies. XHH and XHC usually owned 90% of these companies while the Lim family owned the rest.
Did the fact that the regulatory framework for private companies and EPCs allowed the Lim family to take significant risks while enjoying limited liability protection of the corporate structures without certain safeguards contribute to its collapse?
Auditor independence
All the companies controlled by the Lim family are not public interest entities (PIEs) because they are not listed companies, financial institutions, large charities, or institutions of a public character. The Accounting and Corporate Regulatory Authority Code of Professional Conduct and Ethics for Public Accountants and Accounting Entities (ACRA Code) differentiates between the standards that apply for PIEs and non-PIEs in a number of important areas. These include an audit partner joining an audit client after leaving the audit firm; partner rotation and cooling off periods; provision of certain non-audit services; and safeguards that apply when fees from non-audit services exceed certain thresholds. Therefore, while the Hin Leong Group companies were subject to audits, the independence standards that apply to these audits are lower than for audits of PIEs.
The ACRA Code does encourage public accountants and accounting entities to consider applying stricter requirements to entities not specifically included under PIEs. Section 290.26 of the Code says:
"Firms and member bodies are encouraged to determine whether to treat additional entities, or certain categories of entities, as public interest entities because they have a large number and wide range of stakeholders. Factors to be considered include:
(a) The nature of the business, such as the holding of assets in a fiduciary capacity for a large number of stakeholders;
(b) Size; and
(c) Number of employees."
Both Deloitte & Touche LLP (Deloitte) and KPMG LLP (KPMG), who were the auditors for HLT and OTPL respectively, confirmed compliance with the ACRA Code, but did not say if they had applied the higher standards applicable to PIEs. For example, they did not disclose if they provided certain accounting, tax, valuation, internal audit or other services which would not have been permitted for PIEs, or how much non-audit services were provided.
Auditors adrift
For the seven main companies in the Hin Leong Group, there were four different auditors. HLT and one of its wholly-owned subsidiaries, OBS, were audited by Deloitte. OTPL was audited by KPMG. The other two subsidiaries within the Hin Leong Group – HLM and XHI – together with XHH, were audited by a smaller accounting firm, Smalley & Sims PAC, while XHC was audited by another smaller accounting firm, Singapore Assurance PAC.
For listed companies, the SGX Rulebook states that significant subsidiaries "must engage the same auditing firm based in Singapore to audit its accounts, and its Singapore-incorporated subsidiaries and significant associated companies" unless "the issuer's board and audit committee are satisfied that the appointment would not compromise the standard and effectiveness of the audit of the issuer; or the issuer's subsidiary or associated company, is listed on a stock exchange".
For the companies owned by the Lim family, there is no independent board or Audit Committee to review the decision to use different auditors. Nevertheless, for the four companies within the Hin Leong Group, there is an auditing standard (SSA 600) that deals with special considerations in the audits of group financial statements (including the work of component auditors). This helps to ensure that there is communication and cooperation between the different auditors, even if practical challenges do arise.
However, this would not be the case for auditors auditing companies that are not part of the Hin Leong Group – that is, KPMG which audits OTPL, and Singapore Assurance PAC which audits XHC.
It was explained that for the majority of trades done by HLT, OTPL was nominated for the performance of the contracts. OTPL had issued bills of lading for the trades and is liable for these bills of ladings. However, the cargoes under the bills of lading had been discharged against instructions or letters of indemnity issued by HLT. Banks have provided inventory financing activities to HLT where the inventory is stored in facilities operated by OTPL. Bills of lading naming the bank lenders as consignees have been issued by OTPL. However, much of the inventory has been sold by HLT and can no longer be delivered to the holders of the bills of lading.
Would the above problems be less likely to happen if the same audit firm was auditing both HLT and OTPL – especially with the same audit partner in charge – or if OTPL was part of the Hin Leong Group?
Missing the icebergs
Deloitte and KPMG issued unmodified opinions for HLT and OTPL respectively. Since they are not listed companies, there are no key audit matters highlighted in the auditors' reports.
OTPL had blamed its difficulties on HLT's financial woes. OTPL's audited financial statements show the losses for the years ending 31 March 2018 and 31 March 2019 to be US$145.2 million and US$105.9 million respectively; and operating cash flows to be negative US$113.7 million and negative US$99.1 million respectively. As at 31 March 2019, the accumulated losses for OTPL totaled US$534.4 million, and its equity was less than US$6 million, compared to total liabilities of US$126 million. Furthermore, this was after a US$300 million share subscription by the family shareholders in February 2019.
OTPL did not look to be in the best of health either – but like HLT, it received an unmodified opinion and was not required to file audited accounts as an EPC.
Leaky risk management
Note 4(c) of the financial statements of HLT and its subsidiaries for the year ended 31 October 2019 describes the financial risk management policies and objectives.
"By its nature, the Group's activities are principally related to transacting crude oil, petroleum and related by-products. These activities expose the Group to financial risks arising from its operations and the use of financial instruments. The key financial risks include market risk (including price risk, interest rate risk and foreign currency risk), credit risk, and liquidity risk.
Risk management at the Group is a multi-faceted process with oversight that requires constant communication, judgement and knowledge of specialised products and markets. The Group operates a number of centralised financial, operational, compliance and legal risk management functions in order to monitor, manage and mitigate overall risk exposure, within approved guideline. The Group's senior management takes an active role in the risk management process and has developed policies and procedures that require specific administrative and business functions to assist in the identification, assessment and control of various risks. In recognition of the increasingly varied and complex nature of the global financial markets, the Group's risk management policies and procedures are evolutionary in nature and are subject to ongoing review and modification."
Note 20 of the financial statements of OTPL for the year ended 31 March 2019 similarly describes the financial risk management for the company.
"Overview
The Company has exposure to the following risks arising from financial instruments:
Market risk
Credit risk
Liquidity risk
This note presents information about the Company's exposure to each of the above risks, the Company's objectives, policies and processes for measuring and managing risk, and the Company's management of capital.
Risk management framework
The Company has no formal risk management policies and guidelines, which set out its overall business strategies, its tolerance for risk and its general risk management philosophy. It has however established informal processes to monitor and control such risks on a timely and accurate manner. Such policies are monitored and undertaken by the directors.
Risk management is integral to the whole business of the Company. The management continually monitors the Company's risk management process to ensure that an appropriate balance between risk and control is achieved. Risk management policies and systems are reviewed regularly to reflect changes in market conditions and the Company's activities."
Beyond the disclosures in the notes, there is no information on adoption of any formal risk management framework, such as COSO, or details about different lines of defence. There are no indications that the Hin Leong group of companies had any internal audit function. Further, as private companies, they are not subject to corporate governance requirements in listing rules or codes of corporate governance despite their size. For example, there is no separation between the board of directors and management as the Lim family members are the only directors on the boards of the Group companies and are also closely involved in management. There are no independent directors and no Audit Committee.
Banks on the rocks
The Hin Leong Group had large amounts of bank loans to finance their businesses. Some of their larger lenders included HSBC Holdings (HSBC), DBS Bank (DBS), OCBC Bank, Bank of China, Société Générale, and Standard Chartered Bank. HSBC allegedly has the largest exposure, at approximately US$600 million.
The onset of the COVID-19 pandemic led to the collapse of crude oil prices. Brent crude plunged from more than US$70 a barrel in early January 2020 to US$21.65 a barrel in late March 2020. Banks started having concerns about HLT's ability to repay debt and decided to freeze credit lines to the company.
On 14 April 2020, HLT made a last attempt in obtaining credit from banks. The company held talks with its lenders but was unable to reach an agreement, according to various media reports. In a presentation to its creditors, HLT estimated the debt recovery rate at 18 cents in the dollar, indicating massive potential losses for banks.
A few days later, LOK's son, LCM, who is a director of OTPL, filed an affidavit in the High Court of Singapore on behalf of OPTL in support of its application for a six-month moratorium relief pursuant to section 211B of the Singapore Companies Act. The revelations disclosed in the affidavit shocked the corporate community. It was revealed that HLT was obtaining financing and loans from banks by engaging in illegal practices such as selling cargo to another party and immediately repurchasing it at a lower price. In instances where multiple companies were involved, HLT would sell the cargo to one trading company then repurchase the same cargo from another. Despite being loss-making, each of the transactions would produce another injection of liquidity through financing extended by the banks.
One specific incident of a fraudulent transaction occurred in March 2020, where HLT managed to obtain financing from Société Générale to sell 780,000 barrels of oil to trading giant Glencore, which would be repurchased immediately by HLT. HLT received letters of credit supporting the two transactions, which were issued by Rabobank and DBS.
Where was the corporate governance?
"Part of why Hin Leong still managed to get bank loans was because of their status as an
established company. So they were able to negotiate with the banks, and made the banks
slightly afraid of HL. In the end they would just give them the loan without proper checking of
collateral assets."
Anonymous insider source
Banks are arguably the most strictly regulated of all companies when it comes to corporate governance. The fact that the Hin Leong Group was able to obtain loans from banks despite what appears to be a massive fraud over many years has raised questions about the corporate governance, risk management, and internal controls of the banks involved. Did the banks consider the concentration of power in the hands of the Lim family, and the resultant lack of checks and balances? Was there a lack of effective oversight by the board and management of the banks in managing credit risk? Did the boards lack knowledge and experience in the oil and gas industry? Was there inadequate monitoring of ongoing market developments and potential impacts on the banks by the banks' respective boards and management-level risk management committees, given the sharp fall in oil prices in early 2020 along with the onset of the COVID-19 pandemic?
In terms of risk management, was there a failure to identify high risks of lending to the oil and gas industry? Even though the banks involved were well-diversified by industry in their loan portfolios, it appears they did not factor in the high credit risk arising from the nature of the business of the Hin Leong Group. Did the risk management team fail to perform a rigorous analysis of credit risk involved in providing loans to customers such as the Hin Leong Group and put in place measures to mitigate these risks?
On the issue of internal controls, was there a lack of internal controls in checking for the existence of items held as collateral by HLT, authenticity of invoices and collaterals pledged? HLT had forged documents in order to secure financing from banks.
The Hin Leong fraud is certainly a big wakeup call for banks.
Salvaging the shipwreck
On 17 April 2020, HLT filed an application to the Singapore High Court for a six-month debt moratorium as it sought to restructure debts of almost US$4 billion. It was revealed that 23 banks had exposure to Hin Leong's financial troubles, including Singapore's three local banks – DBS, OCBC and UOB – which had a combined exposure of at least US$600 million. Following objections by bank lenders, HLT withdrew the application on 21 April 2020 and sought to have PwC appointed as interim judicial manager. The Singapore High Court appointed Goh Thien Phong and Chan Kheng Tek, partners from PwC Singapore, as interim judicial managers of HLT.
On 12 May 2020, OTPL was placed under interim judicial management by the Singapore High Court.62 The judicial manager of OTPL, Ernst & Young (EY), also sued LOK, LCM, and LHC for allegedly transferring more than US$19 million from OTPL's bank account to the trio's bank accounts days before the company filed for the debt moratorium. EY was seeking a court order for full restitution of the US$19 million to OTPL.
On 13 August 2020, the Singapore High Court appointed Grant Thornton Singapore as interim judicial managers for XHH, which was owned by LOK and LCM. This came after OCBC Bank successfully applied for interim judicial management, citing a strong distrust of the firm's current management after a total of US$208.1 million was transferred from Xihe Group to HLT "for no valid commercial purpose."
On 14 August 2020, LOK was charged with abetment of forgery for the purpose of cheating. The following month, another charge of abetment of forgery for the purpose of cheating was added. These offences carry a maximum punishment of up to 10 years and a fine. In April 2021, a further 23 charges were filed against him. LOK was charged for yet another 105 cheating and forgery offences in June 2021 and his bail was raised from S$3 million to S$4 million.
PwC, the judicial managers of HLT, also filed a suit against LOK and his children, LCM and LHC. The trio was alleged to have breached their fiduciary duties as the directors of HLT and its subsidiaries. A total claim of US$3.5 billion was filed against the trio as well as another US$90 million which was paid out to them as dividends throughout the years.
In their bid to recover US$3.5 billion of debt, in May 2021, the judicial managers of HLT successfully applied to the Singapore High Court to freeze the Lim family's assets worldwide. Asset sales have also started. Earlier in March 2021, Jurong Port completed the purchase of the Lim family's 41% stake in Universal Terminal for an undisclosed sum. In 2016, the whole terminal had been valued at more than US$1.5 billion. OTPL also closed a US$36 million sale of lube assets to Gulf Oil International, a unit of Indian conglomerate Hinduja Group, in July 2021. In the same month, LOK's bungalow in Bukit Timah – one of the nine properties in Singapore and Australia under the court-ordered asset freeze – was reported to have received an offer of S$28.5 million. However, recovering the huge debt owing is likely to be a long drawn out process and it remains to be seen exactly how much can be recovered.
The painful lessons from the collapse of the Hin Leong Group and other commodity traders have led banks to tighten their commodity lending practices. Banks have significantly scaled back their lending to the commodities sector in 2020. A number of banks were said to be exiting the trade and commodity finance business, in large part due to the commodity trading scandals in Singapore.
The fallout from the Hin Leong empire collapse may be much bigger than some have initially thought. The impact on other players in the supply chain and the long-term reputational damage to Singapore as an oil hub have yet to be fully considered. Will the Singapore authorities address the regulatory lacuna for large private companies or will it be back to business as usual?
Discussion questions
"The tone at the top significantly influences a company's corporate governance." To what extent is this related to the fall of the Hin Leong Group? Explain.
 To what extent did the regulatory framework and auditing standards contribute to the Hin Leong scandal? Explain. What other factors contributed to its collapse?
Should private companies such as the Hin Leong group of companies be subjected to certain minimum corporate governance standards? If so, what are the key critical areas for private companies compared to public listed companies?
Should Singapore continue to allow companies to be exempt private companies? Explain. If so, what additional safeguards, if any, would you propose?
Based on the four lines of defence model, what measures should a company such as Hin Leong Trading have put in place to avoid the problems that it faced?
Are the external auditors and regulators also responsible for the collapse of the Hin Leong Group? Explain.
Why do you think so many banks failed to notice the risks in the Hin Leong Group? Do you think it is indicative of systemic weaknesses in banks? Explain.
---
The content was originally published on CPA Australia.
Photo by Venti Views on Unsplash.