Case overview
Micro-Mechanics (Holdings) Ltd (Micro-Mechanics) has expanded from a small factory in Singapore into a publicly listed company with a global customer base over the years. Despite being a small cap company, it has continually punched above its weight, outshining much larger companies in its corporate governance. It has won many accolades and is well loved by investors. The company's share price and market capitalisation have grown steadily over the years, as it has consistently delivered strong financial performance in an industry that is cyclical and vulnerable to macroeconomic shocks. It has also paid healthy dividends over the years.
The objective of this case study is to facilitate a discussion of issues such as corporate governance of small cap companies; board composition; business continuity planning and risk management; navigating the COVID-19 pandemic; and shareholder engagement.
A challenging industry
Micro-Mechanics (Holdings) Ltd (Micro-Mechanics) was founded in Singapore in 1983. It is in the business of designing, manufacturing, and marketing high precision parts and tools used in the semiconductor industry.
The onset of the global industry downturn in late 2018 led to the semiconductor industry suffering its worst year in almost two decades, with semiconductor revenue falling 12.1% to US$412.1 billion in 2019. For FY2019, Micro-Mechanics' revenue decreased 7.3% to S$60. 3 million from a record of S$65.1 million in FY2018, reflecting the cyclically slower conditions in the global semiconductor industry. According to the Semiconductor Industry Association, global chip sales fell 14.5% in the first half of 2019.
"Amid a confluence of factors, including ongoing global trade unrest and cyclicality in product pricing, worldwide sales of semiconductors were down considerably in 2019." 
 John Neuffer, Semiconductor Industry Association President and CEO
The situation was made worse by trade tensions between the U.S. and China. As one of the six core industries in President Trump's 'America First' agenda, semiconductor companies have been facing a significant risk as electronic products exported from the U.S. to other countries face increased tariffs if those products contain Chinese-made components. As a result, World Semiconductor Trade Statistics (WSTS) expected worldwide chip sales to contract by 12.1% to US$412 billion in 20197 amidst growing global economic and geopolitical uncertainties. Given that Micro-Mechanics' largest market is China (29% in FY2020), the increase in prices of U.S. electronic exports would lead to falling demand and thus reduced sales for Micro-Mechanics' products.
Initial projections from WSTS indicated an increase in annual global chip sales of 5.9% in 2020 and 6.3% in 2021. However, things took a turn for the worse. On 9 January 2020, the World Health Organisation (WHO) reported the first outbreak of a novel coronavirus in Wuhan, China. At the end of the same month, it declared the COVID-19 outbreak "a global emergency". A few months later, a global pandemic ensued and countries worldwide went into lockdown, causing a global health and economic crisis that persisted beyond 2020. As a result of the COVID-19 pandemic, research firm Gartner, Inc. forecasted that global semiconductor revenue would decline 0.9% in 2020 after falling 12% in 2019.
Micro-Mechanics' share price fell from S$1.95 on 2 January 2020 to S$1.33 on 23 March 2020 during the market crash arising from the COVID-19 pandemic. However, it has risen steadily since then to hit a 52-week high of S$2.79 on 20 October 2020 and later, a record high of S$3.91 on 22 January 2021. Despite its numerous challenges, Micro-Mechanics defied expectations in FY2020 and achieved exceptional financial results with a 6.4% increase in revenue. The company's recovery was even more impressive considering how it managed to maintain a healthy cash balance with no bank borrowings as at Q3 2020, and increased its dividend payout ratio to 114% in FY2020.
The Mechanics Behind Micro-Mechanics
Micro-Mechanics designs, manufactures and markets high precision parts and tools used in process-critical applications for the wafer-fabrication and assembly processes of the semiconductor industry. It also makes consumable tools and parts used in the back-end semiconductor process, in particular, die attach and wire bonding, and manufactures precision parts and assemblies on a contract basis for original equipment manufacturers (OEMs). More recently, Micro-Mechanics has also started to build up capabilities to serve the front-end of the semiconductor industry through its U.S. operations. The Group's strategy is to relentlessly pursue product and operational improvements while providing fast and effective local support to its customers worldwide.
Peak Performance
From 2012 to 2017, Micro-Mechanics experienced a steady increase in revenue from S$38.79 million to S$57.23 million, representing a compound annual growth rate of 8.1%. Earnings increased at a much higher rate – at a cumulative average growth rate (CAGR) of 28.5% – due to an increase in net profit margin from 10.9% to 25.8%. It also has a high and growing ROE.
"Companies that have no debt can't go bankrupt."
– Peter Lynch, Chairman of the Lynch Foundation
Besides its exceptional growth over the years, Micro-Mechanics has also maintained a strong and healthy balance sheet. With no debt since 2011, the Group has managed to run and expand its business with internal funds alone.
"If our shareholders invested in Micro-Mechanics during IPO in 2003, the total return will be about 19 times. Including dividends, the total return is more than 20 times."
– Chow Kam Wing, CFO of Micro-Mechanics
Micro-Mechanics was first listed on the then SESDAQ of the Singapore Exchange (SGX) in Singapore in June 2003. The company's share price and market capitalisation have increased significantly since then, with the latter increasing year-on-year from about S$100 million in Q3 200720 to nearly S$440 million today.21 Although Micro-Mechanics experienced a slight dip in its market capitalisation in FY2019 and FY2020, it managed to recover and reach greater heights in FY2021. Meanwhile, the company's share price has increased by over ten-fold since its upgrade to the SGX Mainboard in July 2008.22 The movement in Micro-Mechanics' share price over the years is shown in Figure 1.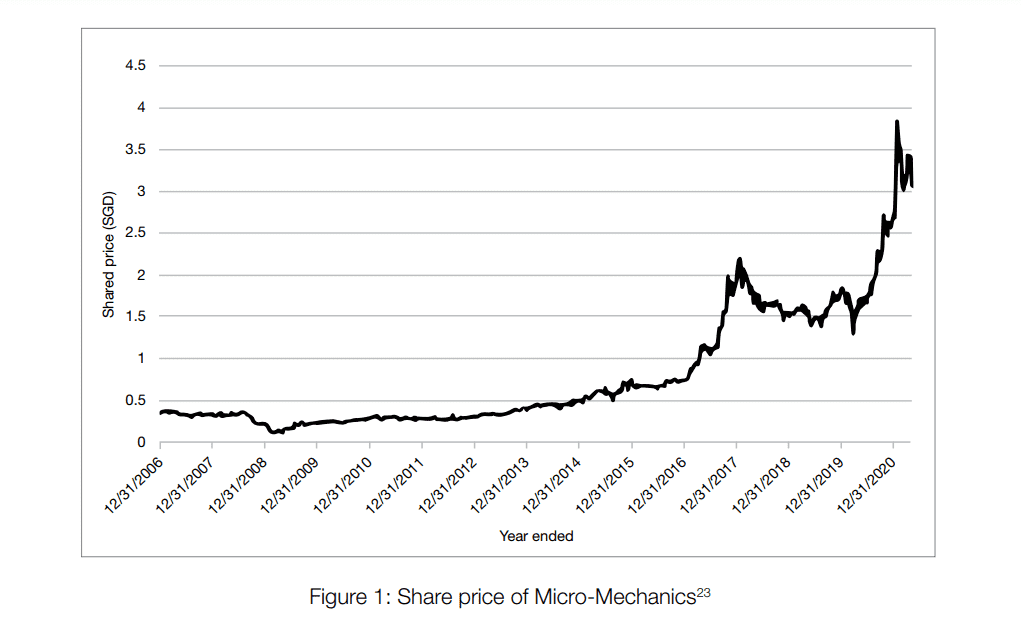 Risk Management: Ahead of the Curve
In 2003, the SARS outbreak led to a pandemic, resulting in Asian countries suffering an estimated loss of about US$12 to US$18 billion. While the outbreak did not cause MicroMechanics to suffer major losses, it served as a wake-up call regarding the importance of Business Continuity Planning (BCP) and the need to implement appropriate measures to prepare the company for future crises. This move proved beneficial in the face of the COVID-19 pandemic – Micro-Mechanics was able to minimise the damaging impact arising from the pandemic through reducing interruptions in its business operations.
"Amid the unprecedented market and operating conditions caused by the COVID-19 outbreak, the Group still performed admirably well in 3Q20."
– Christopher Borch, CEO of Micro-Mechanics
Micro-Mechanics had established a Pandemic Response Plan (PRP) as part of its BCP in 2018, just two years before COVID-19 pandemic. The PRP was put in place to ensure that the company's businesses are able to remain viable in the event of a pandemic outbreak, whether on a regional or global scale. As part of the PRP, annual training was implemented to equip employees with a comprehensive understanding of individual roles and duties in the event of a disaster, pulling cases from past pandemics such as SARS and MERS.
At the start of the COVID-19 pandemic, corporations across the globe experienced severe disruption to their production levels, especially for companies with major production facilities in China. This created major problems in the supply chain as governments across the world imposed strict restrictions for business and individuals, such as social distancing, and factories had to be shut down to curb the spread of the virus. However, Micro-Mechanics was able to restore operations relatively quickly.
Business as Usual
In January 2020, news of an unknown virus outbreak in Wuhan, China broke. Micro-Mechanics took immediate action to prepare itself for an imminent pandemic crisis. With staff trained in BCP and PRP, it was able to effectively take precautionary measures and implement stringent protocols such as halting of business travel and minimisation of visitors. Micro-Mechanics also conducted briefings to its employees on the precautionary measures relating to COVID-19, and had internal checks to ensure the availability of clinical masks and sanitisers in its facilities.
On 29 January 2020, Micro-Mechanics temporarily closed its factory in Suzhou, China, which primarily served its customers in China. As the highly infectious virus continued to spread across the world, factories in countries such as Malaysia and the U.S. also experienced disruption in their operations. An increasing number of countries began to impose lockdowns and restrictions as corporations scrambled for alternative production solutions.
On 18 March 2020, Malaysia implemented a two-week movement control order nationwide, which included an immediate shutdown of all non-essential business premises. This impacted Micro-Mechanics as one of its factories was in Penang, primarily serving local customers which accounted for 16% of its total revenue. Similarly, in the U.S., with effect from 17 March 2020, California announced a legal order for residents to limit activities solely to those which are essential. Micro-Mechanics' factory in Morgan Hill, Santa Clara which primarily catered to American customers and which contributed to around 20% of the Group's revenue, was also affected.
As its factories fell under exemption orders, the majority of Micro-Mechanics' factories were permitted to perform basic operations, although at significantly reduced levels. With the strong BCP and PRP in place, Micro-Mechanics was able to implement plans to ensure the smooth running of operations with reduced personnel to maintain its essential operations. A diversified supply chain and multiple factories also reduced the impact of the strict COVID-19 measures implemented by various countries' governments. Thus, the company made an announcement to reassure stakeholders that reduced operations in Penang and the U.S. were "not expected to affect its customers in other markets as they will continue to be served by the Group's factories in Singapore, the Philippines and China which is now fully operational".
The company's commitment to BCP and certification also resulted in robust measures being put in place to protect workers in such a pandemic. Such efforts paid off as Micro-Mechanics was one of the first companies to be allowed to re-open its manufacturing operations in China after the lockdown in China in 2020.
Throughout the COVID-19 pandemic, Micro-Mechanics continued to be accountable to its shareholders by closely monitoring the situation and keeping shareholders informed of any material developments as and when they arose.
Earlier in 2008, Micro-Mechanics had also recognised the need for BCP in areas apart from pandemic crises that could also impact business activities. The company invested S$3 million to implement Enterprise Resource Planning (ERP), which is a web-based platform where employees are able to access company information and input data. The system allows for operational processes, such as quotations and goods finished, to be recorded. MicroMechanics then phased out the use of desktops and equipped its employees with laptops to allow a seamless transition to work from home arrangements. Had this not been carried out, the company would have suffered greatly in a crisis situation such as the COVID-19 pandemic where employees were not allowed to physically be in office to work. With the use of the ERP system, employees were able to continue working – whether from Singapore or elsewhere – with minimal interruption, and continue serving customers.
Striking the Balance
"The essence of BCP is to have a backup for all essential operations of the company. However, from a business point of view, it is not practical to have everything with a backup because of the costs involved."
– Chow Kam Wing, CFO of Micro-Mechanics
While Micro-Mechanics' BCP plan has served it well during the pandemic crisis, could it have done any better? From a business perspective, BCP is about having backup plans. However, Chow Kam Wing, Chief Financial Officer (CFO) of Micro-Mechanics, highlighted that it is not feasible for the company to have backups for every essential operation due to the extensive additional costs that will be incurred.
When Micro-Mechanics hired a BCP consultant, it was recommended to build a back-up factory in case the main factory breaks down or has to be closed permanently. This was not a feasible recommendation based on a cost and benefit analysis, and the company rejected it. To Micro-Mechanics, it was about treading the fine line between ensuring a proper BCP and ensuring that additional costs associated with implementing plans are justified.
Micro-Mechanics issued its first sustainability report in its 2018 annual report, which focused on its Singapore operations. Subsequently, in the following year, the report was expanded to include its subsidiaries across the U.S., China, Malaysia, and Philippines. The report discloses various procedures used by the company to ensure sustainability, with a section on standards, certificates and management plans. The report also outlines detailed policies and initiatives to ensure the sustainability and continuance of business operations.
Not Just a Pandemic
In 2012, Micro-Mechanics' Singapore operations attained its first certification as an ISO22301 Business Continuity Management Company. This was then subsequently renewed in 2019 to ensure that all its employees were aware of the company's Emergency Response Plan. Aside from its ISO22301 certification, annual training is carried out for all staff to check their readiness for such events. The company is fully committed to make BCP and crisis management an integral part of its business to minimise any potential negative impacts on its customers, maintain the public's confidence in it, as well as protect the interests of all its stakeholders. Micro-Mechanics also places emphasis on its capability to maintain or restore its critical business functions within 48 hours based on their BCM plans in the event of a crisis.
The company's commitments made as part of the ISO certification requirements also extended to ensuring that customers received adequate support with regard to the stringent quality control of its products. As the tools produced by Micro-Mechanics often play an important role in its customers' own business operations, any defects or contamination of products will negatively impact other businesses.
Furthermore, Micro-Mechanics ensures that its products are compliant with international environmental standards such as the Restriction of Hazardous Substances (RoHS), and Registration, Evaluation, Authorisation and Restriction of Chemical Substances (REACH).
As of 2020, Micro-Mechanics Singapore was the only BCM-certified company in the wider Group, as some of the locations of the subsidiaries did not have the ISO certification. In order to ensure the same standards across all companies in the Group, Micro-Mechanics Singapore shared its templates with its subsidiaries. The ISO certification generally "specifies requirements to implement, maintain and improve a management system to protect against, reduce the likelihood of the occurrence of, prepare for, respond to and recover from disruptions when they arise". Hence, such sharing of documentation and checklists will provide structure and standardisation in the Group. Micro-Mechanics acknowledged that is not always applicable due to the varying sizes and industries of companies in the Group. As such, it is only implemented for companies that are similar to Micro-Mechanics Singapore in terms of business and situations.
One Size Does Not Fit All
With regard to BCP, one significant difficulty which Micro-Mechanics encountered was having to account for its factories in various parts of the world. As it has five factories in Asia and the U.S., each location posed different risks, geo-political issues, and cultural gaps. Instead of formulating specialised plans for each factory, Micro-Mechanics made the decision to manufacture similar products, standardise machinery, and put in place standard operating procedures for its operations. This proved beneficial in April 2020, when its factory in the Philippines was under curfew and lockdown due to the COVID-19 pandemic. MicroMechanics was then able to shift manufacturing operations to Singapore and purchase its supplies to minimise disruption to its customers in the Philippines. The lack of differentiation in its factories and the presence of backups among the Asian companies in the Group was one notable way in which Micro-Mechanics implemented its BCP.
However, this backup could not be applied to the fifth factory located in California, U.S. as the factory's products are completely different from those produced by the Asian factories. The situation was also exacerbated by the factory's location in an earthquake-prone area. Due to these factors, Micro-Mechanics does not have an extensive backup plan in place for this particular factory. It instead notifies investors and stakeholders of this potential risk in its annual reports, ensuring transparency and keeping them well informed.
However, it has been noted that not every requirement of the ISO certification should be followed to the letter. Micro-Mechanics has diverged from the requirements of the ISO certification of BCP by running its business digitally. While this is not mandatory according to the requirements, "without digitalizing the operations, we may not turn around the business so quickly during COVID-19 pandemic and support our people working from home seamlessly."
Continuous learning
"BCP is a kind of continuous improvement and forward-looking process…It is all about the management who must have vision with proactive action. It is not about the system itself. It is about people."
– Chow Kam Wing, CFO of Micro-Mechanics
To Micro-Mechanics, BCP is a forward-looking process of continuous improvement. It involves learning from past experiences, such as the SARS outbreak in 2003. The extensive planning by Micro-Mechanics' management, as well as the implementation and installation of said plans as an integral part of its business operations is evident in its handling of the current COVID-19 situation. Micro-Mechanics has attributed this success to the proactive actions taken by its management in response to the crisis instead of the certification of the BCP.
The Keys to Success
While key-person risk is a concern for all companies, it is especially critical for companies for which shareholder value relies heavily in the trust that investors have in its management. According to research by investment research firm Ycharts Inc., it is observed that share prices of companies fall an average of 4.19% relative to the S&P 500 after 30 days following the departure of a Chief Executive Officer (CEO). It is therefore critical that companies have robust succession plans to mitigate such risks.
Micro-Mechanics recognises that the departure of key personnel is an unavoidable risk and hence takes active measures to prepare for such an event. According to Micro-Mechanics' CFO Chow, the board discusses and reviews succession plans for the board and key management annually. Micro-Mechanics does not focus on identifying specific personnel to take on certain positions in the future, but instead has a robust system in place to groom all potential leaders. The company believes that this will ensure that it has employees who are trained and ready to step up and take on management positions if needed. Additionally, each key management personnel is supported by a core team. This means that when a key personnel leaves the company, the successor will have several deputies and a team who are familiar with the role, allowing for a smoother transition. Since the company's Initial Public Offering (IPO), it has managed the departure of several facility heads with little disruption to the Group's operations.
In addition, from 2019 onwards, the CEO, CFO, and Chief Operating Officer (COO) – who are also executive directors – have agreed to serve as mentors for one year following the cessation of their respective executive roles. Micro-Mechanics' annual report explains that this ensures a seamless handover of the directors' duties and responsibilities to successors and allows Micro-Mechanics to continue tapping on their wealth of knowledge and experience in managing the company.
As for independent directors, successors are sourced externally to ensure true independence. Micro-Mechanics has stated that any person identified for future succession as an independent director must be a person whom management is familiar with, which may be considered by some to contradict the requirement of independence. Upon retirement of an independent director, the company will look for a replacement through third parties such as the Singapore Institute of Directors, or the Institute of Singapore Chartered Accountants for Audit Committee members. The management of Micro-Mechanics believes that unlike key management personnel, independent directors are not as critical to business operations, and hence they do not warrant specialised succession plans.
Transparency is Paramount
"Although it (quarterly reporting) entails more work, we think it is the right decision especially after the fast-moving events that we witnessed recently."
– Chow Kam Wing, CFO of Micro-Mechanics
Micro-Mechanics values its transparency to shareholders, striving for the highest level of communication with them. While the CFO has said that Micro-Mechanics does not specifically strive to maintain a high level of corporate governance, the company's belief in doing the right thing and putting itself in its shareholders' shoes is what allows it to achieve such a high level of transparency as a company.
In January 2020, SGX Regco announced that it would require quarterly reporting only for companies associated with higher risks. Other companies will only have do semi-annual reporting. This was a significant change from the previous requirement, under which companies with market capitalisation of over S$75 million were required to issue quarterly reports, with 70% of SGX-listed companies meeting the quarterly reporting threshold. Under this new rule, which started from 7 February 2020, just over 100 companies were required to continue with quarterly reporting.
This is a potential problem for investors. Based on a survey quoted by Professor Mak Yuen Teen and Chew Yi Hong, over 88% of investors surveyed indicated the use of quarterly reporting in some form for their investment decisions.
Micro-Mechanics' board unanimously decided to continue with quarterly reporting, despite the time and costs involved. The company's CFO said the company believes that it is important to provide timely and clear performance metrics to enhance accountability to stakeholders. MicroMechanics believes that prioritising transparency and reporting to shareholders outweigh the time and costs involved. This will allow stakeholders to make the best possible investment decisions. While there is still some cost involved, it mainly consists of management's time and the costs of having the CEO fly in for board meetings to discuss quarterly results.
CFO Chow does not hold the view that quarterly reporting will create "shortermism", and states that Micro-Mechanics thinks of long term sustainable profit instead. He also feels that quarterly reporting reduces insider trading risk and that small companies with not as much coverage by analysts will benefit from quarterly reporting. Further, full quarterly reports provide the MicroMechanics board with information beyond monthly management accounts, and the company has found board meetings to discuss the quarterly reports to be helpful.
While some other companies look to save costs in discontinuing quarterly reporting, MicroMechanics has identified the importance of quarterly reporting in continuing its culture of transparency and putting its investors at the forefront.
The company's transparency is also evident in other ways. Since its listing on the then SESDAQ on SGX in June 2003 and its subsequent transfer to the SGX Mainboard in July 2008, MicroMechanics has been queried only once, consistent with its desire to communicate well with shareholders and to remain transparent. The SGX query was issued on 23 October 2014 with regard to a deviation from paragraph 9.3 of the Code of Corporate Governance 2012, where Micro-Mechanics failed to disclose the total aggregate remuneration paid to the top five key management personnel (who are not directors or the CEO), as recommended by the Code.
The company responded promptly the next day and clarified that it had complied with most of the disclosures in paragraph 9.3 of the Code regarding individual remuneration disclosures, but inadvertently overlooked disclosing the aggregate total remuneration. It also promised to make this disclosure in future and ensure compliance with the Code in all respects.
Engaging with Investors
Micro-Mechanics has an "open-door" policy with regard to questions raised by investors or analysts, and commits to responding to questions within three working days. It provides an email address and contact details of its investor relations consultants for investors to contact the company.
Its Annual General Meetings (AGMs) have been highly engaging and interactive in recent years. A large part of time in the agenda is allocated to shareholders who have questions about the company's operations or finances.
In 2020, pursuant to the COVID-19 measures, Micro-Mechanics held an online AGM. It posted the responses to shareholders' questions the day before the AGM and the minutes of the AGM 17 days after the AGM.
"It is our practice to provide opportunity for shareholders to ask questions on the spot with the most updated financial information. We hold IR briefing for financial analysts and media for our half year and full year result. We think that the AGM is the right time for us to hold IR briefing for our shareholders."
– Chow Kam Wing, CFO of Micro-Mechanics
Unlike most companies which only discuss the annual results even though Q1 results would be announced soon after the AGM (when they were practising quarterly reporting), MicroMechanics has been disclosing its Q1 results at the yearly AGMs since its IPO. Investors were not only briefed on the previous financial year performance but were able to also know the current quarter performance, allowing them to obtain a clear outlook for the rest of FY2021. This is yet another indication of the company's belief of keeping investors informed in a timely manner, rather than merely blindly following rules.
You Can Almost See Through Them
Another key feature of transparency ingrained in Micro Mechanic's corporate culture is the frequent and prompt disclosure of major changes in business operations. When the COVID-19 pandemic affected its manufacturing operations in 2020, Micro-Mechanics was quick to announce the impact of the pandemic on its manufacturing facilities across the world. This included the temporary closure of its Suzhou factory announced in January 2020, as well as the reduced level of operations in its factories in Malaysia and the U.S. in March. The timely announcements provided shareholders with information on how the company was coping with the situation and gave shareholders the assurance that business is still ongoing.
Micro-Mechanics also has clear disclosures with regard to its interested person transactions. When Micro-Mechanics entered into an agreement with Sarcadia LLC (Sarcadia) in 2018, it made sure to disclose the transaction as an interested person transaction as Sarcadia was a family trust set up by Micro-Mechanics' CEO, Christopher Reid Borch. This provided full transparency for shareholders in terms of knowing the controlling person behind the party whom the company was dealing with.
The level of transparency and quality of corporate governance of Micro-Mechanics has been recognised through the multiple awards it has received over many years. Since the company received the "Most Transparent Company (SESDAQ)" award in 2005 by the Securities Investors Association Singapore (SIAS), Micro-Mechanics has received more than 30 awards from SIAS, the Singapore Corporate Awards, and the Asiamoney Corporate Governance Poll.
Notable awards include the Best Managed Board Gold Award in 2012 and 2017 as well as the Best Investor Relations Gold in 2017. In the 2020 Singapore Governance and Transparency Index (SGTI), Micro-Mechanics climbed four ranks from 2019 to rank 13th out of 578 listed companies (excluding REITs). The company's CEO has also received due recognition – CEO Borch was awarded the Best CEO Award in 2018, while CFO Chow was awarded the Best CFO Award in 2008.
In terms of performance, Micro-Mechanics has also received two awards for its productivity granted by the Singapore Business Federation in 2017 and Singapore Precision Engineering and Technology Association in 2018.
The "Software" of Micro-Mechanics
Bearing in mind the need for an optimal board size in view of its current stage of growth, the need for effective decision making, and its strategic imperatives, Micro-Mechanics has a current board size of six members as at FY2020. The board is led by a female Chairman, Sumitri Mirnalini Menon @ Rabia, who is an independent non-executive director. The other members of the Micro-Mechanics board comprise three executive directors – Borch (founder and CEO), Chow (CFO and company secretary), and Low Ming Wah (President and COO) – as well as two other independent directors, namely Lai Chin Yee and Kenny Kwan. None of the board members are related to one another.
"The composition of the board is diverse and our board members are of different genders and nationalities and possessing different skill sets and experience. We are satisfied with the composition and size of the board."
– Chow Kam Wing, CFO of Micro-Mechanics
The company has a board diversity policy approved by the board on 28 August 2019, focusing on key areas of board diversity which are independence, gender, nationality and ethnicity, skills and experience, as well as age.
The company has a history of having a larger proportion of women's participation on boards compared to the 100 largest primary-listed companies on the SGX, with one-third of the board comprising female directors from FY2015 to FY2018 and in FY2020, as well as 28.6% of the board comprising female directors in FY2019. This surpassed the 16.2% average percentage of female directors based on statistics provided by the Council for Board Diversity as at 31 December 2019. Two independent directors, Chairman Menon and Kwan, are senior practising lawyers with different sets of core expertise. Lai, an independent director, is a finance director of a listed company. With regard to the executive directors, CFO Chow has audit and accounting expertise, while CEO Borch and COO Low have decades of experience in engineering.
From FY2003 to FY2020, Micro-Mechanics has had eight independent directors in total. Five have retired or otherwise ceased service while three are serving as of FY2020. The independent directors who have left were Chan Fong Chee Caroline, (who was sadly one of the victims during the tsunami in Thailand in 2006), Pao Ning Yu who served four months, Howard Duane Wadsworth who served three years, Ng Beng Tiong who served 11 years, and Girija Prasad Pande who served 10 years on the board. The independent directors who served short tenures did not raise any concerns when they resigned or retired after short tenures. For example, in the case of Pao, it was stated that his resignation was "due to personal reasons that arose recently and are unrelated to any board, committee or company matters". In Micro-Mechanics' 2019 annual report, it was stated that Pande had served on the board for nine years and "decided to not stand for re-election in observance of the nine-year rule on independent directors as part of board renewal".
Kwan, Lai, and Menon – the independent directors who are currently on board – have served for one year, six years and 17 years respectively. The company's 2020 annual report stated that Menon "shall be serving as independent director for the seventeenth year". The reason for the exception is that she is deemed by the rest of the board to remain objective in discharging her duties as an independent director. The board is "confident that she has the ability to continue exercising strong independent judgement" and "have requested that she continue for the ensuing year". She was excluded in the decision making of the board regarding her
continuation of service.
According to CFO Chow, the Chairman may need to stay for a longer period of time on the board to ensure a balance of power and checks and balance as the longer tenure equips the Chairman with more knowledge and stature. However, he agrees that other independent directors should not stay beyond nine years. For the Chairman, he is of the view that a two-tier vote is an acceptable way to allow the Chairman to stay on and remain independent.
The adequacy of the structure, size and composition of the board is periodically reviewed by the Nominating Committee (NC). The NC provides recommendations to the board for all board appointments and re-appointments. Every member of the NC abstains from discussing and voting on any matters in which he or she is interested. The NC reviews board performance and compiles a consolidated report based on evaluation forms completed by the board members and submitted to the NC. It implemented a recommendation that all directors are encouraged to have at least eight hours of training and development each financial year to better discharge their duties as directors.
In addition, the NC reviews directors' conflicts of interest to ensure that the directors do not hold other positions with conflicting interests in Micro-Mechanics. Each director is restricted to at most four directorships in listed companies, including Micro-Mechanics.
Departures from "Best Practices"
Micro-Mechanics does not strive to comply with all recommended "best practices" as it feels that some of these practices may not be relevant to the company. One of the departures from "best practices" is having the CFO as a member of the board.
"Without the CFO on the board, there might be some decisions made without his knowledge which may not be justifiable from the CFO's perspective,"
– Chow Kam Wing, CFO of Micro-Mechanics
One of the members of the board of Micro-Mechanics is the CFO. CFO Chow joined the company in 1996 and was cited as having played a key role in the company's IPO on SGX back in 2003. He was recognised as the "Chief Financial Officer of the Year" at the Singapore Corporate Awards in 2008. Chow has served on the Micro-Mechanics board since 2003.
The company believes that having Chow on the board adds great value to decision making by the board. He is considered to have a solid understanding of the Code of Corporate Governance as well as the SGX Listing Manual.
Prior to being appointed as a board member, Chow acted as a check for the board's decisions when he was called upon to analyse whether certain strategic decisions were justifiable from the perspective of the CFO – based on his knowledge of the financial figures of the company, as well as his understanding of internal control, risk management and IT governance. The board came to the view that having the CFO merely as a subordinate of the CEO was insufficient and that it was important that the CFO has equal authority on the board to provide a substantial check and balance in the decisions they were making.
The practice of Micro-Mechanics in this regard is different from most other companies. In an article published by The Business Times, "Should CFOs have a seat on the board?", it was stated that in 2012, less than one percent of companies listed on SGX have their CFOs sitting on the board. For Fortune 500 companies, The Wall Street Journal reported that only 19 have their CFO as a board members in 2012.
These reports explained the tangible benefits of having the CFO on the board such as having a board member who has the accountability of producing the financial statements that the board approves, a stronger fiscal oversight of the company, and having another individual in the decision making process who probably has the next best understanding of the company – only second to the CEO. At the same time, they also highlighted an independence issue, which arises from having an additional executive director on the board, and stated that if a board is ever in a situation where it requires sound financial analysis, the CFO could simply be called up for advice instead of allowing him to be part of the board.
Chow explained one of the reasons why the CFO should be on the board in a company such as Micro-Mechanics: "For those large cap or blue chips, they may not need a CFO on the board because they may have a strong professional team to back the board such as in-house counsels. For those small cap companies, due to limited resources and many of the executive directors (especially those from family business) with less knowledge running a listed company, they may need a qualified and experienced CFO on the board." He added: "Our CEO invited me to join the board to indicate his intention to have good corporate governance – as a check and balance. He believes that the CFO should have an independent say on the board, rather than just be an assistant to CEO, especially in terms of risk management. My personal opinion is that if I were not on the board, I may not openly and independently express my views during board meetings."
Chow added that he is also the company secretary. Because of this position, he has the opportunity to work with the board and committee chairmen directly on agendas and board/committee papers. This helps the board/ committee chairmen understand more about the business and be well prepared before the meetings.
Remuneration Practices
Micro-Mechanics adopted a remuneration structure which is made up of a fixed basic salary and variable components comprising a performance bonus incentive (PBI) scheme, special bonus, sales incentive scheme (SIS) and the performance share plan. The PBI is applicable for all employees and is linked to performance of the relevant subsidiary. For executive directors, the PBI is linked to the performance of the Group. However, the SIS is only relevant to the sales and marketing teams structured on predefined targets.
An overriding principle strictly followed by Micro-Mechanics is that no director is to be involved in deciding his or her own remuneration. The Remuneration Committee (RC) reviews the remuneration packages of executive directors and key management personnel on a yearly basis and assesses if they are in line with the directors' performance. Total remuneration comprises a fixed base salary and variable bonuses to align performance with the company's objectives.
With regard to full disclosure of the specific remuneration of each executive director, MicroMechanics took the stand that it is not in the best interests of the company and shareholders due to the sensitivity of the matter. However, it provides the breakdown of the level and mix of remuneration of each director and key executive. For the executive directors, the upper and lower remuneration band, together with the name of the executive director, are disclosed, in addition to a breakdown into the directors' fees, salaries, bonuses and benefits. For the independent and non-executive directors, total remuneration is entirely in the form of a director's fee and is disclosed on an individual basis. The aggregate remuneration paid to the key management personnel is also disclosed. In addition, Micro-Mechanics also made known the remuneration paid to the eldest son of the CEO, who is an employee of one of MicroMechanics' subsidiaries.
Does Good Governance Pay?
"Literally, we do not strive to maintain a high level of corporate governance. We are just humbly doing the right things as a listed company, whether today or the next 10 years. We just put ourselves in the shareholders' shoes – what they want from a company they have invested in…"
– Chow Kam Wing, CFO of Micro-Mechanics
As at 12 August 2020, Singapore's recession deepened with the worst ever quarterly contraction of 13.2%. Chan Chun Sing, Singapore's Minister for Trade and Industry, said: "… we are not returning to a pre-COVID world, recovery will be some time yet and recovery is not likely to be smooth". In addition, McKinsey & Company's research on the semiconductor industry concluded that the industry is expected to experience a negative year-on-year revenue growth. Micro-Mechanics' share price performance tells a whole different story amidst the COVID-19 pandemic, with strong growth since March 2020.
While it is possible to retrospectively link a company's failure to poor governance or risk management, it is more difficult to link strong corporate governance with better performance. Although the importance of corporate governance has been recognised by many and has become a key focus area for numerous companies, recent studies have been inconclusive.
In the case of Micro-Mechanics, good corporate governance and transparency seem to be very much part of the company's DNA – not a conscious drive to tick boxes in corporate governance or comply with "best practices", but just doing the right thing and setting its shareholders as top priority. This has helped the company not only garner many accolades and maintain excellent relationships with its shareholders and other stakeholders, but also enable it to deliver consistent financial and share price performance.
It is truly a little giant when it comes to corporate governance.
Discussion Questions
Critically evaluate Micro-Mechanics' corporate governance and transparency since its IPO as a small-cap company. Do you believe that its corporate governance has contributed to its financial and stock market performance? Explain.
Do you think it is more difficult for a small-cap company, as compared to a large-cap company, to maintain a high level of corporate governance? Should the Code of Corporate Governance differentiate between small and large companies? Explain. What are some areas where it may be justifiable for smaller companies to deviate from "best practices" of large companies?
Do you think all companies should be required to practise quarterly reporting? Alternatively, should it be voluntary, based on a risk-based approach as is currently practised on the SGX, or based on company size? Explain.
Analyse the composition of the board of directors. What does it reveal about the level of corporate governance in Micro-Mechanics?
Should the CFO be a member of the board of directors? In Micro-Mechanics' case, do you think it is justified for the CFO and COO to be board members? Explain. How can a company balance having more executive directors with ensuring that the board exercise independent oversight over management and operations?
Evaluate the adequacy of Micro-Mechanics' succession planning. How effectively has the company mitigated its key-person risk?
Discuss and evaluate how Micro-Mechanics has prepared for and handled the impacts arising from the COVID-19 pandemic and the extent to which its Business Continuity Planning, Pandemic Response Plan, Enterprise Resource Planning, and digitalisation have contributed to its effectiveness in doing so. Do you think Micro-Mechanics has done enough to deal with threats it may encounter in the future? Explain.
---
The content was originally published on CPA Australia.