By Professor Mak Yuen Teen
The ventures begin
In 2003, Alex Low studied at the University of Washington and struggled to pay his school fees. He came up with the idea of procuring used textbooks in Singapore at lower costs and selling them on U.S. online marketplaces. Alex shared the idea with his brother, Adam Low, who joined him and contributed the initial S$10,000 capital to start the business. He managed to pay off his school fees from the profits from the sales.
In 2005, the Low brothers started a used textbook buy-back programme, allowing them to buy and sell textbooks in tertiary educational institutions. In 2006, the used textbooks buy-back programme was moved to an online marketplace that was developed for the exchange of used textbooks among Singapore tertiary students. The following year, the business quickly gained momentum, and a company was incorporated to distribute textbooks to wholesalers in the region.During that period, the business leveraged on its "proprietary data analytics software" to identify significant untapped potential in online book retailing, as most publishers had extensive offline distribution channels but lacked the requisite tools and expertise to develop and establish an online presence.
Y Ventures was subsequently incorporated in Singapore on 2 January 2013. It described itself as a "data analytics driven e-commerce company" and the first of such companies to be listed on the SGX Catalist Board.
Business model
Y Ventures calls itself an e-commerce retailer and distributor which specialises in online retail data analytics, marketing, distribution and sale of a wide range of merchandise under third party brands and its own private label, "JustNile". Its unique value proposition is the use of its proprietary data analytics capabilities to drive its business. Data analytics is said to be used in various aspects of the business such as analysis of demand trends, pricing intelligence, gaining consumer sentiment and analysis of competition in the market, enabling it to reduce its research and marketing efforts so as to enhance its sales results and improve cost efficiency
on online marketplaces.
The business insights obtained may also be shared with Y Ventures' brand partners, enabling them to enhance product offerings and improve their sales and pricing strategies. The company also claims that it assists third party brands in expanding globally by facilitating access to key online marketplaces, so that brands can sell their products worldwide. In January 2018, Y Ventures announced that it had secured online distribution rights for over 20 consumer brands. Based on its website, Y Ventures sells products on more than 20 online marketplaces worldwide.
E-commerce business
An e-commerce retailer is one that sells goods or services through electronic channels such as the internet. Y Ventures sells its products on e-commerce marketplaces such as Amazon and Qoo10. What differentiates e-commerce retailers from e-commerce marketplaces is that e-commerce marketplaces provides a platform for e-commerce retailers such as Y Ventures to sell to potential buyers on the platforms. By using e-commerce marketplaces, Y Ventures is able to leverage on the strengths and volume of visitors on these e-commerce marketplaces.
Considering the intense competition in the e-commerce retail landscape, Y Ventures needs to be competitive to survive in the long run. The competitors of Y Ventures are companies which sell similar products or provide similar services on online marketplaces. One example would be Synagie – another e-commerce solutions provider which also claims to use consumer data to adjust its marketing strategies and offer such services to its brand partners.
Data analytics capabilities
Y Ventures' proprietary data analytics software first gathers data from both the various e-commerce marketplaces that the company sells its products on, as well as social media platforms. The large amount of data acquired allows it to evaluate demand trends, prices and products of competitors, consumer sentiments and potential market size. This information is then used to determine its pricing strategies and the level of inventory required.
Following the sale of products, Y Ventures collects consumers' feedback and reviews, which is fed into its data analytics software for further analysis. Thereafter, improvements to the products or provision of sales services is made. Y Ventures shares such insights from its data analytics with its suppliers so that the suppliers can use the insights gathered to improve their business. The company also uses its data analytics capabilities to identify consumer trends for its private label brands such as JustNile.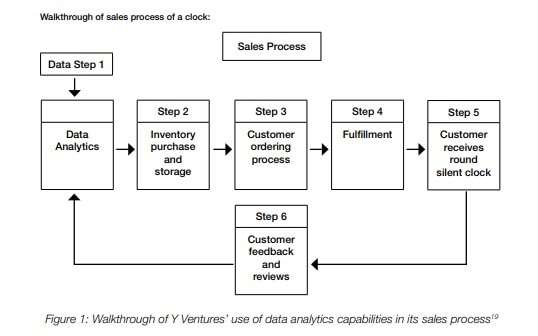 Sources of revenues
Y Ventures primarily derives revenue from three business segments – e-commerce retail and distribution, logistics and freight forwarding services, and waste management services.
The first segment is the e-commerce retail and distribution segment, which involves selling products from third-party brands and private labels. Products marketed and distributed by Y Ventures include books publishing, electronic products, and health and beauty products. Under "JustNile", the company also sell original equipment manufacturer (OEM) merchandises under the home and décor product category. Contributions from the e-commerce segment grew quickly alongside Y Ventures' expanding product portfolio – from approximately 300 SKUs (Stock Keeping Unit) – a unique numerical identifying number that refers to a specific stock item in a retailer's inventory or product catalog – at the end of 2014 to over 5,500 in
2018. In FY2017, this segment accounted for 96.4% of Y Ventures' revenue.
A substantial portion of Y Ventures' purchases are from book publishers, particularly medical textbooks and reference materials from Elsevier Group, a medical publishing house that joined Y Ventures' online distribution network in 2014. In 2017, Elsevier was the only publisher that Y Ventures purchased its books from. Its niche in online book retailing services provided a steady source of revenue and, according to the company, allowed it to command "superior gross margins" of more than 40% from FY2014 to FY2017.
Y Ventures has since secured seven more book publishers in 2018. During that year, Y Ventures focused on increasing sales of books as they fetched better gross margins and had lower inventory risks, as Y Ventures had agreements with book suppliers which allowed for the return of unsold book inventories of up to 30% of the purchased quantity. Books enjoyed sales growth of about 22% and accounted for 81% of the company's revenue in FY2018. As at the end of FY2018, 85% of Y Ventures' inventory consisted of book products.
In addition to distributing books and other merchandises under third-party brands, Y Ventures also sells OEM merchandise of home and decor products on online marketplaces through its private label, JustNile. Examples of OEM merchandise sold through JustNile include wall clocks, mirrors and bathroom accessories. JustNile's virtual store on online marketplace Amazon shows that the bulk of its data-backed product selections have generated positive ratings and reviews.28 However, there is mixed success on the sale of JustNile's products,
depending on the marketplace that the products are listed on. On JustNile's Singapore Shopee store, most products had not been purchased by even a single customer.
Y Ventures' second business segment is the logistics and freight forwarding services segment, which accounted for 0.23% of revenue in FY2018. Y Ventures' inventories are mainly held in third-party warehouses managed by various third-party logistics companies and delivered by last-mile fulfillment service providers in the jurisdictions that the merchandises are sold. Y Ventures' subsidiary, Skap Logistics Pte Ltd, mainly supports its e-commerce retail and distribution business by working closely with these logistics companies and service providers for warehousing and order fulfilment requirements. Skap Logistics Pte Ltd occasionally provides logistics and freight forwarding services to third party customers as well.
The third business segment is the waste management services segment, which accounted for 2.83% of sales in FY2018. Y Ventures provides waste management services through its subsidiary, Skap Waste Management Pte Ltd. Services it provides includes disposal of residential waste and secured disposal of sensitive documents in Singapore.
Revenue recognition
From the annual reports of Y Ventures, the approach for revenue recognition was changed from a "risk-and-reward" approach in 2017 to a "contract-by-contract transfer-of-control" approach in 2018 due to the adoption of SFRS(I) 15. Under the old approach, revenue from the sale of goods is recognised when the goods have been delivered by Y Ventures to its customers. For services provided, revenue is recognised in the financial year that the services are provided. In contrast, under the current "contract-by-contract transfer-of-control" approach, revenue from the sale of goods is recognised when goods have been delivered to the customer, and criteria for acceptance have been satisfied. Typically, goods are sold with a right of return. Hence, the amount of revenue recognised by Y Ventures is the transaction price net of an adjustment for expected returns.
Y Ventures' 2018 annual report also mentions that the transaction price is due immediately to Y Ventures at the point when control of the goods is transferred to the customer, and when the services are completed. For the logistics and freight forwarding services segment, revenue is recognised when control of the goods that are shipped is transferred to the customer. For the waste management services segment, revenue is recognised when the waste management services, which are typically completed within one day, are performed and completed.
The big day: IPO
Y Ventures was listed on the Catalist Board of SGX in July 2017. It initial public offering (IPO) involved the placement of 35,000,000 shares at a price of S$0.22 per share. The first day of trading closed with a 16% increase in the share price, at S$0.255.
The gross proceeds raised from the IPO amounted to S$7.7 million. After deducting listing expenses, the net proceeds of S$6 million would be used for "funding expansion through research and development of data analytics capabilities, advertising and developing its product range and new markets plus general working capital purposes".
Y so many errors?
On 21 January 2019, Y Ventures announced material misstatements in its unaudited financial results for the six month period ended 30 June 2018, which were announced earlier on 14 August 2018.
In the January 2019 announcement, Y Ventures referred to the accounting errors as "administrative inadvertencies" that resulted from inadequacies in its internal controls. The errors made were the overstatement of inventories and property, plant and equipment (PPE) by US$1,453,873 and US$20,453 respectively; as well as the understatement of trade and other receivables, and administrative expenses, by US$172,238 and US$196,869 respectively. The errors resulted in an overstatement of revenue by US$138,521, and an understatement of cost of sales and administrative expenses by US$968,073 and US$196,869 respectively in Y Ventures' income statement. The errors overstated the company's profit and loss position by US$1,303,463, causing its bottom line to swing from a profit of US$143,330 to a loss of US$1,160,133.
Following the announcement, SGX issued two sets of queries to the company. In the first set of queries, the company was asked to identify weaknesses in its internal controls that had led to the accounting lapses. In its response, Y Ventures identified three inadequacies in its internal controls and also steps taken to rectify the inadequacies to mitigate the risk of such errors happening again in the future.
Firstly, the manual entry for unit costs for inventories and reconciliation of inventory done using Excel on a monthly basis had resulted in the entry of incorrect unit costs for inventories and the error not being identified as at 30 June 2018. The reason given by Y Ventures for the use of a less sophisticated inventory management system was that it had only one key supplier at the time of listing, and as such the system was adequate. The company said that it has since developed an in-house computerised inventory management system to track all transactions on online marketplaces on an hourly basis. It believes that the new inventory management system will improve the accuracy in assigning inventory cost and reduce the risk of human errors.
Secondly, Y Ventures attributed the understatement of administrative expenses to errors in eliminating intercompany transactions and balances at Group level as at 30 June 2018 because consolidation of accounts was done on a half-yearly basis. The management has since stopped the practice and the consolidation of accounts would be carried out on a monthly basis going forward so that any discrepancies can be detected in a more timely manner.
Thirdly, the company also identified the lack of manpower and expertise in the Finance and Accounting department to handle increased transactions and expansion in business operations as a reason for the accounting errors. As at 30 June 2018, the Finance and Accounting department had four staff members. Y Ventures had anticipated business expansion and higher transactions after listing as disclosed in its Product Highlights document. Despite that, the company did not sufficiently increase its staff count. The size of the Finance and Accounting department has since been increased from four to six members, comprising of the Chief Financial Officer (CFO), an assistant finance manager, an assistant accounts manager, a senior executive and two executives.
As for the overstatement of PPE by US$20,453, the company explained that it was a onetime error due to erroneous recording based on amount paid to a supplier. However, the management was unaware that the PPE was still not received as at 30 June 2018 as it had not completed its verification check of the PPEs which were received as at 30 June 2018. The corrective action promised by Y Ventures was that its management would ensure that all future PPE additions recorded are physically checked and verified in order to prevent such errors from arising again.
Y late disclosure?
According to the company's responses to SGX queries, the finance department first discovered "administrative inadvertence" during its internal review process and preparation for its full year statutory audit in September 2018. Y Ventures' management then detected "accounting inadvertences" when the Group performed consolidation review for the nine months ended 30 September 2018 in late October 2018. The errors were brought to the attention of the Audit Committee (AC) and the sponsor in mid-November 2018. Between mid-November and lateDecember 2018, the company worked on checking the restated financial figures, causes of the errors and improving its business processes. The material errors and restated results were eventually announced in January 2019.
As noted by Professor Mak Yuen Teen from NUS Business School, the fact that the announcement was made three months after the management, AC and sponsor had become aware of the errors suggests that they decided the information did not warrant the need for immediate disclosure. Catalist Rule 703 requires "immediate disclosure of material information" and Section 203 of the Securities and Futures Act makes it an offence for a person to "intentionally, recklessly or negligently fail to notify the approved exchange of such information as is required to be disclosed by the approved exchange under the listing rules".
Y sell shares?
Before Y Ventures' IPO, Adam Low and Alex Low each owned more than 40% of the company's shares. After Y Ventures' share placement, Prism Investment Ventures Limited (PRIV), a technology-focused private equity fund,51 together with the Low brothers, were the substantial shareholders, holding more than 10% and 70% of the company's shares respectively.
During the period when Y Ventures' management first became aware of the accounting errors, its substantial shareholder PRIV reduced its shareholding from 11.11% to 4.03% by selling two large blocks of shares at 28 cents and 22 cents respectively. Following the announcement of the accounting errors, Y Ventures' shares fell to around 8 cents on 1 February 2019. PRIV's timely disposal before the announcement raised questions as to whether it had access to publicly unavailable information which led to its drastic reduction in shareholding. The  co-founder and CEO of Luminore 8 Pte Ltd (Luminore), a subsidiary of Y Venture, is also the
co-founder of PRIV.
SGX RegCo steps in
On 12 March 2019, Y Ventures announced that, in consultation with SGX RegCo and its sponsor, RHT Capital, it has appointed Deloitte & Touche Enterprise Risk Services Pte Ltd (Deloitte) as an independent reviewer. The scope of the review includes assessing the adequacy and effectiveness of the internal controls of the Group for periods from 1 January 2014 to 31 December 2018; quantifying and particularising any misstatements in the Group's prior years' financial statements as disclosed in the IPO offer document and to-date as a result of the internal control lapses and misstatements identified; and identifying any possible breaches of the Singapore Exchange Rulebooks, Companies Act (Cap 50) and/or Securities and Futures Act (Cap 289), in relation to the internal control lapses and misstatements identified and identifying the parties responsible for the possible breaches. Deloitte is to report directly to the company's AC, the sponsor and SGX RegCo.
Who is responsible?
When SGX asked Y Ventures about the persons involved and responsible for the internal control lapses, the company responded that "the Finance and Accounting team is responsible for preparation of the announcement of the HY2018 results" without stating the responsible parties for the internal control lapses.
Who is really responsible? Is it the board of directors? Or the management? How about the internal and external auditors? Or the sponsor which helped Y Ventures to list on the Catalist Board? Or perhaps SGX itself, being too hungry for new listings?
Board and management
From the time of Y Ventures' IPO until the announcement of the accounting lapses, the board comprised six directors. Adam Low was the Executive Chairman and Managing Director (MD), while his brother Alex Low was an executive director (ED) and CEO. Adam Low's background comprises of 6 years in the Singapore Armed Forces, which included being a liaison officer with Defence Science and Technology Agency. Before that, he graduated from Temasek Polytechnic in 1999 with a Diploma in Electronic Engineering. In the case of Alex Low, he has "accumulated 14 years of experience in the e-commerce market since 2003 when he first sold second-hand books online", according to Y Ventures' annual report. He graduated from the University of Washington in 2004 with a Bachelor of Science, majoring in Applied and Computational Math, and received his MBA from Peking University in 2010.
There was one non-independent non-executive director (NED) and three independent directors (IDs) on the board as well. Edward Tiong Yung Suh, the lead independent director and Chairman of the Remuneration Committee (RC), is a partner in the litigation and dispute resolution practice group of law firm Allen & Gledhill LLP. His main areas of practice are corporate restructuring and insolvency, banking litigation, commercial litigation and property disputes. He had previously served as an ID and AC member of another SGX-listed company.
Wong Sok Mei, another ID, has a Bachelor of Accountancy degree and has experience in the finance functions of several companies, including regional finance manager roles in multinational corporations. She is Chairman of the AC. Ng Tiong Gee, the third ID, is the Nominating Committee (NC) Chairman. He has an MBA, serves on the board of two other SGX-listed companies, and has management experience in information technology, human resource, estate management and engineering departments in several companies.
Twoon Wai Mun, Benjamin, the NED, has a Bachelor of Business Management degree. He is also the Chief Operations Officer of Fundnel Limited and Fundnel Pte Ltd, and an ID of Sheng Ye Capital Limited, a company listed in Hong Kong.
The three committees – AC, NC and RC – all comprise the three IDs, while Benjamin Twoon also served on the RC.
The company's CFO was Chin Ngai Sung. He left the company on 1 September 2018, only 17 days after the erroneous half yearly report was released. His resignation took effect the day following the date of announcement. The reason provided for the cessation was "to pursue other career opportunities". Professor Mak questioned the circumstances surrounding his resignation. He said that key officers often have notice periods included in their employment contracts, and the sudden and immediate resignation is questionable and worth a closer look despite the fact that the sponsor – RHT Capital – had confirmed that there is no other material reason which led to the CFO's resignation.
On March 1 2019, Benjamin Twoon resigned as NED, citing "to pursue other career opportunities" as the reason for his resignation, even though he had full-time jobs elsewhere. The sponsor said that it was satisfied that there was no other material reason for his resignation. That same day, Adam Low was re-designated from Executive Chairman and MD to MD, and Lew Chern Yong Eric was appointed as Executive Chairman.
Eric Lew was previously an ED at SGX-listed Wong Fong Industries Limited from September 2003 to February 2019. Wong Fong Industries describes itself as "one of the leading providers of land transport engineering solutions and systems headquartered in Singapore with a presence in Malaysia and the PRC". In September 2019, Eric Lew acquired a 10% stake in Y Venture via wholly-owned Amber Blaze Limited – a company incorporated in the British Virgin Islands – the reason given was to align his interests with the company's.
Other board changes were to follow. A new ID, 63 year-old Goh Cher Shua was appointed to the board on 7 May 2019. Goh has prior experience of two SGX-listed companies, including a Chinese company which was sanctioned by SGX regarding announcement of material pricesensitive information and which was subsequently delisted. On 31 May 2019, ID Wong Sok Mei, Chairman of the AC, resigned. Y Ventures gave the reason that she was furthering her studies overseas and the board agreed that her resignation was in the best interests of the company as she would not be able to devote sufficient time and commitment to the company. Another new ID, 56 year-old Tan Jia Kien, was appointed on 14 October 2019. Tan Jia Kien is the MD of Finlab Pte Ltd, has no prior experience as a director of a listed company, and had briefly worked as a business development director at Wong Fong Research and Innovation Centre in 2015.
Subsequently, the CFO who replaced Chin Ngai Sung on 1 September 2018, 37 year-old Joshua Huang Thien En, resigned on 15 July 2019 "to pursue other career opportunities".
In Y Ventures' corporate governance report in the 2017 annual report, the company disclosed that EDs are provided with management accounts on a monthly basis while IDs are updated on a half-yearly basis. It did not provide reasons for the difference in information access between the EDs and the IDs. This was questioned by Professor Mak, who asked whether the IDs asked for the monthly information but were not given or they did not see a need for monthly information, and whether this would hinder the IDs' ability to discharge their duties as directors.
Before listing on the Catalist Board, PricewaterhouseCoopers Risk Services Pte Ltd (PwC) was appointed to review Y Ventures' internal controls in preparation for its IPO. After listing, Y Ventures outsourced its internal audit function to Crowe Horwath First Trust Risk Advisory Pte Ltd (Crowe Horwath).
In response to SGX's queries regarding whether internal controls surrounding inventory balances were adequate, the company said that PwC's internal controls review for the financial period from 1 December 2015 to 30 November 2016 included the review of the inventory management and "all the recommendations from PwC at that time had been adequately addressed and implemented which included the inventory management processes". However, it was unclear what issues PwC had raised regarding Y Ventures' inventory management system and how they were addressed.
According to Y Ventures' response to SGX queries on the scope of internal audits for FY2017, the company said that Crowe Horwath audited bank and cash management, sales, receivables and collections, review of general control environment, and performed follow-up review of prior year's findings. In FY2018, Crowe Horwath's scope of review consisted of the company's human resource management and payroll function, and a follow-up review on prior year's findings.
The company went on to explain that in the two rounds of Y Ventures' internal audit by Crowe Horwath, it focused on areas other than controls already reviewed by PwC as the AC was of the view that those controls were "adequate and sufficient for the company". Inventory controls were thus not the focus. However, Professor Mak pointed out that PwC ought to have also reviewed internal controls in areas such as bank and cash management, yet these were still within the scope of review by Crowe Horwath.
External auditor
The external auditor for Y Ventures is Baker Tilly TFW LLP (Baker Tilly). SGX queried how the lapses had escaped the external auditor's statutory audit checks. The company's response was that "the management had performed a detailed review of the accounting records before finalising the management accounts for the financial year ended 31 December 2017 to prepare for the audit. The external auditor performed their audit and rendered a clean opinion on the financial statements last year. The external auditor did not note any material misstatements in the Group's closing inventories and cost of sales last year upon performance of their audit procedures".
As set out under the section 'auditor's responsibilities' for the Audit of the Financial Statements, the external auditors are supposed to "obtain an understanding of internal control relevant to the audit in order to design audit procedures that are appropriate in the circumstances". Keying in unit costs manually and reconciling inventories using Excel are potentially error-prone. This was not helped by the fact that Y Ventures carried a significant amount of inventories (approximately 62% of total assets as at 31 December 2017) and anticipated increasing transaction volumes and expansion of business operation after listing. Hence, it was uncertain why the external auditors did not identify inventory management as a key audit matter in both FY2017 and FY2018.
The audit opinion for FY2017 was unqualified.88 However, for FY2018 and FY2019, the audit opinion was qualified and there was a material uncertainty related to going concern.
Sponsor
Following the HY2018 accounting errors, SGX RegCo and the public also questioned the accuracy of the company's financial statements issued in prior periods, including those in the IPO offer document.
RHT Capital was Y Ventures' issue manager and sponsor for its listing on SGX Catalist Board and was the continuing sponsor following its listing. Y Ventures was the first company listed by RHT Capital on the Catalist Board as a full sponsor. In preparing a listing applicant for admission on Catalist, RHT Capital is subject to the responsibilities under Catalist Rule 225. The full sponsor is required to perform due diligence in terms of the adequacy of the listing applicant's control systems and procedures. The weaknesses in Y Ventures' inventory management system which resulted in the material misstatements for HY2018 begs the question of whether RHT Capital has adequately discharged its responsibilities. According to Professor Mak, "sponsors and the SGX must do a more robust job in scrutinising the business models and people behind the companies that are listing".
Furthermore, according to Y Ventures' response to SGX queries, the company suspected possible accounting errors in mid-October 2018 and RHT Capital was made aware of the errors in mid-November 2018. Despite Catalist Rule 703 requiring the immediate announcement of material information, the disclosure was only made in January 2019. Considering the late announcement, one may question again whether RHT Capital properly discharged its duties in advising Y Ventures about potential non-compliance with SGX's continuing disclosure requirements.
Y (so many) ventures?
In addition to its main business, Y Ventures has also entered into two joint ventures with other companies. In August 2017, the first joint venture company called Faire Leather Co. (Faire) was formed with a 51% stake held by Y Ventures and 49% by Tocco Toscano, a Singapore luxury men leather products company. Toscano took care of the design, branding and production of the goods while Y Ventures was responsible for using data analytics to maximise sales and the distribution of the products via Faire's official online platform as well as other major online marketplaces. About two years later, Y Ventures sold the majority stake in Faire at a consideration of S$5,000 to the owner of Toscano and exited the joint venture. However, Y Ventures and its wholly-owned subsidiary LYJ International Pte. Ltd. continued to have working capital loans of S$150,000 tied up in Faire, charging either zero or a simple monthly interest of one percent until May 2020.
In July 2018, Y Ventures announced another proposed joint venture agreement with Arke Blockchain Engineering Pte Ltd (Arke) via its subsidiary, Luminore. Y Ventures was to own a 60% stake with Arke owning 40% of Luminore. The aim of this partnership was said to be to develop a blockchain-enabled global buying platform, AORA, that would allow consumers to purchase products from any online store and marketplace using cryptocurrencies or via conventional payment methods. A new cryptocurrency – AORA Coin – was envisioned for use in e-commerce transactions. With a memorandum of understanding signed, Singapore Post also came on board to develop the site, explore possible technological enhancements for the logistic industry and provide logistic services. In addition to its investment amounting to S$120,000, Y Ventures also provided shareholder loans of S$500,000 for Luminore's working capital purposes.
In order to raise funds for the development of the AORA platform, Luminore launched an initial coin offering (ICO) of utility tokens in July 2018. Y Ventures is reportedly the first Singaporelisted company to do so. In Y Ventures' announcement, it warned potential investors of risks involved in the investment. For instance, as AORA Coins do not fall within the definition of securities under the Securities and Futures Act, regulatory safeguards and protection applicable to typical securities would not be applicable for purchasers of the AORA Coins.
Y Ventures is not the first company which tried to launch an ICO in Singapore. However, the complex compliance matters involved and the monitoring of the market activities by the Monetary Authority of Singapore (MAS) have made it difficult for companies to achieve that. In May 2018, MAS issued a public warning to digital token exchanges and ICO issuers to stop doing so due to a lack of clear regulations.
Subsequently, in October 2018, Y Ventures announced a reduction of its stake in Luminore from 60% to 20%, citing factors such as compliance requirements and accounting uncertainty over the ICO. The company stated that the joint venture "requires the management to divert more time and resources than initially considered" to compliance. According to Y Ventures' FY2018 annual report, the remaining 20% equity interest in Luminore is carried at US$1. Under the variation agreement, Arke would be entitled to appoint all of the joint venture company's directors. Y Ventures would no longer be involved in the management and operations of the joint venture company, the ICO and the AORA platform.
In response to SGX query regarding trading activity on 14 October 2019, Y Ventures disclosed the possibility of a third joint venture for the Group, even though no formal agreement had been entered into.
Y no dividend?
While Y Ventures mentioned in its product highlights sheet that it currently does not have a fixed dividend policy, and the distribution of dividends depends on various factors such as earnings and capital needs,115 the company clearly stated an intention to declare an annual dividend of at least 20% of net profit after tax for FY2017 and FY2018 in its offer document.
The product highlights sheet identified "ongoing compliance costs of a publicly listed company,…in respect of a portion of our listing expenses incurred in connection with the Placement" as an uncertainty that may have a material effect on its financial performance in 2017 and in the future. However, it is unclear whether the company has carefully taken this into account when formulating the dividend distribution expectation for 2017 and 2018.
In FY2017, Y Ventures incurred a total loss of US$890,467 and therefore no dividend was declared. As Professor Mak pointed out, in the FY2017 annual report, the company had changed its tune about the dividend policy as it now said that "the company does not have a fixed dividend policy. The issue of payment of dividends is deliberated by the board annually, having regards to various factors (e.g., Company's profit, cash flow, capital requirements for investment and growth, general business conditions and other factors as the Board deems appropriate)".
Epilogue
Y Ventures listed in July 2017 at a price of S$0.22. By early January 2020, it was trading at about half its IPO price. Following the COVID-19 pandamic, its share price has continued to fall, and by 8 April 2020, its share price was just S$0.056.
The findings from the independent review, first announced in March 2019, have not been released as of 16 August 2020.
---
Discussion questions
Evaluate the business model of Y Ventures. Would such a business model be more prone to corporate governance and accounting problems? Explain.
The co-founders, Alex and Adam Low, were majority shareholders, served on the board of directors, and were part of the management of Y Ventures. Discuss the benefits and risks posed by the non-segregation of shareholder, board and management roles in such cases.
Critically evaluate the structure of the board of directors of Y Ventures in terms of its size, leadership and composition at the time when the accounting lapses and internal control deficiencies occurred. Do you think the structure of the board was a contributing factor? Explain.
Critically evaluate the board and management changes. Do they raise any concerns? Do you think the board structure has improved? Explain.
Who should be held responsible for the accounting lapses and internal control deficiencies? How could the four lines of defence be improved to prevent such problems in the future?
A number of the disclosures made by Y Ventures have been viewed to be untimely. Should the sponsor be responsible for this non-compliance? To what extent should a sponsor monitor the company in ensuring the timely disclosure of material information? How can the Catalist-listed companies be better monitored?
Y Ventures entered into joint ventures which it quickly exited from or reduced its investment in. What is the role of the board in such decisions? Do you think the board has effectively discharged its role in this regard? Explain.
Discuss whether SGX Regco has effectively discharged its responsibiliites on a timely basis.
---
The content was originally published on CPA Australia.
Photo by Jason Wong on Unsplash.