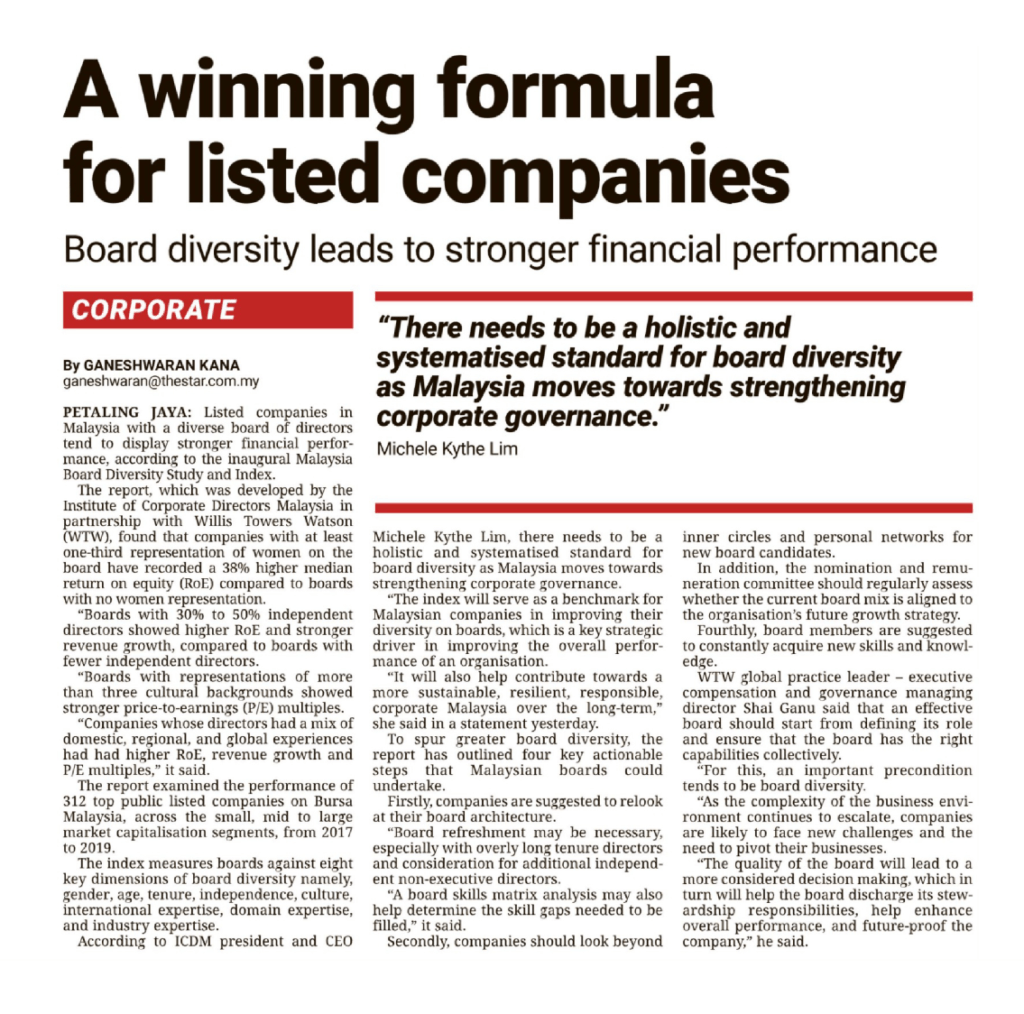 PETALING JAYA: Listed companies in Malaysia with a diverse board of directors tend to display stronger financial performance, according to the inaugural Malaysia Board Diversity Study and Index.
The report, which was developed by the Institute of Corporate Directors Malaysia in partnership with Willis Towers Watson (WTW), found that companies with at least one-third representation of women on the board have recorded a 38% higher median return on equity (RoE) compared to boards with no women representation.
"Boards with 30% to 50% independent directors showed higher RoE and stronger revenue growth, compared to boards with fewer independent directors.
"Boards with representations of more than three cultural backgrounds showed stronger price-to-earnings (P/E) multiples.
"Companies whose directors had a mix of domestic, regional, and global experiences had had higher RoE, revenue growth and P/E multiples, " it said.
The report examined the performance of 312 top public listed companies on Bursa Malaysia, across the small, mid to large market capitalisation segments, from 2017 to 2019.
The index measures boards against eight key dimensions of board diversity namely, gender, age, tenure, independence, culture, international expertise, domain expertise, and industry expertise.
According to ICDM president and CEO Michele Kythe Lim, (pic) there needs to be a holistic and systematised standard for board diversity as Malaysia moves towards strengthening corporate governance.
"The index will serve as a benchmark for Malaysian companies in improving their diversity on boards, which is a key strategic driver in improving the overall performance of an organisation.
"It will also help contribute towards a more sustainable, resilient, responsible, corporate Malaysia over the long-term, " she said in a statement yesterday.
To spur greater board diversity, the report has outlined four key actionable steps that Malaysian boards could undertake.
Firstly, companies are suggested to relook at their board architecture.
"Board refreshment may be necessary, especially with overly long tenure directors and consideration for additional independent non-executive directors.
"A board skills matrix analysis may also help determine the skill gaps needed to be filled, " it said.
Secondly, companies should look beyond inner circles and personal networks for new board candidates.
In addition, the nomination and remuneration committee should regularly assess whether the current board mix is aligned to the organisation's future growth strategy.
Fourthly, board members are suggested to constantly acquire new skills and knowledge.
WTW global practice leader – executive compensation and governance managing director Shai Ganu said that an effective board should start from defining its role and ensure that the board has the right capabilities collectively.
"For this, an important precondition tends to be board diversity.
"As the complexity of the business environment continues to escalate, companies are likely to face new challenges and the need to pivot their businesses.
"The quality of the board will lead to a more considered decision making, which in turn will help the board discharge its stewardship responsibilities, help enhance overall performance, and future-proof the company, " he said.
---
This article was first published in The Star Online on 8 April 2021.