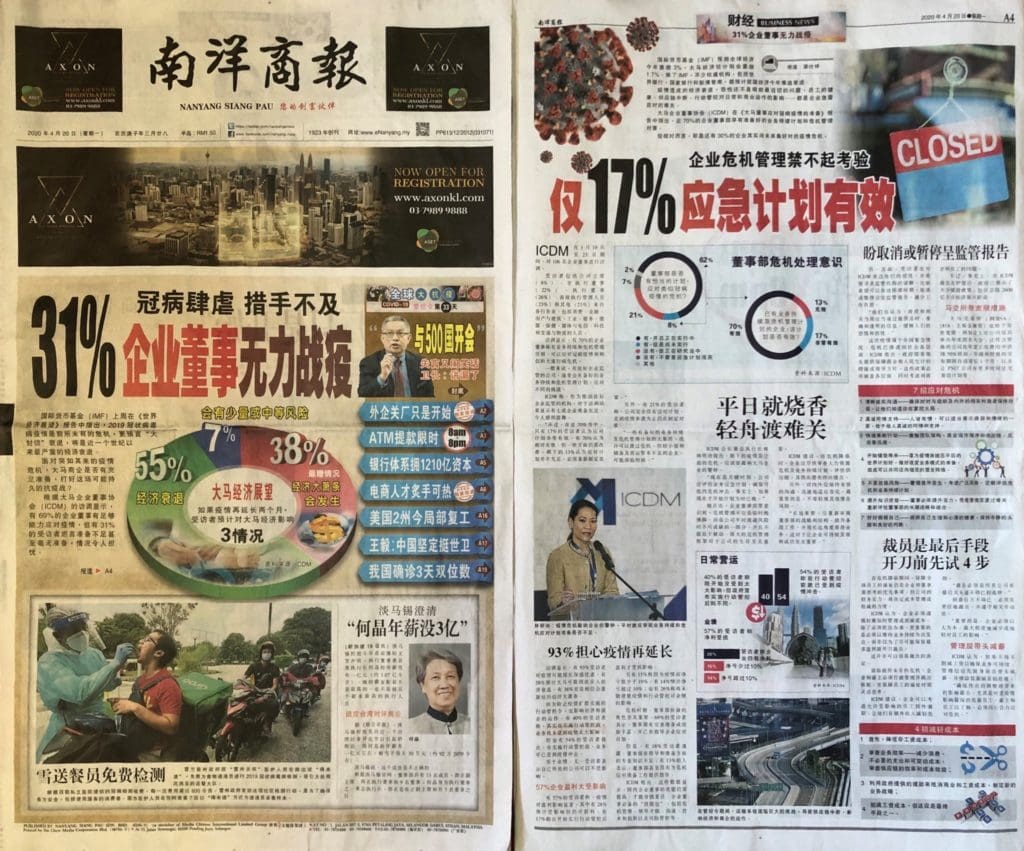 This article was first published here on 20 April 2020. Below is the translation in English.
---
According to the World Economic Outlook published by the International Monetary Fund (IMF) last week, the outbreak of COVID-19 is an unprecedented crisis; and it predicts that with the "major lockdown", the world may experience the greatest economic decline/recession in a decade.
With the sudden outbreak of the pandemic, are Malaysian companies well-equipped to fight this possibly long-lasting fight against COVID-19? According to ICDM, 69% boards are either well-equipped or sufficiently experienced and had guided the organisation in its preparation plans. However, 31% respondents have said that their boards either have insufficient expertise or have given no guidance in terms of preparations – the situation is worrying.
Companies' crisis management unable to withstand the crisis – only 17% says their business continuity plan (BCP) is effective
IMF has projected -3% global growth for 2020 and Malaysia's economy to contract by 1.7%.
Unfortunately, the most pressing issues for Malaysian companies is not the recession caused by the COVID-19 pandemic. Welfare of staff, disruption of supply chain, the impact of the Movement Control Order (MCO) towards daily and business operations… these are challenges that companies need to deal with urgently.
In the ICDM report themed "Malaysian Boards and Directors Preparedness for COVID-19", it is revealed that nearly 70% boards have BCP and crisis management plan (CMP). However, 30% companies are not prepared to deal with the crisis.
The ICDM poll was conducted from 19 to 23 March 2020, surveying 106 boards/directors. It examined the views of top-level leadership comprising chairmen (8%), non-executive directors (22%), executive directors (26%), senior executive management (23%) and others (21%) from sectors such as consumer products and services, financial services, property and construction, industrial products and services, energy, healthcare, telecommunication and media, technology and transportation and logistics.
The poll showed that 70% Malaysian companies have a BCP/CMP to deal with the challenges brought on by the COVID-19 outbreak or a similar crisis. Typically, companies with good corporate governance would have had a BCP and CMP in place to handle different kinds of crises.
ICDM said, as an institute serving as the leading influence of good corporate governance, is it is particularly heartened to find that 70% of Malaysian boards are in fact well-equipped with a BCP or CMP to deal with or mitigate the effects of the current COVID-19 crisis.
However, out of the 70% respondents that already have a BCP or CMP in place, only 17% felt that their plans are very effective, while 70% felt that their plans are effective to a certain extent but some areas require improvement to adapt to the unfolding situation. The rest of 13% felt that their current plans are inadequate and there is a need to rethink the ways to manage the current situation.
21% revealed that their organisations do not have an existing BCP or CMP and are only in the process of developing the contingency plan in response to the MCO.
ICDM also said, whilst larger corporations may have a BCP or CMP and will be able to ride through this crisis, smaller enterprises with less or inadequate reserves or working capital will find themselves in a financial crunch.
93% worry that the outbreak will be prolonged
93% respondents are worried that the pandemic will be prolonged; 58% believes the economy will go into a decline while 38% think this will send Malaysia into a depression.
The implementation of the MCO also disrupted economic and business operations. 40% respondents said that day-to-day operations of their businesses were not affected much initially until the MCO took effect. However, 54% have started seeing the negative impact of the COVID-19 before the implementation of the MCO.
As for bottom line, no respondents have said that their businesses were not impacted. 57% respondents also said that they were impacted negatively, with 28% negatively impacted but still in the black, and 17% only started seeing the negative impact after the MCO was implemented. 15% suffered net losses of less than 10 percent; and 14% suffered net losses of more than 10 percent. 26% are still unsure of the impact of COVID-19 and MCO to their bottom line.
In times of crisis, the role of the board is essential in business continuity. 69% said that their boards are either well-equipped or sufficiently experienced and had guided the organisation in its preparation plans. However, 18% noted there was insufficient expertise on their board in terms of guidance and preparation, while 13% said there was no guidance or emphasis given for such preparations from the board.
ICDM pointed out, the insights from the poll showed that there is need for more upskilling of directors to be better equipped and qualified to guide and execute their oversight role on the boards they sit on. Skillsets needed by directors include crisis management, leadership skills, communication, technology and innovation, as well as risk and compliance.
Preparedness key to survive crisis
Michele Kythe Lim, CEO and President of ICDM said that the COVID-19 that this is an unprecedented time for businesses and a wake-up call for Malaysian businesses. This is a crucial time for companies to assess their business contingency plan, to ensure that their business is able to withstand the crisis. In fact, it would have been too late if companies only started looking at their plans now.
She also mentioned that boards need to realise that crisis management starts a long way before a crisis hits – it should be an integral part of the company's risk mitigation measures and cannot be reactive. A robust framework in crisis management is essential to the survival of the company.
ICDM recommends companies to review the human resource policies, revisit the crisis and continuity plans; evaluate the supply chain, identify potential points of failure, communicate effectively not just externally but internally as well; be agile in adapting to the changes and most importantly; not lose sight of other potential risks. Over the longer term, relooking board strategies and composition, ramping up the level of preparedness and adopting a long-term view of their business will be essential for the overall sustainability and success of the organisation.
Hope to cancel or suspend the submission of the regulatory report
Respondents have also voiced their concerns and seek understanding from the regulators and relevant authorities to revisit the many reporting requirements they need to abide by currently – whether the less critical reporting could be eliminated or deferred to help ease the burden of businesses during this difficult time. They also felt that the Government and relevant authorities can also help manage the panic and concerns of the people by providing timely, accurate and transparent communications.
This is an all-encompassing nationwide emergency, which has permeated all facets of society. The Government will also need to take the lead in providing measures or guidelines that protect both businesses and livelihoods. These guidelines need to take a holistic stance and consider the concerns from both the business and employee perspectives.
However, it is worth noting that from the time respondents' feedback were received till the time of this report, numerous measures have been announced in response to the pandemic, including the announcement of the RM260 billion second economic stimulus package.
Bursa Malaysia has also announced additional relief measures to alleviate the impact of COVID-19 on capital market players such as the deferment of the annual general meetings, a rebate of 50% of the annual listing fees to qualified listed issuers, an automatic 1-month extension for issuance of quarterly and annual reports for the Main and ACE Markets, as well as semi-annual and annual audited financial statements for the LEAP Market, that are due on 31 March 2020 and 30 April 2020, and an extension of time to submit regularisation plans for PN17 listed issuers.
Seven key action steps to respond to crises
Communicate clearly, frankly and frequently – Ensure your organisation engage both internal and external stakeholders in conversations promptly, to assure them that you are on top of things.
Do not be afraid to show compassion – Demonstrate vulnerability and show emotion. We are human after all. Inculcate empathy and humility through genuine actions of support.
Act quickly and decisively – Reconfigure your team structure, business processes and supply chain to formulate the best response. Be agile to changes.
Start paving the path to recovery – Think beyond the flattened curve. Be ready to pivot your business model and form a network of alliances to move in concert towards stability.
Do not lose sight of other possible risks – Stay vigilant of unintended consequences and take a broader view of risk. Revisit your crisis and continuity plans regularly.
Broaden your knowledge and skills – This unprecedented crisis calls for boards to expand their capability to guide management through this difficult time effectively. Relook at your board strategies and composition in the longer term.
Take care of your well-being – Pay attention to your mental and physical health to maintain the ability to stay level-headed and exercise good judgment.
Retrenchment should be the last resort – four measures to take on before retrenchment
The preservation of jobs and overall staff wellbeing remains a priority, however the cost management or cutting measures will depend on the financial strength of the company. ICDM said, cost management or cutting measures must be carefully weighed out and done within the ambit of the law with the topmost interest of maintaining the continuity of businesses and not for the sake of cutting cost and preserving profits. It is never an easy decision to make.
In dealing with the unprecedented crisis, companies or employers must think out of the box and exercise flexibility when it comes to ensuring the well-being of their employees.
ICDM suggested, amongst the innovative methods companies can consider is allowing their affected employees to take on other concurrent jobs outside of the organisation to help supplement their income and lessen their burden during this period. Retrenchment has to be the last resort for any companies.
If retrenchment is absolutely necessary, it should be done in a responsible manner and in compliance with relevant labour laws. Ultimately, it is important to ensure companies implement a people-centric policy to minimise or cushion the impact on employees.
ICDM believes that if companies have to cut wages to ensure the continuity of business, the Management should take the lead and consider the circumstances of low-wage employees. It is important that the adjustments made will have minimal impact, especially to low-wage workers who are most impacted as a result of the pandemic. More importantly, both employers and employees should understand that it will take collective effort to deal with the crisis at hand.
Four measures to reduce cost
Reduce non-wage costs;
Review the efficiency of the business – reduce wastage, minimise unnecessary spending, reduce variables, review efficiency and cost-effectiveness of the supply chain;
Tap on support provided by the Government to offset business and wage costs whilst implementing new business strategies;
Trim wage costs – but this should be one of the last resort action steps.
---
Photo by Ethan Hoover on Unsplash.