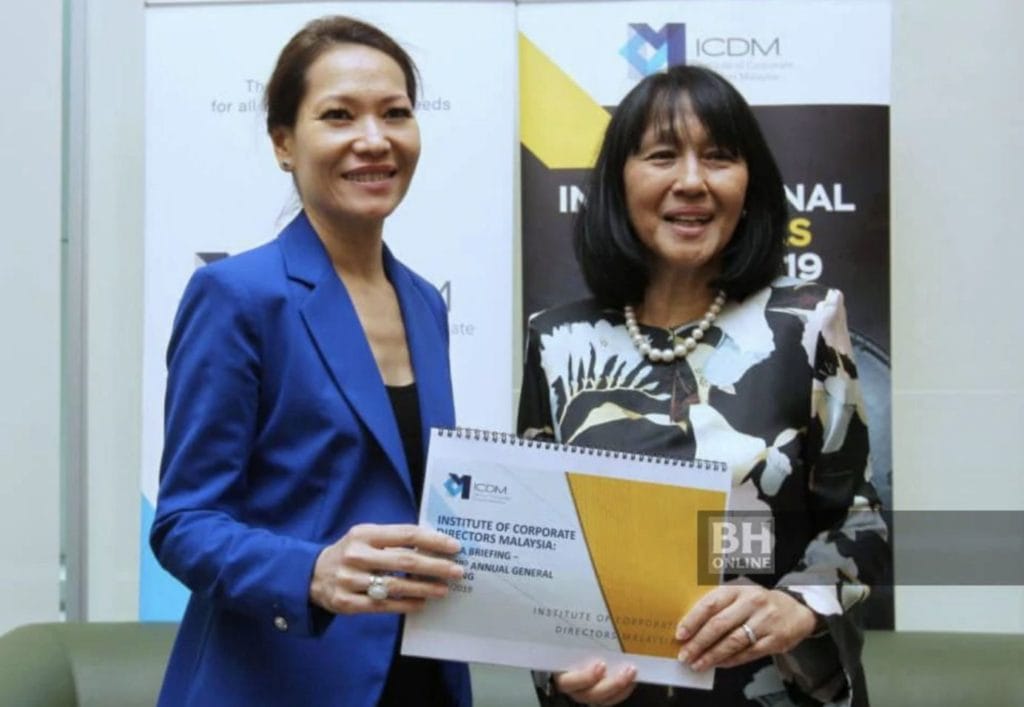 PENGERUSI ICDM, Tan Sri Zarinah Anwar (kanan) dan Presiden dan Ketua Pegawai Eksekutif ICDM,
Michele Kythe Lim ketika sidang media di Suruhanjaya Sekuriti Malaysia. – Foto Mahzir Mat Isa
KUALA LUMPUR: Institut Pengarah Korporat Malaysia (ICDM) menyasarkan keahliannya meningkat kepada 500 individu dan 25 ahli korporat menjelang akhir tahun ini.
Presiden dan Ketua Pengarah Eksekutifnya, Michele Kythe Lim, berkata program keahlian ICDM menyaksikan minat yang semakin berkembang dalam kalangan pengarah dan ahli lembaga daripada syarikat senaraian dan sebaliknya.
Katanya, trend positif ini memberi isyarat bahawa pengurusan kanan sentiasa mementingkan peningkatan skil dan pengetahuan sebagai usaha kekal berdaya saing dan relevan dalam pasaran.
"ICDM kini sedang merangka strategi untuk melahirkan lebih ramai pengarah generasi hadapan dan sedang giat merekrut lebih banyak perusahaan kecil dan sederahana (PKS) ke dalam agensi ini sejajar dengan rancangan untuk meningkatkan budaya tadbir urus korporat dalam kalangan syarikat tempatan.
Program jangkauan antarabangsa dan kerjasama strategik antaranya dengan Bursa Malaysia seperti program kepimpinan dan bual bicara baru-baru ini serta penganjuran Malaysia Chapter of the Climate Governance Initiative (CGIM) sebagai langkah meluaskan budaya tadbir urus korporat dan perkara berkaitan kemampanan," katanya pada sidang media di sini, hari ini.
Turut hadir, Pengerusi ICDM, Tan Sri Zarinah Anwar.
ICDM yang ditubuhkan tahun lalu oleh Suruhanjaya Sekuriti Malaysia (SC) bertujuan menggalakkan kecemerlangan, integriti dan tahap kemahiran serta kecekapan profesional tertinggi dalam kalangan pengarah korporat di Malaysia, selain menyokong penggunaan dan penerapan amalan tadbir urus korporat.
Penubuhan ICDM sejajar dengan inisiatif Keutamaan Strategik Tadbir Urus Korporat (2017-2020), yang juga disokong oleh Bank Negara Malaysia dan Bursa Malaysia.
Michele berkata, setakat ini, dari segi keahlian korporat, 64 peratus ahli terdiri daripada syarikat senaraian, 27 peratus syarikat bukan senaraian dan 9.0 peratus entiti swasta.
"Perkhidmatan kewangan mendominasi keahlian dengan 45 peratus diikuti produk industri dan perkhidmatan (18 peratus) manakala sektor tenaga, syarikat berkaitan pelaburan kerajaan dan pembinaan (9.0 peratus)," katanya.
Bagi memberi lebih pehamanan kepada individu korporat, ICDM menggerakkan empat inisiatif menerusi program; pengambilan ahli; rakan kongsi baharu dan jangkauan antarabangsa.
Artikel ini diambil dari akhbar Berita Harian dan Berita Harian Online.