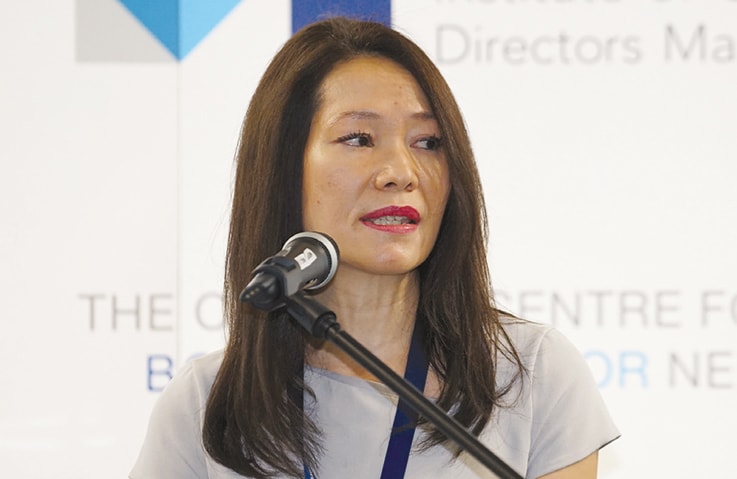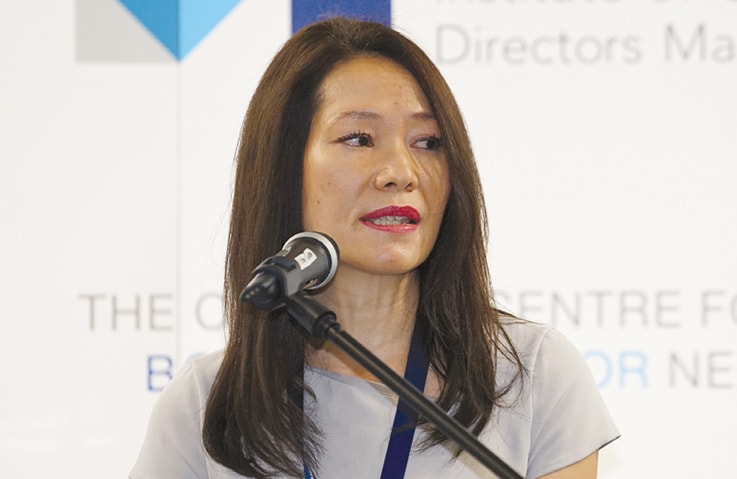 ICDM has close to 400 qualified director candidates in its registry, 33% are women and 64% below the age of 60
by ASILA JALIL / pic by MUHD AMIN NAHARUL
THE Institute of Corporate Directors Malaysia (ICDM) will focus on diversifying the current pool of Malaysian company directors by developing the next generation of leaders who can bring new perspectives and skills to boards of companies.
ICDM president and CEO Michele Kythe Lim (picture) said a more diverse make-up would enable the board to view disruptions from a different angle, which would generate better performance in the organisation.
"We are looking at the pool of directors we have out there. We need to improve because we have stagnated for a while since the same people are sitting on the same boards.
"It is more or less the same pool of people now and a large part of our mandate now is to improve that. We try to bring into the pipeline the next generation of directors," she said during a virtual press briefing after ICDM's third AGM yesterday.
To date, ICDM has close to 400 qualified director candidates in its registry where 33% are women and 64% of the total is below the age of 60.
The organisation is also rolling out the Aspiring Directors Immersion Programme to build a pipeline of competent directors.
As of May 31, ICDM's membership base has grown to a total of 497 individual members and 40 corporate members.
It has also completed 77 director development programmes that benefitted 4,617 directors and senior leaders, facilitated 27 director-sourcing applications with seven successful placements, as well as conducted seven board and director effectiveness evaluations.
"The Covid-19 pandemic has pushed companies, boards and directors to review their outlook and outcomes against the next normal.
"It is now or never. To survive as a business, we need to revise our plans and expectations to cater to changing customer expectations and the environment," Lim said.
Moving forward, ICDM is also focusing on building bespoke programmes, strengthening its network of directors and increasing engagement with the director community to enhance its offerings and capabilities.
It is working closely with regulators to develop a formal certification qualification for directors as a benchmark of standards, ensuring proper sourcing of independent directors from a credible pool.
The institute will also refine its Board and Director Effectiveness Evaluation (BDEE), which is becoming an integral component of board leadership development.
The BDEE assesses the effectiveness of a firm's board and directors through a combination of physical interviews and consultancy, sighting of governance documents in confidentiality and board-working facilitation dialogue.
The evaluation offers candid feedback, verified insights and objective assessment of the directors by their peers and key management personnel.
"As we move towards becoming a corporate governance best practice, ICDM hopes to collaborate with partners and stakeholders to champion the voices of Asean.
"We will continue to build and fortify the skill sets of directors as they take charge in leading their businesses," Lim said.
Launched in October 2018, ICDM is a professional institution dedicated to enhancing the professionalism and effectiveness of corporate directors in Malaysia.
It is spearheaded by the Securities Commission Malaysia and supported by Bank Negara Malaysia, Bursa Malaysia and the Capital Market Development Fund.
---
This article first appeared in The Malaysian Reserve on September 8, 2020.
Photo by Osman Rana on Unsplash.