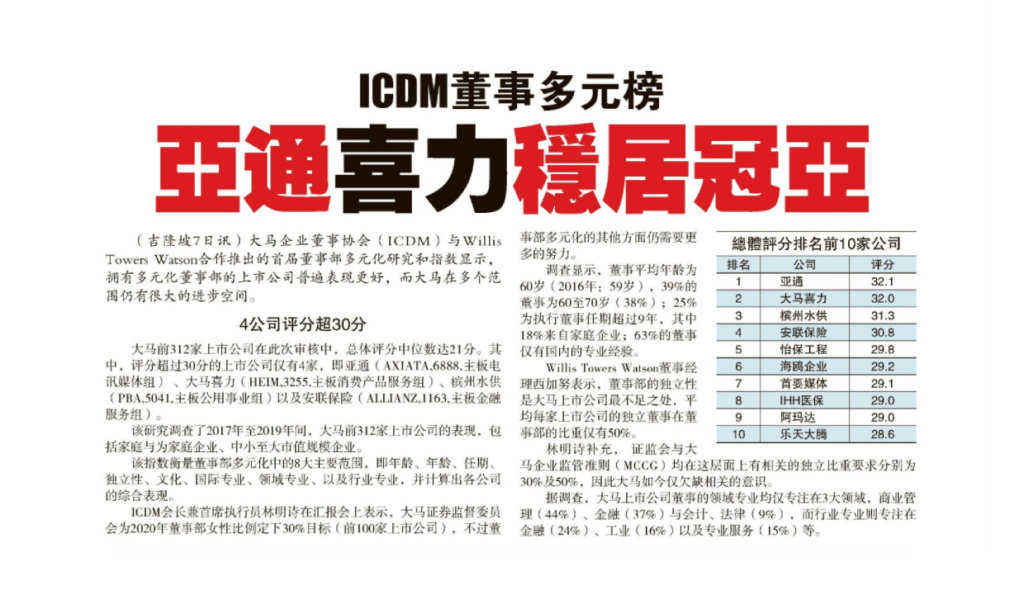 Summary
ICDM and Willis Towers Watson collaborated to launch the inaugural Malaysia Board Diversity Study and Index, which showcased that a more diverse boards on public listed companies (PLCs) tend to perform better, and Malaysia has a lot of room for improvement in many areas/dimensions.


Four companies rated over 30 marks

Amongst the 312 PLCs examined, the overall rating is over 21. From the results, four (4) PLCs i.e. Axiata, Heineken, PBA Holdings and Allianz were rated above 30.
The Index looks at eight (8) diversity dimensions: gender, age, tenure, independence, cultural, international expertise, domain expertise, and industry expertise.
According to ICDM President/CEO Michele Kythe Lim, Securities Commission Malaysia has set the 2020 target for 30% female representation on board (for top 100 Malaysian PLCs), however other dimensions of diversity need to be improved further.
The Study shown that boards are of 60 years old average, with 39% directors between the age of 60-17; 25% has a tenure of more nine (9) years, and amongst this, 18% are family-owned businesses; and 63% boards have domestic experience only.
Shai Ganu said, the independence of the board for PLCs is the independence of the board is the most inadequate area, with most boards only scoring 50% in this aspect.
Michele added, the SC and the MCCG are looking at 30% and 50% independence on boards – Malaysia needs to look at growing awareness in this area.
---
This article was first published in Sin Chew Daily on 8 April 2021.