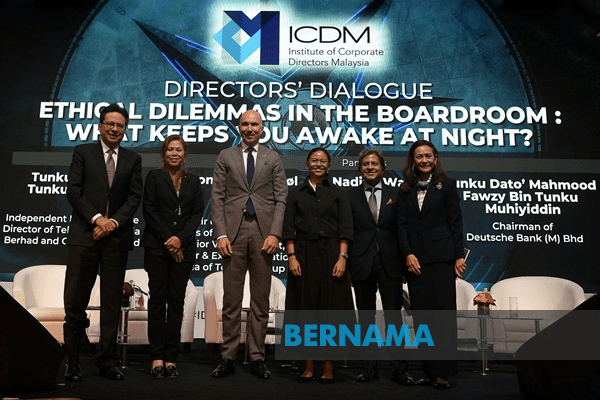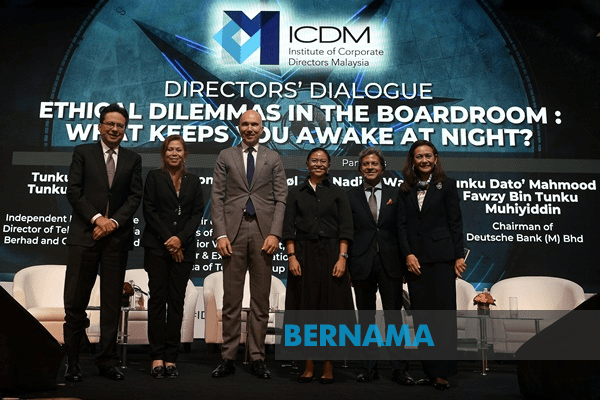 PENGERUSI Institut Pengarah Korporat Malaysia (ICDM), Tan Sri Zarinah Anwar. – Foto NSTP/Rosela Ismail
KUALA LUMPUR, Oct 14 — A conference organised to discuss common and pertinent issues faced in the Malaysian boardroom was told how there is a passive culture among directors during board meetings, even if it involved matters they felt strongly about.
Board members, by right, should not shy away from speaking up during meetings for the benefit of the company even if their opinion go against the flow, Deutsche Bank chairman Tunku Datuk Mahmood Fawzy Tunku Muhiyiddin said during one of the sessions at the International Directors Summit 2019 here today.
The conference was organised by the Institute of Corporate Directors Malaysia (ICDM) as a platform for attendees to discuss, debate and establish definitive paths forward in areas regarding corporate governance leadership in the face of 21st-century challenges.
Tunku Mahmood Fawzy noted that there was a culture in Malaysian boardroom meetings not to challenge the chairman.
He was of the view that directors today must be able to challenge matters they feel strongly about, and what they feel was right.
"They must also find the courage to ask questions when they have doubts as it is for the good of the organisation," he said.
What was happening now, Tunku Mahmood Fawzy pointed out, was that directors, especially the younger ones, tend to avoid asking questions during board meetings.
The first day of the inaugural two-day summit saw a participation of more than 400 local and regional executive leaders, governance experts, government representatives and members of civil society.
Meanwhile, ICDM board member Datuk Seri Johan Raslan, who acted as moderator for the Directors Dialogue at the conference, said some of the issues touched included those faced by board of directors today in terms of decision-making and skills needed to be a part of the directorship team.
"Usually these talks talk about the professional skills of being a lawyer or an accountant, but this time we touched on a person's 'Emotional Quotient' (EQ), the ability to understand human resource matters and culture of an organisation," he told Bernama after the dialogue session.
"It is important for events like this where board members from different industries get to meet and have discussions about different cultures in a company, including board culture, and it is important also to have members discuss about people, sustainability and ethics," he added.
— BERNAMA