On 13 October, the 10th Prime Minister, Datuk Seri Anwar Ibrahim has tabled the largest budget that the country has ever seen with a whopping of RM 393.8 billion. With the theme of, 'Budget 2024: Economic Reforms, Empowering the People', the immense budget sets aside RM303.8 billion for operating expenditure (OpEx) while the remaining RM 90 billion has been allocated towards development expenditure (DevEx).
Below are the differences between the two MADANI budgets:
Year

Total Allocation

Operating




Expenditure (OpEx)

Development




Expenditure (DevEx)

2023
RM 393.8 billion
RM 303.8 billion
RM 90 billion
2024
RM 388.1 billion
RM 289.1 billion
RM 99 billion
Budget 2024 has three key trusts, which are:
Delivering reforms to enhance governance and public delivery system
Transforming the economy and business
Elevating the well-being of the Rakyat
The Budget is the continuing effort towards achieving the Ekonomi Madani policy that was introduced back in 27 July 2023.  In re-engineering the country to be in a better trajectory, generating growth, and enhancing the rakyat's well-being, the policy proposed the country to be anchored on six (6) Madani values which are – (1) Sustainability, (2) Care & Compassion, (3) Respect, (4) Innovation, (5) Prosperity & (6) Trust.
The values are supported by two pillars that serves as a framework for the current and future actions:
Raise the Ceiling – To be a leading Asian economy by restructuring the economy towards national competitiveness
Raise the Floor – Quality & justice life for all by championing social justice to improve the quality of life of the rakyat.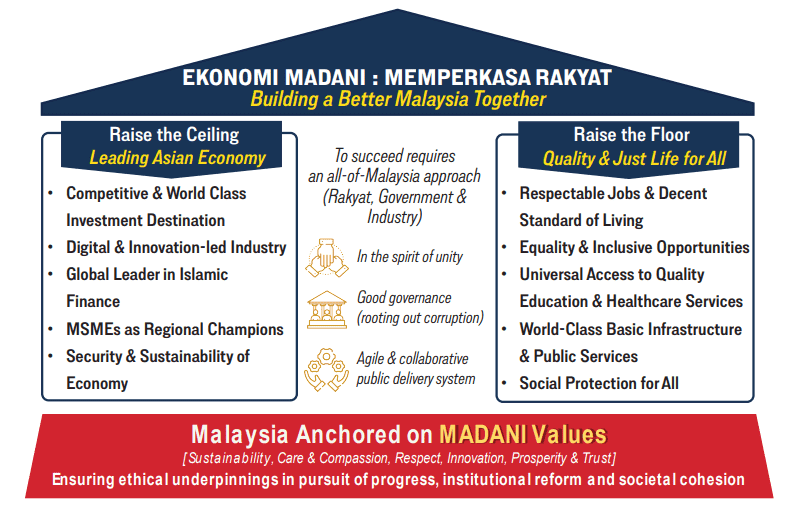 The Madani economy policy has seven key targets that are to be achieved over the span of 10 years, which are to:
Be the top 30 largest economy
Be the top 12 in global competitiveness
Be the top 25 on the Human Development Index
Increase Labour share of income to 45%
Improve Malaysia's position in the Corruption Perception Index Top 25
Move towards fiscal sustainability, targeting deficit of 3%, or better
Increase Female Labour Force Participation Rate to 60%
Read more on Ekonomi Madani policy here.
---
Some of the highlights of Budget 2024 in supporting business continuity and resilience:
The summaries below provide a good overview of the National 2024 Budget:
Full speech of the National 2024 Budget is available here.