PwC's Global Consumer Insights Survey
The Global Consumer Insights Survey 2020 is our 11th consecutive annual survey of global consumers. This year, we polled urban consumers globally to understand their purchasing behaviours over two separate studies; one before the COVID-19 outbreak and one after the outbreak. The survey seeks to understand how consumer behaviours and spending habits have been impacted by the pandemic.
Note: For this year's edition, Malaysia only participated in the pre-COVID-19 survey, hence, we were not able to produce a local cut. We are instead sharing some key findings from the global report, reflecting on how these findings can be translated into actionable steps for Malaysian businesses.
The current outlook in Malaysia
COVID-19 and the subsequent social distancing measures have propelled consumers to behave and think differently. Overnight, consumers have become more careful with how they spend their money, where they spend their money and the platforms they use to make their daily purchases and transactions.
The Malaysian government was quick to act in curbing the spread of COVID-19, enforcing a Movement Control Order in March 2020 as a proactive measure to break the chain. Shortly after, a 6-month moratorium on loan repayments was announced to ease the financial burden faced by SMEs and individuals as well as the corporate sector. When movement restrictions began to lift, the RM35b National Economic Recovery Plan (PENJANA) was unveiled to relieve the burden of the people most affected by the pandemic, help businesses recover and move forward, and stimulate the economy.
Expect market volatility and price sensitivity
These economic initiatives were vital in kickstarting consumer spending to keep the wheels of the nation's economy spinning. But how have consumer spending patterns shifted pre- and post-pandemic? After all, Malaysia's GDP contracted by 17.1%, in the second quarter of 2020, the lowest growth in Malaysia since the fourth quarter of 1998 during the Asian Financial Crisis – an indication that consumer behaviour has changed significantly over the past few months.
Before the outbreak, almost half of respondents (46%) said that they were expecting to spend more in the next 12 months. Things took a different turn in the survey conducted after COVID-19 started as 18% of respondents reported a decrease in income and an increase in overall household bills.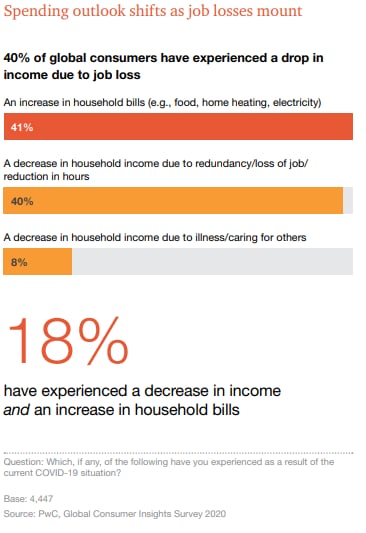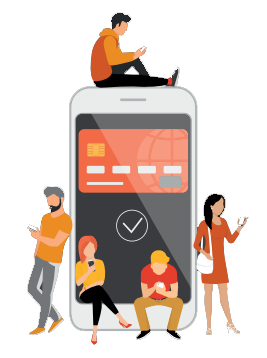 In addition, the percentage of those who said they were going to spend less in the next few months almost doubled and the number who said they were going to spend more dropped by more than 10 percentage points.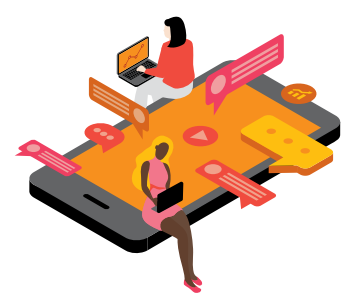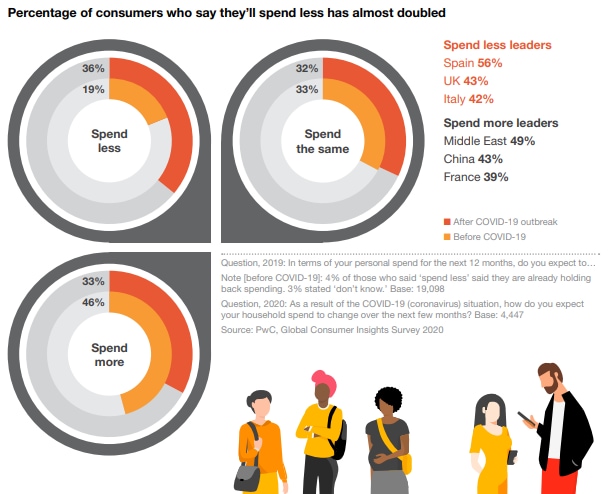 Before distancing measures were put in place, global urban consumers were opening their wallets for travel, dining out, art and cultural events, personal styling, health and wellness, nightlife and entertainment, and sporting events. Travel (44%) and dining out (41%) were two of the top three ways city dwellers spent their disposable income. However, our findings post-COVID-19 show that globally, consumers are spending the most on groceries, in-place entertainment and home projects. They are also buying most nonfood items online and with the exception of entertainment and media, spending significantly less.

Similarly in Malaysia, a Nielsen study supports these spending trends as Malaysian consumers were reported to have spent the most on health products and pantry stockpiling. We expect this cautious spending trend to continue especially after the loan moratorium period ends, coupled with the rising unemployment rate (which spiked to 5.3% as at May 2020, an all time high since 1998).
Actions for businesses
We're living in an experience economy – one where consumers want to always be connected, to have options in the current climate of reduced spending, ease of usage and an interactive experience. It has never been more important to earn your customers' trust, which includes creating an environment where they feel safe to shop (both online and offline), having the items they need in stock, and providing a consistent level of service.
In order for companies to thrive, businesses and retailers have to:
Proactively identify the 'anchor' products or services that must be made available at all times, for instance groceries, health supplements, ride-sharing and fulfilment services, through the supply chain
Make an effort to understand how customers' general priorities are changing to put more weight on price and value, and use this opportunity to re-evaluate their relationship with their customers
Consider new pricing strategies and loyalty programmes in the digital ecosystem to drive and maintain customer engagement to attract a new set of customers while also retaining existing customers
Digital engagement is the way forward
The pandemic has reinforced the already growing trend of online shopping. It has encouraged experimentation, coaxing consumers to explore different ways to access products and services.
Social distancing measures have also accelerated the rise of cashless payment methods. A report by Mastercard recently showed that Malaysia leads mobile wallet usage in Southeast Asia at 40%, ahead of the Philippines (36%), Thailand (27%) and Singapore (26%).
When we first surveyed global urban consumers in late 2019, mobile online shopping was becoming more popular with consumers, and since the outbreak, we see a significant percentage of consumers saying they've increased their frequency of mobile shopping.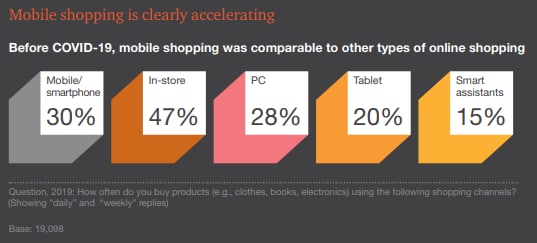 Online shopping like buying fresh produce online has also become the new normal in many countries, a stark contrast to trends before the outbreak when online grocery shopping was well behind online shopping for nonfood items.
Furthermore, e-commerce in Malaysia has continued to grow in the first few months of 2020, with over 149% surge in online sales according to Commerce.Asia. One of the region's main online retail players, Shopee, pulled in an average of over 27 million visits to their platforms per month in the first quarter of 2020. In the first few months of the pandemic, it saw a significant shift from people spending money on things they want, to essential items, such as groceries and baby products. Like its main competitor, Lazada Malaysia has also seen a change in their customer's shopping habits. They have responded quickly by launching a sales campaign, offering discounts and vouchers on their platform.
As consumers make fewer trips to grocery stores, supermarkets such as Tesco and Cold Storage have also begun offering delivery services to meet their customers' new preferences.
Shift in consumer value proposition to prioritise care, well-being and innovation
In our survey prior to the pandemic, almost half of the world's urban consumers indicated they were making dietary changes (taking supplements, implementing plant-based food options or restricting certain food groups) in an effort to adopt a healthier lifestyle. After the outbreak, we found a huge, renewed focus not only on diet, but on the holistic concept of healthy living.
When asked about consumers' self-care in four categories including mental health and well-being, physical health, medical needs and diet, they agree that there has been an increased focus in attention to these areas (over 60% agree for each category).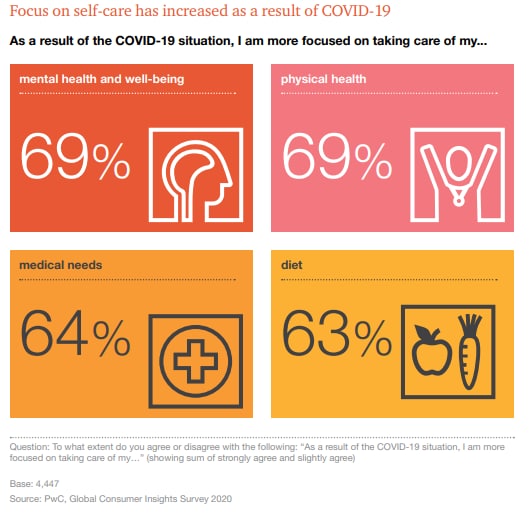 We see this focus on care reflected in Malaysian businesses. Some companies quickly responded to the COVID-19 outbreak by donating essential items (gloves, medical equipment and supplies) to hospitals and funds to help those affected, as well as financial assistance to micro-SMEs in the country.
We also saw collaboration initiatives such as the MDEC #DIGITALvsCOVID campaign, participated by over a hundred local technology companies to extend digital solutions and services to affected domestic businesses and consumers. Businesses have also been very creative in keeping staff morale up and prioritising employee safety, health and well-being through virtual health talks and access to medical experts.
Actions for businesses
The trend towards online shopping also bodes well for 5G networks. Companies will be able to shore up their capabilities, increase adoption and bring the online experience to life for a captive market. We've already seen the introduction of virtual selling platforms that help showcase products, engage consumers and provide much richer service levels than, say, a chat box.
As tools such as virtual shoppers, consumer collaboration platforms and augmented reality are introduced, companies should:
Decide how to offer a unique and distinct experience for those who are less digitally inclined, by choice or by economic status, than others
Forge new strategic partnerships across the industry as the rise of direct-to-consumer platforms further fragments channels. Invest in data and customer relationship management technology to drive frictionless commerce (where seamless experiences that integrate buying are crafted) and engagement
Formulate a strategy to address the opportunities and challenges that will arise due to the growing popularity of online grocery shopping, including product range and offerings, supply chains and the role of the store
Planning ahead: Focusing on the Return on Experience (ROX)
Evidently, organisations need to invest far more in the consumer experience. For businesses to thrive and succeed in this post-pandemic era, the time has come for them to evolve and take cues from consumers' changing behaviours and preferences. In the current experience economy, businesses can use consumer data to better manage costs, re-evaluate customer touchpoints, curate and engineer customer experience as competitive differentiators.
The Return on Experience, what we call ROX, can help solve business challenges with an experience-led transformation. This is a consumer-centric approach and metric, recognising that consumers today are discerning with increasingly high expectations. Measuring the Return on Experience (ROX) will help you understand your earnings on investments in the parts of your company directly related to how people interact with your brand.
As renowned playwright George Bernard Shaw said 'don't wait for the right opportunity, create it'. The pandemic has certainly highlighted the importance of being agile in understanding ever-changing consumer behaviour in this dynamic experience economy. Consumers need to be at the heart of what businesses and retailers organisations are offering, and these offerings and/or services must be integrated into the consumer's lifestyle and deliver experiences that continue to delight them.