A confluence of existing factors driving cloud transition has been further accelerated by the COVID-19 crisis: Cloud spending rose 37% to $29 billion during the first quarter of 2020. This trend is likely to persist, as the exodus to virtual work underscores the urgency for scalable, secure, reliable, cost-effective off-premises technology services. In fact, despite the inevitable economic downturn in the wake of the pandemic, cloud spending is estimated to rise 19% for the full year, even as IT spending as a whole is forecast to fall 8%, according to industry analyst Gartner.1
The spending may come from one or more of the 11 industries whose output is expected to grow over the next 12 months, including chemicals, forestry and paper products, automobiles and auto parts, beverages and food, household and personal use products, banks, other financials, pharmaceuticals and biotechnology, construction materials, technology equipment and software and services.
Companies choose agile OpEx solutions
Even before the pandemic, customers of tech infrastructure companies were increasingly seeking the ability to transition to a variable cost model for their core computing, storage and networking capabilities.2 And they were looking at cloud style offerings and pay-as-you-go services to enable this transition. The current crisis has only intensified this preference for OpEx versus CapEx solutions.
In a recent PwC survey, almost 75% of finance leaders said they were planning for a more agile business environment going forward; the cloud's flexible cost and scalable service can be an important component of this agility. In that same survey, 83% of CFOs cited plans to scale back capital expenses.
Businesses and government entities alike will likely continue to need greater infrastructure capacity — computing, storage and networking. However, they are increasingly seeking cloud-centered hybrid architectures to provide those services.
CFOs to defer capex spending but invest in digital transformation
Q: You mentioned your company is considering deferring or cancelling planned investments as a result of COVID-19. Which of the following investment types are being considered in that regard?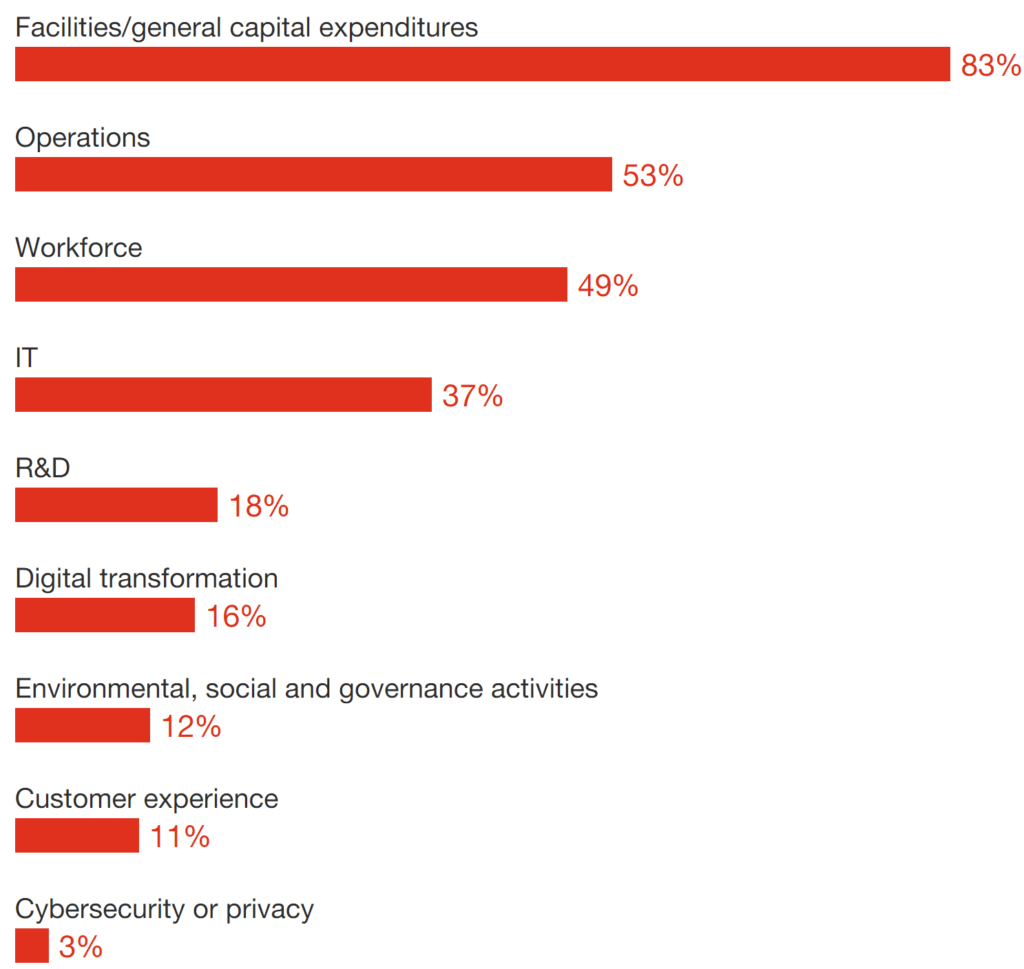 A hybrid cloud model
The challenge lies in meeting not just traditional data center needs, but also the need for cloud-based technology, services and intelligence that provide compelling growth opportunities.
To maintain existing market share and make inroads into achieving new gains, tech infrastructure companies should offer better management, orchestration, security and connectivity so customers can operate more effectively in a hybrid-architecture world.
>70% of employees are excited or confident about new ways of working
Q: When you think about how the future of work is likely to affect you, how do you feel?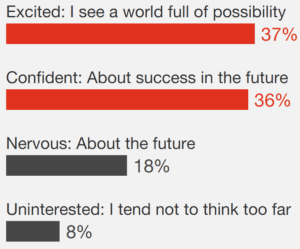 Three steps to help transition to a hybrid cloud model:
To transition to a hybrid cloud model, tech infrastructure companies should strengthen customer relationships, build internal capabilities and rethink their go-to-market strategy. They should focus on truly generating value versus merely making a sale.
1. Double down on customer relationships through the prism of industry verticals
Customers have reprioritized their needs and expectations in the wake of COVID-19, and these needs and expectations vary across industry verticals. In a post-crisis world, a fresh look through an industry lens is critical to better positioning your infrastructure solutions by customer need.
Workloads will likely ramp up dramatically in some industries, while other verticals may recover more slowly. To provide the right mix of on-prem equipment and scalable cloud-based services, you'll need to understand exactly what each customer is facing. Consider partnering with customers in certain industry verticals to help them envision a new post-crisis future.
In healthcare, for example, as telemedicine becomes more ubiquitous, health organizations require more secure interoperability to enable patients to connect quickly and conveniently with different healthcare providers. On the other hand, companies in retail or other cyclical sectors may urgently need to de-risk their balance sheets, transition CapEx spending to OpEx where possible, and find ways to ramp service and cost structures up and down as needed.
Other organizations — in financial services or federal agencies — may need long-lasting increases in computing power, while also seeking more scalability and built-in cybersecurity. Though every company should pay increasing attention to resilience in anticipation of future COVID-19-level disruptions, resilience will likely look very different for an industrial manufacturer or a media company.
As you move from a revenue model based more on services than equipment, it will be increasingly important to understand and forecast your customers' evolving needs for services. That should enable you to help establish or deepen long-term partnerships that offer true business value for your customers.
2. Consider external resources to augment technology and upskill your people
Assess your workforce, your own technology infrastructure and your internal processes for the ability to develop and implement cloud-based services. Then move swiftly to fill any gaps. Answering these questions can help:
Do you have the right technology — hardware and software — to support a hybrid cloud model? If not, you may need to look at developing it or, more likely, buying it.
Are your engineers ready to develop and manage the hardware, software and orchestration services that cloud style offerings require? If not, you may need to upskill them or hire new engineers.
Do your existing sales and marketing teams have the strategy and skills to describe your new services, then provide supplemental services over the long term? If not, you may need to create customer success teams that focus on capturing business value for your customers.
Have you developed new compensation structures to attract the new talent you will need for the transition to hybrid cloud services? If not, you may need to realign these teams — or you may need to bring in third parties to help.
Is your finance team ready for the changes in revenue recognition and financing models required by service contracts that have payments arriving at varying rates over an extended period? Can they handle the implications for taxation, accounting, investor relations, disclosures and compensation? Will they be able to run revenue models for hardware sales and service contracts simultaneously? If not, your finance team may need to be augmented with help from a third-party provider.
Can your organizational structure support enterprise-wide collaboration across different teams — an essential requirement when the customer relationship is continuous and service-based? If not, it's time to reorganize.
Is your risk management team ready for long-term relationships in which revenue streams are variable and responsibilities to customers go well beyond delivering a working piece of hardware or error-free software? If not, consider obtaining third-party support.
As you identify gaps in technology and talent, you may want to consider making deals to fill them. Valuations for many smaller cloud companies have leveled off during the current crisis. PwC analysis finds that both M&A volume and IPO volume for cloud companies were down as much as 60% or more YoY during the first quarter of 2020. While valuations have stabilized, there may be buying opportunities as the pandemic unfolds.
Some early stage, pre-IPO companies have top-notch talent and exciting product portfolios, which larger companies could scale up and market — if their finance and marketing teams have the right capabilities.
3.  Evolve your go-to-market approach
When cloud style offerings constitute a larger component of your business model, your approach to channel partners will likely require rethinking: Consider which channel partners work best in the new hybrid cloud environment. You may also want to consider whether you should interact directly with some segments or customers. In addition, you will likely need to upgrade digital capabilities for direct and indirect partners as well as new and old sales channels.
The channel-partner relationships you choose to retain may need to be updated, and many will continue to evolve. For some channel partners, employees may need retraining and upskilling to sell cloud technology and support long-term service relationships. Some will likely need reassurance that with increased hybrid cloud infrastructure-as-a-service models, your direct relationships with their customers won't render them ineffective, as many have been transforming themselves into solutions providers rather than sellers of a given brand. You may need to continually reinforce your commitment to them.
Treat your most valuable channel partners as you would your best customers. Listen carefully to their concerns and tailor your offerings to meet their customers' needs. Offer technical support to help them understand your cloud based offerings and provide tools to automate their interactions with you. Meet your ecosystem players virtually by offering online versions of conferences, events and certification at reasonable rates. Shore up your internal processes to offer them the technical and marketing support they need.
As you sharpen your go-to-market approach for a cloud-based world of ongoing service relationships, your customers may drop several channel partners — but those that remain will be independent players you should continually cultivate and support.
Through the industry looking glass
In a post-crisis world, the need for technology infrastructure and cloud spending will likely accelerate in some industries more than others, as the chart below illustrates. A fresh look through an industry lens is critical to help better position your infrastructure solutions by customer need.
Download a comprehensive version of the industry tables in a pdf format.
To thrive, tech infrastructure companies are transforming their business models
The evolution to cloud-based services may be a challenge for some technology infrastructure companies, many of which will likely have to transform the business models that have provided decades of exceptional innovation, growth and profitability. Yet, most are well-equipped to meet this challenge, supported by strong relationships with customers and channel partners, as well as top-notch talent and technology.
Many tech infrastructure firms have strong balance sheets, which they can leverage for targeted M&A to fill gaps in their talent pool or product portfolio. They also may find themselves in a growing marketplace. Companies across the spectrum of industry verticals are digitizing and automating more processes, while the fastest growing emerging business technologies are also some of the hungriest for computing power. The latest artificial intelligence (AI) models, for example, now need 300,000 times more computing power than these models required less than a decade ago.
To better serve customers with scalable, secure, reliable, cost-effective hybrid cloud service, tech infrastructure companies should  pivot to the cloud. That pivot requires three steps:
Double down on customer relationships through the prism of industry verticals to sustain and expand service-based relationships.
Consider external resources to augment technology and upskill your people for improved development and implementation of cloud-based services.
Sharpen the focus of your go-to-market approach so your channel partners are equipped with the skills to sell your cloud-based infrastructure and services.
COVID-19 has impacted the migration to hybrid-cloud environments — not only because customers are demanding it, but because the old ways (fully cloud-based or fully on-prem) were not working.
Technology infrastructure companies should act in order to emerge stronger in the years ahead. If they do, the cloud won't be a threat. It will likely be part of their future.
Sources
1 Katie Costello and Meghan Rimol, "Gartner Says Global IT Spending to Decline 8% in 2020 Due to Impact of COVID-19," May 13, 2022.
2 Synergy Research Group, "Cloud Service Spending Still Growing Almost 40% per Year; Half of it Won by Amazon & Microsoft," July 26, 2019.
3 The CAGR reflects the weak economic activity in the first quarter of 2020 as a result of the pandemic. It may change depending on the economic recovery process over the forecast period.
4 PwC analysis of data from Gartner, "Forecast: Enterprise IT Spending by Vertical Industry, Worldwide 2018-2024, 1Q 2020" Update, 2020.
5 IDC, "IDC Futurescape: Worldwide Payment Strategies 2020 Predictions," November 20, 2019.
6 Fitch Ratings, "What Investors Want to Know: Coronavirus Impact on the TMT Sector," May 13, 2020.
7 Fitch Solutions, "Global Pharmaceuticals & Healthcare Report: Includes 10-year forecasts to 2029, Q2 2020," 2020.
8 Fitch Solutions, "Global Medical Devices Report: Includes 5-year forecasts to 2024, Q2 2020," 2020.