In the past year, technology has enabled a seismic shift in how we work. Yet, its transformative effects on the workforce are far from over.
---
Three questions to ask
How has the rapid adoption of technology altered your workforce?.
Which technologies have employees leveraged creatively?
How should leaders use technology to align the workforce to the organization's new purpose?
---
Before the pandemic, many organizations traveled a meandering path to a future of work that was more agile, digitally flexible and people centered; and then 12 months ago, that journey became turbocharged on a scale previously unimaginable. As the reach of COVID-19 spread and offices closed, companies deployed technology at speed to enable remote working. Employers and employees pivoted, adapted and adjusted nearly every aspect of their work and lives to navigate one of the greatest disruptive moments in history – all with astonishing success.
Now, about a year removed from when most offices shuttered, we're gaining real insight into how the massive influx of technology has affected your workforce. Whether you know (and accept) it or not, your employees have been forever transformed, and walking back this sea change is not an option. The EY 2021 Work Reimagined Employee Survey of more than 16,000 employees in 16 countries found:
Employers set a high bar: On a scale of 1 to 10, 75% of employees rate their job satisfaction at 7 or above – with more than a third rating it at 9 or above. This ties to decisions that put employee well-being first, getting to know each other more personally and a strong focus on communication.
Flexibility is a new normal: Employees love and embrace the flexibility that tech-enabled remote work has made possible: 9 in 10 regard flexibility as "extremely important." Fifty-four percent say they would leave their company if flexibility in schedule and work location is not extended post-pandemic.
And despite the lack of physical connection, 48% of employees believe their company's culture has improved during the pandemic.
So, evidence indicates your workforce has adapted to unprecedented circumstances in real time. But what about leadership? It's a critical and transformational moment for collaboration among all senior executives – from the CHRO to the CTO to the CEO – to reimagine the future of work. And this past year's work – while critical – is not enough. Delivering long-term value for employees and organizations requires three immediate actions:
Assess how ways of working and rapid technology adoption has enhanced productivity among your employees. Then make better, more informed decisions about what stays, what goes and what is still needed.
Understand, meet and even expand employees' new expectations around flexibility, sustainability and hybrid work models. Evaluate the ability to cast a wider net for talent and how working from "anywhere" can support a more diverse and inclusive culture.
Place your people first by positioning their best interests front and center as they chart next steps. Ensure your programs and policies are aligned and consider how this shifts your employee value proposition.
Critical to all of this remains the basic understanding your business and workforce. While early data suggest employees are just as productive working from home and value newfound flexibility, the jury is still out on the long-term effect of working remotely. There's also less clarity around what's been lost from the disappearance of in-person interactions, including coaching and mentoring. This transformational journey will have implications for how you configure office space, the degree to which you encourage certain work practices and how you can better support employee physical and mental well-being.
Chapter 1: Technology as an Enabler
Mass technology has had a massive impact.
The past year saw virtual collaboration become the default method for organizations to achieve everything from operations to innovation. While organizations used technology to virtualize processes and workflows, employees creatively repurposed or deployed new technologies to recreate human connection points that previously happened in-person.
Armed with a surge in adoption rates, an influx of user data and resources to ramp up R&D, technology companies have seized the moment to rapidly evolve and enhance offerings. Nascent tech tools, enabled by cloud technology, have become widespread. Technologies such as Mural and Microsoft Whiteboard make possible virtual brainstorming and innovation workshops, while listening tools, such as Qualtrics, enable employers to better understand and enhance the employee experience. New features in enterprise collaboration software such as face filters, reactions and virtual praise are digitizing human connection. What does it all mean? Enterprise technologies play a much bigger role in the daily lives of your employees. As organizations leverage cloud technologies to deliver enhanced employee experiences that mimic leading customer platforms, the changeover from consumer to enterprise tech is increasingly seamless.
Because so many new technology tools have filled the workspace, your People and Technology leaders need to assess which are adding value and look for opportunities as they map out their new enterprise tech stack. Our findings indicate employees have creatively repurposed and added technologies at blistering speed. Dan Higgins, EY Global Technology Consulting Leader, believes employees hold the insights leaders need to move forward. "Workforce and Technology leaders should work together to assess how new tech is changing their organization's workflow, team dynamics and productivity. They will likely uncover some surprising findings which will impact retention, employee experience and how technology can enable new and enhanced models." He adds: "Forty percent of employees want their organization to offer better collaboration and communication tools to boost productivity."
One example shows how technology enables greater cross-border interaction with virtual teams. This has major implications for team and group dynamics, with new tech features encouraging more inclusive discussions and collaboration. A post in EY's Work Reimagined Leaders Forum illuminates this concept. "The product features keep improving every day, as more people use them. In the beginning, some of the tools weren't as user friendly as they are today. What I like best is that the tools have an inclusive design that allows both extraverts and introverts to contribute meaningfully (in a way that suits them)."
Employers once skeptical about the productivity impact of tech-enabled remote work are now taking comfort in the fact productivity has remained high, after a full year of working from home.1 While the long-term productivity implications of working remotely remain uncertain, employees have responded positively so far: 66% believe their productivity can be accurately measured irrespective of where they work; and 65% agree remote work allows their organization to be more productive.
"The product features keep improving every day, as more people use them. In the beginning, some of the tools weren't as user friendly as they are today. What I like best is that the tools have an inclusive design that allows both extraverts and introverts to contribute meaningfully (in a way that suits them)."
Work Reimagined Leaders Forum Participant
Armed with the knowledge much of their work can be completed agnostic of location, employees now want employers to outfit them with more tech to improve their remote first/work-from-anywhere experience.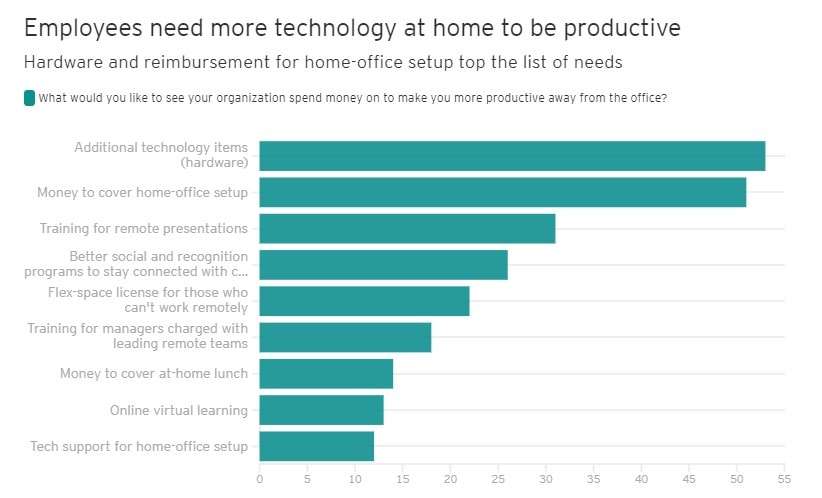 Key action items for the CHRO and CTO:
Work together to pulse the workforce to understand how tech enables employees to adapt and transform.
Look for white space in the new tech stack across areas such as collaboration and team dynamics, seeking to understand how tech can further enable inclusive contributions and robust ideation.
Chapter 2: Technology, Together
Whether virtual or in-person, technology will underpin collaboration.
Trading airline boarding passes for video conference meetings and water cooler chats for GIFs hasn't been without challenge. Employees report varying levels of distress with respect to managing 100% remote work.
Lack of boundaries, reports of days and weeks running together, and feelings of loneliness and isolation were common concerns raised in an EY Work Reimagined Leader's Forum discussion entitled, "What challenges are remote work raising for you?" A forum participant states "my office is my home, and my home is my office. It's hard to make a clear delineation between the two and properly switch off at the end of every day! I'm also missing the informal interactions with colleagues and the ability to meet new people and network."
"The need for human connection intensifies in remote and hybrid working environments."
A striking concern for survey participants was "loss of human connectivity," with 77% selecting this as their No. 1 concern about increased technology adoption and working in an agile way. Employees clearly worry about losing the in-person connections they previously had, despite the new technologies we have to help fill that gap. The key takeaway? Human connection still matters; in fact, now so more than ever as we deploy collaboration technology to work efficiently across geographies.
Another noted concern, leaders and employees are feeling increased pressure to be constantly available and connected to their jobs.

The enterprise technology industry is acutely aware of the role it can play in helping employees manage remote work, and many tech tools are incorporating "digital well-being" into their feature set and product road maps. Microsoft MyAnalytics uses AI to enable a suite of suggestions and insights that can help employees book focus time, prioritize work and effectively disconnect. A suite of open APIs are enabling fitness trackers and emotional well-being apps to sync with enterprise technology, giving employees insight into when it's time to take a break, recharge and disconnect.
As your People and Technology leaders design remote and hybrid work strategies, you will want to position employee well-being at the forefront. Understanding which well-being feature sets in enterprise tech your employees find useful is critical, as is designing an overarching messaging strategy from leadership that prioritizes and supports digital well-being.
Despite the widespread adoption of remote work, our data indicates most employees are still not ready to embrace a fully virtualized work experience. In fact, two-thirds of respondents wish to resume some form of business travel, and a large majority would prefer to work in the office two to three days a week, once safe to do so.
That's good news for you and your leaders who are already busy re-envisioning the strategic role the office plays in evolved work arrangements, such as hybrid and flexible work models. Underpinning their thinking: transforming the office from a task-oriented workspace into a collaboration hub; bringing teams together when necessary to collaborate, co-create and innovate as needed. Central to this is a complete re-envisioning of the office, underpinned by additional tech infrastructure. Selina Short, EY Oceania Real Estate, Hospitality and Construction Managing Partner, highlights the strategic role the office will play moving forward, saying: "Many corporate leaders are now creating hybrid workplace strategies that bring together remote and in-person work. But this hybrid world of work risks falling flat unless we understand the clear purpose of the office – as a place that helps people do their best work, create meaningful connection and enjoy 'adjacent experiences,' whether that's five o'clock drinks or team-building events. To help tenant customers, the real estate sector must invest in new skills and technology. It must also question the purpose of the real estate. Is it to provide space or to enable human productivity?"
As companies evaluate and rethink their real estate footprints, you'll want to ensure People and Technology leaders are present at strategic discussions to align and advocate for employee concerns. Our data indicates employees are now prioritizing collaboration and wellness over splashy office amenities.
"Many corporate leaders are now creating hybrid workplace strategies that bring together remote and in-person work. But this hybrid world of work risks falling flat unless we understand the clear purpose of the office – as a place that helps people do their best work, create meaningful connection and enjoy 'adjacent experiences,' whether that's five o'clock drinks or team-building events."
Selena Short – EY Oceania Real Estate, Hospitality and Construction Managing Partner
In addition to technologies that facilitate health and wellness (touchless and contactless tech, advanced ventilation, contact tracing), employees want organizations to invest in technology that can help them optimally plan which days to be in the office to collaborate with others (schedule optimization), technology that can help them collaborate more efficiently (smartboards, immersive video conference rooms, augmented reality) and upgrades to existing infrastructure (WiFi, displays, ergonomics).

Enabled by technology, employees have realigned their working style to a more agile, flexible approach. The enterprise technology industry is working quickly to address pain points that have emerged, and employers are enjoying newfound levels of high productivity. Armed with additional tools and technologies that will enhance in-person collaboration, the workforce is setting a new trajectory, one underpinned by flexibility where employees have greater freedom to design their days, team across borders and meet when needed to innovate and co-create.
Roselyn Feinsod, a principal at Ernst & Young LLP in New York, says, "If there's one word to describe the future work models, it's 'hybrid.' Employees overwhelmingly want the flexibility to decide where and when to work, and they want technology that can assist them at all endpoints."
To capitalize on this trend, you will need to envision the new employee experience and assess which technologies and real estate strategies can best support this progression. But it's not simply about deploying more technology tools; you and your leaders will need new skill sets and mindsets to realize the true transformative impact of the new tech-infused working world.
Key action items for the CHRO, CTO and Head of Corporate Real Estate:
Leverage the reach of technology and the gains of flexibility to cultivate teaming and a culture that supports innovation and productivity, both in the physical and virtual environments.
Lean into the diversity that future work models offer; diverse and inclusive workforces are more productive, solve problems sooner and strengthen employee/employer relationships.
Chapter 3: Leading the tech-enabled future
Leaders must transform their approach in lockstep with employees.
Transformed by a fundamental shift in the employer/employee relationship – with employees now expecting and demanding their employer to be transparent, take a stand, and enable health and safety – leaders are now using technology to drive their organizations forward. They are increasingly accustomed to more frequent written communication and virtual appearances. Enterprise-grade secure video platforms enable leaders to be more visible, accessible and relatable. An increased deployment of employee listening and survey technology allows leaders to better and more quickly align to employee needs and company purpose.
Our data indicates leadership messaging is trending positive; 93% of survey respondents are likely to "stay" with their current organization for at least the following 12 months. A comment is an EY Work Reimagined Leader's Forum discussion brings this to life. "Leadership communication for me has improved in terms of expressing trust, empathy and support. I think the pandemic humbled everyone (especially leaders) to be extra kind, trusting and considerate to their people because they, too, can relate to this challenging period."
Technology can break down barriers between top-line leadership, management and employees. With more frequent appearances on video, quick check-ins and continuous alignment to purpose, you and your leadership can sustain the positive culture gains realized in 2020. Another forum user states "It's been nice to see our leaders at home on camera, also with their dogs barking, kids interrupting, and generally living life and working from home. I do hope we don't lose that personal touch when things go 'back to normal.'"
Key actions for CHRO and technology leaders to take to support leadership:
Explore technologies that can measure sentiment in real time for leadership livestream and video messaging.
Constantly listen to and collect feedback from your workforce to arm leadership with timely insights.
Accelerated tech adoption will continue as companies transform their operating models and organization structures to address opportunities for efficiency, align with new customer expectations and support employee well-being. We've reached a critical juncture where leadership and operations have been seismically impacted by technology. As a result, it's no longer enough for leaders to delegate digital leadership; they must embrace it fully. As leaders, you must understand the interplay between technology and megatrends to design talent strategies that will enable your business to deliver value and remain relevant for the near and long term.
Some of the most critical questions for leaders to ponder:
Which technologies can you leverage that will enable you to automate low-value work?
What digital skills and knowledge can you cultivate that will help you develop the workforce needed to capitalize on opportunity?
Which megatrends will substantially influence your organization's future tech stack?
Technology is transforming the way we work, where we work and how we respond to work. Organizations that successfully navigate change, embrace technology and tap the insights within their workforce will further unlock the innovation needed to thrive.
Summary
The opportunities created by the mass adoption of remote and virtual work structures are unmistakably transformative. In fact, whether organizations are aware or not, they have navigated one of the most disruptive and powerful moments in workplace history. And all signs indicate the speed of adaptation will continue as AI, IoT and 5G gain traction. As the "next normal" rolls forward, HR and Technology leaders must collaborate to gain deep insight into the newly transformed employee experience, align their technology road map to those insights and arm leadership with the workforce data they need to shape talent strategy.