Leading a more distributed culture across the organization supports long-term value creation. 
---
In brief
Corporate culture is no longer a "nice to have," it's a business imperative.
Leaders should create a deliberate culture blueprint.
We offer six principles and a three-step framework to guide your culture efforts.
---
On average, over 50% of a company's market value is now derived from intangible assets, and for some industries that value can be as high as 80%.1 Culture, defined simply as the behavioral patterns of the people of a company, is now measured, managed, and reported on by most leading companies around the world. If culture is behavioral, we can measure and deliberately shift it.
As ongoing crises both necessitate and allow for behaviors to change quickly, culture has become the critical variable in separating good from great companies. In short, when times get tough you either prove what you're made of and evolve, or you don't. And today, customers, shareholders, institutional investors and current and prospective employees are all watching more closely.
Most companies have made quick shifts to new ways of working in response to crises, including the COVID-19 pandemic and social movements (most notably, anti-racism). But, many are also at risk of regressing to old ways because today we don't get to model behaviors and evolve culture as organically as before. It doesn't happen as naturally; we're trying to figure out how to lead a distributed culture. Shifting and sustaining changed behaviors takes more deliberate design, practice and measurement when we are not physically together, and technology is mediating our relationships.
Culture can no longer be considered fulfilled by simply stating values and doing an employee engagement survey. Trent Henry, EY Global Vice Chair, Talent states "As the global workforce becomes more distributed post-pandemic, the need for organizations to keep their people and culture both front and center has never been more important."
The challenge with culture has not been one of appreciation that it matters, but one of understanding what it takes to change behavioral patterns and resourcing the shift properly.
"As the global workforce becomes more distributed post-pandemic, the need for organizations to keep their people and culture both front and center has never been more important."
Trent Henry – EY Global Vice Chair – Talent
A recent global EY study of over 5,000 workers around the world tells us that only 62% of employees feel their company makes decisions based on their stated values. So, over a third of the world's global workforce says their company does not walk the talk. And, only 62% of employees report that their company takes the time to understand what matters to them. So, while just about every company has stated values, and does some sort of survey of its people, many are falling short in understanding how to behaviorally quantify and operationalize what they value most.
Shifting and sustaining changed behaviors takes more deliberate design, practice and measurement when we are not physically together, and technology is mediating our relationships.
The mutuality zone
The biggest shift many companies have made through ongoing crises has been to progress the people agenda to the same priority level as the financial agenda – a move to stakeholder, and not just shareholder, capitalism. Social movements inside and outside corporations are insisting that this progression continue, but many companies lack the ability or wherewithal to make that happen. Just as many of us were underprepared to quickly respond to crisis, many of us are also not well prepared to deliberately evolve our culture through crisis.
As the pandemic prompted simultaneous disruption to both personal and professional lives, the lines between employees, employers, government and society are being reframed. The role of the corporation as a social and health leader is materializing. It is unclear how far that role will go, but there is clearly a social and economic mandate to better line up the needs of the business with the needs of the people through common purpose, values and behaviors.
To lead a distributed culture, leaders must both adjust and better operationalize their values and behaviors to hit the "mutuality zone" where both the needs of the business (shareholders and customers) and the needs of people (employees and communities) are met.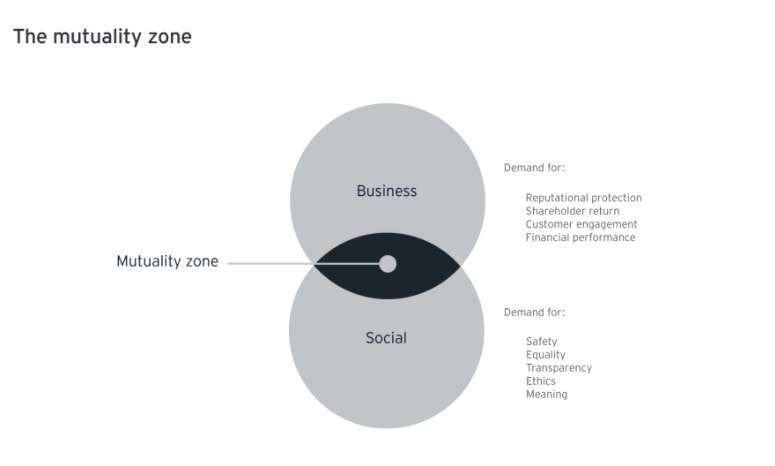 Successful, disruptive companies often cite culture as a differentiator. While operations, financial management, etc. are all important – it's the organization's software, that is, their behavioral patterns, about which they are very deliberate, that defines their performance.
Let's take a look at how different authorities are driving a renewed and powerful focus on corporate culture from the vantage point of multiple stakeholders:
Regulators: In recent speeches, officials at the US Securities and Exchange Commission (SEC)2, The Australian Securities and Investment Commission (ASIC)3 and The UK Financial Conduct Authority (FCA)4 have stepped-up their emphasis of corporate culture and the role it plays within regulated environments.
Investors: Global investment firm BlackRock, has expressly stated it intends to understand how an organization's purpose informs its strategy and culture; two intangible assets it sees as key underpinnings of financial performance5. In addition, examples of venture capital (VC) taking an increased focus on corporate culture can be seen in appointments to newly created culture leadership positions at several prominent VC firms6.
Boards: Although articulating and embedding company culture into the organization typically falls to management, boards are more than ever expected to oversee and hold management to account. As such, boards are placing increased demand for reporting and discloser on company culture7.
Business leaders: Leading organizations are rethinking the strategic role they play in delivering value to a 

broader range of stakeholders

; pivoting away from pure financial performance toward a framework of delivering long-term value, by putting humans at the center, to a more inclusive cohort comprised of employees, customers, shareholders, the community and beyond.8 Central to this, a renewed commitment to employees and company culture.
Deliberate shifts in distributed times
Urgency and support for stronger corporate culture management in place, it is now time to lay out how to get started in deliberately leading a more distributed culture. Worth noting, through crises we are seeing companies shift (or in some cases, resist an unnecessary shift) in meaningful ways, such as:
Moving to new ways of working – Putting the physical and psychological safety needs of their people at the center of our business decisions. Allowing a more personal side to who they are and how we work and adjusting to the work time flexibility that had long been promised but not been realized.
Removing barriers to be better – Taking steps and time out of the decision-making processes. Letting go of distrust that people would stay productive on their own time and shifting from shareholder value as dominant to shared value as important.
Maintaining who they are – Continuing to serve and deliver to customers, preserving quality and keeping a focus on being efficient after challenges came our way.
These are encouraging signs. The questions for many now become: How will they be sustained? Can they be scaled? And, how can we stay prepared and adaptive in our culture as inevitable new challenges surface? To answer these by leading a more distributed culture, we suggest six critical practices:
Take the tone at the top even more seriously as messaging really matters
Make managers the central point in sustaining, evolving and operationalizing values through behaviors
Know your influencer network and drive change through them
Trust your people to set their own boundaries for remote work and don't overload them
Be acutely aware of and quick to act on ethical issues and behavioral risks
Focus on inclusion in everyday behaviors, not just pragmatically
How to get started in leading a more distributed culture
Step one is convening key leaders and influencers to create a deliberate culture blueprint. It should be behavior based.  To do that effectively:
1. Define and prioritize a few specific behaviors to keep, stop and start.
Certain values and behaviors will have served the organization well and emerged as differentiators; these should be kept. Double down on these values and behaviors. Times of change are the ideal environment in which to introduce new behaviors that will help hit the mutuality zone. And, identify and stop behaviors that have presented unnecessary risk and have impeded value creation.
2. For each prioritized behavior, clearly state the expected "From-to"
These should be things people can actually go do. For example:



Reinforcing "to" behaviors
3. Make practical changes to the levers that reinforce the "to" behaviors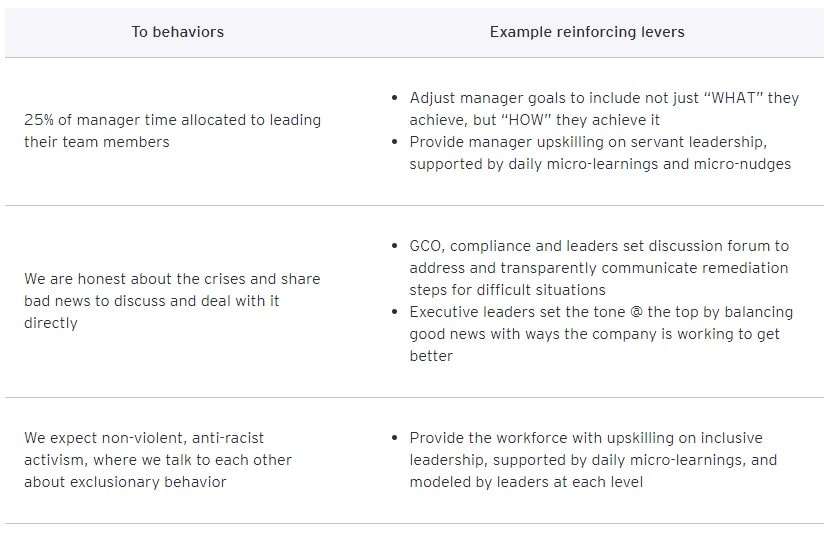 Given the importance of corporate culture and our move to a more distributed workforce, business leaders must pause to assess the current state of their culture and deliberately evolve it to allow them to achieve their business, people and customer objectives. Those who keep humans at the center of their efforts will find opportunity to line up needs of the business with the needs of people through values and practical behaviors. With a deliberate culture blueprint in hand, leaders can effectively shift culture, especially in times of crisis, and differentiate as one of the great, not just the good.
Summary
Shifting and sustaining changed behaviors takes more deliberate design, practice and measurement we are not physically together, and technology is mediating our relationships. We offer guidance for shifting culture in distributed times.