The world is in a significant state of flux, making it a challenging time for Boards and their Chairs. Balancing a range of objectives and stakeholder needs. Responding to an ever-increasing array of short- and long-term issues. Providing the right level of oversight and support for the executive. These are but a few of the challenges Chairs are facing.
This programme, which gathers together Chairs and Senior Directors, from different sectors and types of organisations, will explore how leading Chairs are responding to these challenges and how board practice is evolving, especially with regard to decision-making and the interaction between the Board and Executive.
This highly participative Masterclass, which blends peer learning with expert facilitation from a highly experienced Chair, aims to provide participants with an up to date and pragmatic understanding of the what is required to become an effective Chair. The learning outcomes include:
Identify how chairs across the world are responding and adapting to this high state of flux in the way that they lead their boards and are changing board practice,
Recognise evolvement of the relationship between Boards and their executives, and in particular the Chair and CEO,
Analyse how chairs are adapting their leadership styles and board composition to suit the context.
Create a culture of constructive challenge,
Be agile and data-driven when making decision,
Discover what's evolving as best practice with regard to Chair and CEO succession.
With the ultimate aim of enabling Chairs to then build upon the excellent practice they already have in place through the most relevant of these additional insights for their situation.
Who is this Programme For?
Chairs of listed and non-listed companies,
Mid-level – Senior Directors
Virtual Classroom Format

3.5 hours (20 minutes Virtual Networking Break)

Interactive Facilitated Learning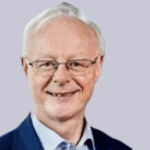 PATRICK DUNNE
ICDM Faculty, Chair Boardelta, EY Foundation, ESSA,
Visiting Professor Cranfield,
United Kingdom
Patrick is a Faculty Member of ICDM. He is also an experienced Chair with extensive experience of working with boards in Europe, Asia and North America. He has also facilitated a series of programmes for ICDM.
He currently Chairs board consultancy Boardelta, the charities The EY Foundation and ESSA- Education Sub Saharan Africa and the Oversight Board for the Chartered Management Consultant. He is a trustee of the Chartered Management Institute and a Visiting Professor at Cranfield University.
Executive experience with Air Products and FTSE 100 listed private equity group 3i Group plc where he was Communications Director, a member of its Operating committee and Chairman of its Operational Risk forum.
Author of the award winning "Boards" and three other successful books on the subject Patrick has helped to establish many successful courses on board skills over the last twenty years.
He has helped Chairs across a wide range of sectors and countries to transform the effectiveness of their boards through Boardelta. As a member of the Higgs Review also played a role in shaping governance policy for UK listed companies.
Patrick was also a member of the General Council of the University of Warwick from 2006 to 2015.
Tuesday | 1 September 2022 (Facilitator: Patrick Dunne)

2.00pm
Programme Housekeeping
2.05pm

Introduction & the Big Challenges
How are Chairs responding

2.35pm
Case study: Flux!
3.35pm
Virtual Break
3.50pm
Board and executive interaction
4.00pm
Creating a culture of constructive challenge
4.10pm
Decision making
4.30pm
Case study "From a maps to a Satnav world"
4.50pm
Chair and CEO Succession and Removing Directors
5.00pm
Horizon Boards
5.05pm
Getting in the Zone
5.10pm
Wrap up and sharing some items from personal action grids
5.30pm
End of Programme
The Organiser reserves the right to alter the content and timing of the programme as it deems fit and is not responsible for cancellations due to unforeseen circumstances.