Environmental, social and governance (ESG) is an emerging theme and increasingly seen by stakeholders and an indicator of a company's long-term viability. Companies all over the world are increasingly focused on their performance in various ESG measures and view ESG issues as a business imperative.
The ESG strategy of a company covers a large area of the organisation, requiring different functions to collaborate on common goals and reporting that is strongly linked to the overall business plan.
In this session, we will discuss the following:
What is the role of the Board in managing and governing ESG priorities?
Why should companies prioritize ESG risks and opportunities? Are the most important ones integrated into business strategies?
What are relevant metrics, and how should companies incorporate ESG management and performance disclosure?
Identify opportunities, risks and potential impact of existing and emerging ESG issues on the organization
Determine the current maturity of their organization's ESG strategies
Identify tips to maximize the effectiveness of board's ESG oversight.
The programme is targeted but not limited to
Existing Board Directors
All business decision makers
Aspiring Board Directors
Senior management of organisations
Chief Data Privacy Officers
Virtual Classroom Format

Interactive Facilitated Learning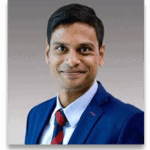 SHAI GANU
ICDM Faculty & Member
Managing Director, Global Leader – Executive Compensation & Governance, Willis Towers Watson
Shai is the Managing Director, Global Leader – Executive Compensation & Governance of Willis Towers Watson. In his new global executive compensation leadership role since January 2020, he has been tasked with heading up a team of 400-plus consultants spread across operations on six continents and is a renowned expert and thought leader on issues related to executive compensation, board effectiveness and human-capital governance. His expertise is in ESG, Remuneration & Nomination Committee, Executive Compensation, Succession Planning and Human Capital Governance.
His expertise is in the diagnosis, design and implementation of human capital solutions; notably board and executive reward frameworks, long and short-term incentive plans (equity and cash based), sales force effectiveness, organisational development, career architecture, change management, and culture transformation – in other words, attraction-motivation-retention-productivity strategies. He is passionate about enhancing corporate governance in Asia, helping companies make informed people decisions based on sound analytics, and buildings and growing teams in new markets. Shai also serves on the Compensation Committee of a leading FMCG company in ASEAN, on the HR and Finance committees of not-for-profit organisations in Singapore and as a NED of a listed company in Singapore.
As an ICDM Faculty, Shai has conducted the "The Role of the Nomination and Remuneration Committee in Human Capital Management" programme and spoken at ICDM's signature PowerTalk Series as well as webinars. Shai was also a speaker at ICDM's inaugural International Directors Summit, our facilitator for ICDM's signature programme "Introduction to Corporate Directorship (ICD)"as well as a lead facilitator for ICDM's board evaluation. He is also our selected expert facilitator for "Ask an Expert", an on-demand hourly session by ICDM's group of subject matter experts – to support companies in navigating through change, disruption, risks, challenges and uncertainties within their business and economic environment by providing strategic advice and guidance to actionable plans, especially during the recovery and rebuilding phase post pandemic.
| | |
| --- | --- |
| Time | Agenda |
| 9.55am | Introduction and Housekeeping |
| 10.00am | Overview of ESG priorities and why Boards should pay attention |
| 10.20am | Global research on what directors are thinking about ESG |
| 10.35am | How to meaningfully embed ESG strategies within companies |
| 10.50pm | Summary and Q&A |
| 11.00am | End of Programme |
The Organiser reserves the right to alter the content and timing of the programme as it deems fit and is not responsible for cancellations due to unforeseen circumstances.