What is the role of a board of directors and how do you maximize your role as a director? Learn about the 4 key leadership roles of the Board and how to maximize the effectiveness of the governance system.
This 1-day Board Strategy & Risk Management Programme is a core module designed to explore the role of the Board in strategy setting and implementation in order to meet its goals whilst responding to changes in its environment. The programme also focuses on the importance of a top-down approach in risk management by the Board in efforts to cultivate a proactive approach
Discuss the role of the board and the role of the director in setting strategy and risk management
Recognise the four board leadership roles that contribute to governance excellence including the role of the Recruiter, Conductor, Reporter, and Facilitator. Each of these roles will enable you to participate at the highest levels of the organizations and discuss the most important strategic and risk management issues confronting the organization.
Explore how the right board governance systems and directors can amplify corporate performance.
From newly appointed directors to senior directors
Virtual Classroom Format

Interactive Facilitated Learning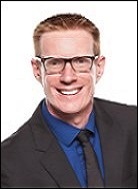 BLAIR COOK
CPA,CA CPA(Ill) MBA, Canada
Blair is a many-time corporate director, CFO, author, speaker, educator, innovator, and thought leader in the field of executive finance.  His educational videos of accounting and finance have million of views on YouTube. He has keynoted and spoken at national conferences from New York to Toronto. He co-hosts CPA Canada's podcast series "CPA Success Podcast" to speak with dozens of thought leaders across the broad spectrum of finance. He also works in real businesses at every level experimenting with academic theories, best practices, and innovative ideas to improve how the finance function serves the organization.  He is the author of The Illiterate Executive: An Executive's Handbook for Mastering Financial Acumen.
Day 1 |  7 September 2021 9am – 1pm

9.00am
Introductions and warmup
9.15am
Module 1: IWK Case – Failure in Governance
9.40am
Module 2: Board Leadership Roles

what type of governance systems do you use?
Factors for making governance effective or ineffective
how much value does your board provide?
4 Board Leadership Roles – overview

10.30am
Virtual Break
10.45am
Module 3: RECRUITER ROLE

Key stages within the strategic planning process
The role of Directors and the role of the Board within each of the strategic planning process
Key causes of strategic risk and how those risks can best be treated.

11.45am
Virtual Break
12.00pm
Module 4: CONDUCTOR ROLE

Key points related to the COSO principles-based approach
The differences between COSO Internal Control Integrated Framework and COSO ERM Integrating Strategy & Performance
Thinking More Broadly about Risk Management
Matters of Importance for Board Discussion and the Agenda

12.50am
Recap & Summary
1.00pm
End of Day 1
Day 2 |  8 September 2021 9am – 1pm

9.00am
Recap of Session 1 and any questions
9.15am
Module 5: REPORTER ROLE

the types of reporting the Board requires
The reports of the board and how to interpret financial information – presentation

Financial Intelligence for Directors
Four dimensions of a board reporting strategy
KPI, Dashboards and Flash Reports

Link strategy to financial health and value creation.

10.25am
Virtual Break
10.40am
Module 6: FACILIATOR OF STRATEGY ROLE

Strategic management presentation

Situational analysis
Strategy formulation
Monitor execution of strategy
Unlocking strategic thinking and discussions

11.40am
Virtual Break
11.55am
Module 7 – Risk Management Oversight and Practices

The importance of an organisation developing and implementing robust risk management practices.
The risk appetite of an organisation
The link between risk management, risk culture and effective leadership.
The director's role in assessment, monitoring and treatment of risk within an organisation.

12.45pm
Module 8: Wrap up
1.00pm
End of Programme