There is an increasing pressure on organizations in this digital age to digitalise the business operation which contributes not only to increasing profit but in some instances staying relevant. It is proven that organisations  has failed to evolve have seen their businesses declining and on a wider scale, whole industries disappearing.  
Join the session to get a better understanding of the differences between digitalisation and digitisation. Board members must be prepared to guide the organisation through the digitalisation evolution to remain relevant. Learn about how and what approaches other organisations implement digitalisation initiatives. 
Recognise the importance of methods and approaches of digitalisation

 

Describe what are the challenges that the organisation will need to overcome to implement digitalisation initiatives
Identify the next steps needed to digitally transform your organisation.

 
The programme is targeted but not limited to
Aspiring Board Directors
Existing Board Directors (both new and experienced) who want different or refreshed perspective of digital disruption
Senior management of organisations
Virtual Classroom Format

Interactive Facilitated Learning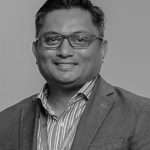 DR FAROUK ABDULLAH
CEO of Natural Intelligence Solution, Malaysia
Farouk is a digital and analytics business leader delivering organisational transformation in large companies in the UK, Europe and South East Asia. He is currently the CEO of Natural Intelligence Solutions.
Known as a radical thinker and a straight talker Farouk is obsessed with bringing real change to organisations and emphasizing on exponential growth. He has worked with organisations in multiple industries implementing enterprise-wide digital transformation projects, held an advisory role to C-Suites and established effective digital teams that deliver real change to organisations.
Farouk's passion for digital, data and analytics has driven his belief that data and analytics must be used for the good of the society. He has spoken on numerous platforms globally to underline the importance of digital, data and analytics education for our next generation. Farouk was also one of ICDM's speakers for the ICDM Digital Series for Boards in 2021 on the topic of Data Adoption and AI to Drive Better Business Decisions.
Wednesday | 23 March 2022

9.00am
Introduction and Housekeeping
9.15am
Module 1: Digital transformation — the current landscape and future trends
9.40am
Module 2: Importance of digitalisation for board — key components for consideration for digital transformation
10.05am
Virtual Break
10.20am
Module 3: Use cases on the implementation of digital transformation
11.05am
Virtual Break
11.20am
Module 4: Common challenges that organisations typically face
12.05pm
Module 5: The road to successful digital transformation journey
12.45pm
Summary & Recap
1.00pm
End of Day 1