Corporate Boards play a key role in accelerating and promoting climate action and business transformation. Leadership from the top matters, both individually and collectively, and sets the tone and level of ambition for the whole organisation. Climate risk is existential not just peripheral, and the context and urgency for change is becoming ever more intense through multiple internal and external stakeholder pressures.
In this lively, entertaining and informative session we will explore the unprecedented nature of climate risk, and what it means for Board Directors as active 'stewards' of their businesses. We will look at the rapidly shifting dynamics of ESG from institutional investors, learn how the most radical businesses are responding and draw key practical lessons that can be applied within your organization.
Explore the unique emerging risk of climate change from the perspective of organisational governance
Distil these big picture issues and themes into key learning points and outline action plans on what to do next
Apply immediate practical next steps and new ways to integrate these insights and learnings into the hearts and minds of the boardroom
Who is this Programme For?
From Mid to Senior Directors
Virtual Classroom Format

4 hours (30 minutes Virtual Networking Break)

Interactive Facilitated Learning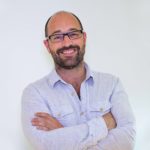 ED GILLESPIE
ICDM Faculty, Inspirational keynote speaker, writer, poet and futurist, United Kingdom
Ed Gillespie is a Keynote Speaker,  Writer, Serial Entrepreneur and Futurist  specializing in Business Transformation, Innovation and Sustainable Development in the United Kingdom.
He is the author of 'Only Planet – a flight-free adventure around the world' a book about his circumnavigation of the globe without getting on a plane, which the Independent said "Allow[s] the world's flaws and beauty to seep into your soul". Ed's core talent is to take the complex, interconnected, interdependent nature of the many urgent challenges the world faces, from climate change to disruptive competition, and make common sense of them for non-specialist audiences. He often works at C-suite level to help boards understand big business's role in 'self-disruption' of their own business models, and creating entrepreneurial 'lifeboats' of lean innovation.
Ed is a seriously credible and experienced voice on a range of key future-focused issues; from 'Big Data', through the future of work and the impact of AI, robots and technology, to how climate action can and must be reframed as seismic opportunity, not just catastrophic threat.
Ed is actively involved in a number of pioneering ethical businesses as a director or investor, from Demand logic – a 'Fitbit' for buildings, to 'Piclo' a decentralized renewable energy trading platform. Others include Common Objective (ethical fashion), Engaged Tracking (carbon indices), Poplar (communication platform for frontline staff), Small Robot Company (farming as a service) and Bennaman (alternative fuels).
Ed was the co-founder of Futerra, a change agency that specialises in business transformation and creative communications and campaigns. For twenty years, Futerra has become internationally renowned for its influential and award-winning work on some of the biggest corporate sustainability initiatives. Ed left the business in 2019 to pursue other opportunities. Ed also designs and hosts bespoke workshops for clients on future-focused sustainability challenges, most recently for Sainsbury's on carbon and climate change, Unilever on circular economy and a Norwegian business 'cluster' on rapidly prototyping new purpose-driven sustainable business models.
Ed Gillespie was also one of our speakers for the Bursa Breakfast Talk Series in 2019.
Thursday | 20 January 2022 (Facilitator: Ed Gillespie)

1.55pm
Programme Housekeeping
2.00pm
Introductions & Ice Breaking
2.15pm
Module One: "Climate – not just another risk on the register" expert presentation
3.15pm
Module Two: Individual & Group Reflection on Climate Governance Evolution

Individual reflection, Small group reflection, Group feedback & Plenary discussion on two key questions: 1. What is really going on here? 2. What does this really mean for Board Governance?

4.00pm
Virtual Break
4.15pm
Module Three: Radical Climate Governance in Practice
4.45pm
Module Four: Practical insights & lesson learnt
Small group discussions on new ideas and actions, plenary feedback
5.30pm
Summary and Key take-aways
6.00pm
End of Programme