A growing number of today's Boards are becoming inundated with high-priority issues requiring immediate attention and solutioning. For many, the sheer amount of information, data, and interconnectedness of outcomes can create the challenge of 'governance simultaneity' directly undermining the required effectiveness and efficiency expected of an engaged and productive Board.
Why is this happening and what is causing these instances of paralysis within otherwise effective Boards? In this masterclass learn about the indicators, solutions, and application of proven methodologies within three major areas of focus to make your Board operate at maximum capacity: The Strategy & Governance Board Interrelationship, The 'Other' Board Intelligences, and Fostering an Effective board / CEO / management Relationship.
Recognise the correlation between strategy and governance as well as their application in ensuring board effectiveness
Identify "other" board Intelligence elements that can elevate board efficacy
Discuss best practices in safeguarding an effective board-CEO-management relationship
Who is this Programme For?
From Mid Directors to Senior Directors
Virtual Classroom Format

4 hours (20 minutes Virtual Networking Break)

Interactive Facilitated Learning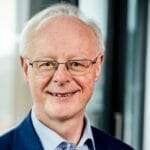 Patrick Dunne
ICDM Faculty, Chair Boardelta, EY Foundation, ESSA, Visiting Professor Cranfield, United Kingdom
Patrick is a Faculty Member of ICDM. He is also an experienced Chair with extensive experience of working with boards in Europe, Asia and North America. He has also facilitated a series of programmes for ICDM.
He currently Chairs board consultancy Boardelta, the charities The EY Foundation and ESSA- Education Sub Saharan Africa and the Oversight Board for the Chartered Management Consultant. He is a trustee of the Chartered Management Institute and a Visiting Professor at Cranfield University.
Executive experience with Air Products and FTSE 100 listed private equity group 3i Group plc where he was Communications Director, a member of its Operating committee and Chairman of its Operational Risk forum.
Author of the award winning "Boards" and three other successful books on the subject Patrick has helped to establish many successful courses on board skills over the last twenty years.
He has helped Chairs across a wide range of sectors and countries to transform the effectiveness of their boards through Boardelta. As a member of the Higgs Review also played a role in shaping governance policy for UK listed companies.
Patrick was also a member of the General Council of the University of Warwick from 2006 to 2015.
9.00 am – Ice-breaking session
9.10 am – Module 1: The Strategy & Governance Board Interrelationship (1hour)
The effectiveness of a Board has a direct correlation to the understanding and application of strategy and governance. It truly is that simple. Strategy and governance play absolute key roles in the effectiveness, efficiency, and usefulness of individual Board Members and the Board as a whole. In this topic area, you will see the direct correlation of why governance can't actually work properly without a full understanding of the strategy and its linked goals. Additionally, you will learn how proper expertise in both strategy and governance is applied on a Board to fully ensure all roles and responsibilities are fulfilled.
10.10 am – Virtual break
10.25 am – Module 2: The 'Other' Board Intelligences (45 mins)
In addition to standard individual and collective Board IQ (intelligence), additional important areas of evaluation and application for senior levels, especially Board Directors, includes the 'behavioral predisposition' categories of EQ (emotional intelligence), MQ (mindfulness intelligence), and AQ (adversity intelligence). A mature balance of behavioral predispositions is necessary for effective Board Members, and ultimately, an effective Board. Learn how these factors can be evaluated and applied to elevate your Board.
11.10 am – Virtual break
11.40 am – Module 3: Fostering an Effective board-CEO-management Relationship (40 mins)
A respectful and trusting relationship between the Board and the CEO is extremely important for any organization. So why do we hear of so many issues existing within companies where the Board and CEO are struggling to get to common ground? These misalignments commonly permeate throughout the organization's management and eventually wind up affecting every level of the business. But does it need to get to this point? Learn about some of the best practices to ensure trust, respect, and truly proactive relationships within your organization through expectation setting as well as defined decision lanes and escalation models.
12.20 pm – Case study discussion
12.45 pm – Recap & Summary
1.00 pm – Programme ends
The Organiser reserves the right to alter the content and timing of the programme as it deems fit and is not responsible for cancellations due to unforeseen circumstances.