A shift to sustainability-driven governance a key necessity to elevate company performance and ensure long-term growth

---
The Report, through the lens of ASEAN directors, provides an overview of the performance of ASEAN companies since Covid-19, and reveals key boardroom priorities and challenges going into 2022. It also serves as a guide for ASEAN boards in their mission to help companies build sustainable growth.
Below are some of the key findings and observations from the Report:
More than half of the ASEAN companies were able to weather the storm of Covid-19

with 44% expected to perform better or bounce back to pre-pandemic levels in 2022.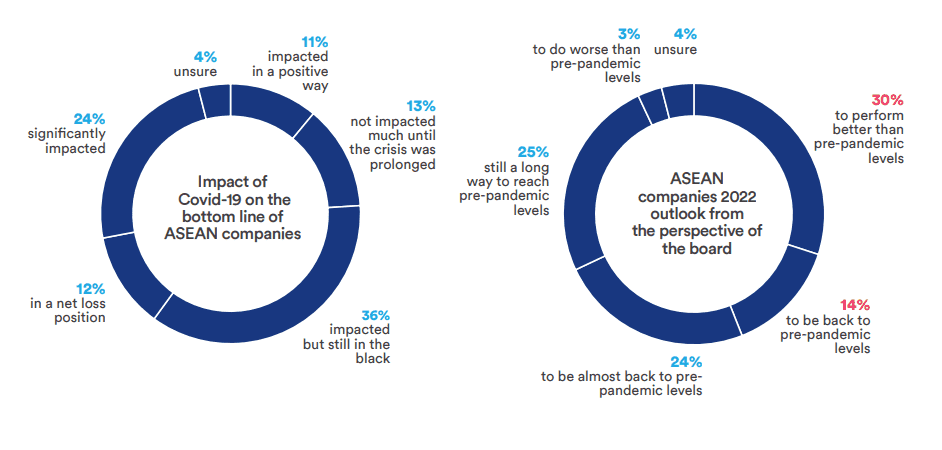 2. The five trends that may impact boardrooms in 2022

3. Organisation-wide innovation and digitalisation dominates ASEAN directors' top boardroom priorities. The challenge, however, is the lack of required competencies – both technical and behavioural – on boards to ensure effective oversight on the identified areas. Majority of the boards believe that more training is needed to improve deliberation around innovation, modernisation and transformation. Below are the top five strategic priorities of ASEAN directors to drive company success over the next two to three years.

4. ASEAN boards recognise the importance and there is increased urgency to incorporate ESG considerations into business opportunity, risk framework and strategy. However, they could benefit from greater capacity building to drive effective internalisation of ESG principles in their companies and be able to monitor and discuss the organisational ESG performance report from management based on a clear ESG strategy, metrics and KPIs set. The increased ESG oversight responsibility will be assigned to existing board committees or an ESG-specific committees and will be a regular topic on the board agenda.
5. Opportunities for boards to foster a culture of constructive dissent and encourage diversity of thought. Dysfunctional social dynamics and a sense of complacency in the ASEAN boards are cited as the primary causes of the slow board evolution. Many ASEAN directors believe that their companies could benefit from a meaningful board evaluation and effective board refreshment that invigorate board's diversity.
6. There is also growing emphasis on board independence. Apart from having innovation, digital and ESG competencies on the board, ASEAN directors believe that their companies could benefit from a multi-generational boardroom with independently minded directors.
7. With evolving business risks, stakeholder expectations are expected to intensify – especially in the areas of sustainability and ESG. Boards should thus cultivate a forward-looking mindset and the right organisational culture to turn risks into growth opportunities for long-term sustainability. A paradigm shift to a progressive, sustainability-driven governance model is necessary for companies to further catalyse their overall growth.
8. For boards to benefit from the sustainability-driven governance within their company structure, they will need to consider these four (4) elements: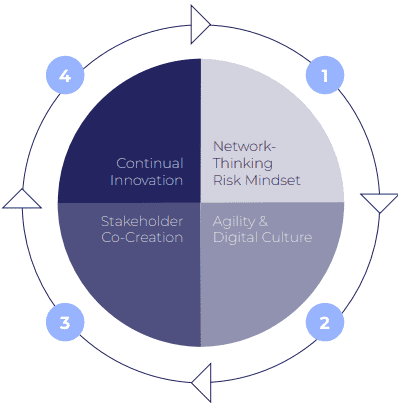 Network-thinking risk mindset

– Develop a broader understanding of the growing risks network and approach risks from multi-dimensional viewpoints.

Agility and digital culture

– Cultivate a digital culture that prioritises people and collaboration, leverage technological systems to find clarity amidst uncertainties and be equipped to make fast yet effective decisions.

Stakeholder co-creation

– Emphasis on delivering value to stakeholders; stakeholders as active participants in the decision-making process to align organisational purpose and values as well as promote a culture of shared accountability, transparency, and integrity.

Continual innovation

– Rethink old certainties, keep an open mind for unknown possibilities and inculcate a culture of experimentation.
About the Report
The Report is an initiative of the ASEAN IOD Network, a regional collaborative effort of the Institute of Corporate Directors Malaysia (ICDM) and six other Institutes of directors (IODs) in the region, namely Indonesian Institute of Corporate Directorship (IICD), Myanmar Institute of Directors (MIoD), Institute of Corporate Directors, Philippines (ICDPh), Singapore Institute of Directors (SID), Thai Institute of Directors Association (Thai IoD), and Vietnam Institute of Directors (VIOD).
The data is based on a total of 114 comprehensive responses across Malaysia, Vietnam, Singapore, Thailand, Indonesia, Myanmar, and the Philippines, covering senior leaders including Board Chairs, Board Committee Chairs, Non-Executive Directors, Executive Directors and Chief Executive Officers/Presidents.