An interview with Imran Ahmad, an ICDM board-ready talent. After more than three decades of fortunes and misfortunes, he knows exactly what kind of company director he would be. He talks about his unconventional career, being made redundant during the 2008 Global Financial Crisis, and using humour to create a supportive work environment.
You have crafted quite a unique path for yourself — a trained scientist with an expansive global career in the blue-chip corporate world. Can you tell us more about that?  I'm not sure that 'crafted' is quite the right word – it implies advance planning. I think 'navigated' is more appropriate, in that there was both intent on my part and sometimes just going with 'the flow' of the current.
While at Stirling University in Scotland, doing a PhD in Chemistry, which eventually I found to be excruciatingly uninspiring ('The solvolysis of acetals in highly ionising, non-nucleophilic solvents'), I started to read MNC graduate career brochures which showed people in suits carrying attaché cases and having business lunches. I wasn't sure what these people in suits actually did, but I was interested in the lunches. My career began in London at Unilever via the Unilever Companies Management Development Scheme (UCMDS) in the Finance function (I qualified as an ACMA), and then evolved into systems (finance and then full Oracle ERP) via management consulting and programme management. This was a combination of what I enjoyed doing, and where the business and employment environment was moving at that time.
You have travelled quite extensively in your career. How's that like? Broadly, since I left university, I have been based in: UK – 8 years; USA – 5 years; UK – 10 years; Malaysia – 10 years. My consulting and programme management work has entailed constant travel and spending extended periods of time in diverse locations, especially: all over Europe, all around the US, Southeast Asia, India, Africa, Latin America – so I do understand cross-cultural working environments. I have witnessed the consequences of headquarters people (American, British) not understanding local cultures! But, in all honesty, the last ten years based in Malaysia have been the best, the most exciting and enjoyable. (Maybe it's the food?) I was apprehensive about moving to Kuala Lumpur, but I've never looked back. Work-wise, I don't miss London at all!
How do you accept and embrace change? Although it's a cliché, it really is important to keep an open mind, to be receptive to changes and opportunities, to do your very best at the current task, and yet know when to surrender to the direction the current is taking you. I have absolutely no complaints about where 'the flow' has taken me – even being unemployed and having to navigate through the 2008 Global Financial Crisis.
"Although it's a cliché, it really is important to keep an open
mind, to be receptive to changes and opportunities, to do your very best at the current task, and yet know when to surrender to the direction the current is taking you."
The Global Financial Crisis had brought you some valuable learning and unexpected opportunities. Can you tell us more about that? At the time the crisis hit, I was based in London in a GE Capital business which was severely impacted. The company executed a 25% headcount reduction and the cancellation of all expensive projects (my projects have always been expensive!), and so I was made redundant after a total of nine years in various GE businesses. 2009 was a terrible time to find a new job – at least one that met my expectations. It was quite a depressing time … until I had an uplifting idea.
I had always known that one day I would take a leisurely drive around the United States, but I had assumed this would be after retirement – how else could I possibly find the time? But now I had plenty of time and a platform on which to organise it. A couple of years previously (while working full-time), I had written a book called Unimagined – a Muslim boy meets the West (later renamed The Perfect Gentleman), and this book had recently become available in the US. I decided to do a speaking tour of the entire mainland United States. I went up to my study, printed off a map of the US, and then plotted a driving route around the mainland, circling clockwise, but dipping in-and-out of the central regions – taking in about 40 major cities over six weeks. I set a starting date in Chicago, which determined the date that I would be at each city, and this gave me the overall itinerary.
I then emailed organisations in each of those cities, marketing my (insightful, topical and humorous) 'performance narrative' and asking if they would host me at their meeting venues. It all came together so easily! I rented a hybrid car from Hertz in Chicago (which I returned six weeks later with an additional 23,000 km on the clock) and I stayed in budget motels along the route. The BBC News website featured this tour at its beginning and end, and I even got some local newspaper coverage and radio interviews. It was an extraordinary experience, and surprisingly cheap to execute (it used only a fraction of my redundancy payment from GE). This was an excellent use of my time in a period when finding a new job was virtually impossible.
In 2013, you won the 'Best Dressed CEO' at The Edge-Bursa Malaysia Kuala Lumpur Rat Race. When we saw the picture, we immediately understood why you had won that year. You dare to be different and that strength has brought you to places. How do you think we can bring that kind of mentality into the boardroom? Despite my many stressful corporate and consulting experiences, I have miraculously retained my sense of humour. I believe that lack of humour is possibly a sign of insecurity, and this is toxic in any organisation. Whatever the external challenges (and not to understate or trivialise these), employees of a company need to feel that they are in a supportive environment, and humour creates an upbeat and positive energy, enhancing mutual respect, empathy and team spirit.
In the Kuala Lumpur Rat Race, the CEO Race is for CEOs or their representatives. In 2013, I was representing the CEO of Khazanah. But some of those other representatives were very young and very fit! I knew I could not win the race per se, so I went for the Best Dressed category. I wore a black dinner suit with bow tie, and inside the suit I had hidden stereo speakers blaring out James Bond music! Tuning into the vibrational aura of that music was my secret weapon. It was a sweltering hot day with blazing sunshine – but I didn't feel hot! Despite being in a dinner suit, I completed the race in the top 25% of runners and, most astonishingly, I was faster than the fastest woman, by 14 seconds.  I still cannot believe this, but the data doesn't lie. It just goes to show the power of mind over body! I won Best Dressed CEO again in 2016, this time in a blue business suit and carrying an attaché case.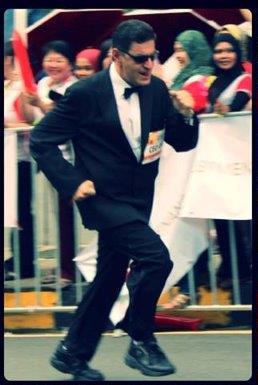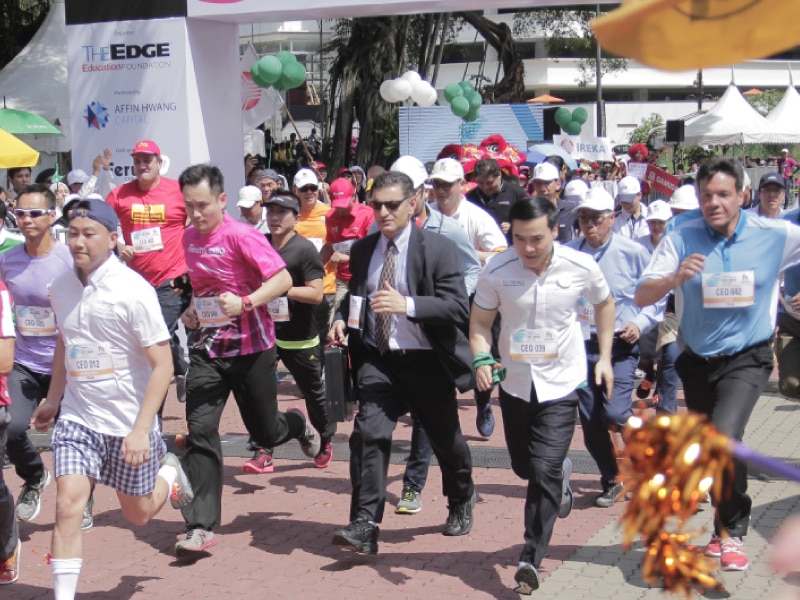 No matter how serious the business challenges facing an organisation, and how ambitious its targets, there is no reason for the internal environment to be toxic and sombre. Having a sense of humour does not make you irresponsible or lacking gravitas. Humour, empathy, team spirit – these are critical to ensuring employee loyalty and optimum performance. I would not be surprised if there are studies proving this, but intuitively we must know it to be true.
No matter how serious the business challenges facing an organisation, and how ambitious its targets, there is no reason for the internal environment to be toxic and sombre.
What inspires you to pursue a board career? This is a matter of pragmatism, preference and practicality. I'm 58-years-old (I know, it's hard to believe, isn't it?), I have an enormous spectrum of global and corporate experience, from Internal Auditor in Unilever to Director in a GE business unit – but I might now be considered too old for a full-time employment position. But I am not ready to retire! A board career would be the perfect way to leverage my experience, and give me some focus beyond maintaining my extraordinary physique at the gym. (Okay, 'maintaining' in this case is an aspirational target term.)
Seriously, though, a board position is the next logical move – a symbiotic relationship between the experience and insights I bring and an organisation open to benefiting from them.
There's also some Karmic education at work here. When I was younger, I didn't really care much about age diversity. But now, with my acquired wisdom, I think it's very important!
In the boardroom, there are instances where board members would choose silence over speaking the truth or asking difficult questions perhaps for fear of fallouts. Do you believe that the virtue of candour is something that can be learned? How can we cultivate that in the boardroom? This is something I feel very passionately about and frankly get very incensed about: if we don't have candour in the boardroom, then where can we have it?  If board members are not frank and outspoken, then they are just a waste of space.
It can be very difficult for company employees to point out that the Emperor has no clothes. They have so much at stake and they are vulnerable to punitive measures or even losing their job. I have witnessed and experienced this many times in my career, especially in the so-called 'consulting' industry – which in some places is riddled with incompetence, insecurity and organisational politics.
For example, in the late 90s I was involved in a huge project in Minneapolis, when I expressed 'concern' to the consulting Partner about the viability of achieving the implementation 'go-live' date, given the enormous amount of unrestrained software customisation and development which was being requested by the client (and not being challenged by us, the consulting firm).  Soon after that I was redeployed from that flagship project and exiled to Jacksonville, Florida. But I was right! The project overran by many months and many millions of dollars – this had been so obvious to me. All I said was: 'concerned'.
You have to be confident in stating your honest opinion but, above all, act with integrity. Never compromise that.
Earlier in this century, I was appointed as the replacement Programme Director (the original person was burnt out) of an enormous and high-profile software implementation involving one of the UK's most well-known companies. But the project was already well underway and all parameters (specifications, timeline, rollout plan, fixed cost) were already set in stone – they were not negotiable. It soon became apparent to me that: the software was unstable and not fit for purpose; it would jeopardise any business in which it was installed; the global rollout timeline was literally insane; none of the client stakeholders was onboard and many actively opposed the project. No one working within the project was saying anything to this effect – everyone was keeping their head down and just carrying on. After my troubling analysis, I summarised the Kafkaesque project issues in one graphic, which I presented to the most senior person responsible for the contract.  She listened in absolute silence and said not one word!  The next day, I was removed from the project.  But I was completely right!  The programme limped on for a few more agonising months, before being cancelled – millions was spent and nothing was delivered.
In this case, I demonstrated the ability to gain a holistic understanding of a complex situation, to analyse and summarise it accurately, to identify fundamental weaknesses and invalid assumptions – and to challenge everything that needed to be validated or reassessed. I believe that using these skills and this approach would make me an effective and useful board director – I just don't expect to get fired for it!
These have been tremendous learning experiences. For me, the danger might have been to start believing that I was incompetent and others knew better than me. You have to be confident in stating your honest opinion but, above all, act with integrity. Never compromise that.
I have the greatest empathy for employees who are willing to express their concerns and I have zero tolerance for senior management and board members who say absolutely nothing in the face of obviously critical issues.  We must encourage candour by maintaining a safe environment for expression of honest opinions and concerns. If you want a compliant and silent board member, that is not me!
What is keeping you busy lately? I'm in my tenth year at Khazanah, but now on a part-time consulting basis. This has opened up plenty of flexibility to do other things.  For the last fifteen or so years, I have had a parallel career as a writer and speaker (apparently, I'm quite funny). This has taken me to literary festivals all over the world, but these activities have always been fitted in around my 'day job'.  I am working on writing the sequels to The Perfect Gentleman (it's a trilogy), as well as reading many more books than I used to. I am now studying subjects I never had time for, such as Quantum Physics – which is fascinating.  Did you know? That chair you are sitting on isn't really solid!  It's mostly empty space! And when you're not actually observing it, it may not be there.
Imran Ahmad has had a 33+ year global career, encompassing finance, IT, programme management and relationship management in major organisations including Unilever, Honeywell, Oracle, General Electric and Khazanah, as well as consulting firms including KPMG, Deloitte, and Ernst & Young. He is qualified as an Associate of the Chartered Institute of Management Accountants (UK) or ACMA (but prefers not to over-emphasise this), as well as being a trained scientist. More interestingly, he is also a writer, speaker and panellist/moderator (www.unimagined.co.uk).