The McKinsey Global Institute found that in 2018, 49%of CEOs say sustainability is either their 'top priority'or one of the top three priorities at their companies. That's an increase of 15% in just four years. Why is that so?
Also, investors (both individuals and institutions) recognise that information about a company's environmental, social and governance (ESG) conduct is vital for their decision making when it comes to long term investments and returns. Again, why?
Well, it could be because many investors and experts see billions of business opportunities in sustainable development i.e. in food and agriculture, development and redevelopmnet of cities, energy and materials, health and overall well-being, etc.
It could be because many experts predict that there are 'USD5 trillion opportunities in Asia by 2030 and 230 million new jobs that will arise from business opportunities that are based in sustainable development' (Business and Sustainable Development Commission).
It could also be that CEOs and practitioners did study and analyze trends and reports published by relevant institutions and take their conclusions into consideration. One of those reports is the United Nations & IFC report that estimated USD28 trillion of investment opportunities in buildings, transport, renewables, electric transmission and distribution, industrial energy efficiency and waste. Based on their results, the regional share of investment might be roughly as following:
Still, many Board members, CEOs and practitioners might be rightly doubtful about these promising predictions, because there have been so many trends that never materialized in any serious change.
Those who need more evidences for ESG/sustainability case could look at the KPMG research (ESG: A view from the top) results that present not future predictions, but existing benefits from sustainable practices. According to their research some of the key benefits for the corporates are enhanced reputation and brand image, reduction of waste and costs from improved operational efficiencies, improved risk management, opportunities for growth and innovation, etc.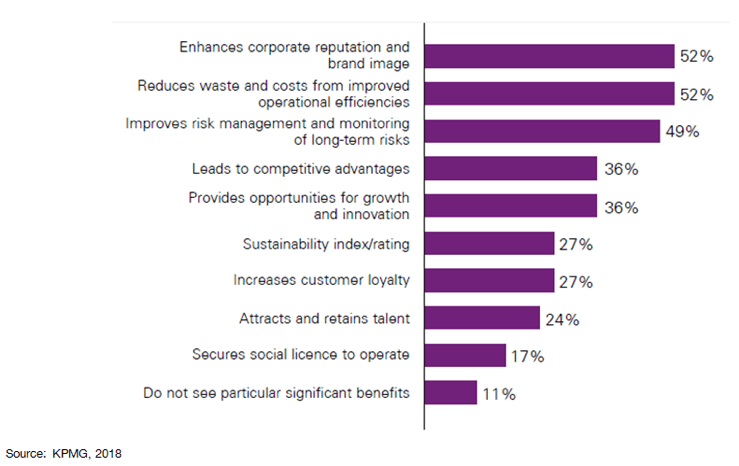 Having this in mind, it could be that there might be something in it for you that is worth exploring and potentially seriously considering.
Following are several brief examples of companies that have committed to ESG criteria and by gradually applying them and changing their practices, they have made rather lucrative shift in both their strategic directions (words) and operations (actions).
Construction materials – Lafarge saves the company about 200,000 tonnes of coal annually by purchasing household waste and turning it into alternative sources of energy. It also builds energy smart, cost efficient and high performance infrastructure by using thermal power plants, wind parks, etc.
Municipal waste – Sweden is using municipal solid waste and turning it into energy i.e. solid recovered fuel which has the same heating value as coal but produces only ¼ of emissions as coal and it costs less

Furniture/office interior

 – Finish company Martela, designs and supplies only items that are repaired, materials that are reused and recycled and modernized. By using circular economy approach they quickly grew from small family company to Nordic leader in office interior industry.
Hospitality – Carlson Rezidor has managed to reduce energy and water expenditure by 24% across the board. Shifting over to renewable energy reduces cost exponentially.
F&B – Coca-Cola successfully improved their ESG practices when the company reduced the water intensity of their production process by 20% over the last decade. This happened after the huge financial loss that Coca-Cola faced in India due to over extraction of underground water for one of their bottle plants.
Garment – Marks and Spencer introduced 'Plan A' to source responsibly, decrease waste, and help communities, leading the firm to save USD 200 million annually.
In addition, there is another benefit that corporations who decide to turn sustainable might be able to expect. That benefit is called People – current and future workers, consumers, partners, supply chain, communities.
Due to the fact that ESG and sustainability aren't just a feel-good green field anymore, job market is already requiring knowledge and expertize in this field. That means that future career path in sustainability sector for many of those from Generation Z (loosely, people born from 1995 to 2010) has already been created. According to various studies (McKinsey, Sustainly, Anniew E. Casey Foundation) core behaviours of the Generation Z are:
Cause oriented, pragmatic digital natives – with vast amount of information at their disposal, they particularly value knowing and evaluating a broad range of information before they make purchases or other type of decisions. About 70% of Gen Z purchase products from companies they consider ethical, 80% say they remember at least one scandal or controversy involving a company and refuse to buy goods from those companies.
Radically inclusive – in their thinking, interactions and relationships. They are more interested than previous generations have been in human rights, in matters related to race and ethnicity, diversity, equal participation, gender equality – in short social sustainability.
Independent entrepreneurial thinkers – newly developing high tech and highly networked world has resulted in Gen Z thinking and acting more independently and entrepreneurially. Around 70% of teens say they want to start their own business someday. And they want it to be stable and long term.
With this conscious-based human capital potential in mind (don't forget that they are all current and future consumers and some of them will be our future decision makers), the answer to the question: 'What's in it for me?' definitely is: 'The future of your children and of your business'.
And if you are still not aware of it, your children (and grandchildren) will very soon remind you or teach you or change you.
Relevant references:
Sustainable Business Opportunities in Asia, Business and Sustainable Development Commission, June 2017
This article is written by Dr Jasmina Kuka, CEO of W!SE (Working on Impact and Social Empowerment) and expert in impact assessment and sustainability practices.
Photo by Joshua Lanzarini on Unsplash.