Complying with the MCCG does not have to and should not be a box-ticking exercise. If you can internalise the Code, you will find it to be a powerful guiding force for companies to thrive well into the future.
In April 2021, the Securities Commission Malaysia (SC) issued the fifth iteration of the Malaysian Code on Corporate Governance (MCCG). The new and enhanced best practices introduced, amongst other things, greater alignment of corporate governance with today's realities. It reconnects people and processes with purpose.
Here are five ways boards can meaningfully adopt the MCCG 2021, not only to meet regulatory expectations but to help your companies build resilience and create long-term value.
1. Rethinking the Definition of Board Talent
Building a high-performing board requires careful consideration of director competencies, which have two distinct but interconnected dimensions: technical competencies and behavioural competencies. Historically, companies have put lopsided focus on directors technical skills whilst neglecting that board members' behavioural dispositions and interpersonal skills are often a major if not the sole cause of boardroom dysfunction.
Board evolution has also been slow despite many Malaysian boards recognising the need to bring in new expertise. Based on Institute of Corporate Directors Malaysia (ICDM)'s research conducted in collaboration with Bursa Malaysia and Russell Reynolds Associates, the skills least present but most needed on boards are: digital technology, innovation, sustainability, human resource, communications & public relations, and marketing & branding.
Nomination committees in particular play a critical role in supplementing boards with the right talent. The SC's recommendation for boards to incorporate independent searches in the selection, nomination and appointment process will intrinsically help boards gain access to a much wider network of high-quality candidates. That includes first-time directors, many of whom bring cutting-edge knowledge and first-hand experience in digital transformation, product innovation, and, environmental, social and governance (ESG) integration, the very skills our boards are asking for. Currently, only 8% of Malaysian boards source through independent search institutions, whilst 74% through personal networks and 14% through major shareholder or parent company nominations (see Exhibit 1). There is thus a disconnect as those from personal networks for example are not able to fill the range of new skills required.
Exhibit 1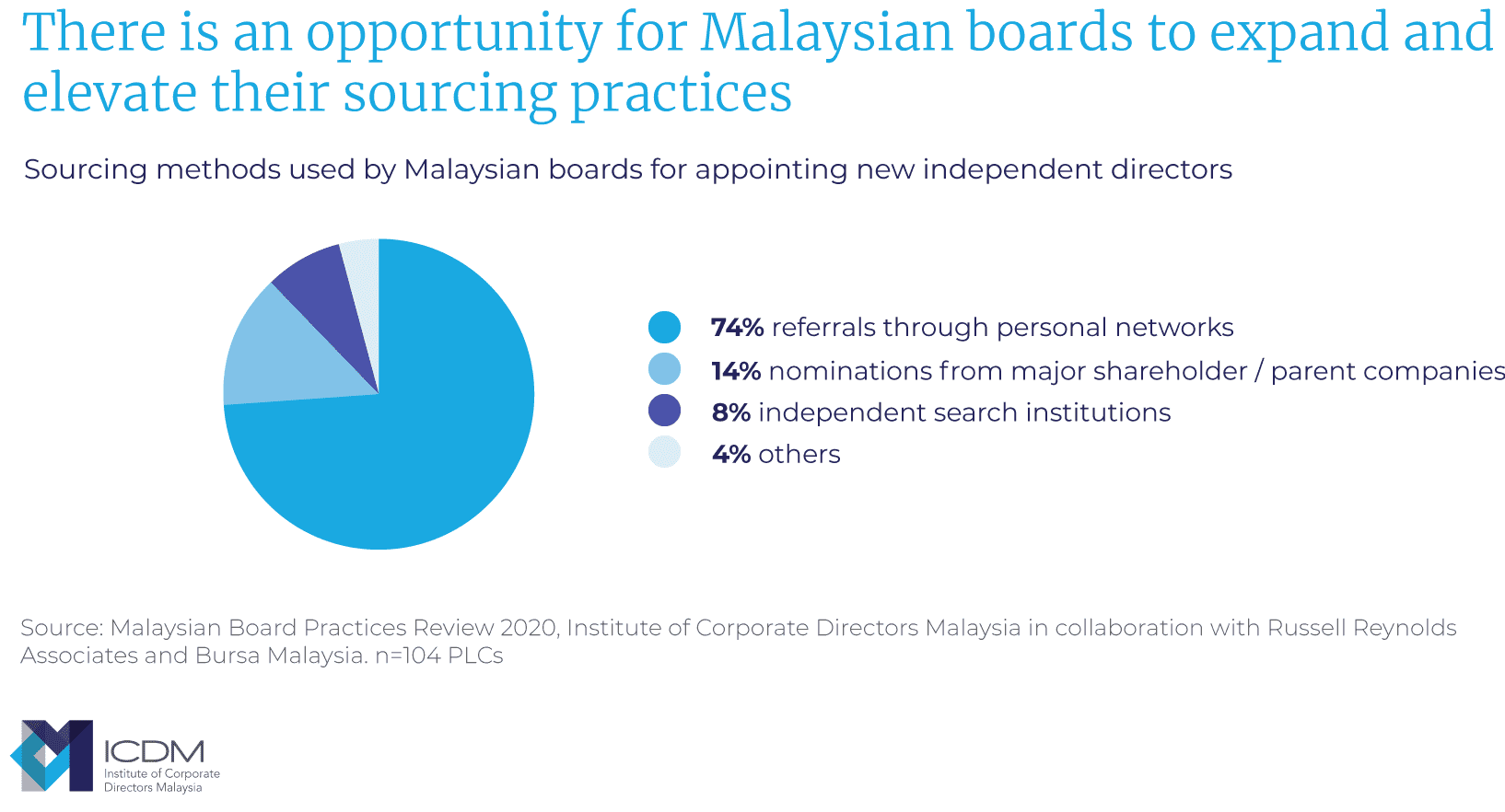 It is also worthwhile for nomination committees to adopt a more structured and balanced approach to director education and training. Apart from developing technical knowledge, it is essential to continually refine directors' interpersonal skills, enhancing their ability to collaborate better as a group. Directors on highly effective boards are typically better listeners, mindful of the importance of hearing multiple perspectives, and able to engage in conflicting opinions in a productive manner.
2. Rebalancing the Power Dynamics in the Boardroom
Finding the right director talent with the right competencies is a good starting point. However, it should not end there. For productive discussion and robust decision-making, boards need to be intentional about bringing the best out of each member, ensuring that every viewpoint is heard and considered. And that requires deliberate actions in setting the right power structure that engenders trust, inclusivity, and diversity of thought.
The Code recommends a rigorous process for assessing board composition. Refreshment and succession planning should be strategic and data-driven. It also sets clear expectations on board diversity, tenure of independent directors, and the role of the chair.
The recommendation to limit the chair's involvement in the audit, nomination or remuneration committee will bring upon greater objectivity in boardroom deliberation. The chair is also expected to take on a bigger role in shaping the right board culture, setting the tone and deciding how time and resources are deployed. According to research, highly effective board chairs encourage independence, and foster and facilitate high-quality debates. The strongest chairs are great facilitators; they get the best out of the board as a collective group as well as out of individual directors. Thus the role of the chair is highly skilled and where performed well directly correlates to a better functioning board overall and better corporate outcomes.
Exhibit 2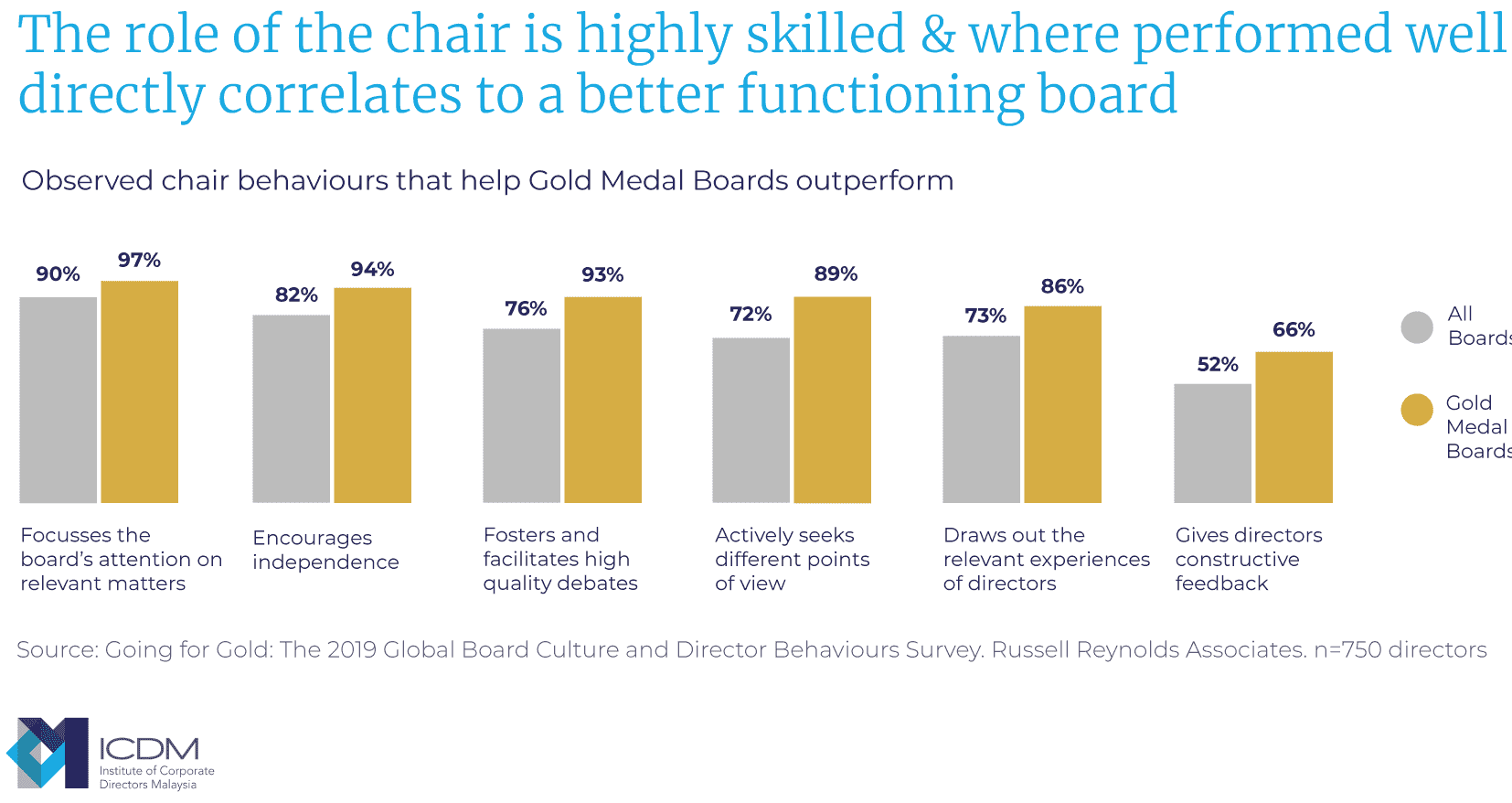 3. Converting Risks to Opportunities for Organisational Resilience
Sustainability risks and opportunities along the three dimensions: environmental, social and governance (ESG) can no longer be an afterthought. As a start, it is crucial for boards to understand that ESG is not a compliance burden but a new opportunity to help companies create value. According to McKinsey, a strong ESG proposition links to (1) top-line growth, (2) cost reductions, (3) minimising regulatory and legal interventions, (4) productivity uplift, and (5) investment and asset optimisation.
As outlined in the Code, ESG strategies are the most effective when it is internalised and integrated seamlessly into the core business and when it is part of the company values and culture. In adopting ESG, boards can take small but meaningful and incremental steps.
To get started on ESG integration, boards can adopt this roadmap as a guide: (1) conduct a risk-based assessment on the individual elements, i.e. the E, S and G, and then identify the gaps in the business, (2) map measurable targets as enumerated in the Code and set the timeframe to get there, (3) stress test the targets to see what is achievable and feasible, and (4) engage with your stakeholders at all points.
Exhibit 3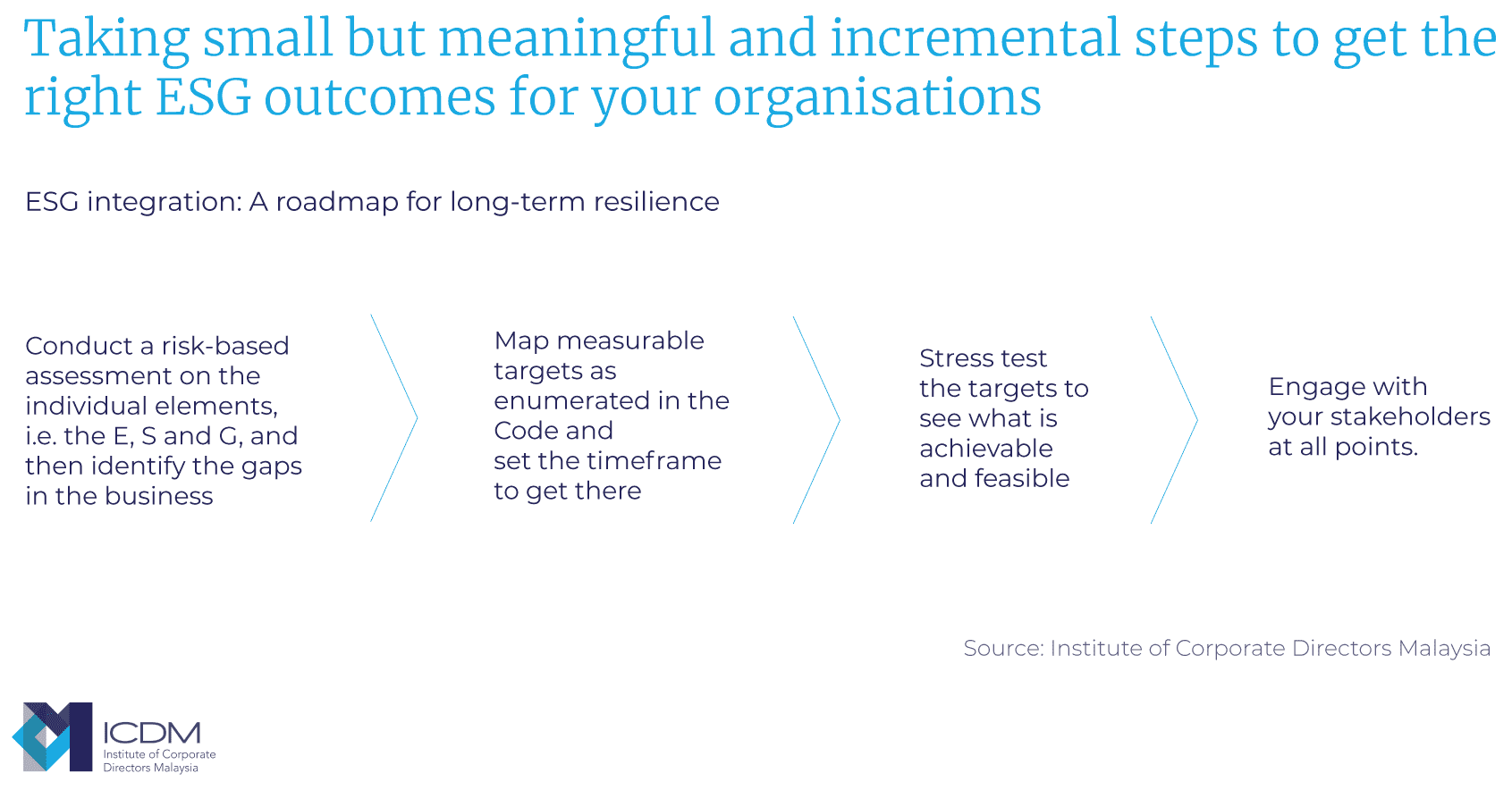 Established frameworks and standards are useful in guiding boards and management through the ESG integration process. However, there is no one-size-fits-all method. The focus should be to get the principles and outcomes right and relevant to your company.
4. Co-creating with Your Stakeholders
Every business is deeply intertwined with its communities, from customers to employees to shareholders. Increasingly, stakeholders want to know how companies are run and are holding companies to a high bar in addressing sustainability risks and opportunities. Building stakeholder trust, also an emphasis of the MCCG, lies in companies' ability to listen and incorporate the interests of different stakeholder groups in strategy and execution.
The business ecosystem is evolving at an exponential rate. Understanding stakeholder needs requires more than just sending an email or online questionnaire. In today's digital world, there is an abundance of digital tools which boards and management can use to navigate the complex and shifting stakeholder landscape.
The use of big data and emotional intelligence can help companies discern stakeholder sentiment at pace and scale. Incorporating stakeholder feedback within the board evaluation process is also a great way to ensure strategy and decisions made by boards are aligned with stakeholder expectations.
Companies have a lot to gain when they are serving the stakeholders correctly as it can be a powerful source of competitive advantage. When your stakeholders trust you, they will be less likely to hesitate when choosing who to buy from, who to work for and where to place their investments. That trust bank is invaluable and must be nurtured.
5. Staying Progressive Through a Robust Feedback Loop
Board evaluation is a powerful instrument in driving and delivering high-performing boards. Unfortunately, it is currently under-leveraged and often misconstrued as a punitive measure. That cannot be further from the truth. The intended outcome of a performance evaluation is to support boards in forward-looking development and growth. This is particularly crucial when the expectation is for boards to be more agile in leading organisations through complex transformation.
Findings from the ICDM, Bursa and Russell Reynolds study show that board evaluations remain an internal affair, facilitated typically by one or a combination of the nomination committee, the nomination & remuneration committee and the corporate secretary. The overwhelming majority (75%) had never engaged an external facilitator for a board evaluation.
Our research also reveals the top three challenges faced in board evaluations and they are: (1) the lack of meaningful engagement with facilitators, (2) the lack of formal communication of evaluation results, and (3) questions not tailored to reflect current operating environment and needs. A board evaluation is only as good and as meaningful as a company makes it and this is where boards must drive the process and outcomes in order to optimise the returns from an effective evaluation.
We believe thus that boards can benefit greatly from an externally facilitated board evaluation, not only in obtaining greater objectivity and an unbiased perspective, but also in having a well-structured evaluation framework executed by facilitators who have the right skills and experience to generate the right conversations for improvements.
A well-structured board evaluation framework typically includes considerations in board leadership, structure & process, purpose, strategy & risk alignment, people & composition, board dynamics and culture, along with careful reflection on stakeholder expectations and ESG concerns.
Exhibit 4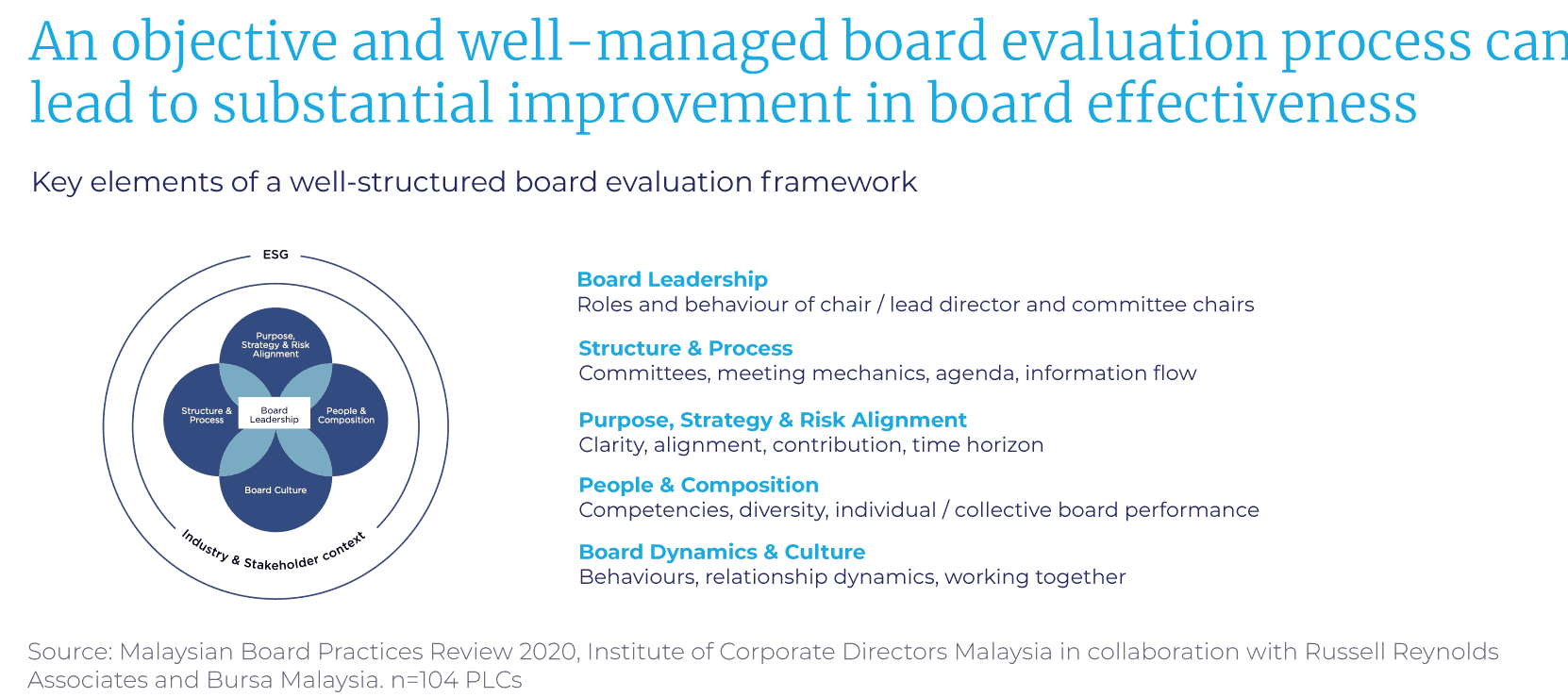 Conclusion
To successfully adopt the MCCG 2021 requires more than just compliance but a fundamental mindset shift in board practices, boardroom culture and director professionalism. Understanding your level of adoption is a good start to internalising the Code. Malaysian boards can make use of the ICDM MCCG Test Kit, a complimentary self-diagnostic tool, to gain a foundational understanding of where you are in adopting the recommended practices, and subsequently derive the next steps to build a highly effective and impactful board.
Author :
Michele Kythe Lim is the President and CEO of the Institute of Corporate Directors Malaysia (ICDM). She works closely with boards, the director community, regulators, and other key stakeholders in the corporate governance ecosystem to enhance board and director effectiveness in Malaysia. Under her leadership, ICDM has embarked on a series of director development programmes, board advisory services, as well as research and advocacy projects to support the Securities Commission Malaysia (SC)'s vision to build and strengthen the country's corporate governance culture. ICDM currently serves a wide range of clients from both the government and the private sectors, from public-listed companies to small and medium enterprises.