As members of boards across various industries, how one communicates to others, is key in driving clarity of messages so as to energise others to act and respond in a manner befitting the strategic mission and objectives of the organisation. As we navigate the nuances required to deliver effective communication, how can we achieve authenticity in our communication – that delicate balance of being eloquently concise yet considerate – that can spark the call to action of our stakeholders?
Harrison Assessments can give you key insights into how this balance can be achieved. As individuals, we are each 'wired' in a certain way – where our unique life journeys have shaped our thoughts and attitudes, which in turn impact our behaviour. Through a deep dive into our behaviour preferences ecosystem in the Harrison Assessments Communication Paradox Graph, it gives us a critical window into the typical tendencies that we rely on to navigate our day-to-day experiences such as clues as to how we prefer to communicate, and equally important, how others perceive the communication received.
The graphical representation of the inter-relationship between the two traits – Frank and Diplomatic – are key to authentic communication, and, is depicted in the Communication Paradox (Figure 1.0). The two traits may, at first glance, appear to be contradictory. Upon further reflection and when used in tandem, it can produce synergies that produce clear, yet thoughtful communication. In this respect, the individual has acknowledged the benefits of both being direct in communication, as well as the value of tact, deploying both in quantities as and when needed. The implications of such decisive yet empathetic communication is clear – the intent of the messages delivered is received without distortion, even contributing to the increase in the level of trust and credibility of the communicator.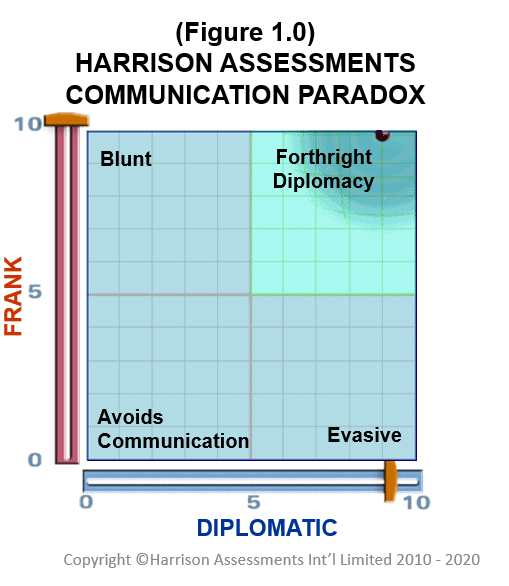 This begs the question: what happens when we rely more on one of the traits? If, for example, an individual relates more to Frank as the go-to trait to lean on in all his or her interactions, without deploying much tact and diplomacy, as the saying goes, "Too much of a good thing can be detrimental." In the concept of the Harrison Paradox, too much of frankness can instead come off as bluntness, when it is not sufficiently complemented by being Diplomatic (Figure 2.0). What is interesting here is that as the Frank communicator, the individual may be operating on the frame of mind that "I speak my mind." What is being decoded by the receiver of this message may instead be "You don't respect me enough to be considerate in your words."  This misalignment of intent and perception can ultimately produce unintended consequences that can impact the best of team and organisational efforts.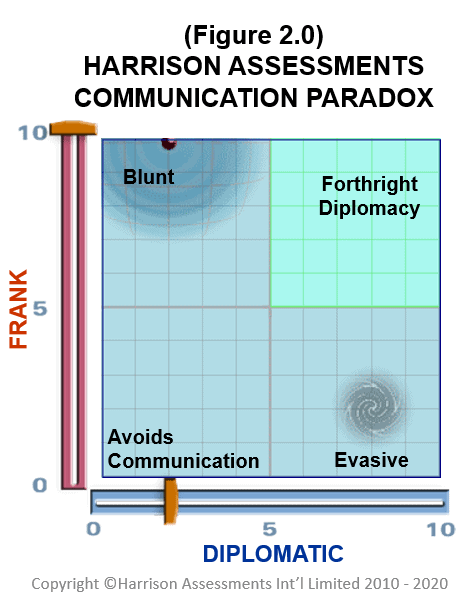 If you would like to discover and continue to explore your Communication trait tendencies as well as many other interpersonal and leadership dimensions, come join us in our Webinar on Exploring your Paradoxes. Contact our Membership Team for more details.