A recent survey found that less than half of board directors and C-suite leaders consider the impact of climate change.

Today, companies that fail to embrace ESG standards have increasingly limited access to talent and capital.

Boards that invest in understanding ESG metrics have a better chance of overseeing companies that can succeed in the low carbon future.

---
Environmental, social and governance (ESG) have become a hot topic for corporate boards. Companies face increasingly rigorous ESG reporting requirements to demonstrate their impact on people and the planet and what steps they are taking to promote diversity and equality, contribute to communities, and minimise waste, pollution, and carbon footprint.
ESG is not just a compliance obligation but can also be a significant driver of value, helping businesses build more resilient supply chains, reduce costs, and attract investors, customers, and employees.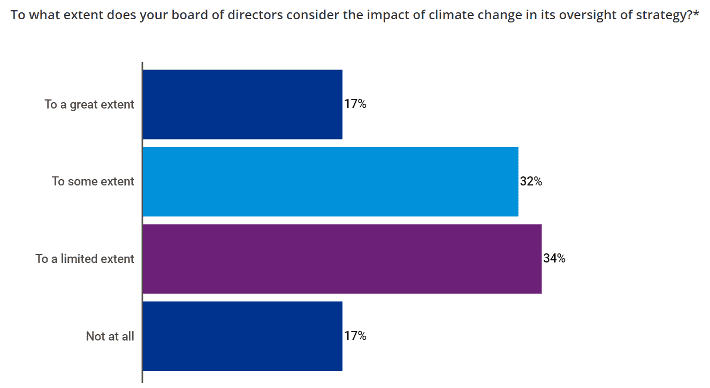 Board members may be comfortable overseeing traditional financial reporting but often struggle to comprehend the growing list of ESG metrics and fail to fully appreciate how a purpose-led, ESG-focused business can build a competitive advantage.
Amongst the measurements, they will have to become familiar with our greenhouse gas emissions (and the differences among scopes 1, 2, and 3), water management (such as total water withdrawn from sources and consumed), and environmental footprint (total energy consumed and percentage of renewable energy use).
Other metrics include workforce diversity, wage equity, and modern slavery in supply chains. As they seek to understand the quality of the company's ESG reporting, they will also need to be on top of the organisation's data collection processes, controls, and third-party verification practices.
Carrot and Stick
Investors gravitate toward businesses that adopt ESG strategies, believing that they will deliver better returns. This is due to lower long-term reliance on volatile energy and raw material markets, greater energy efficiency, a skilled, motivated workforce eager to be part of a purpose-driven organisation, and customers who share similar values.
If this is the carrot, then there's an equally big stick in the form of increasingly limited access to capital and talent and consumer defection for companies that fail to embrace ESG. There's also potentially a personal price for board members to pay, with increasing incidents of shareholders that choose not to re-elect directors of companies that fail to disclose a strong ESG strategy guided by an informed and engaged board.
When you consider the scale of the reporting challenge, it's of little surprise that boards are finding it hard to keep up with a host of evolving national and international standards, some mandatory and some voluntary. Although initiatives such as the WEF IBC (World Economic Forum's International Business Council) and the IFRS Foundation strive towards a consolidated global standard, this is likely to take some time.
Educating Corporate Boards on ESG Reporting and Strategy
As ESG issues become mainstream, board directors have to step up and provide appropriate oversight, help develop targets and guide discussions on integrating ESG and corporate purpose into strategy. To do so, they need to focus on the following:
Gain ESG fluency
When considering the board's composition, it's vital to assess what kinds of ESG knowledge, skills and experience are needed. Although directors are primarily responsible for getting up to speed, management and/or external advisors can help in their education, along with formal training programs. Companies may even want to bring in new board members specifically for their ESG skills, with particular emphasis on diversity. In a recent study of corporate boards, 57% of respondents expressed concern that a lack of diverse views could hamper insightful discussions on future direction.
Achieve consensus on ESG strategy
Through collaboration between the board and senior management, the organisation can align its corporate and ESG strategy, identify key ESG issues likely to impact the company, and agree upon targets and actions such as data collection, analysis and reporting. Board discussions on ESG should involve executives with profit and loss responsibility in areas such as finance, risk, product management, R&D, and operations, as they will measure and report ESG performance. Tying KPIs to compensation can reinforce the commitment to ESG.
Build a strong ESG story
A clear, unified ESG story, supported by solid, auditable evidence, can assure investors, customers, employees and other stakeholders that the company has mapped out a sustainable future and avoid concerns over 'greenwashing'. The board and c-suite should again align on the message and agree upon key spokespeople possessing a passion for and expertise in ESG. And by establishing a cross-functional disclosure committee – including the Corporate Secretary, Head of Investor Relations and others – the company can communicate a narrative that connects financial and ESG impacts.
Balance reporting with future goals
Much of ESG reporting will focus on the company's performance in terms of emissions, resource usage, human rights etc. However, if ESG is to become an integral part of the strategy, it's equally important to set and disclose future goals – including net-zero goals – that contribute to shareholder value and have a positive environmental and social impact. As these goals are by nature long-term, they should be supported by a robust and realistic plan that includes interim steps and target metrics. Reporting, therefore, should also document progress towards these targets.
ESG Leader or Follower?
Some boards will already be feeling the heat from investors and analysts eager to hear about their company's performance in reducing carbon emissions, switching to renewables, and embracing diversity and equality. Others may currently be under less scrutiny and playing a game of wait-and-see and could be tempted to encourage their companies to merely do the minimum regarding reporting once regulations are finalized and effective.
But as ESG becomes ever more significant, the boards that embrace the concept of long-term shareholder value and invest in understanding ESG metrics and sustainable strategies, have a better chance of overseeing companies that can succeed in the new, low-carbon, circular, purpose-driven world.