How 'Boards That Learn' Elevate Themselves and the Organizations They Serve
(Originally appeared in the July 17th, 2019 'Across the Board' publication, a Board Director, Board Advisor, C-Level, and Business Newsletter reaching 25,500+ exceptional business leaders in over 65 countries with articles focused on leadership, strategy, and governance topics – sign up here)
Being qualified is no longer a destination, but more so a continuous journey. There was a time in the not-so-distant past that dictated that once you 'reached' a new professional level or title, it was yours to keep – forever. No additional strings attached or hoops to jump through. After all, you paid your dues and earned your status, right? Not so much anymore… Constant technology advancements, the increasing availability of relevant decision-making data, and even the speed of change itself have all accelerated, relegating previous knowledge and experience to a potentially lower status of importance when evaluating the entire picture. Having 'reached' a level of decision-making leadership importance with disregard for ongoing learning, new skill attainment, or knowledge-honing is a dangerous belief and can be a premonition of poor future personal and company performance, especially within the Board.
Darwin Smith, when reminiscing on his extraordinary performance as CEO of Kimberly-Clark, stated, "I never stopped trying to be qualified for the job." This led his insatiable appetite for continuous learning and solicitation of feedback, which ultimately transformed the sputtering and shrinking industrial giant into the number one paper-based consumer products company in the world. "Business is not about profit. It's about personal and organizational greatness" – no doubt fostered by a corporate environment of continuous learning and employee personal growth.
Benjamin Barber, the late eminent political theorist, once said, "I don't divide the world into the weak and the strong, or the successes and the failures, I divide the world into learners and non learners." What Benjamin realized and so eloquently summarized is the principle of true learning and the fact that it is perpetual. There is no end to the process. A person, or group, that knows how to learn, understands the importance, and makes it a priority is a much more informed, resilient, and effective decision-making entity.

Group learning sessions with your Board are one of the best ways to collectively educate while simultaneously building Board camaraderie. The number of instances where I am requested to speak on a variety of topics at Board meetings are increasing, a sign that some Boards are making an effort to infuse continuous learning directly into their existing and allocated Board meeting time. In Betsy Atkins' July 9th, 2019 Forbes article entitled 'How To Run An Effective Board Meeting,' she suggests, "At least twice a year, include outside experts in your board meetings. Instead of a board dinner, bring in a meal and have an expert cover topics such as the future of your industry, technology changes impacting your business or corporate governance trends such as ESG or Activism."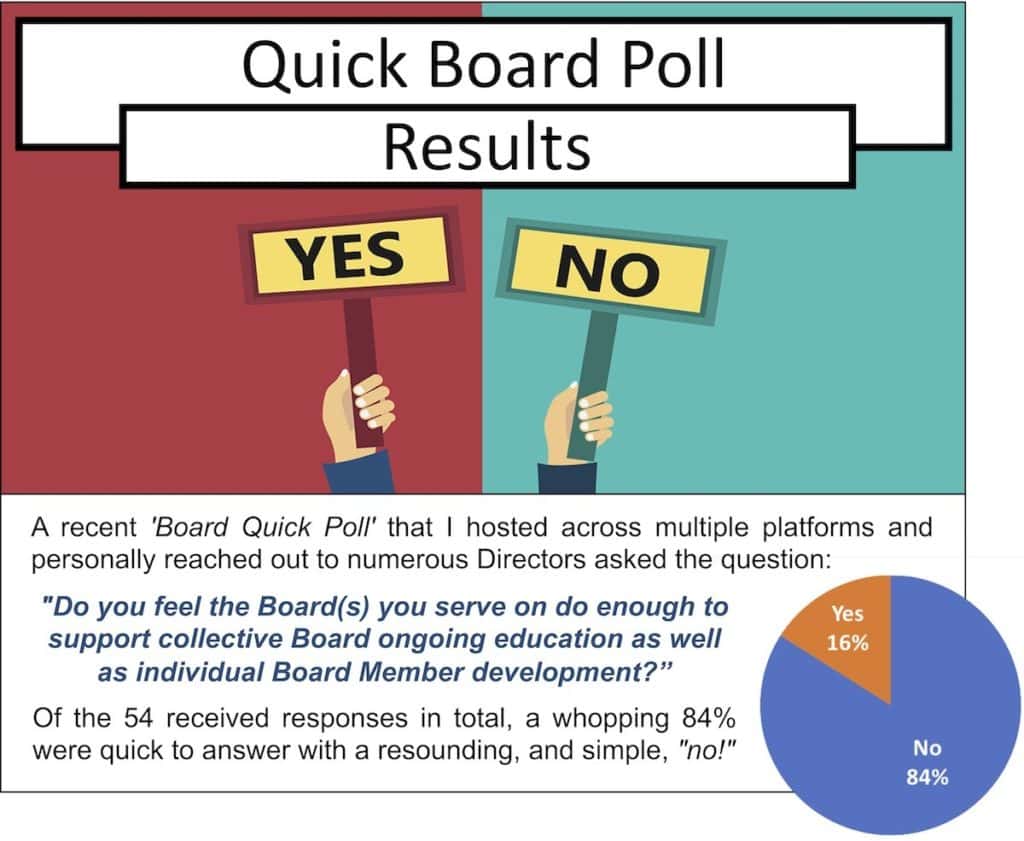 "It is incumbent on boards to ensure they are current and directors should always be learning," states Jane Davel, Non-Executive Director specializing in Board governance and marketing. "Continuing professional development should be a discussion item at the Board table on a frequent basis." Unfortunately, this is not always the norm due to increasing Board meeting agenda topics, pressing and urgent matters requiring resolution, meandering discussions, and the common misperception that Board Directorship is a task and not a discipline. Some Boards, however, have bucked this trend by offering yearly education stipends to incentivize ongoing learning. These Boards have realized that continually educating their Board Members not only increases their collective effectiveness, but also raises job satisfaction. Additionally, education components leading to accreditations or continuing professional education credits (CPEs or PDUs) can raise company perception when earned Board-related certifications are proudly displayed on public company proxy statements. "High-performing Boards demand more from their Directors and Advisors. For example, do Directors have enough understanding of how digital business models, digital ecosystems, and the hyper-scaling of digital platforms is facilitating rapid growth to help reinvent the corporate business model?," rhetorically asks Cliff Locks, a Board Member at Investment Capital Growth. "The science of building a high-performing Board and delivering superior shareholder value over the long-term needs to include continuous assessments and ongoing education."
The balance of expertise, experience, and certification (education), something I like to call the 'Career Trifecta,' is extremely important for all professional positions, including Board Directorship. For Board candidates, probe for their level of understanding and proficiency of this important balance and check for their desire to continuously learn. For existing Board Members, leverage continuing education opportunities to raise proficiency and performance levels. The benefits are immense.