Asia Pacific businesses should prepare now for new circular economy reporting standards
---
Europe's Corporate Sustainability Reporting Directive (CSRD) is coming, and it will be mandatory for a significant number of European and non-European companies. CSRD is the first to include the circular economy as a reporting category, with the aim to set new standards for how companies report on social and environmental impacts.
As Europe's major supplier of manufactured goods and commodities1, Asia Pacific business leaders should determine if they are required to report under the new CSRD. If so, preparations for this new requirement need to start now. Failure to take action will increase the risk of penalties for individual companies such as financial sanctions, exclusion from investor portfolios, or reputation damage and could also have implications to a territory's ability to trade with the European Union (EU) if there is widespread non-compliance. Exact sanctions will be implemented by each territory when the CSRD is transposed into national law.
Here we explore which companies are impacted, what businesses will need to do, and why the broader global circular economy transition is increasingly critically important for Asia Pacific.
CSRD – ​Which Businesses are Impacted   
The CSRD builds on the existing Non-Financial Reporting Directive (NFRD), and will quadruple the number of companies required to report on sustainability. Under CSRD, reporting will now be mandatory for approximately 50,000 European and non-European companies2, versus 11,000+ under the NFRD.
Asia Pacific businesses in the following categories will be impacted and must comply at a legal entity and/or a consolidated level:
Single entities listed by debt or equity on an EU-regulated market
Large single EU-based entities that meet two of three of the following criteria over two consecutive financial years:
More than > 250 employees
More than > EUR€20m balance sheet total
More than > EUR€40m net turnover
Non-EU companies with an EU subsidiary or EU branch fulfilling certain criteria, and net turnover of more than > EUR€150m in the EU in each of the last two consecutive financial years
Non-EU issuers are also falling in scope for CSRD reporting, but with a number of complex questions outstanding for clarification.
Implementation is Just Around the Corner
With the European Commission adopting the CSRD in 2022, the new legislation will come into effect between 2024 and 2028 meaning that CSRD issues will need to be reported upon, by various businesses, as follows:
2024

: Entities already subject to the NFRD non-financial reporting directive, must report on FY2024 in 2025

2025

: Those not already in NFRD scope must report on FY2025 in 2026

2028

: Non-EU companies commence reporting on FY2028 in 2029.
EU Circular Economy Regulations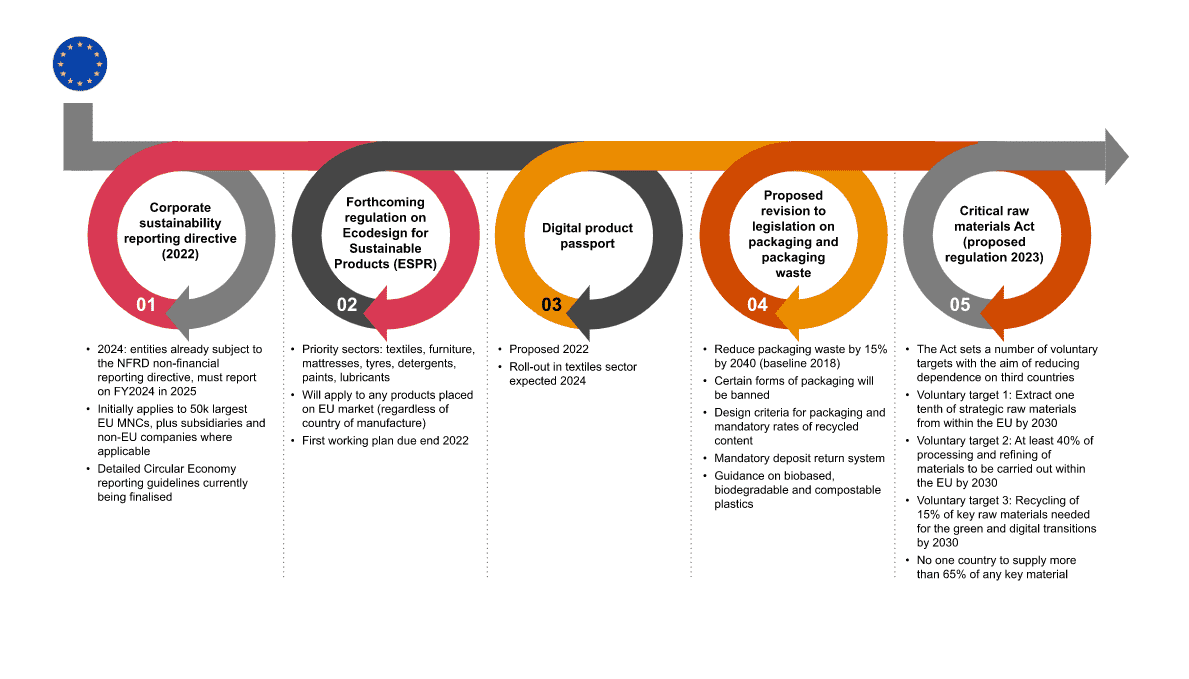 A Broad Scope
The CSRD requires companies to consider sustainability governance, strategy, impact, risk and opportunity management, metrics and targets, the 'double materiality' (impacts) of their business on people and the environment (directly and through their supply chain), as well as how sustainability issues affect enterprise finances. The CSRD has a wider range of potential reporting categories than other sustainability reporting standards, covering circular economy, climate change, pollution, water and marine resources, biodiversity and workforce.
Reporting on climate change and aspects of the workforce is mandatory for all CSRD impacted companies. For other categories, a materiality assessment must be conducted and documented to determine whether reporting under this category is required. Based on PwC's experience, businesses will find this assessment complex and time-consuming, potentially requiring thousands of data points. For example, the materiality assessment process for the circular economy category includes evaluating a company's resource inflows and outflows; resource use optimisation; circular systems; and waste management.
If found to be material, reporting under the circular economy category becomes mandatory.
While minimum CSRD compliance may be possible at this early stage, it is a risky approach given reporting requirements are likely to tighten in the longer term. Governments and private sector businesses globally are introducing circularity policies at pace, with a significant ramp up in circular economy actions observed since 2020. As momentum rapidly builds, business leaders would be wise to plan ahead to meet this evolving landscape and to identify and act upon arising risks and opportunities. A number of large multinational players are already setting the tone by implementing circularity strategies. Companies which have not yet developed a circularity policy would be prudent to consider how they can remain competitive and safeguard their reputation.
Complex Changes Require Immediate Action
CSRD rules are complex and the extent of assessment and reporting requirements present significant challenges for organisations. Given the increased scope of the CSRD, current sustainability reports are unlikely to meet the level of granularity required, particularly for the circular economy category. With preparation time likely to range between 18-30 months, it is vital that organisations prepare their data, people, technology, policies, and processes now. Given the increasing complexity and comprehensiveness of reporting requirements, it is critical for companies to consider digital transformation of their reporting ecosystem3 to better understand risks, impacts and importantly identify opportunities. This is fundamental to effective reporting and in developing a greater understanding of how to re-imagine businesses to align with circular economy principles.
The Global Circular Economy Transition and What It Means for Asia Pacific
From a regulatory perspective, circularity looks unstoppable. More than 50 national roadmaps and strategies have been launched globally, and a further 520 circular economy-related policies (such as plastic taxes, bans and extended producer responsibility schemes) now exist.
The European Union currently has the most comprehensive circular economy action plan4 in the world, targeting the whole lifecycle of products from design, sustainable production and consumption, to reducing waste through circular feedback loops (reuse, remanufacturing and refurbishing).
Circular Economy Regulations Around the World*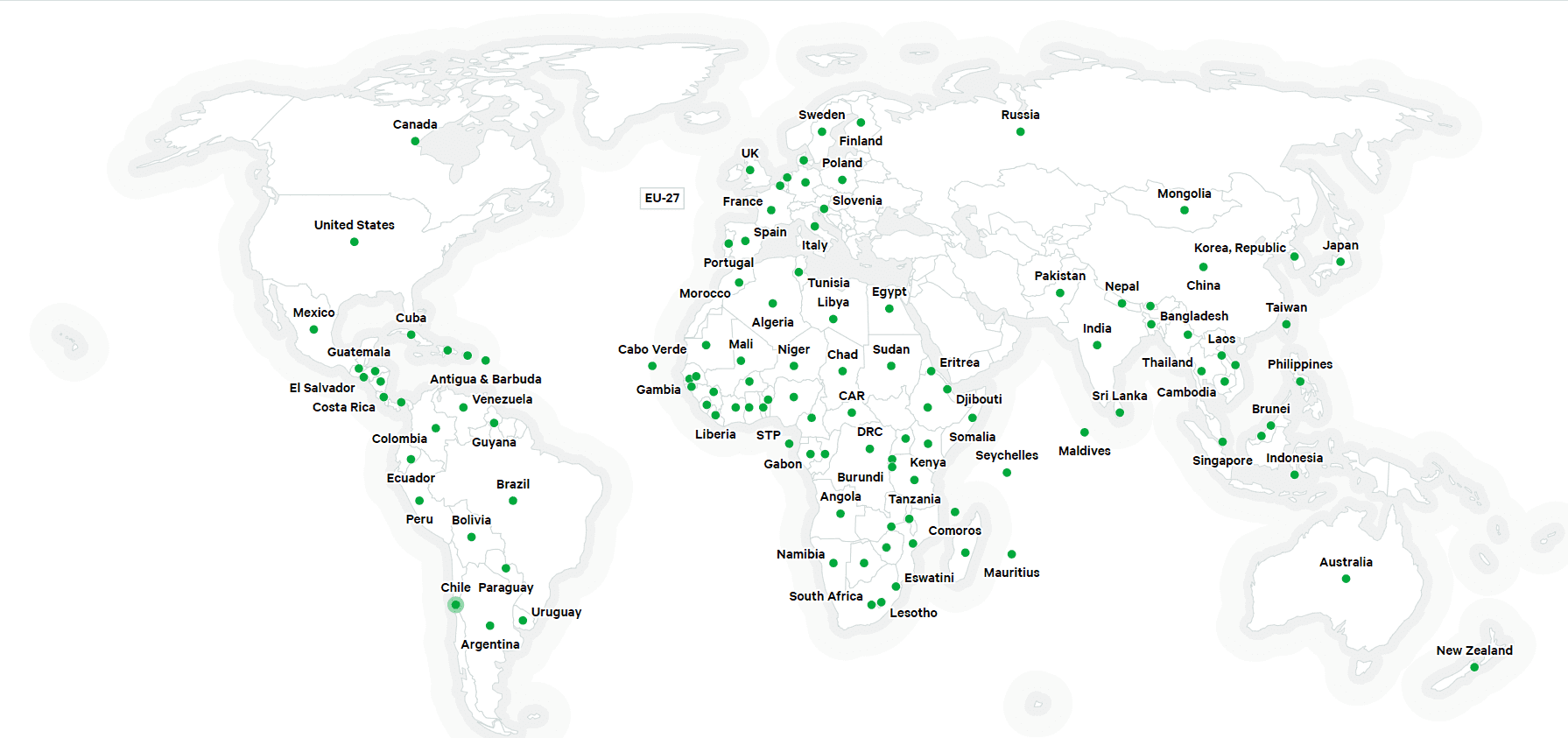 The circularity landscape is also shifting across Asia Pacific. In 2021, ASEAN6 announced its own circular economy framework, with actions including to identify key sectors for the transition, harmonise circular products and services, and promote financing of the circular economy. An implementation plan for the period 2023-2030 with a number of initiatives is now being finalised.
On a national level, Japan, China, Vietnam and Indonesia all have national circular economy policies/strategies, while other countries in the region have sector or product specific resource efficiency circular policies, and are developing comprehensive regulations for the circular economy. Within the private sector, several large international brands are already considering circularity, including through changes to packaging and product materials, launching 'product as a service' lines and exploring new revenue streams from by-products and waste.
As regulator and consumer pressure grows, more investment decisions will be influenced by circularity assessments. Businesses will look deeper into their supply chain and preferred suppliers will be those implementing a circular economy approach. Even Asia Pacific-based companies currently unaffected by the CSRD – but which supply to EU/international buyers – will need to future-proof their business, such is the reach of the global focus on circularity.
Are You CSRD Ready?
The transition to circularity is a complex one and it is essential the transition starts immediately to avoid being caught off guard by regulatory and buyer demands. A passive approach could have negative implications for businesses and the region, while for those who prepare now – i.e. set up and align reporting to circular economy principles and make ongoing business changes – are expected to reap the benefits. The CSRD sets a new marker for corporate sustainability standards. Preparing now will provide Asia Pacific businesses the license to operate, grow and remain globally competitive into the future.