At a pivotal moment for the future of work, companies can help their businesses and employees thrive

Employees have had more than a year to reflect on their needs and aspirations, and many want a new model of work. Our latest US Pulse Survey found that 65% of employees are looking for a new job. We also talked to executives, 88% of whom told us they are seeing higher turnover than normal.
For the most part, executives have a good grasp on why their employees are looking elsewhere. But when it comes to offering incentives that employees want most, they're falling short in two key areas: benefits and compensation. This employer-employee tension compounds the challenge facing companies eager to redesign work. Rising inflation, the surging delta variant and tension over vaccines, masks and shifting return-to-work plans are creating extra uncertainty.
How can executives balance their strategic and operational goals with shifting employee expectations? Companies have a tremendous opportunity to transform work. By redesigning work, you can help drive growth, better anticipate uncertainty and create a workplace that top talent is eager to join. To successfully execute your plans, you'll need to figure out your hybrid work model, make changes to processes and operating models, revamp strategic planning and, most importantly, attract and retain top talent.
Our survey offers insights into the changes executives are making as they redesign work and how they are centering many of those decisions around people.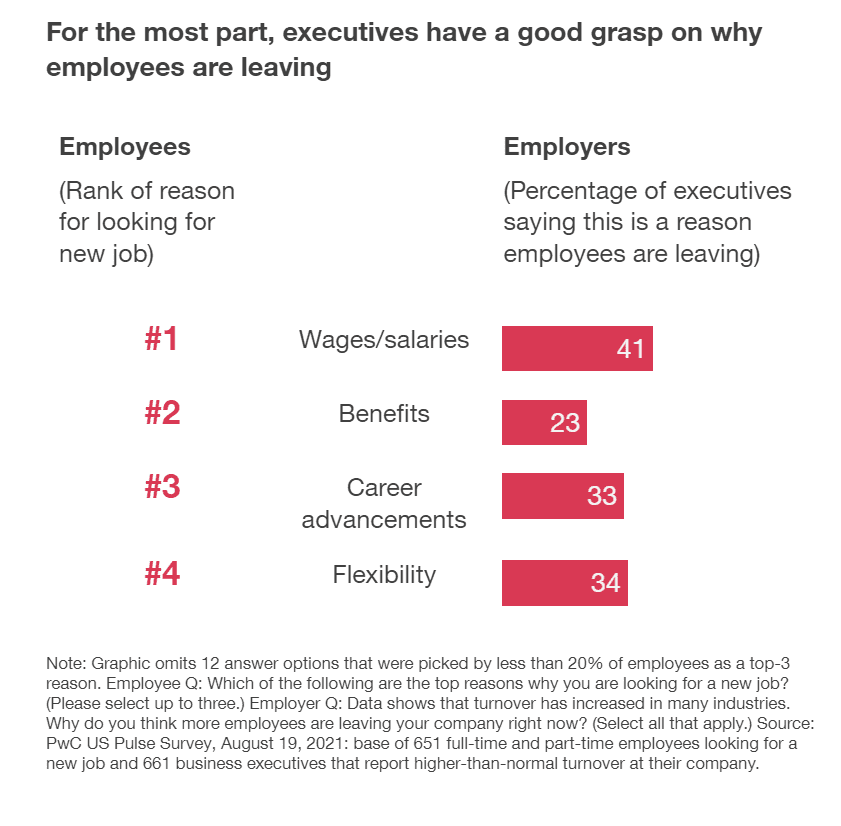 Other top findings:
1. Concerns vary across the C-suite as executives evaluate the impact of employee turnover. Nearly nine in ten (88%) executives we surveyed say their company is experiencing higher turnover than normal. That's not surprising, given that the Job Openings and Labor Turnover Statistics (JOLTS) data from the US Bureau of Labor Statistics currently shows quit rates above pre-pandemic levels and continuing to rise. As of June 2021, the highest quit rates (which indicate voluntary turnover) are occurring in accommodation and food services (5.7%), leisure and hospitality (5.3%) and retail trade (4.1%). Other sectors are much lower, including education services (1.4%, not shown in the graph).
Inside organizations, executives are experiencing the ongoing labor market churn in different ways. CMOs, for example, are acutely feeling the negative impact of staff shortages on customer experience, with 40% citing it as a major issue. CHROs say retaining employees will be their number-one priority over the next three to six months. CFOs are split. Thirty-six percent say they're very concerned about the turnover remaining high indefinitely and weighing on revenue growth. Another 45%, however, are somewhat concerned about turnover and its impact on growth, but they also expect it to return to pre-pandemic levels more quickly. Whether or not quit rates stabilize soon, employee expectations will likely continue to evolve in the foreseeable future, forcing executives to reconsider everything from where and how work gets done to new ways to make employees feel valued, included and motivated.
2. For employees looking for new opportunities, schedule flexibility, expanded benefits and compensation are top incentives. Companies on hiring sprees are refining employee value propositions, focusing above all on corporate purpose and leadership. While those are important, they should expect candidates to negotiate hard for what they now see as table stakes: competitive packages and perks coupled with flexibility and expanded benefits such as career growth and upskilling opportunities. Some may also see job changes as an opportunity to close pay gaps. Women are more likely than men to be seeking higher salaries (46% versus 34%). And more Hispanic and Black employees are looking (82% and 67%, respectively) compared to white/non-Hispanics (57%).
3. Good news for leaders: Efforts during the pandemic to build trust and step up on social issues are showing results with employees. Almost equal proportions of executives and employees agree that there is a high level of trust between leaders and employees—77% and 72% agree (34% and 35% strongly). Meanwhile, 79% of executives and 77% of employees say their leaders are inclusive (37% and 35% strongly agree). Leaders aren't resting on their laurels, though, as inclusion continues to top the list of business priorities, especially as companies navigate hybrid work.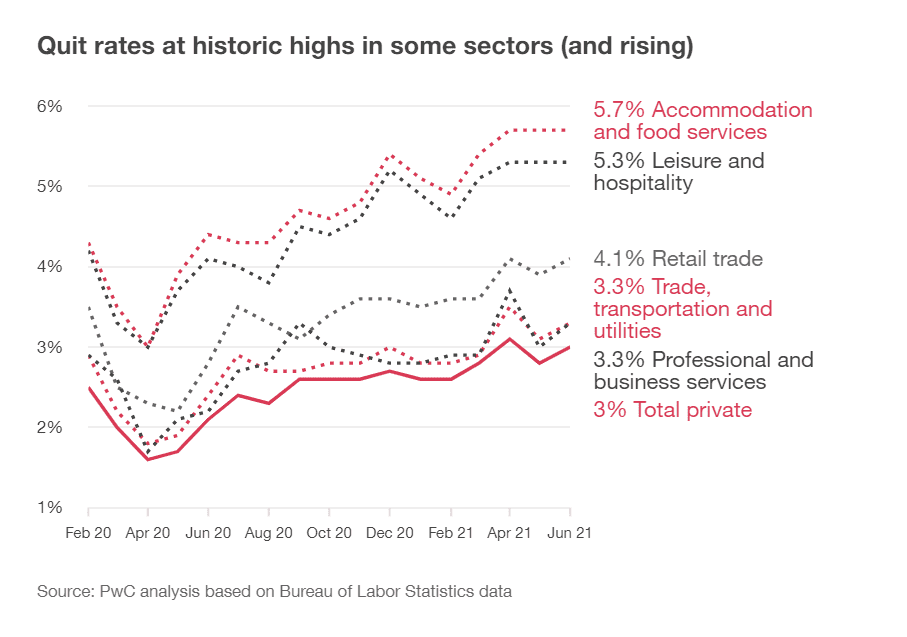 4. The challenge ahead lies in addressing culture, as companies define their work environments. Many executives are excited to return to an in-person environment, but an all in-person workplace is no longer the norm. The challenge for leaders: bringing out the best aspects of face-to-face teaming for all employees, whether in the office or not. A third of executives (33%) will have a mixed model, with some in-person full-time, some hybrid and some fully remote. They cite corporate culture as the biggest challenge to making hybrid work successful—36% say it's a major challenge, and 36% say it's moderate challenge.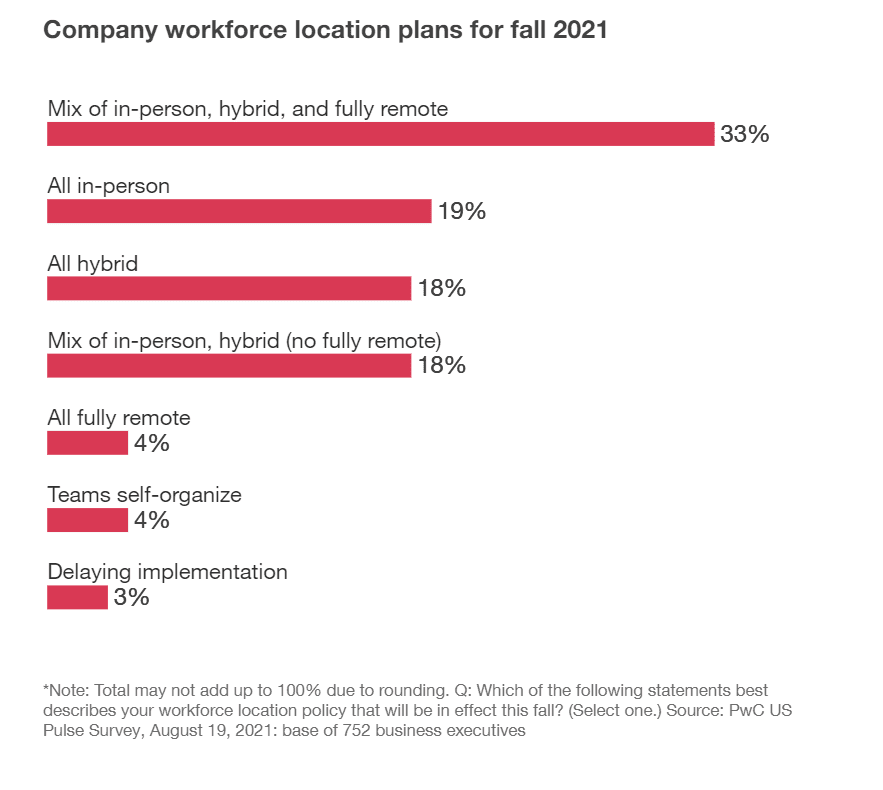 It's a New Era, One That's Focused on Hybrid and New Ways of Working
While some companies may be revising their reopening plans due to the surge in the delta variant and the plateauing of vaccination rates in some areas, their plans should still take into account the workforce's growing embrace of remote work opportunities. Among employees looking for new jobs, almost one in ten say it's because they moved away from the office while working remotely and don't want to go back on-site.
Almost a fifth (19%) of all employees would like to be fully remote today, even if COVID-19 were no longer a concern. An almost equal number (22%) would like to be mostly in the office (<=1 day remote per week), and 21% say the nature of their work does not allow them to work remotely at all. Others prefer a hybrid work setup, with some days in the office and others remote.
When we zoom in on the subset of employees that we analyzed previously in our Remote Work Survey (those who were forced to work remotely during the initial shutdown in March 2020 plus those who were already working remotely before the pandemic), we can compare remote work preferences over time. Forty-one percent of those workers want to be fully remote in our current survey, compared to 29% saying the same in January 2021.
As executives face this new reality of hybrid work, concern about eroding corporate culture is the biggest challenge for executives (36%). Other reasons that may be holding companies back from expanding remote work options include loss of mentoring (30%), loss of innovation opportunities (26%) and potential equity issues between on-site and fully remote workers (25%). It's a testament to the success of remote work that concerns about technology tools and cybersecurity measures have largely receded in comparison, though risk leaders remain concerned about cybersecurity issues related to remote and hybrid work.
Employers weigh vaccine mandates. Meanwhile, the expanding role of business in protecting the health and safety of employees is here to stay. Forty-four percent of executives say they'll take a leadership role in encouraging employees to get vaccinated over the next 12 months. Only 30% percent strongly agree that their companies should implement vaccine mandates—perhaps sensitive to the anti-vaccination sentiment across sections of the workforce. Still, 36% agree and 20% say neither/nor or are unsure about the issue. Opinions could change quickly, though, as more and more companies announce vaccine mandates.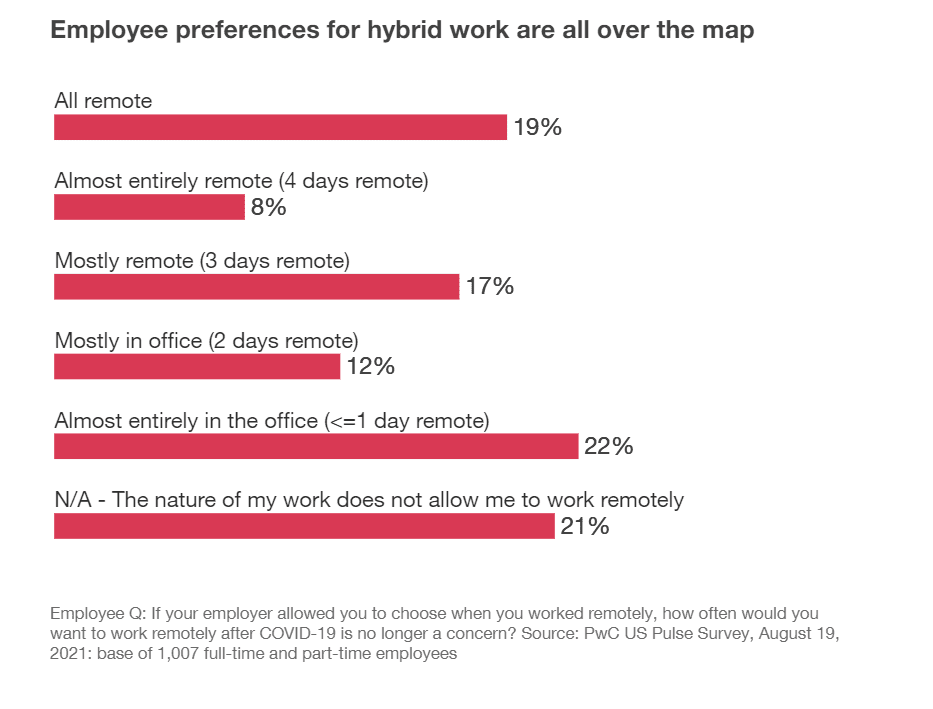 What Companies Can Do
Emphasize inclusive leadership to make hybrid models work
As hybrid models evolve, the focus should shift to creating a culture of inclusion and belonging for everyone that helps mitigate the risk of remote work inequity. Recognize that employees have different preferences about everything from where to work to how they feel about masks and vaccinations. For example, our survey shows that, while two-thirds of employees agree with vaccine mandates at work (32% strongly, 31% somewhat), around a quarter strongly disagree. Fewer employees—13%—in the Northeast strongly disagree, compared to 24% of employees in the South, 28% in the Midwest and 22% in the West.
Establish clear business roles around new ways of working
Be deliberate about how teams collaborate and how to replicate in-office culture for remote workers through new technology tools like virtual reality headsets or new meeting etiquette. Establish clear business rules in areas like safety protocols, and give people clear guidance on very tactical things like teaching meeting leaders to encourage participation from employees who aren't physically present in the office. At the same time, don't expect your employees to go back to more hierarchical ways of working. People will increasingly expect more choices and autonomy over their own schedules.
Companies are Reinventing Work with Strategic Planning, Operating Model Shifts and Enhanced People Experience 
Companies are balancing changing workforce expectations with the strategic and operational shifts necessary to remain agile. We asked executives about strategic business changes they will make over the next 12 to 18 months. In a nod to the tight labor market, almost half (48%) will change processes to become less dependent on employee institutional knowledge. They're also stepping up strategic planning around uncertainties like inflation, consumer confidence and government policy (41%). Over a quarter will also change their operating models, revise their location strategy and increase outsourcing. Tax leaders, for example, are digitizing their function through investments in cloud and automation and process redesign. And many COOs plan to reduce office space, change locations to leave cities or be closer to the talent they need, or move to a hub-and-spoke configuration.
Company initiatives around culture, value and purpose will be just as important for shaping the future of work, with almost half of business leaders saying those initiatives will differentiate them in a competitive market for talent. Their continued focus on these areas reflects the mainstreaming of stakeholder capitalism during the pandemic. More than half (57%) of companies are advancing diversity and inclusion (D&I) initiatives internally, and 42% plan to improve environmental, social and governance (ESG) reporting. These efforts have not gone unnoticed by workers. Over a third (35%) of employees say there's a high level of trust between them and employers and that their leadership team is inclusive (compared to 34% and 37% of executives, respectively).
People want pay raises, flexibility, benefits and more. People scouting for new opportunities have their sights on more tangible rewards. Flexibility, benefits and compensation are nearly tied as the top incentives for employees. Companies are responding by putting more options on the table, especially schedule and location flexibility options. Around a third are also revising compensation, enhancing benefits and offering more career advancement opportunities. But so far, they are falling short of employee expectations.
What Companies Can Do
Prepare for the unexpected with rigorous scenario planning
The pandemic triggered many experiments in how people work. Now as the economy reopens, executives are moving from strategy to execution. More than a quarter (28%) of employees and executives strongly agree that they're making permanent changes to how and where work gets done based on lessons from the pandemic. But with continued turbulence likely in the business landscape, robust scenario planning will be critical to redesigning work for the future as well as making sure business can be agile and move forward during periods of uncertainty. CIOs we polled are prioritizing data analytics to drive better decision-making about the future of work. Companies should use data to make decisions today, and be ready to calibrate and adjust as the environment shifts. More than half (58%) of directors say that employee turnover data is very important to their ability to oversee corporate culture.
Think beyond comp to entice employees
Take a holistic look at your benefits package and consider expanding the options and perks that are most in demand. Employees have been clear that they deeply value non-monetary benefits like expanded flexibility, career growth, well-being and upskilling. Reevaluate what you're currently offering, drop what's no longer relevant and add what's important to employees now. Poll your employees to understand what they are looking for, and consider offering personalized options or à la carte benefits so employees have choices. A reimagined benefits package can be very attractive and a way to sweeten an offer.
Embed your workforce strategy into your business strategy
Be sure your people strategies go hand in hand with operating model shifts. For example, automating processes that employ minority workers may go against your D&I goals. Put in place robust governance and controls to confirm change programs are implemented without any breakdowns in quality. Step up communications and be transparent with employees and external stakeholders about how you are reimagining work and making progress toward that vision.