Datin Sunita Mei-Lin Rajakumar established her own firm, Artisan Encipta Ltd, to manage a government-owned foreign technology venture fund from 2002 to 2008. Since then, she has consulted on national competitiveness by improving national innovation ecosystems, as well as the competitiveness of business.
She was appointed to the Board of Hai-O Enterprise Berhad on 5 January 2009. She is the Chairperson of the Audit Committee and Risk Management Committee. Datin Sunita also sits on the Board of Trustees of Hai-O Foundation. Currently, her other board appointments include her position as Chairperson of Caring Pharmacy Group Berhad and its Audit Committee, where she is an Independent Non-Executive Director.
Dato' Esther Tan Choon Hwa sits on the board of Poh Kong Holdings Berhad as an Independent Non- Executive Director. She is also the Chairperson of the Risk Management Committee and a member of the Audit Committee. She is an Independent NonExecutive Director of MK Land Holdings Berhad. She is also the Tax Director of GEP Tax Services Sdn. Bhd.
In 2006, Dato' Esther Tan received the award from the National Association of Women Entrepreneurs Malaysia as the Woman Entrepreneur of the Year under the Finance section. Currently, she also manages the AGN Asia Pacific region as one of its four Directors.
Y.M Tunku Afwida Tunku A. Malik currently sits on the Boards of Gamuda Bhd., EXIM Bank (Malaysia) Bhd., Telekom Malaysia Bhd. and Lafarge Malaysia Bhd. She is also a Director and Shareholder of Benih Semaian Sdn. Bhd. and Asia Equity Research Sdn. Bhd. In addition, she is a Director and is a member of some of the board committees of i-VCAP Management Sdn. Bhd.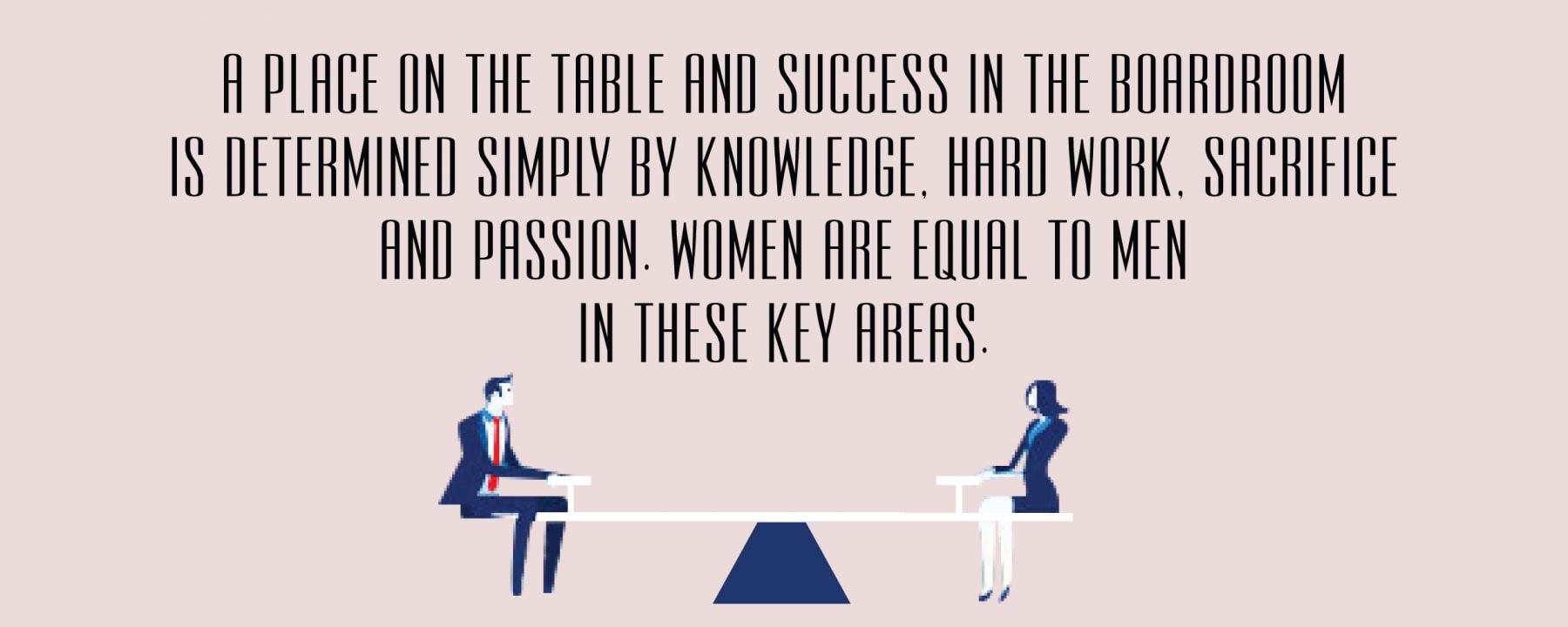 The age old debate on gender equality and gender diversity has once again obtained limelight in view of the recent 2018 Budget that has made it a requirement that all government linked companies (GLCs), government linked investment companies (GLICs) and statutory bodies have at least 30% women represented on their boards.
Even prior to the announcement, the proactive Malaysian Code on Corporate Governance 2017 makes it a practice that boards of listed companies disclose in their annual reports their policies on gender diversity, their targets and the measures taken to meet those targets. In addition, the Code requires companies identified as 'large companies' to have at least 30% women directors on board.
This new requirement augers well not only for women in particular, but the whole Malaysian business community.
More gender diverse boards will benefit from greater depth and more varied insight on topics of discussion, compared to all-men boards. Such diversity will also encourage constructive debates, which inevitably will lead towards better decision-making. Gender diversity on boards will promote constructive discussions of the same ideas from different perspectives and better equip the company to face challenges in an ever-changing environment.
In this series of interviews, these highly accomplished women spoke candidly about their personal experiences and expressed their take on the current gender diversity issue.
Tunku Afwida finds that men are generally less comfortable with numbers compared to the ladies, unless they come from banking and financial backgrounds or an engineering background. Most women on boards are mainly from a financial background and a few are from the legal fraternity. As such, they are often 'stereotyped' as candidates best suited for the audit and risk committees. She stresses the need to avoid such stereotypes. She feels more opportunities should be given to women from the various technical backgrounds especially if they are also subject-matter experts.
Tunku Afwida finds that women are more detailed and meticulous while men tend to be more 'strategic'. She believes that both men and women have their strengths and weaknesses but these are more at the individual level. Hence, we should avoid gender stereotyping. Some directors are more outspoken than others, some dominate the discussions, meanwhile some can be menacing to staff, antisocial (with their fellow directors), hovering along politics and encouraging factions among board members. However, Tunku Afwida strongly believes that these are based on more individual characteristics and not gender specific.
Dato' Esther candidly observed that wherever there are women on board, some male directors appear to be more laid back. She feels that men tend to view women as being more responsive, meticulous and diligent in having read most of the documents presented or discussed at meetings. These directors do contribute by quickly chipping-in with their remarks but only when they feel it is relevant. On this point, Dato' Esther is of firm view that directors should be more responsible, in reading board as well as committee papers diligently and come prepared for meetings.
Responding to another question, Dato' Esther finds that women are generally more thorough and inquisitive. Hence they have the tendency to dig deeper into issues. This brings a different perspective of wholesomeness when dealing with an issue. It certainly seemed that she was speaking from experience when Dato' Esther added that by nature, women tend to be more detail-oriented, wanting to know everything and work to ensure that things are put into a right perspective.
Datin Sunita does not particularly like stereotyping. She feels that men and women are far too complicated to be so easily defined and divided into two categories.
However, she mentioned that there are some traits which are more common to men. Whereby men are more interested in business and making money. They are less hesitant to ask about the fundamental drivers of business and the value proposition of a transaction. In addition, men do tend to speak up to their point and are more willing to accept new responsibilities even if they are not fully experienced or qualified. They just seem to have the confidence level that they can pull it off.
Women, on the other hand, are more likely to attend meetings well prepared, have better knowledge of current regulations and policies and are more likely to seek consensus when making decisions.
SHOULD GENDER DIVERSITY BE MANDATED
Tunku Afwida feels that having a minimum percentage requirement for women directors on boards can indeed be a double-edged sword. Although mandatory minimum requirements may be met, some companies may just pay lip service by putting 'related' or 'friendly' women on board when it comes to independent directors. She finds that most companies do not favor in using executive search companies to hire professional directors, be it men or women.
Dato' Esther feels that making gender diversity mandatory may be tough for companies as their objective is mostly about the bottom line. Boards should be at liberty to choose directors who can contribute well, regardless of gender.
Datin Sunita on the other hand agreed that more women should be on boards. She prefers to have a reasonable milestone in order to achieve targets. She feels that it should not be based on quota or percentage.
Datin Sunita iterated that it is more important to actively seek women who can make a valuable contribution to the board. She viewed that mandating gender diversity is not necessarily the best approach. What is more important is the adoption of more initiatives to ensure that our best and the brightest talent, find it easy to contribute towards nation building and economic growth.
She concluded by saying that increased diversity at board level should be a natural outcome of a strong pipeline of talent nurtured in a conducive environment.
PREJUDICES AND STEREOTYPING AT THE BOARD
Datin Sunita's perspective was that the stereotyping mentality depends on the profile and composition of the board. If boards listen carefully to their various stakeholders – including customers, suppliers, employees – they will be more open to the views of women, especially since more than half of the purchasing decisions are generally made by women.
She feels that boards that is lacking of diversity results in the 'group-think' syndrome. Boards need to understand and appreciate the value that diversity brings in terms of views and experiences to a discussion. This in turn leads towards better deliberations and better decisions.
Datin Sunita added further that there could be some prejudices about the availability and capabilities of women candidates. If the board invests some time in looking at identifying suitable women candidates, it will almost certainly pay off.
Dato' Esther feels that the reaction from some of the men is that they are slow to accept the realities and extent of a woman's capability. She suggested that all-men boards should start by appointing one woman on their Board and gauge her performance. Only then they would have a better understanding and appreciation of women's competencies.
On a brighter note, Tunku Afwida doubts that there are prejudices against women at the board level. She informed that she had never faced this type of prejudice and, male directors are generally kind and considerate.
BRINGING MORE WOMEN INTO THE WORKFORCE
Datin Sunita explained that there should be an encouraging environment for all levels of women workers in the workforce. Only then, it would be conducive for women to remain in the workforce and rise towards senior positions.
She warmly welcomed the Prime Minister's anouncement in the 2018 Budget which encourages greater women participation in the workforce. The Budget had stipulated that there should be an increase in the period of maternity leave to 90 days for all sectors with shorter working hours for pregnant women in the government sector. In addition, there is also a one-year tax exemption incentive for women who return to work after a two- (or more) year absence from the workforce.
Datin Sunita feels that other considerations could be implemented as well, including flexible working hours, as in some other developed countries, reasonable maternity benefits, mentoring sessions within and outside the organisation and the provision of networking opportunities.
Tunku Afwida addressed on issue that cannot be brushed aside whereby most married women will face the 'careerfamily' crossroad along their career path. She shared that she too was not exempt and had to faced this dilemma. Tunku Afwida knows that it is tough when women have children who need their constant attention and guidance. Women being the natural caregivers, they simply can't switch off their maternal responsibility despite working. At the same time, their careers demand more out of them in terms of time and commitment.
Tunku Afwida does not subscribe to the belief that a woman can have it all. Balancing against career and family is not an easy task. She is of the view that one of the main reasons why women give up halfway throughout their career is because of family commitments. Having flexible hours, and the availability of part-time work may help bring some of these women back into the workforce. Nevertheless at the C-suite level, this may not be appropriate.
ADVICE FOR WOMEN ASPIRING FOR BOARD POSITIONS
So, what do these women leaders have to say to those eager to follow in their footsteps?
Knowledge is power
Datin Sunita recommends that women aspiring for board positions be genuinely interested in and have in-depth knowledge of the business: how it creates value, how to measure progress and how to quantify competitiveness.
At the end of the day, Datin Sunita believes that it all boils down to one's personal integrity. She reminds aspiring women that it is a tremendous responsibility being a director. One has to ask oneself whether she is able to act in the best interests of the company.
Be prepared for challenges
Dato' Esther asks women aspiring for board positions to realise that being a director is a serious matter as they are accountable for every decision and action taken by their company. She highlights that independent directors have the same liabilities as the executive directors. She encourages women to take it as a challenge to show that they are conscientious and are as good as, if not better than, their male counterparts.
Recognise and highlight your strengths
Tunku Afwida advises women to think about boards which might be of interest to them, according to their skill sets and expertise domains. She advised that as a service provider, they need to market themselves professionally and their resumes must highlight their special skills in the most effective but succinct way possible.
Judging from the words of wisdom and accomplishments of these high achieving women, gender is not the only factor that determines success. A place on the table and success in the boardroom is determined simply by knowledge, hard work, sacrifice and passion. And women are equal to men in these key factors. Gender diversity in the board is a win-win situation for all!