In the world of digitalisation, whilst businesses improve their efficiency levels, they may also be exposed to potential risks in the digital space, particularly from cyber security breaches. For many years, we have seen how large companies are being penalised due to security incidents such as personal data breaches and fraud. Beyond that, hackers are constantly innovating their skills to hijack valuable information from companies and potentially putting these businesses at high risk of suffering heavy losses.
Although ransomware remains a top risk for businesses, new threats are emerging and a new wave of shapeshifters are changing the face of cyber threats.
In this talk we speak about resources to support the board of directors on their fiduciary and oversight role on cyber risk. We simplify the technical complexity of cyber security into a framework the board will be able to relate to in the context of enterprise risk management. In addition, we cover the top 3 out of the 10 "must dos" for board of directors when it comes to cyber risk.
Boards will also be introduced to some real -life case studies within the region as well as globally, allowing them to envision similar potential risks in their very own organisation and build cyber resilience.
Expand your cybersecurity knowledge to the next level, with more in-depth insights into common threats and vulnerabilities.
Understand the scope of boards in managing cyber risk – prioritising cyber security activities to provide the best protection for the organisation.
Gain an understanding of the different types of security threat and be in a position to identify your organisation's vulnerabilities.
Aspiring directors
Developing/emerging directors
Seasoned directors
Newly appointed Chairman
C-suites
PROGRAMME | Thursday, 25 May 2023
| | |
| --- | --- |
| 10:00am | Programme Introduction & Housekeeping |
| 10:05am | ICDM PowerTalk: Advancing Cyber Resilience: The Cyber Risk Framework & Top 3 Principles for Boards |
| 10:45am | Question & Answer |
| 12:00am | Session Ends |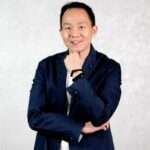 Lee Han Ther
APAC Chief Technology Officer, Ridge Security Technology Inc
Han Ther is a seasoned trainer and speaker on cyber security and digital technologies. He is currently the APAC Chief Technology Officer of Ridge Security, a US based cyber security start up based in Silicon Valley. In this capacity, he is tasked to drive the technology, solutioning, and delivery of security services. With more than 20 years of experience in multi-disciplinary cyber security roles across multiple industry verticals; he has served as an end user, a service provider, a consultant, and security architect. He has performed cyber security consulting / advisory engagement across 15 countries in the Asia Pacific region.
An MBA holder, multiple cyber security, cloud certification and certified trainer, he has spoken in numerous conferences in Malaysia and overseas. He has served as one of the past Board of Directors on the Malaysian chapter of the Information System Audit & Control Association (ISACA) and is serving as the industry advisor for Monash University Malaysia's Faculty of IT. Besides ICDM, Han Ther is also a panel trainer with ISACA Malaysia, IIA Malaysia (IIAM), and Security Industry Development Corporation (SIDC).
Han Ther has conducted bespoke sessions on cybersecurity and digital transformation programmes for ICDM clients.