URGENT NOTICE / Postponement of the ICDM Advocacy Dialogue on the Bursa Malaysia's Enhanced Sustainability Reporting Framework
Dear YB/YBhg Tan Sri/Datuk Seri/Datuk/Dato'/Datin Paduka/Prof/Dr/Mr/Madam,
NOTICE OF POSTPONEMENT
ICDM Advocacy Dialogue on the Bursa Malaysia's Enhanced Sustainability Reporting Framework on Monday, 28 November 2022.
In view of the recent public holiday announcement by our newly appointed Prime Minister of Malaysia YAB Datuk Seri Anwar Ibrahim for Monday, 28 November 2022, please be informed that the ICDM Advocacy Dialogue on Bursa Malaysia's Enhanced Sustainability Reporting Framework will be rescheduled to Monday, 12 December 2022 from 10.00 am to 12.00 pm.
Should you have any questions, please contact Zack at +6017 377 3607 / membership@icdm.com.my (For ICDM Members) or Daniel at +6017 608 7470 / marketing@icdm.com.my (For Non-Members).
We thank you in advance for your continuous support and kind understanding on this matter – our sincere apologies for the inconvenience it may have caused. We wish you a happy long weekend and please stay safe!
Thank you!
Best regards,
ICDM Secretariat
In September 2022, Bursa Malaysia announced the "Enhanced Sustainability Reporting Framework" with new disclosure requirements on climate change. How do these upcoming requirements bring greater clarity to the key issues and actions needed in order to drive a more effective sustainability performance, resilience and competitiveness of an organisation?
This dialogue aims to gather reactions and thoughts from Board & industry representatives, as well as sustainability practitioners on the impact of the newly enhanced framework. It is also intended to gather perspectives on how businesses can prepare themselves in the adoption of the necessary best practices, internalisation of their sustainability goals and consideration of critical sustainability risks, in particular climate change. Key outputs will be incorporated into ICDM's Directors' Development Plan in the areas of sustainability & ESG, to provide continuous support to boards in navigating the reporting transition.
Touchpoints
Discuss the enhanced requirements – key highlights of the additional disclosures
Understand the disclosure requirements and its implications – existing and new
Strengthen compliance with the enhanced framework.
Audiences
• Board directors
• C-suites
• Sustainability Practitioners
9.00am
Registration
10.00am
Welcome Speech
Michele Kythe Lim, President & Chief Executive Officer, ICDM
10.05am
Opening Remarks
Julian Hashim, Chief Regulatory Officer, Bursa Malaysia
10.20am
Presentation
Key Highlights of the Enhanced Sustainability Framework by Amarjit Kaur, Director, SHEMSI Sdn Bhd
10.35am
Panel Discussion – Board's Perspective and Moving Forward Goals
Moderator: Luanne Sieh, Head of Group Sustainability, CIMB Group
Panellists

Datuk Iain John Lo, Chairman of Board Sustainability Committee, RHB Banking Group
Sharmila Sekaran, Independent Non-Executive Director, Top Glove Corporation Berhad
Amarjit Singh Chhina, Chief Corporate Officer, Malaysian Resources Corporation Berhad
Amarjit Kaur, Director, SHEMSI Sdn Bhd

11.05am
Open dialogue with panellists and guests
11.50am
FTSE4GOOD Bursa Malaysia ESG Rating for All PLCs – What It Means to Companies
by Wong Chiun Chiek, Senior Executive Vice President, Bursa Data Business, Bursa Malaysia
12.00pm
End of programme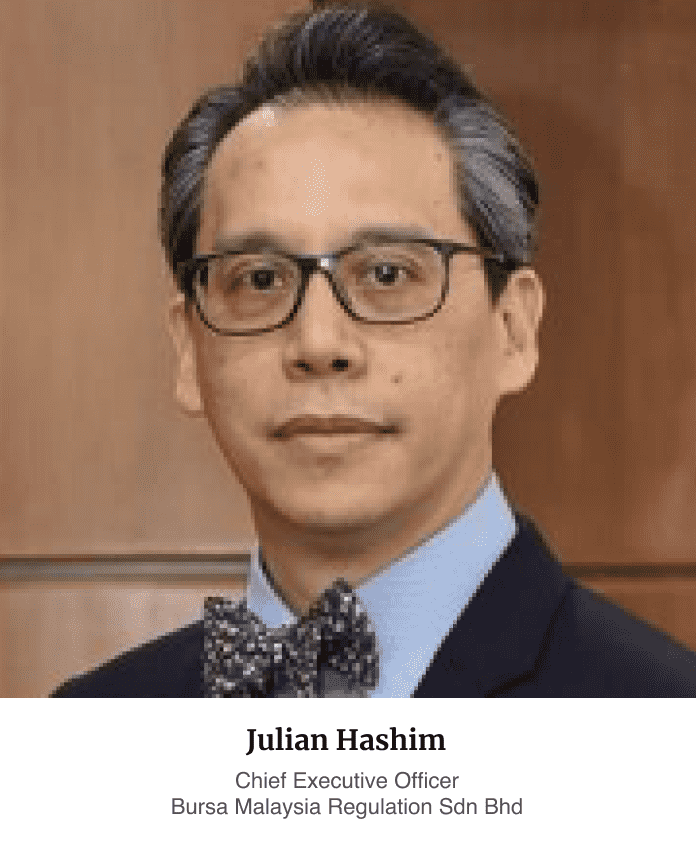 Julian, an advocate & solicitor of the High Court of Malaysia, was a founder partner of a leading Kuala Lumpur law firm. In his 25 years of legal practice, Julian advised on all aspects of corporate transactional work including international and domestic M&As, take overs and capital market transactions. Julian also advised his clients on their on-going reporting obligations, corporate governance requirements and other compliance matters.
Once operationalised, Julian and his team at Bursa Malaysia Regulation undertakes all regulatory functions of Bursa Malaysia Berhad and its licensed subsidiaries ranging from regulatory strategies and policies, listing, market and corporate surveillance, corporate governance, participant supervision, investigation and enforcement.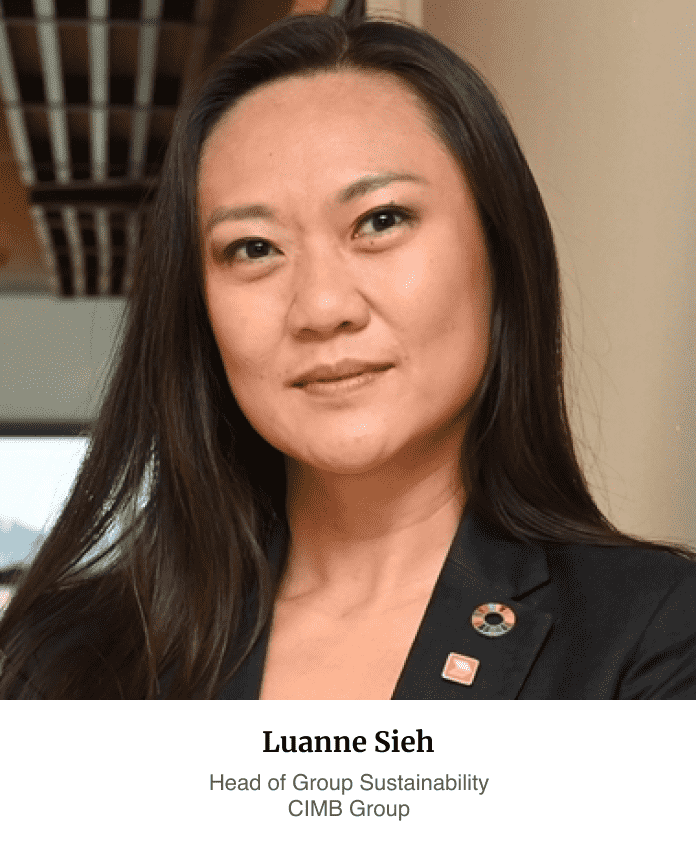 Ms. Luanne is the head of Group Sustainability at CIMB Group, a leading focused ASEAN bank, where she is responsible for transforming CIMB into a shaper of sustainable finance and responsible banking practices in Asia.
Ms. Luanne has extensive experience in sustainability, strategy and transformation, as well as change management. She has been involved in a number of fields, including financial services and consulting. She was also a founding member of a startup company.
Ms. Luanne holds a Bachelor of Arts and a Master's Degree in Manufacturing Engineering, as well as a Master of Arts from the University of Cambridge. She is currently pursuing a Master of Liberal Arts in Sustainability at the University of Harvard Extension School.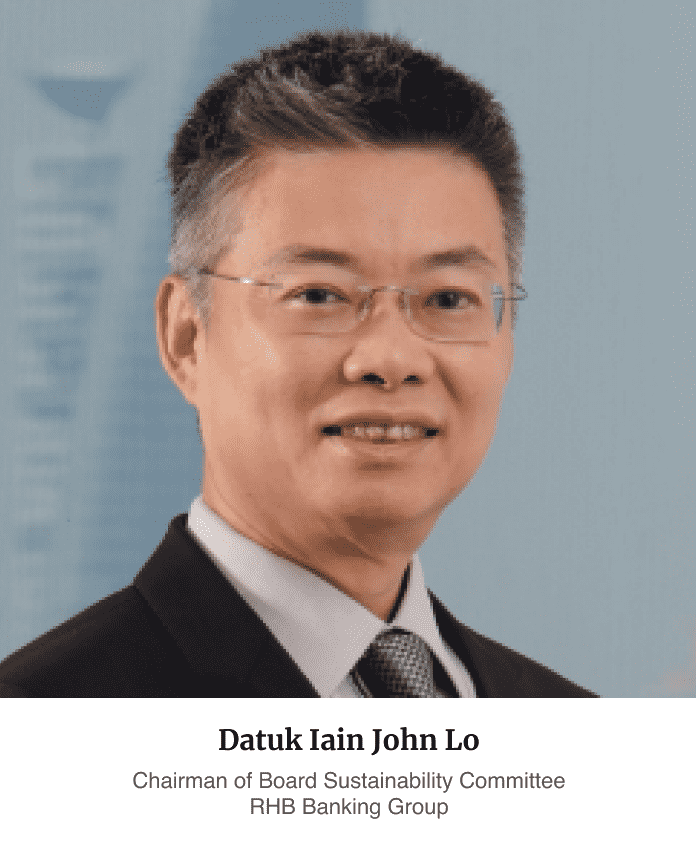 Datuk Iain John Lo ("Datuk Iain") was appointed as an Independent Non-Executive Director of RHB Bank on 15 September 2020. He also serves as a Member of the Board Nominating & Remuneration Committee and Board Audit Committee.
He holds a Bachelor of Science in Civil Engineering from the University of California, Los Angeles ("UCLA"). He also holds a Master of Science in Civil Engineering from UCLA.
Datuk Iain retired as the Country Chairman of Shell Malaysia Limited on 31 March 2021. He is a proven leader who has extensive experience and held a broad range of roles over the past 30 years in Shell's exploration and production, gas and downstream businesses both in Malaysia as well as abroad. Datuk Iain was the Chairman of Shell Refining Company Bhd until 2016.
He joined Sarawak Shell Berhad as a Field Engineer in 1990 before moving on to undertake various engineering, business development and corporate roles based in Malaysia, Singapore and Netherlands. His areas of responsibilities included governance of LNG and Chemicals joint ventures in Malaysia, Middle East, China and Russia. He was appointed as a Board Director of Singapore's Economic Development Board in 2009 and served till 2012 when he returned to Malaysia as Chairman and Managing Director of Sarawak Shell Berhad and Sabah Shell Petroleum. In 2017, Datuk Iain was appointed as Asia Pacific Commercial Vice President for Shell's exploration, production and gas businesses with accountability for regional acquisitions, divestments and new business development.
Datuk Iain's other directorships in public companies include RHB Investment Bank Berhad and Digi.Com Berhad.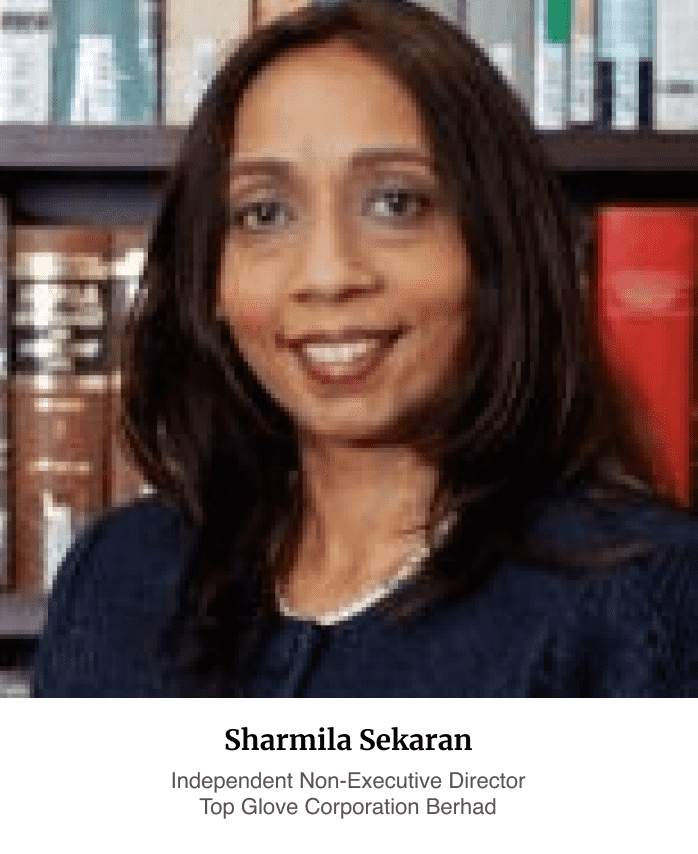 Sharmila is a Senior Independent Non-Executive Director of Top Glove Corporation Berhad. She's also sits on other board as an Independent Non-Executive Director of Kumpulan Perangsang Selangor Berhad since September 2021.
She's also a consultant in the Legal, Operations and Industry Development Departments of the RIM Group since January 2015 and a partner of Jerald Gomez & Associates since 2011 with areas of practice of Intellectual Property, Banking Litigation, Corporate Advisory, Estate Claims and Family Law matters.
Sharmila began her career as a legal assistant in year 1998 with Messrs. Chooi & Co., and joined Messrs. Tay & Partners as a Senior Legal Assistant in the Intellectual Property Department in 2004. Later on, she joined the RIM Group in 2005 and held various positions in the RIM Group.
She holds a B.A. Law & Economics (Honours) from Keele University, United Kingdom. She's also a Barrister-At-Law, Middle Temple, United Kingdom since 1996. She's an Advocate & Solicitor, High Court of Malaya, Malaysia since 1998 and an adjudicator for Asian International Arbitration Centre (Malaysia) (formerly Kuala Lumpur Regional Centre for Arbitration).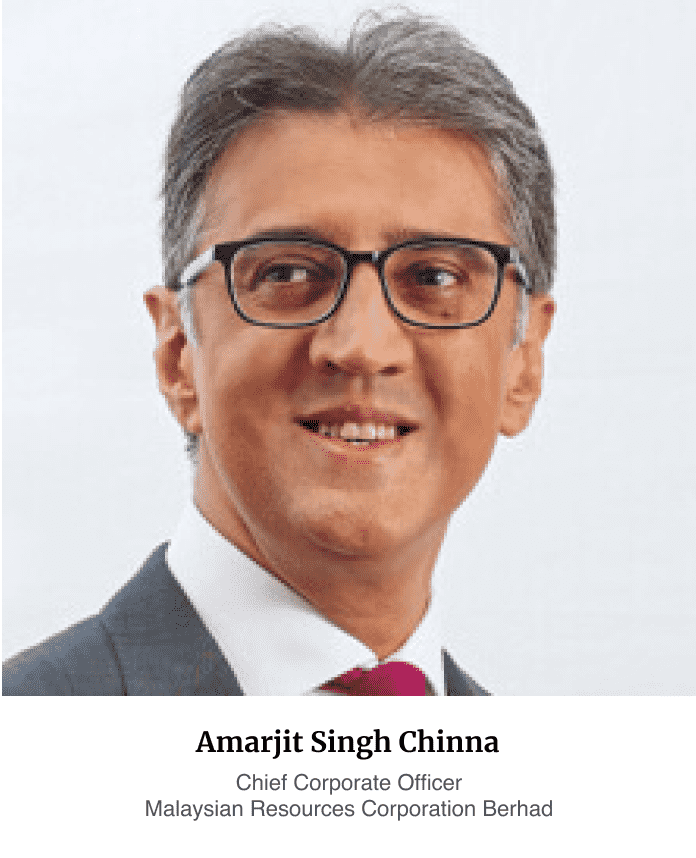 Amarjit was appointed as the Chief Corporate Officer of MRCB on 13 January 2016.
Prior to MRCB, from 2000 to 2015 he was Executive Director of Bursa Malaysia listed YTL e-Solutions Bhd and Chairman & Chief Executive Officer of the company's subsidiary, Infoscreen Networks PLC, while it was listed on the London Stock Exchange. He was also seconded for a period of time to PEMANDU, in the Prime Minister's Department, Malaysia.
Amarjit also has over 13 years of international equity markets and investment banking experience, having held positions in what were the UK's leading investment banks. He was a UK Equity Fund Manager at Kleinwort Benson Investment Management and UK Equity Building & Construction Sector Analyst at Barclays de Zoete Wedd Securities Limited (now known as Credit Suisse) in London, and over 5 years from 1993 to 1998 was seconded to its offices in Kuala Lumpur, Hong Kong and Singapore as an Associate Director, working on a number of large equity capital raisings, including the IPOs of Litrak Bhd, YTL Power International Bhd and Petronas Gas Bhd. He ended this phase of his career as Associate Director of HSBC Securities in Singapore.
He's also fellow of ICDM and involved in the SIDC, Capital Markets Director Programme. He's also a dealer's representative of Stock Exchange of Singapore and a registered representative of London Stock Exchange.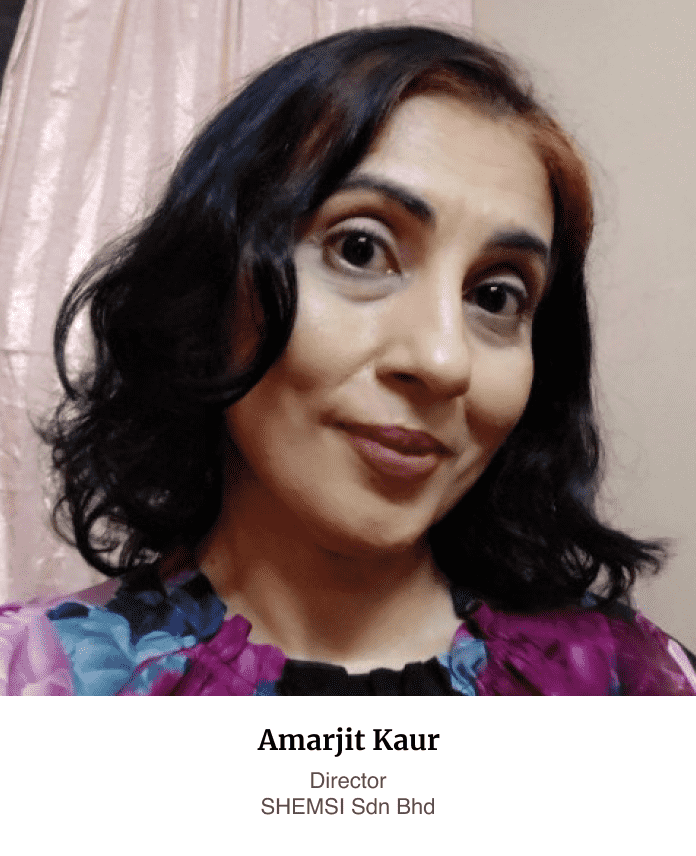 Amarjit is a technical expert on the Malaysian National Mirror Committee for ISO TC207 SC1 (Technical Committee for the development and revision of Environmental Management System Standards) representing Malaysian National Mirror Committee ISCZ/TC1 and was an expert on the Working Groups developing ISO 14001:2015, ISO 14004:2016 and 17-21-2. She has also participated in the development of other ISO standards including ISO 14005, 19011, 14069 and 14016 on phased implementation of an EMS, auditing, carbon footprints and assurance of environmental reports, respectively. Since the publication of ISO 14001:2015, she has provided training and seminars nationally and internationally for organisations such as the Swedish Standards Institute, Department of Standards Malaysia, SIRIM, APEC-Pacific Accreditation Cooperation, the Indian and Indonesia accreditation bodies, NABCB and KAN respectively in several cities in India, Jakarta, Colombo, Kuala Lumpur and Hanoi. She has been a guest speaker on the Developing Countries Workshop held in conjunction with the annual ISO TC207 Plenary meetings for the last three years.
Amarjit has been involved in delivering EMS, OHSMS and food safety and integrated management system related training courses and consultancy and auditing services to a range of industrial and service-based clients in Malaysia, Indonesia, New Zealand and Australia. She has worked with clients in the construction and other sectors in developing sustainability objectives, provided training in business continuity and the EHS aspects of project management. She has conducted sustainability assessments for communities in Indonesia and New Zealand and was appointed as an Assessor for the Prime Minister's Hibiscus Award in 2009 and 2013 and is an IEMA UK approved trainer for several recognised courses.
She holds a M Env Mgmt, B AppSc (Hons) Environmental Biology, Grad. Dip Environmental Toxicology and Pollution Monitoring, AIEMA.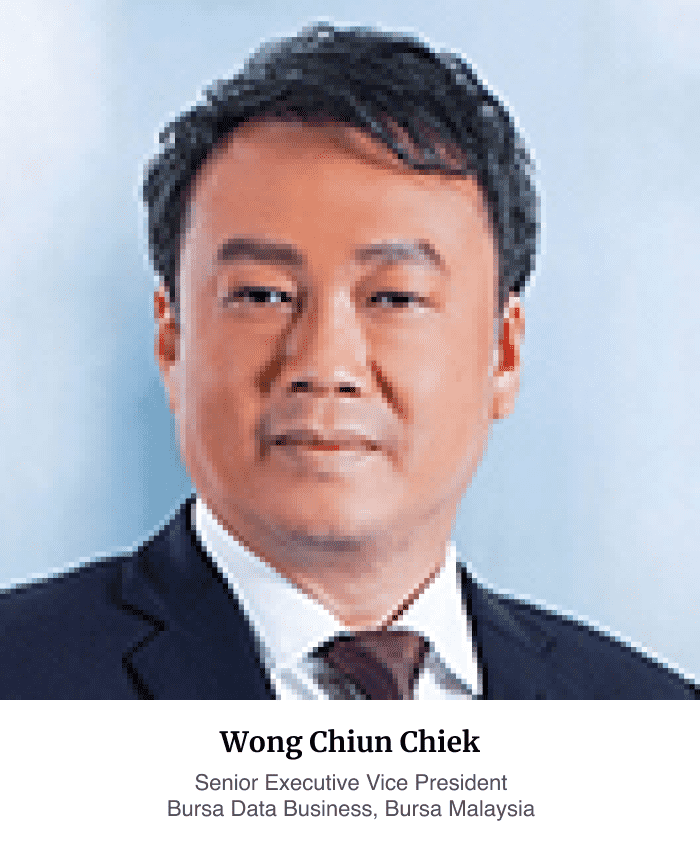 Wong Chiun Chiek leads Bursa Data Business, a new function in the Exchange that oversees data and AI to enable key strategies. The scope includes executing Bursa's Enterprise Data Transformation Program, which covers data governance, infrastructure and an Analytics Centre of Excellence. The function is also accountable for the Exchange's commercial business in Information Services, Index and Sustainable Business.
As part of its operations, Bursa Data Business manages the FTSE-Bursa Malaysia Index portfolio and engages with listed enterprises to support their ESG needs.
Chiun Chiek has previously served as the Chief Strategy Officer and Chief Financial Officer for IBM Malaysia, while being responsible over Enterprise Cloud Solution client engagements. He has broad international experiences including an assignment with IBM Asia Pacific Headquarter in Shanghai, China.
Chiun Chiek is a Fellow of the Chartered Institute of Management Accountants, and holds a Bachelor Degree in Finance conferred by the University of Hertfordshire.