Synopsis
Having a pretty looking website is not Digital Marketing. Posting pictures on Facebook and hoping for 'Likes' is not Digital Marketing. Neither is hiring some agency to post ads in Google on your behalf, and hoping for positive ROI. Digital marketing is a lot more complex if done correctly.
This corporate training course in Digital Marketing Strategies for Decision Makers will help Corporate Decision Maker (Senior Manager, C-Suite Level, Board Member) to get a firm grip on the principles, to come up with an overall strategy, and to get a better understanding of the industry jargon.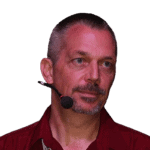 Dr. Frank Peter
International Speaker & Corporate Trainer
Dr. Frank Peter has over a decade of experience in applying and teaching cutting edge digital marketing techniques from e-Commerce, Google Ads, and Google Analytics to Social Media Tactics and related topics.
He is an HRDF/PSMB Certified Trainer and a registered certified Google Educator, and competent to get his technical knowledge across to audiences effectively.
A much sought Speaker and facilitator, he has facilitated numerous courses & workshops from small enterprises to large multinationals as well as an invited speaker at various conferences.