Non-profit directors face a duality of roles as volunteers accountable for corporate governance for their organisations. Not only do they have to comply with many boardroom expectations, but they also carry the additional responsibility of fundraising, proper stewardship of public money and volunteer risks. The challenge of exercising duty of loyalty and care in a resource-constrained environment is magnified in a landscape of growing uncertainties and complexity.
What does it really mean to be on the Board of a non-profit?

What opportunities does Covid19 present for non-profits?

How can non-profits transform to seize these opportunities?
Under ICDM Corporate Social Impact (CSI) initiative, we are delighted to have Theresa Goh, a renowned leadership coach and author of the book "Leading for Good" to share her perspectives.
ICDM aims to support the non-profit organisations with better board governance whilst nurturing purpose-driven, fresh and board-ready talents to do good together. We also hope to inspire corporate Malaysia to support non-profit organisations for the good of society, community and environment.
| | |
| --- | --- |
| 10.00am | Welcome Address by Michele Kythe Lim, President & CEO of ICDM |
| 10.05am | Talk by Theresa Goh, Managing Founder of 360 Dynamics |
| 10.40am | Q&A |
| 11.00am | End of Programme |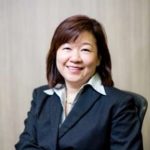 THERESA GOH
Managing Founder of 360 Dynamics
She is the Managing Founder of 360 Dynamics, incorporated in Singapore and Malaysia. Theresa currently guides corporate leaders to be more effective through an innate understanding of Organizational & Leadership Dynamics. She has partnered with more than 100 corporate clients in the multinational, equity-funded, and non-profit sectors. Her work wraps around the broader context of achieving business and societal objectives in an ecosystem that is interconnected yet faces rapid changes.
She is a strategic associate and coach for the Centre for Creative Leadership. She is a strategic partner with Global Coach Group and certified in their Global Leadership and Global Team Coaching, accredited by International Coaching Federation. She is certified in numerous psychometric tools that measure 360 feedback, competencies, personality, motivation, team effectiveness, and values and has coached over a thousand executives. She is also a consultant with the Singapore University of Social Sciences.
Theresa holds an MSC (Organizational Psychology) from Baruch College, City University of New York, and a BBA from the National University of Singapore. She is certified by Harvard University on the topic of 'Justice' by Professor Michael Sandel.
Theresa is a board member of the Agency for Integrated Care (Ministry of Health), a Fellow and Governing Council member of SID (Singapore Institute of Directors), and an appointed Charity Council member. She is the immediate past chairperson of SATA CommHealth and The Centre for Non-Profit Leadership.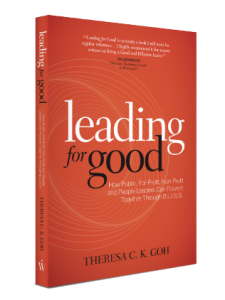 Her past career included team management for IBM Singapore's global accounts, where she gained an international perspective from her travels worldwide. She then established an executive talent management firm for the technology sector as an equity partner of a worldwide group headquartered in the USA.
She authored a 2021 book 'Leading for Good' where she guides public, private, and non-profit leaders to collaborate through defining a collective purpose.