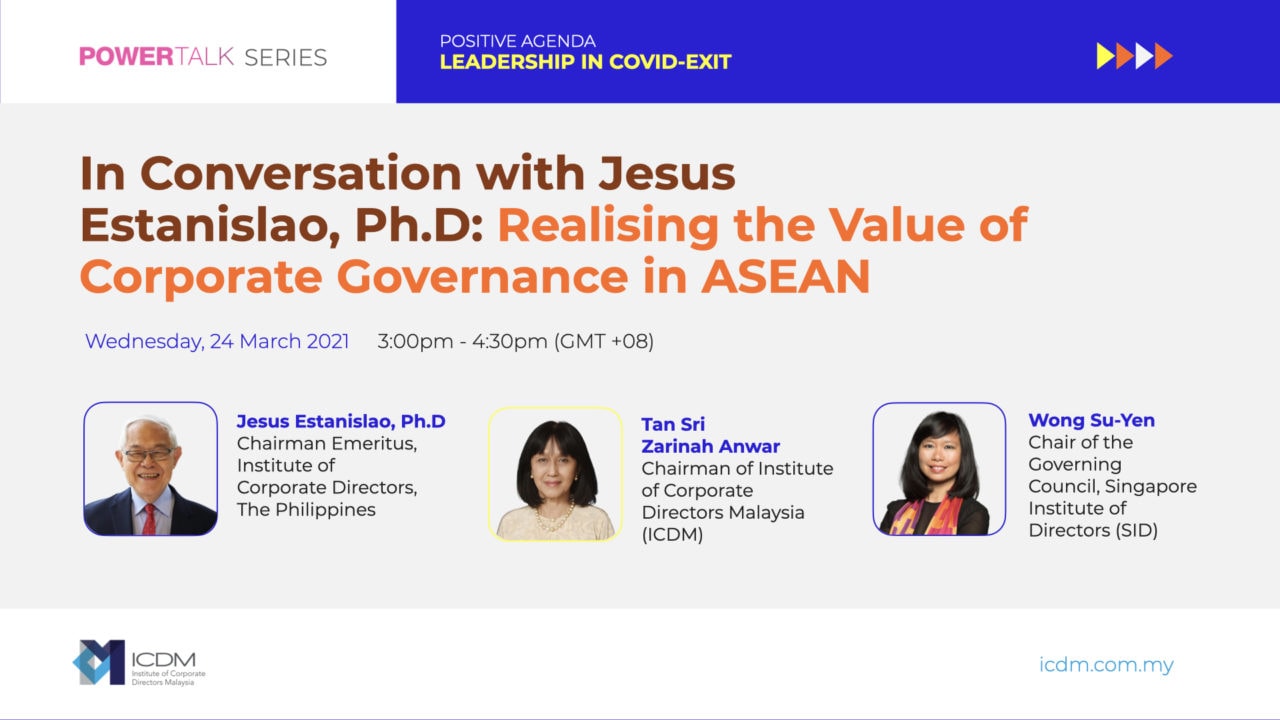 This session is part of the PowerTalk Series, themed "Positive Agenda: Leadership in Covid-Exit".

Before Covid-19, ASEAN was on track to become the fourth-largest economy in the world by 2030. The pandemic has caused prolonged socio-economic disruptions in the region, exposing fundamental weaknesses and vulnerabilities in various sectors.
It is therefore vital to have good governance to strengthen ASEAN's solidarity and unity, and the region must now prioritise several key actions to ensure sustainable and resilient growth, forging deeper collaborations, expanding connectivity, and investing in a sustainable future to ensure a positive Covid-exit.
A convergence of good CG practices will be key to the cohesiveness and responsiveness of the region towards this crisis and beyond. Corporate boards in Asia must accelerate their move towards stronger collective board leadership, greater diversity, more active engagements with key stakeholders, and advocate for an environment of continuous improvement through evaluation and development initiatives.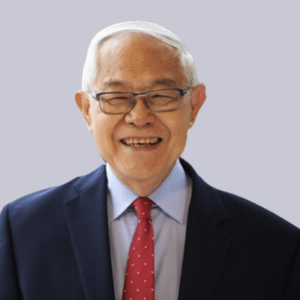 Jesus Estanislao, Ph.D
Chairman Emeritus, Institute of Corporate Directors, The Philippines

Dr Jesus is the Founding Chairman of the Institute of Corporate Directors, The Philippines, and Institute for Solidarity in Asia. He is also the Chairman of the Center for Excellence in Governance and a visiting professor at the Instituto de Estudios Superiores de la Empresa (IESE) Business School in Barcelona, Spain.
He had served in government as Secretary (Minister) of Finance and as Economic Planning Secretary during the Presidency of Corazon Aquino. His carrier in banking was capped by his appointment as Chairman and CEO of the Development Bank of the Philippines, which he rehabilitated in 1986-1989.
He served in academe as the Founding President of the University of Asia & the Pacific in Manila and as Founding Dean of the ADB Institute in Tokyo.
He has a Ph.D. in Economics from Harvard University and an MA in Economics from Fordham University. His undergraduate degrees were obtained from the University of San Carlos.
His awards include the Philippine Legion of Honor; the Philippine Management Man of the Year in 2010; the Outstanding Filipino (for governance) in 2012; and the Hernando de Soto award for democracy in 2013.
He is also an author of several governance books such as "Governance in the Philippines: Spanish Colonial Rule, 1565-1898" (the first of a series of 3). The current volume is the second of the series.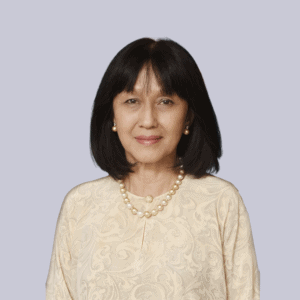 Tan Sri Zarinah Anwar
Chairman of Institute of Corporate Directors Malaysia (ICDM)

Tan Sri is the Chairman of Institute of Corporate Directors Malaysia
She brings with her legal, corporate and regulatory experience from the many years spent in the corporate sector and public service.
She is the former Chairman of the Securities Commission Malaysia (SC), a position she held for six years until her retirement in March 2012. She was before this, the SC's Deputy Chief Executive from December 2001.
Prior to joining the SC, Tan Sri Zarinah was Deputy Chairman of Shell Malaysia. She spent 22 years with the Shell Group serving in various capacities across the company's business interests in Malaysia. She was a member of the boards of directors of several Shell entities in Malaysia as well as the Group's Global Diversity Council.
She had served as non-executive Chairman of Malaysia Debt Ventures Berhad, member of the Boards of PETRONAS and PNB, member of the Advisory Board of the Emirates Securities and Commodities Authority and was a Visiting Fellow at the Oxford Centre for Islamic Studies, UK.
Tan Sri Zarinah currently sits on the Boards of Trustees of the Razak School of Government, Yayasan Hasanah, Amanah Warisan Negara and the Jeffrey Cheah Foundation.
She is also a Pro-Chancellor of Universiti Teknologi Mara, a member of the Board of Directors of Universiti Malaya and a member of the Board of Trustees of the Oxford Centre for Islamic Studies, UK.
An advocate of gender diversity, Tan Sri Zarinah is co-Founding Chairman of the 30% Club Malaysia, a business campaign to drive higher women representation in leadership positions and on corporate boards.
Tan Sri Zarinah holds an LLB (Hons) from Universiti Malaya.
Wong Su-Yen
Chair of the Governing Council, Singapore Institute of Directors (SID)

Su-Yen is a Fellow and Chairperson of the Governing Council, Singapore Institute of Directors. She is an experienced board director and currently serves on the boards of several public, private, and not-for-profit organisations in Australia, India, Indonesia, Myanmar, Singapore, and the United States, across a range of industries including telecommunications, media, professional services, agriculture, real estate, education, and FinTech/HRtech.
Previously Su-Yen was CEO of the Human Capital Leadership Institute, Chairman (Singapore) for Marsh & McLennan Companies, and Senior Partner and Managing Director, Southeast Asia at Mercer. Earlier, she was Asia's Managing Partner for the Communications, Information & Entertainment practice at Oliver Wyman.
She is a sought-after professional speaker and facilitator who brings extensive experience engaging global audiences at the intersection of technology, strategy, and people. She is also a highly-rated guest lecturer and visiting expert at leading universities around the world. Her firm, Bronze Phoenix, is a premier provider of solutions that help leaders and organisations reinvent for the future of work.
Su-Yen is a published author of an Amazon Bestseller – Unleash Your Voice: Powerful Public Speaking for Every Woman, an award-winning photographer and earlier in life, a musician. She is an avid adventure traveller and has ventured to some of the most remote parts of the world, including Antarctica and Timbuktu. She is currently training for Everest Base Camp in support of mental health and resilience.
She is an active member of Women Corporate Directors and the Young Presidents' Organization. She holds a B.A. (summa cum laude) in music and computer science from Linfield University, and she graduated with an M.B.A. from the University of North Carolina at Chapel Hill.