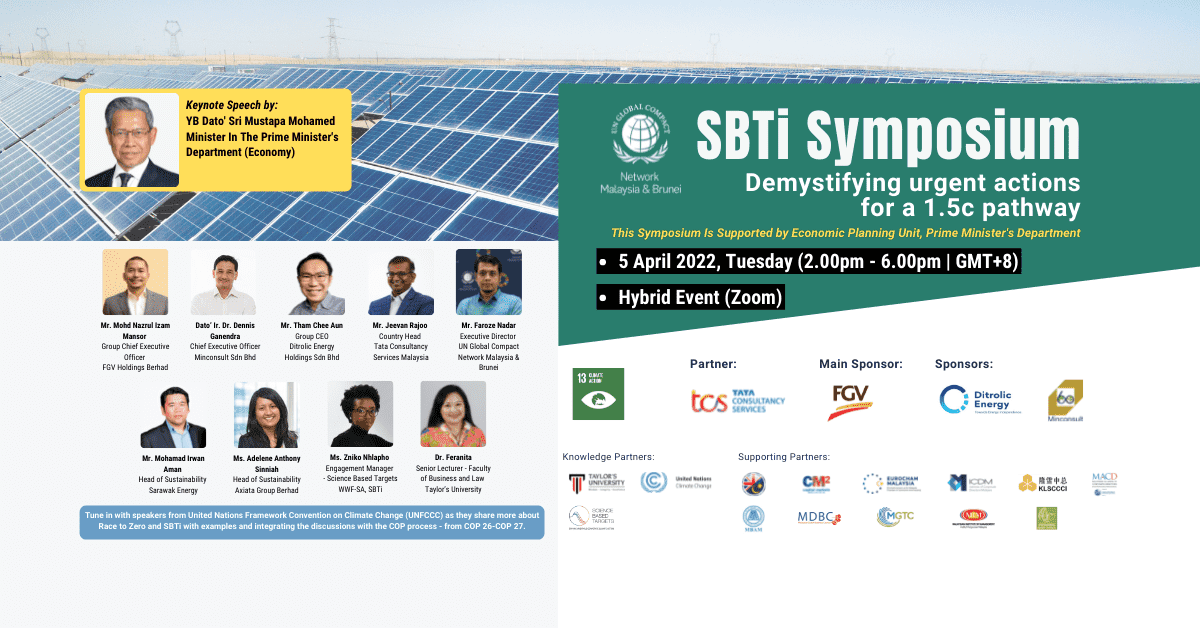 In 2021, extreme weather events that's linked to climate change had brought grief to many around the world. One example is the recent flood incident in Malaysia that has brought misery to many victims and has led to the loss of lives, homes and jobs. Recognizing the severe damages and social risks that climate change brings, immediate action from leaders especially from the private sectors are needed to win this race. The "Counting the cost 2021: A year of climate breakdown" report by Christian Aid, identified 15 most destructive climate disasters in 2021 and has shown that 10 of those events cost more than $1.5 billion of damage each. Highest costing event among them is Hurricane Ida in the US, priced at $65 billion. Corresponding to this case, organizations can champion this initiative to a net-zero world by adopting the Net-Zero Standard through the Science Based Target Initiative(SBTi). Through SBTi, organizations must generate close to zero emission through rapid emission cuts and offset any remaining emissions where reduction is unattainable by 2050. This will help organizations perform better in their emission reduction and enable the success of the race against climate change.
It is important for organizations to set a science-based target as it helps demonstrate defined sustainability commitments to sustainability-conscious consumers and at the same time, help businesses in future-proofing their growth, improving cost efficiency, boosting stakeholders' trust and more.
In line with the goal to address climate change, UN Global Compact Network Malaysia & Brunei (UNGCMYB) welcomes business leaders to progress their climate action through the SBTi.
This symposium aims to present the audience with the climate issues in the local landscape, the latest updates on SBTi, and how organizations can decarbonize by 2050 to achieve the race to zero.
Session Objectives
To bring sustainability practitioners together to showcase the importance of achieving net-zero within this time bar with a mid-term tangible target.
To explain and showcase why SBTi is the best methodology to achieve net zero
To share experiences from practitioners that have committed to SBTi and inspire companies to embark on this journey and decarbonize by 2050.
Seats are limited, so do register for your complimentary tickets today!
For more information about the event and registration details, please visit:
https://www.ungcmyb.org/event-details/sbti-symposium-demystifying-urgent-actions-for-a-1-5c-pathway