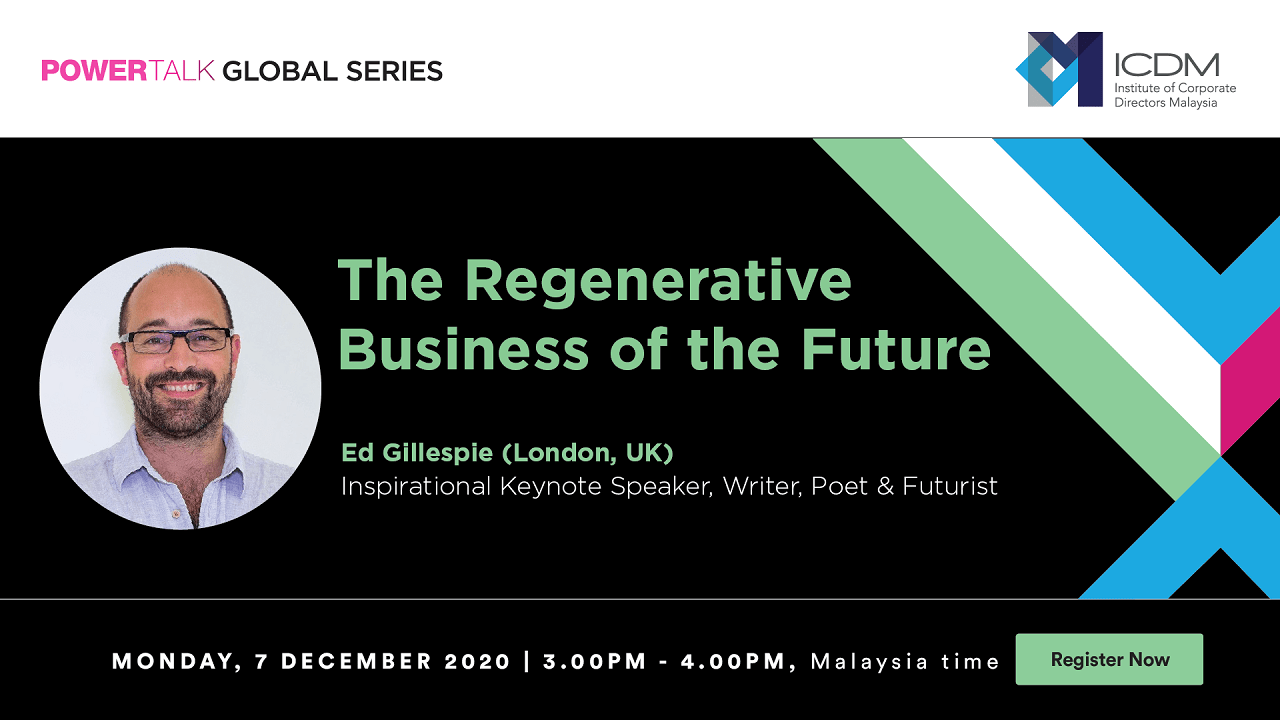 Sustainability is over. Sustaining our current economic models and business approach isn't only failing to address our urgent interdependent and interconnected challenges, it's barely even slowing the damage. We need to radically rethink how we frame purpose and impact to deliver wellbeing and ecosystem resilience. We need to rapidly design and implement a regenerative philosophy. Rather than analysing existing data and extrapolating trends from the 'here and now' of business as usual, Ed will take us on adventure into what needs to be done, how it might be achieved and where the bright lights of positive possibility are already flickering on. Businesses of the future will be regenerative, and the transformative journey to enhance human happiness and enhance the natural world on which we all fundamentally depend has begun. Join Ed for an imagination-stretching exploration of 'What if?' if we were really serious about change and an understanding of how trailblazing pioneers are already building the regenerative businesses of tomorrow, today.
Learning Outcomes
Why we so urgently need regenerative businesses, models and economic frameworks now?
What does a regenerative business approach look like, how is it structured and why is it so vitally different to our existing mindsets and actions?
Inspiring examples of where the cutting edge of regenerative business is already happening right now
ED GILLESPIE (London, UK)
Inspirational keynote speaker, writer, poet and futurist
Ed Gillespie is the co-Founder of Futerra, Writer, Specialist, Serial Entrepreneur and Futurist – Business Transformation, Innovation, Sustainable Development, United Kingdom.
Ed Gillespie is a keynote speaker, writer, communications specialist, serial entrepreneur and futurist. He is the author of 'Only Planet – a flight-free adventure around the world' a book about his circumnavigation of the globe without getting on a plane, which the Independent said "Allow[s] the world's flaws and beauty to seep into your soul". Ed's core talent is to take the complex, interconnected, interdependent nature of the many urgent challenges the world faces, from climate change to disruptive competition, and make common sense of them for non-specialist audiences. He often works at C-suite level to help boards understand big business's role in 'self-disruption' of their own business models, and creating entrepreneurial 'lifeboats' of lean innovation.
Ed is a seriously credible and experienced voice on a range of key future-focused issues; from 'Big Data', through the future of work and the impact of AI, robots and technology, to how climate action can and must be reframed as seismic opportunity, not just catastrophic threat.
Ed is the co-founder of the Global Goals Accelerator, a business programme aimed at delivering the Sustainable Development Goals, the first two businesses supported were Panda Packaging (bamboo and coconut based plastic alternatives) and Agronomex (tackling food waste at the farm gate). He is actively involved in a number of other pioneering ethical businesses as a director or investor, from Growing Underground, a renewable energy powered, LED- lit, hydroponic farm in a disused underground tunnel in South London, to Demand logic – a 'Fitbit' for buildings. Others include Common Objective (ethical fashion), Engaged Tracking (carbon indices), Poplar (communication platform for frontline staff), Small Robot Company (farming as a service) and Bennaman (alternative fuels).
Ed was the co-founder of Futerra, a change agency that specialises in business transformation and creative communications and campaigns. For almost eighteen years, Futerra has become internationally renowned for its influential and award-winning work on some of the biggest corporate sustainability initiatives. Ed left the business in 2019 to pursue other opportunities. Ed also designs and hosts bespoke workshops for clients on future-focused sustainability challenges, most recently for Sainsbury's on carbon and climate change, Unilever on circular economy and a Norwegian business 'cluster' on rapidly prototyping new purpose-driven sustainable business models.
Ed Gillespie was also one of our speakers for the Bursa Breakfast Talk Series in 2019.