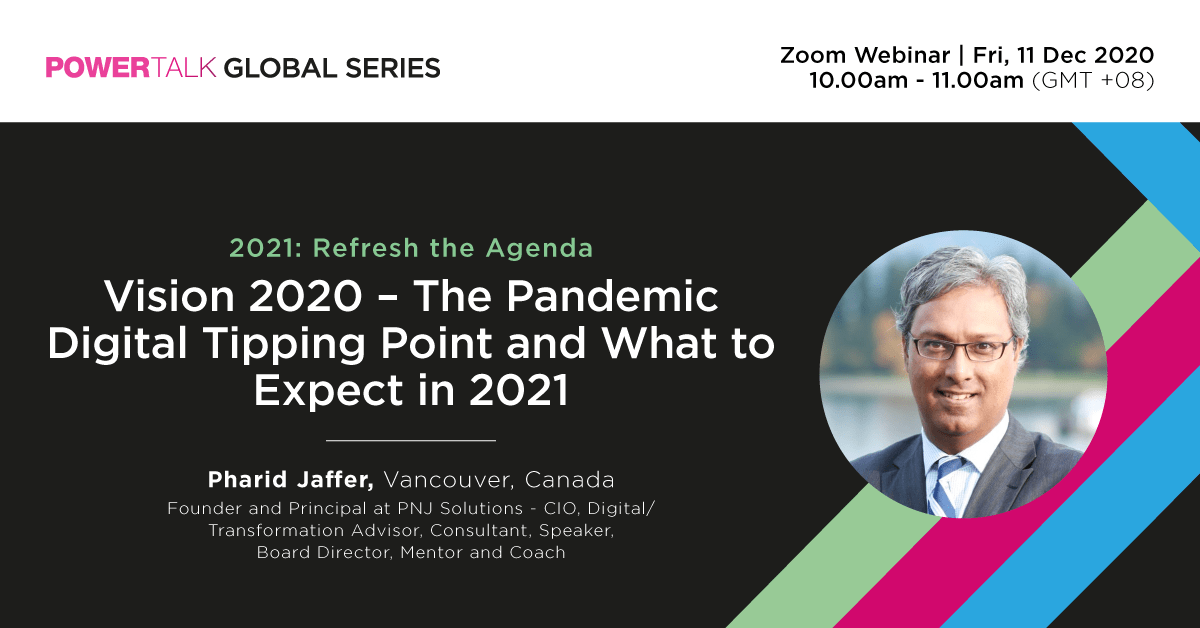 In this interactive and engaging session with Pharid, he will share his insights from financial services to retail and public sector, and other industries to help board leaders better understand, not only what is disrupting his/her business today and in the future but, more importantly, present opportunities for taking advantage of this disruption.
Pharid will address the hot digital disruption themes and trends – with a distinctive North American perspective including:
Highlighting the trends from multiple industries that will impact your business from personalisation to omni-channel to digital ecosystems to who's disrupting the disruptors
Understanding the impact of global "frenemies" from Amazon to Alibaba and how to thrive!
Showcasing how organisations are digitally preparing to pivot from the pandemic to thrive in 2021!
Examining the latest developments in technologies such as artificial intelligence, 5G, voice, blockchain and others impacting so many industries and how board leaders can benefit from all this innovation
And, discuss how to be better prepared to manage the disruption with consequences for cyber-risk and resiliency
Learning Outcomes
 A digital vision of what to expect in 2021 so that you and your organisation are better prepared
Key technologies and trends and what other organisations are doing to thrive in 2021
A distinctive North American perspective on the digital landscape that will impact you and your organisation
PHARID JAFFER (Vancouver, Canada)
Founder and Principal at PNJ Solutions – CIO, Digital/Transformation Advisor, Consultant, Speaker, Board Director, Mentor and Coach
Pharid is an independent consultant focused on providing thought leadership, digital & technology advisory services to local & global organisations. He has held senior roles and worked in technology, financial services, retail, and public sector organizations. He has spoken and consulted on many topics ranging from FinTech to Digital Disruption to Cyber-Resiliency.
Pharid is based in Vancouver, a graduate of the University of Waterloo, and is active in the community from mentoring MBA students to sitting on various boards including not-for-profits. A prolific networker, Pharid has more than 20,000 Linkedin Connections and Invites you to connect with him to be a part of his global network of C-suite leaders!