ICDM committed to improving directors' professionalism, board effectiveness
THE Institute of Corporate Directors Malaysia (ICDM) has big plans to enhance the country's corporate effectiveness. Launched in October last year, ICDM sees itself as a "one-stop professional institution for directors, by directors" to enhance board effectiveness and directors' professionalism through education, competency-based sourcing of directors, evaluation, research and advocacy.
ICDM chief executive officer and president Michele Kythe Lim told NST Business recently the organisation would focus on the low hanging fruit this year before moving on to bigger goals.
"ICDM essentially is an institute of directors (IOD) that focuses on the best practices governance, knowledge sharing and ethics for board members. There are only one IOD per country.
"The creation of ICDM, or Malaysia's very own IOD, is a bit late but we don't particularly think of this as a challenge as we will be able to learn from other countries' mistakes and make better decisions.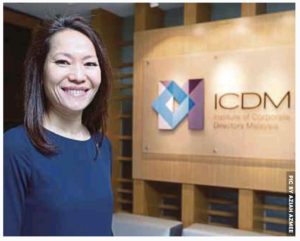 Institute of Corporate Directors Malaysia chief executive officer Michele Kythe Lim says it will focus on industry best practices for board members.
"Our biggest challenge right now is mindset change and convincing reputable board members with years of experience to join us," she said.
ICDM has so far received 175 applications, with 142 confirmed as of last month. Its memberships are categorised under four segments: Affiliate (student and working adult), Member (currently a company director), Fellow (at least 10 years of directorship experience) and Honorary Fellow (by invitation only).
Beyond this year, ICDM will look into the creation of a chartered directorship programme that would function as a prime recognition of an individual's directorship capability.
ICDM is backed by the Security Commission, Bank Negara Malaysia, Bursa Malaysia Bhd and Capital Market Development Fund.
This article is taken from the New Straits Time.