COVID-19 is widening the digital divide. Companies that embrace a digital transformation strategy can emerge on the winning side. 
---
For many companies, the next phase of the COVID-19 crisis will be the most challenging journey in their corporate history. And it's one they will undertake with huge handicaps – revenue is unpredictable, workforces are disrupted, supply chains are fractured, and there is a chronic shortage of investment capital.
In this unprecedented environment, digital technologies will be one of the most powerful options for recovery. A proactive technology strategy built around adapting operations and building resilience can equip the enterprise with a stronger competitive edge in a post-COVID-19 world.
Adapting operations
Of the myriad challenges COVID-19 has presented to business, perhaps one of the greatest is ongoing uncertainty. The impact of COVID-19 on our lives and our economy continues to evolve, presenting an unknown operating environment for enterprises. While it can be difficult to know how conditions will change, the ability to adapt at speed to a new way of doing business will be critical. Key actions can help:
Rethink infrastructure to support a distributed workforce. In the near term, this includes a flexible communications platform that supports the return-to-work. In the longer timeframe, this will be new infrastructure that supports collaboration, remote working, and higher levels of automation in operations. In the US, a major oil company is rapidly designing a technology-driven return-to-work strategy, using a collaborative software platform to allow teams to manage assets, track production and monitor cyber-security remotely.
Accelerate cloud adoption to support an ecosystem approach to business operations. Connecting suppliers, customers, shippers and employees is more important than ever, to allow all parties to work collaboratively and improve decisions. With EY anticipating an up-and-down, saw-tooth economic recovery, use of the cloud allows companies to ramp up and down as conditions change. One US state government has moved fast to accelerate its migration to the cloud to improve resilience and ensure business continuity during the crisis. Now it stores more than 50% of applications in a secure and agile cloud-based environment.
Use automation and intelligent platforms to optimize the workforce for the conditions of crisis and recovery. For example, automating tactical tasks can allow people to focus on strategic initiatives that add more value. An ability to scale platforms can help teams better adapt to volatile market conditions.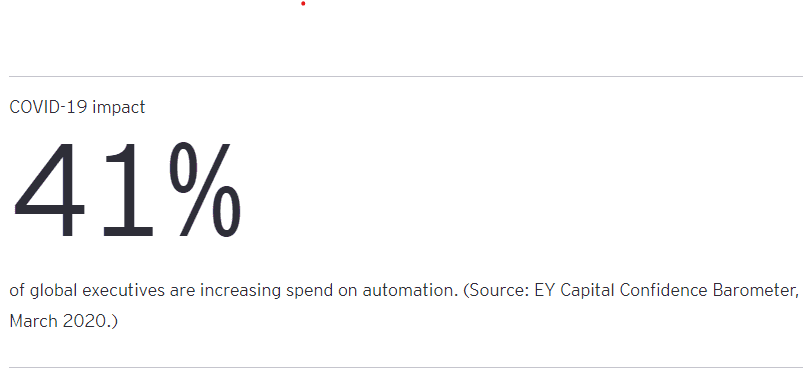 Building resilience
The pandemic is forcing adoption of new business models, including co-sourced workforce structures, acceleration of digital businesses at the expense of traditional physical channels and a digital experience that increases customer engagement.
As many organizations scramble to adapt to these new conditions, some have been hampered by a lack of digital preparedness. Legacy and siloed technologies – always high-cost and slow-moving – are now an even greater liability. And companies without adequate protection against cyberattacks are at increased risk as cybercriminals exploit opportunities in newly digitized operations and with staff working beyond the firewall.
As enterprises work to build a more resilient, flexible enterprise, digital technologies will be critical. Focusing on three key areas can guide an effective approach:
1. Rebalance IT operations to support new commerce models
This will enhance digital sales channels, the virtual customer experience and direct-to-customer delivery methods.
2. Use the crisis to rethink digital strategy
Now is the time to make those hard decisions around replacing legacy technologies, expanding cloud infrastructure and assessing new technologies, including contactless payments, 3D printing and augmented and virtual reality. One global energy company is using intelligent platforms to augment its workforce with sensor-based systems built into production, refineries and transportation. These allow workers to track maintenance, production and emissions from remote locations.
3. Double down on cyber-security as threats escalate
Ensure data is safe (and backed up) and that virtual infrastructure is secure. Review your endpoint and mobile security and revamp where necessary. Consider how to better support the security of third parties such as suppliers, customers and contractors.
Leaders will need to be mindful that strengthened security measures do not have to mean a slow down to the business at a time when agility is critical. We're helping a global investment firm get the balance right through the development of a "zero trust" guiding strategy – i.e. requiring verification from everyone – that is built upon architecture that allows for micro-segmentation and identity-centric integration. This provides a more effective and flexible defence against the current generation of security threats.
Which side of the digital divide will you be on?
After the 2008 recession, a small percentage of companies – less than 10% – emerged stronger than before. Their winning strategy? Balancing cost cutting through divestments with selective investment, primarily in new technologies.
EY believes the COVID-19 crisis will see a similar scenario play out, but on a bigger scale. Expect a widening of the digital divide that already exists between leading and lagging firms. The enterprises on the winning side will be those that accelerate digital transformation to fast-track recovery.
Summary
With COVID-19 creating fundamental changes to how we live and work, businesses must fast-track their adoption of digital technologies if they are to survive and thrive. Accelerating the use of collaborative technologies, cloud-based ecosystems, crisis-driven innovations, intelligent platforms and cyber-security can speed recovery and create competitive advantage in a post-pandemic world.