Employees and HR have different views of the employee experience. For long-term success, organizations will need to close this gap.
---
In brief
Employers and staff have differing views on the value delivered by employee experience (EX) programs.
Organizations need to work harder to listen to their people and design EX that aligns their findings with the broader business aims.
Delivering quality EX is going to be critical to future business success and needs buy-in across the C-suite.
---
People still make the world go around. Despite the major advances in automation over the past decade, our workforce is certainly far from mechanized, and real value still flows from the heartbeat of the world's flesh-and-bone employees. We are experiential beings, and what happens to us and around us deeply affects our performance and motivation.
Yet it's not just automation that's advanced massively in the world of work over the last decade. Thanks to other incredible tech breakthroughs and the changes they've made to working realities, employees are interacting with their colleagues and their company in countless innovative new ways, whether that's holding meetings via Microsoft Teams, staffing shifts through WhatsApp, or fitting working hours flexibly around childcare.
When the working world was turned upside down by the COVID-19 pandemic this year, that shift was further accelerated. Employers now realize the need to reimagine work – from recruitment and job evaluations to collaboration, perks, and the workplace itself – not just to reflect employees' changing expectations, but to capitalize on them.
This sits at the heart of the employee experience, or EX. It's something that those companies achieving exponential value and outperforming their competitors recognize and act on: putting humans at the center of the organization is key. When people come to work with purpose, when their voices are heard, when they feel invested in the work they are doing, then the entire organization performs better and respond to changes in the market more quickly. Match this with the ability to deploy technology at speed and scale innovation and you have the makings of a truly agile and transformative organization.
The importance of EX is something that HR and business leaders are increasingly acknowledging. A study titled: Is the employee experience you're delivering the one your people want? commissioned by EY, SAP SuccessFactors and Qualtrics and undertaken by Forrester evaluates the shifting EX landscape. The findings show that two years ago, a mere 9% of global HR decision-makers rated EX as the most important factor in their organization's HR strategy. However, 35% said it will be the most important factor in two years' time.
As further evidence of the rise of EX, our research indicates budgets are being re-allocated to support EX. Two years ago, 6% of HR budgets went toward EX initiatives, but within two years, that share is set to soar to 16%
Employee experience is becoming more important
When asked to rate the importance of employee experience to HR strategy over time, respondents indicated a clear trend. 1 out of 3 respondents expect employee experience to be the simple most important part of an effective HR strategy by 2022.

Yet EX isn't merely an HR issue. Forrester's research unearthed a clear correlation between EX and long-term business value. With good experiences, teams become more agile and productive. They work harder to overcome hurdles and improve customer service. The quality of their work goes up. It means the most talented people are more likely to stay at the organization longer, and to recommend their peers join them.
Better experience outcomes have been correlated to increased revenue, an improved top and bottom line, superior customer experience, and a stronger, more competitive brand. While only 21% of organizations write EX goals into all business unit strategies, 74% of those that do find such activity to be effective. Hence, EX is very much on the C-suite and boardroom radar, with firms around the world now seeking to build comprehensive EX strategies.
The perception gap
There is, however, a problem. It seems there is a fundamental gap in perception between the employee experience that businesses think they are delivering, and the lived experience of those employees themselves. According to the Forrester survey, 39% of HR professionals believe their EX provision will be "excellent" within two years; yet only 15% of employees expect the same.
In some areas, the disconnect is pervasive, even down to what constitutes good EX in the first place. While 81% of employees believe that creating and sustaining a positive culture is important to good employee experience, only 58% of HR managers think the same. And only 54% of HR managers feel confident in being able to deliver it. And this disconnect is mirrored in most of the initiatives employees find important.
For employees, culture tops training
When asked about creating a good employee experience, HR and employees have different priorities.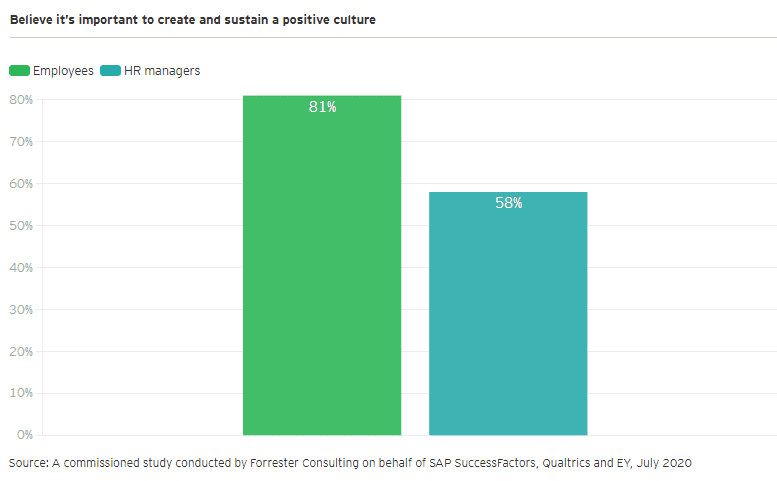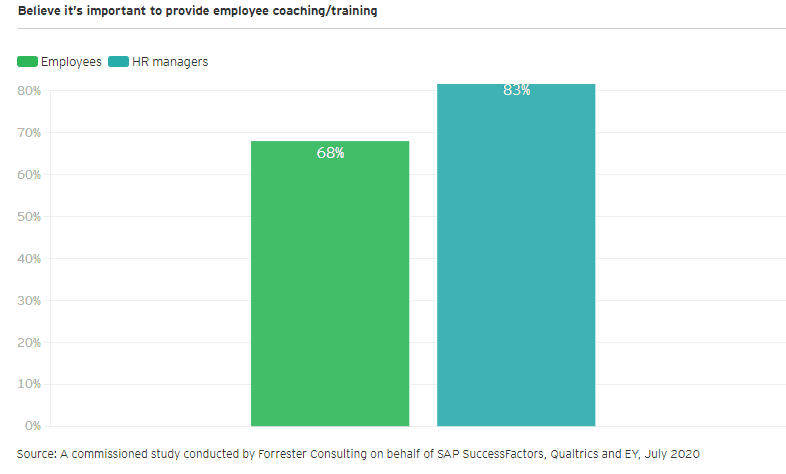 For a more specific snapshot, look at technology, the provision of which is a critical factor in how employees experience work. While 80% of HR leaders believe they're successfully equipping employees with what they need to succeed, nearly half of employees say the tech they're provided is difficult to use; over half say it's lacking key features; and three quarters say the applications and data they need aren't always accessible on desktop and mobile.
HR managers rate their tech higher than employees do
More HR managers than employees agreed with several positive statements about their organization's technology.




What is behind the EX disconnect?
When we begin to dig into the root causes of these discrepancies, we unearth issues that, while pervasive, are readily repairable. The issue lies in part with perspective – many leaders are simply disconnected from the realities of work and from the realities of the people they employ to do it.
As such, the issue of insight becomes critical. The organization needs to know what its people are thinking and feeling – yet the EX data that would reveal this tends to be something that HR doesn't have. According to the Forrester research, a third of firms don't have a method for measuring overall EX, and others aren't collecting and analyzing that data effectively.
"One-third of surveyed firms do not have a method for measuring overall employee experience (EX)."
They may, for example, simply attempt to gauge employee sentiment once a year, in an annual survey. This rarely delivers insight into how people actually work, to the impact of work on life, and how they're truly feeling. This lack of insight can have serious consequences – when HR fails to understand the levers that make the most difference to employees, dissatisfaction becomes a work feature, not a bug.
Another striking takeaway from the research was a lack of confidence among HR professionals on how to make EX better. This may come down to lacking the insights, technology and processes they need to do so; or it may be an upskilling issue, as job requirements increase and performance stakes become higher.
How to get EX right
Any organization seeking to build and deliver an effective EX program first needs the ability and latitude to collect, comprehend and apply that EX data. Listening to employees should be a business's top priority – in order to understand them, their sentiments and their behavior.
Listening means designing consistent programs or mechanisms to collect feedback and gather information – from capturing employee interactions and mapping employee journeys, to introducing voice-of-the-employee feedback programs and ongoing employee engagement surveys. Moving from annual engagement surveys to more regular "pulsing" delivers more valuable insight.
Equally critical is that any listening should extend beyond the individual, to understanding how people in the business influence each other, examining the quality of the relationships between each person and their teams, their customers, managers and peers. This takes leaders beyond the formal processes and workflow they may expect, and gifts them an understanding of the informal networks and connections that really drive behavior. Then there are the environmental aspects of experience, including how well the organization's tech ecosystem enables its people to do their jobs.
Through that listening, businesses can develop an understanding of the perception gap, and begin to close it by designing and implementing EX initiatives. The EX data must remain distinctly aligned with a clear understanding of what the organization wants to do and the kind of experience it seeks to offer.
This means being clear on the cultural behaviors the organization wishes to encourage in the first place, which may require leaders to ask more fundamental questions about purpose, strategic direction and market aspirations. Then it involves looking at the individual, relational and environmental levers the organization needs to pull to deliver on that agenda.
These are fundamental organizational considerations. As such, this is not just an HR responsibility. Instead it has to bring the broader business along on the EX journey. By getting buy-in at C-suite level, HR will be able to secure greater investment, better tools and superior headcount with which to improve EX. And to get the momentum to drive lasting change, efforts need to be coordinated across departments, from legal and finance to marketing and IT.
Overcoming the hurdles
This work requires patience. Moving the EX needle in segments of the workforce can happen fast, but delivering better business outcomes through proven EX measures takes longer. And while the approach of "listening-aligning-designing" has clear, straightforward steps, the process can appear daunting when one considers applying it thousands of employees.
While data and insight hold the key to better understanding, they can also present a major challenge. It can, for example, be hard to acquire that data in the first place, because systems are outdated and don't connect, or because of concerns among leadership, employees or unions around doing so.
It's the very richness, variation and diversity in how individuals approach their work that makes it sensitive. That's where the value of EX lies too. And it's what makes it hard to standardize and deliver an outcome. This is why it's crucial to maintain a clear focus on alignment and design.
Organizations often want reliable outcomes, based on implementing a one-size-fits-all solution, but an experience problem can't be solved by an industrial approach. The organization has to personalize, segment and tailor its solution to truly address its diverse needs and nuances of its people, who will have emotions, thoughts and feelings that vary wildly.
The final challenge lies in building an EX program that ensures results are improved, not only for the employees, but for the overall business. Experience is changeable, so organizations must be prepared and able to monitor it on a continuous basis, ideally in real-time, to ensure it continues to deliver. This involves analyzing the compiled experience data alongside more typical business KPIs such as turnover and staff retention figures. By correlating X data (experience data) against this O data (operations data), and ensuring processes continue to deliver on both counts, organizations can monitor EX and its impact in real time, and ensure it remains bringing concrete benefits to the broader business too.
Conclusion
The importance of EX cannot be overstated.

More than three-quarters of HR leaders now believe EX will be one of the most important factors affecting their organization's ability to deliver on key business objectives within the next two years, in fact 37% believe EX will be the most important factor. But the impact of any efforts to harness this opportunity will be dramatically reduced if those organizations fail to close the disconcerting gap between the experience they think they are delivering to their employees, and what people are actually receiving.
Closing that gap requires human and technical innovations that bring the organization closer to what's actually happening with its people. New data gathering processes and structures enable them to make sense of that experience, and to align this understanding with the broader needs of the business.
It is an approach that keeps humans at the center, providing an opportunity to build a stronger culture, to retain the brightest talent, and to drive genuine long-term benefits. And while the process may present its challenges, those organizations that open the door to experience now are most likely to walk straight through to success in the future.