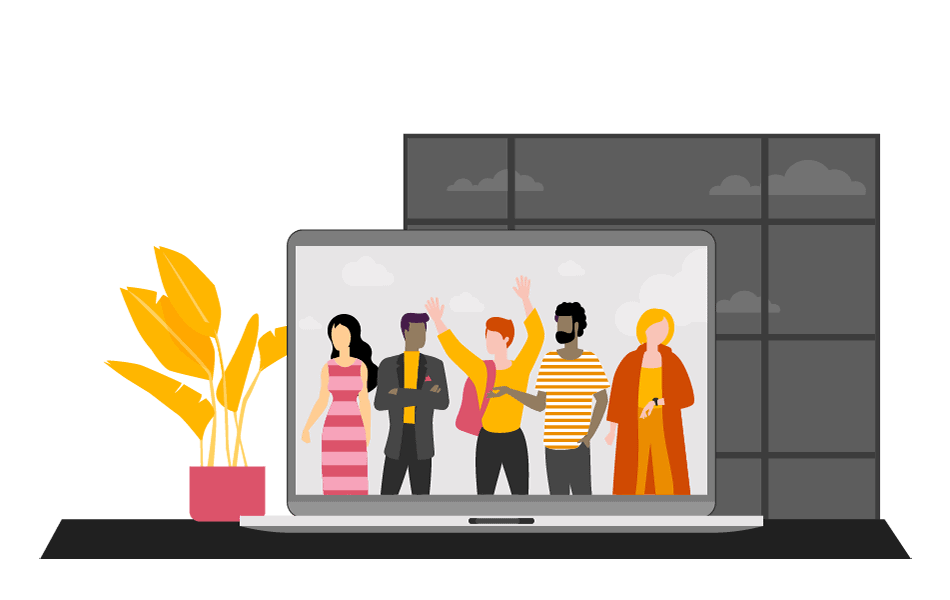 About the survey
Conducted in January and February 2021, PwC's 24th CEO Survey explores the views of 5,050 chief executives around the world on how they are reinventing their companies to mitigate global disruptions, such as the impact of COVID-19, and ensuring sustainable growth. During this time, Malaysia was going through a Movement Control Order (MCO 2.0), a targeted response to a rise in daily case numbers in many states. Although more sectors of the economy continued operating, social activities were restricted, along with inter-district and inter-state travel bans.
48 Malaysian respondents from government-linked companies, public-listed companies and growing private businesses shared their views.
An improved outlook on the global economy
One year after the WHO declared COVID-19 a pandemic, 71% of Malaysian CEOs believe global economic growth will improve in 2021, mirroring the sentiments of 76% of CEOs globally and 71% of CEOs in the ASEAN region (includes Cambodia, Indonesia, Malaysia, Myanmar, Philippines, Singapore, Thailand, and Vietnam). Locally, analysts' projections of gross domestic product (GDP) growth for Malaysia in 2021 ranges anywhere from 4% to 7.5%, a respite from last year's contraction although forecasts are still relatively conservative.
Their relatively positive outlook reflects recent economic events globally— some bounceback seems likely following a year with the worst global GDP performance since the Great Depression in the 1930s— as well as the momentum around vaccine development and rollout in parts of the world.
As business leaders prepare for the anticipated rebound, they may find it critical to keep that momentum of fast, high-quality decision-making that has become synonymous with COVID-19, going. Businesses can't afford to go back to the 'old ways' of working. To stay relevant for the future, they need to stay proactive and agile by focusing on long term stakeholder trust beyond just bread-and-butter issues, engaging with people within and outside the organisation and revisiting critical decisions frequently.
Q. Do you believe global economic growth will improve, stay the same or decline over the next 12 months? (showing global findings)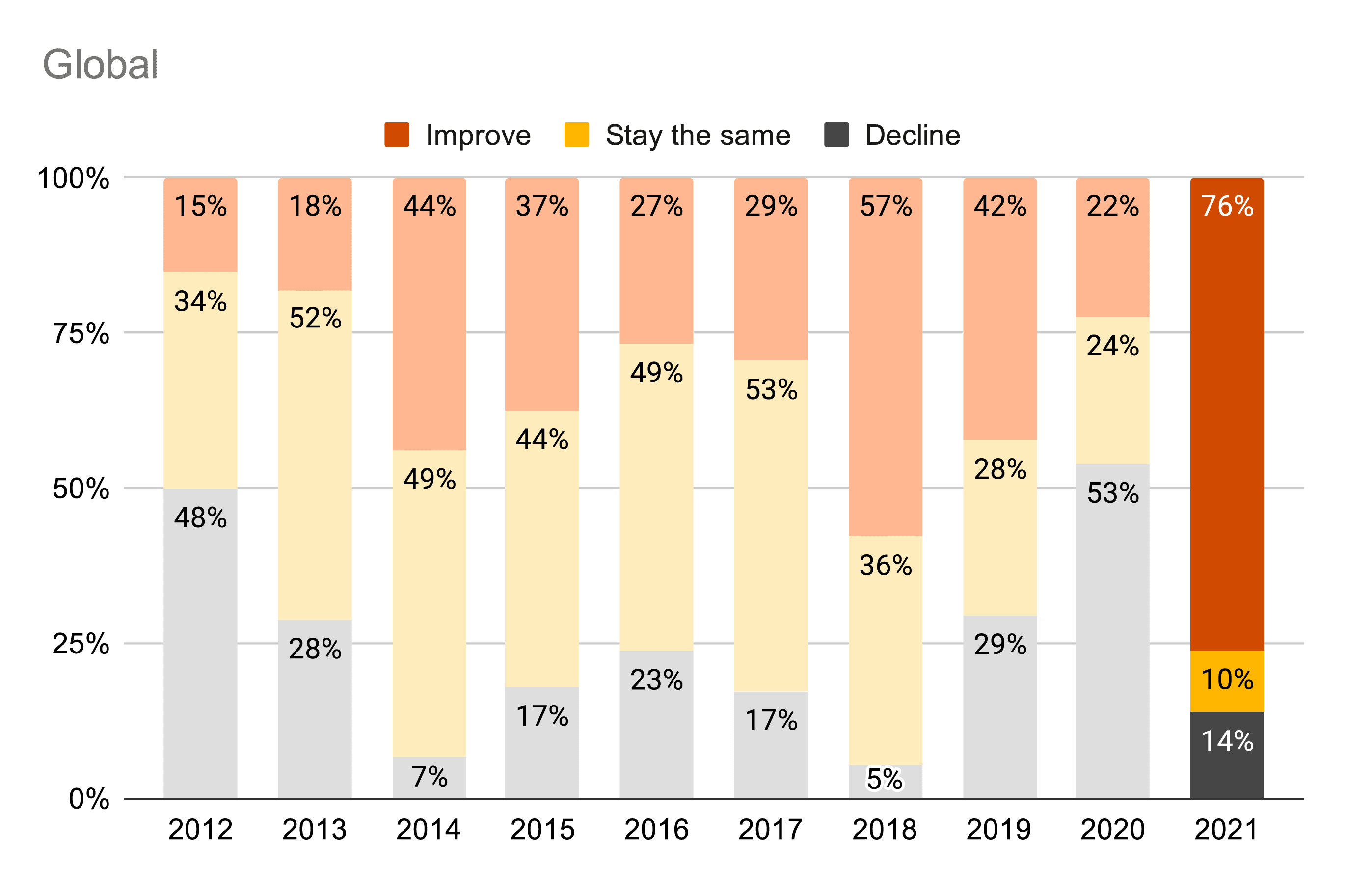 Rebounding confidence in business performance
While we are by no means out of the woods, CEOs see a path forward — for the global economy, and for their own organisations. CEOs are projecting a more conservative estimate of revenue growth for the coming year but appearing more hopeful over a longer period into the future.
We see this reflected in the 25% of CEOs in Malaysia who say they are very confident about their organisation's prospects for revenue growth over the next year, and the 44% who are very confident looking ahead over the next three years. While CEOs are looking forward to some stability this year from the relief efforts of mass vaccination, they recognise that recovery will not happen overnight, though this sentiment could well be limited by our smaller sample size.
Q. How confident are you about your organisation's prospects for revenue growth over the next 12 months/three years? (Showing only 'very confident' responses)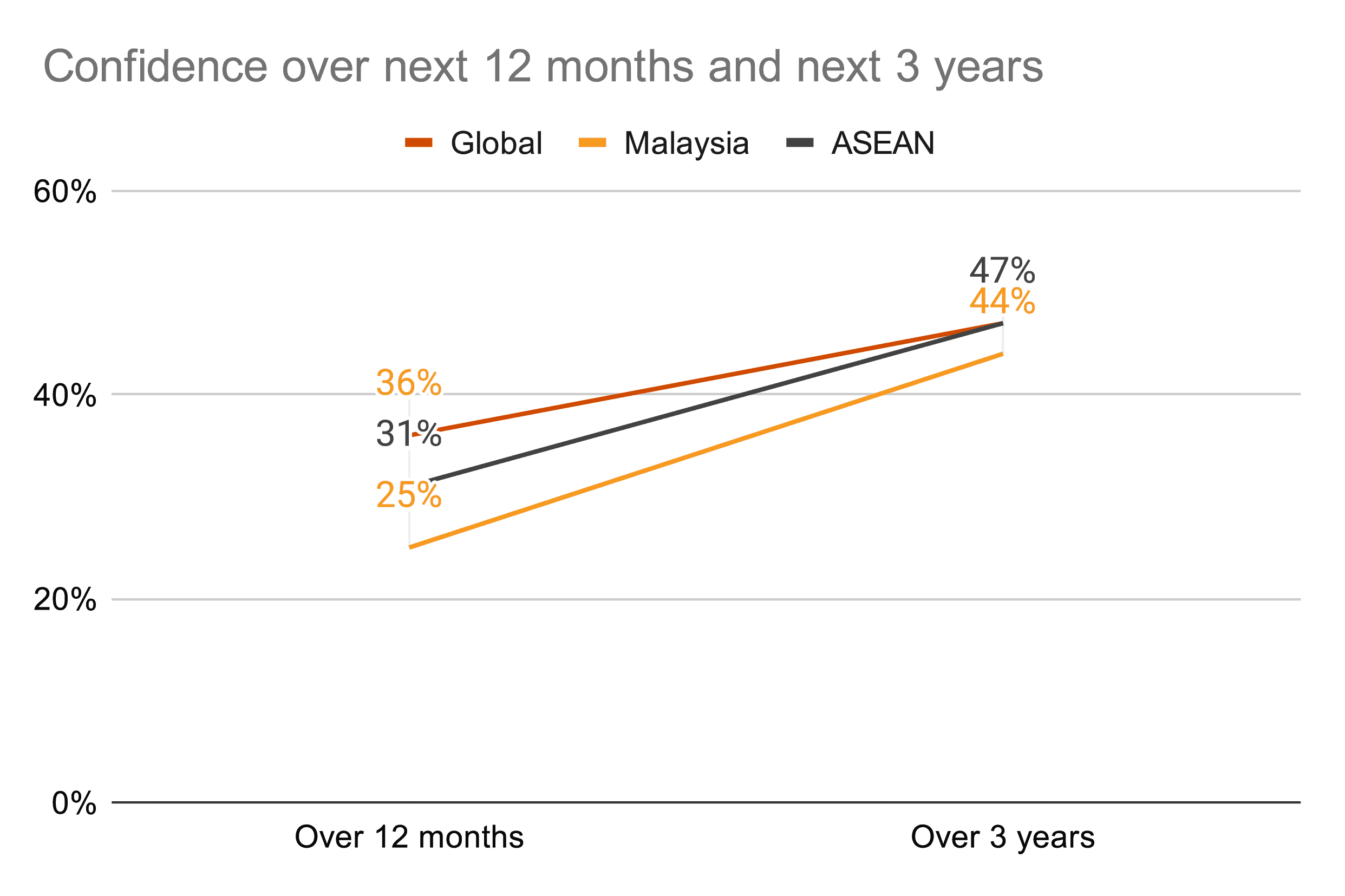 Q. Which three countries/territories, excluding the country/territory in which you are based, do you consider most important for your organisation's overall growth prospects over the next 12 months? (Showing top 10 countries/territories)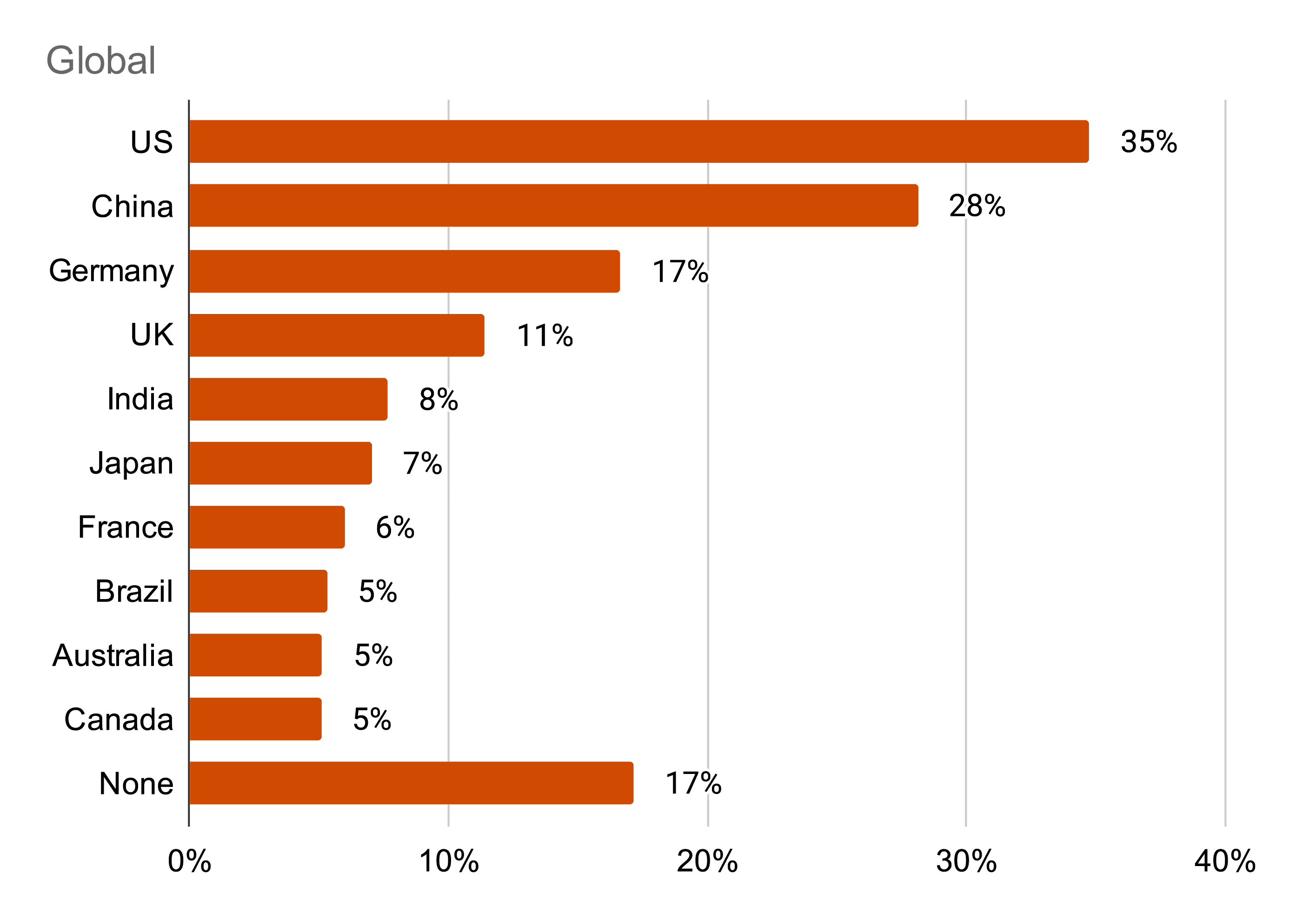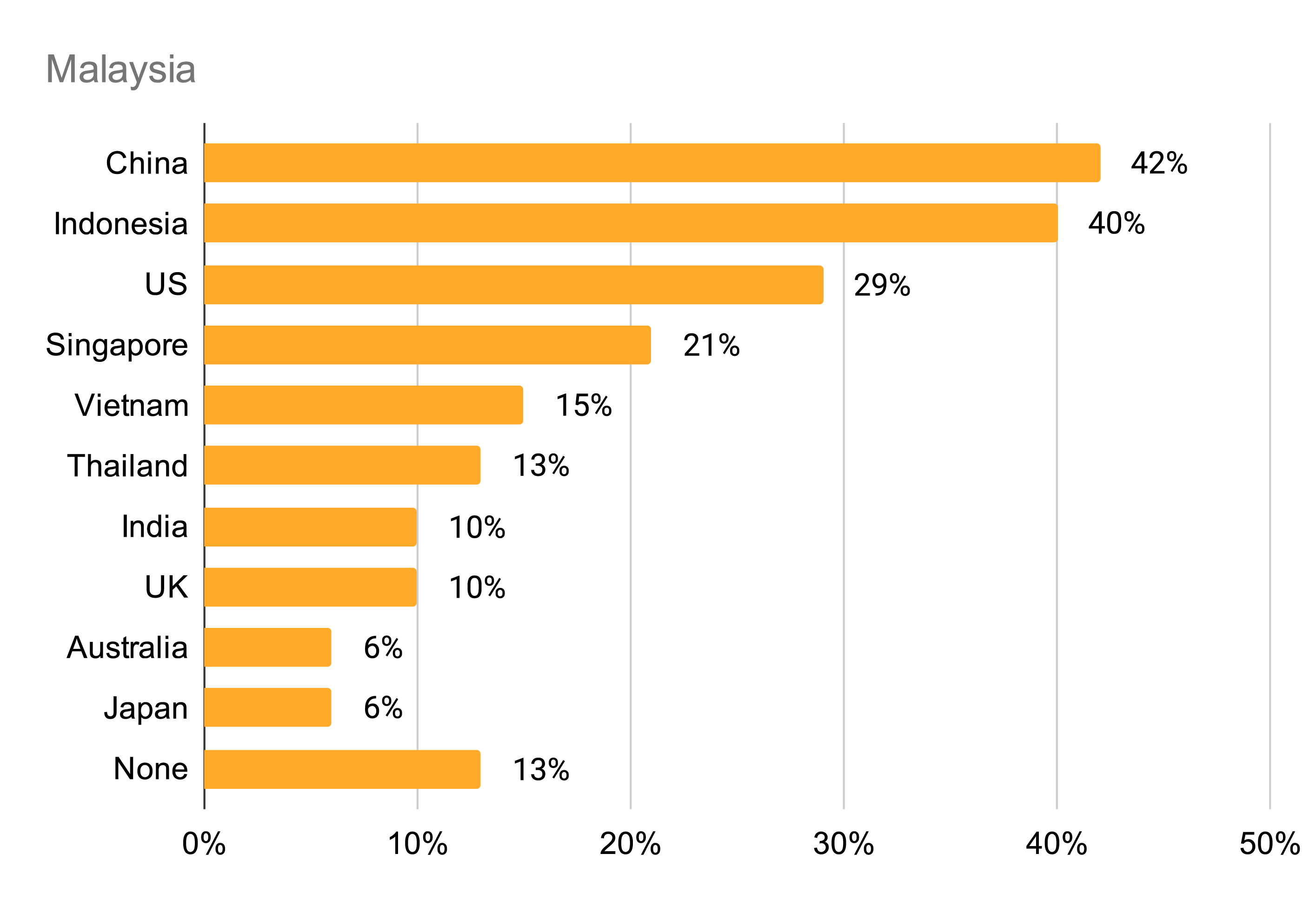 Globally, there seems to be a cooling of trade tensions. CEOs are also considerably less concerned about trade conflicts compared to a year ago.
However, trade conflict still rank as a top 10 threat for China, who was not too long ago enmeshed in a trade war with the United States (US). As we move past the pandemic, and landmark moments of 2020, such as resolution of the US presidential election and of Brexit uncertainties, it may not be strange to wonder whether these tensions may reassert themselves.
The US has also gained ground as CEOs' most important growth destination. Conversely, in Malaysia, China and Indonesia top the list for CEOs' most important growth destination at 42% and 40%, followed by the US (29%) and Singapore (21%), with Vietnam rounding up the top five (15%). China's investment in the Southeast Asian region, for example, in infrastructure projects and trade partnership with Malaysia makes the economic relationship an important one.
Cost-cutting remains the top growth driver
In the CFO Pulse Survey that was conducted in May, during the height of the pandemic, 71% of Malaysian CFOs cited reducing operational expenses as one of various financial actions in a bid to stem losses from worldwide lockdowns.
In this Global CEO Survey, CEOs are affirming that this strategy continues to be a key one to them as Malaysia emerges from the latest MCO. Malaysian CEOs list their top two growth drivers as seeking operational efficiencies (85%) and launching a new product or service (67%), and the priority they place on these strategies outweigh the global average (77% and 56% respectively). While efficiency programmes are attractive due to their incremental nature and ability to deliver short-term results, companies should be thinking about the long-term sustainability and scalability of their strategies to withstand future shocks.
Malaysian CEOs are also prioritising strategic alliances (63% vs 35% globally). This has been on the rise over the last few years, and bringing expertise and value to the table could be part of businesses' pandemic recovery plan. Investors are also increasingly favouring value over growth investing styles. We've seen diversification in product offerings to take advantage of industries that have experienced a windfall in the past year, for example, glove manufacturing, with expectations that the industry will continue to be important well into the future.
Q. Which of the following activities, if any, are you planning in the next 12 months in order to drive growth?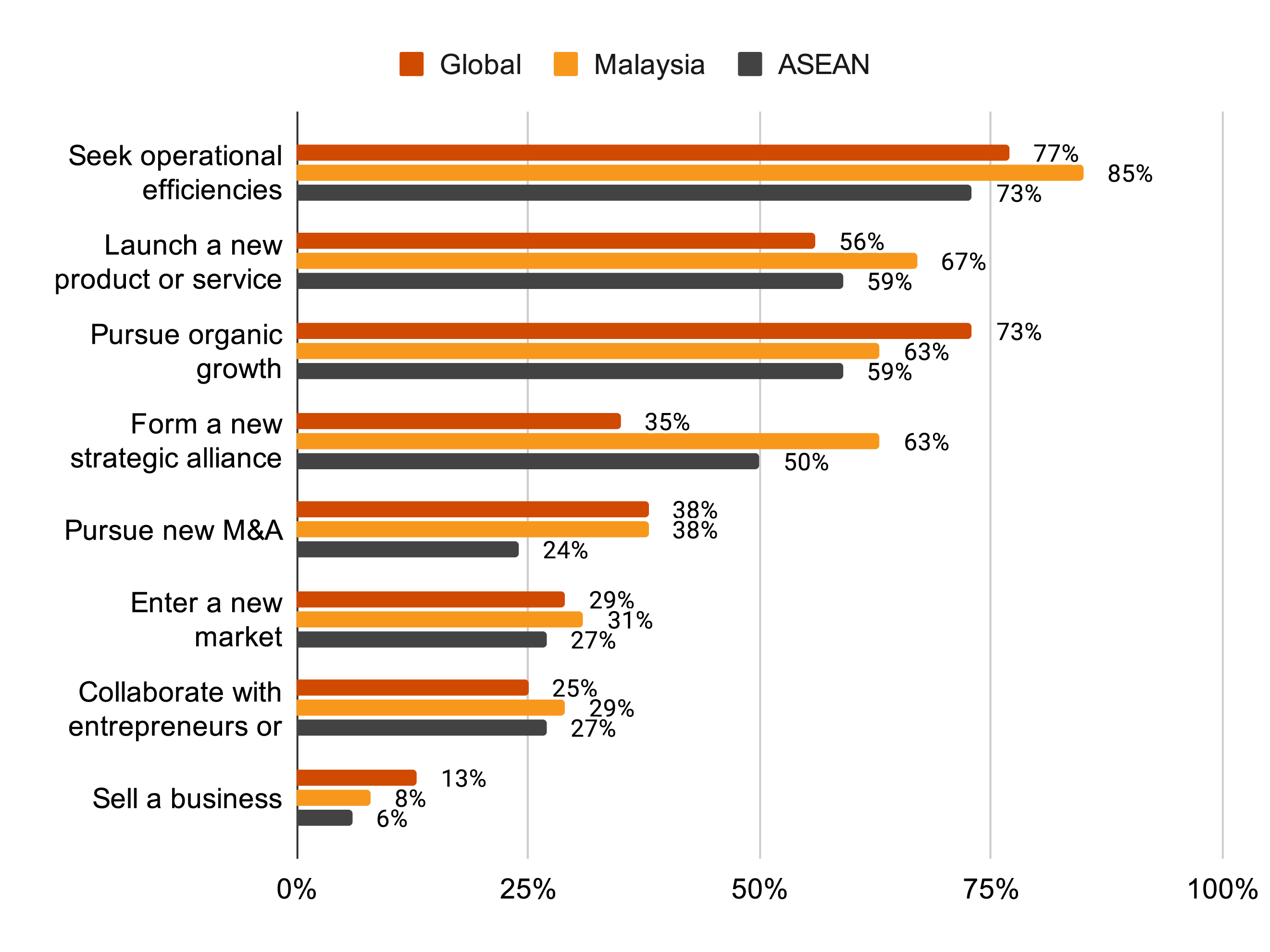 Lingering anxiety on health crises and policy uncertainty
Despite their confidence in economic improvement, Malaysian CEOs are acutely aware of threats in the external environment, starting with the obvious: pandemic and other health crises are the top threat (rated 'extremely concerned' when asked about threats to organisational growth) on this year's list (85%), followed by policy uncertainty (75%), uncertain economic growth and cyber threats (both at 58%), and social instability (56%).
Globally, pandemics and other health crises (52%) also top the list across most regions. The last time we asked this question, six years ago, it was selected as an extreme concern by just 9% of respondents. While vaccine rollout and new vaccine approval is underway, the potential impact of new, more virulent variants of COVID-19 and the continuing uncertainty of keeping case numbers at a manageable level makes it an area of concern well into the coming year.
The concerns around policy uncertainty certainly reflects the events of 2020 and early 2021 in Malaysia. During this time, Malaysians were grappling with a change of administration, the declaration of emergency and talks swirling about the next general election. The country's pandemic recovery efforts will need to include managing the spread of COVID-19 and stabilising policy uncertainties to get the nation's growth back on track.
Q. How concerned are you, if at all, about each of these potential economic, policy, social, environmental and business threats to your organisation's growth prospects? (Showing only 'extremely concerned' responses)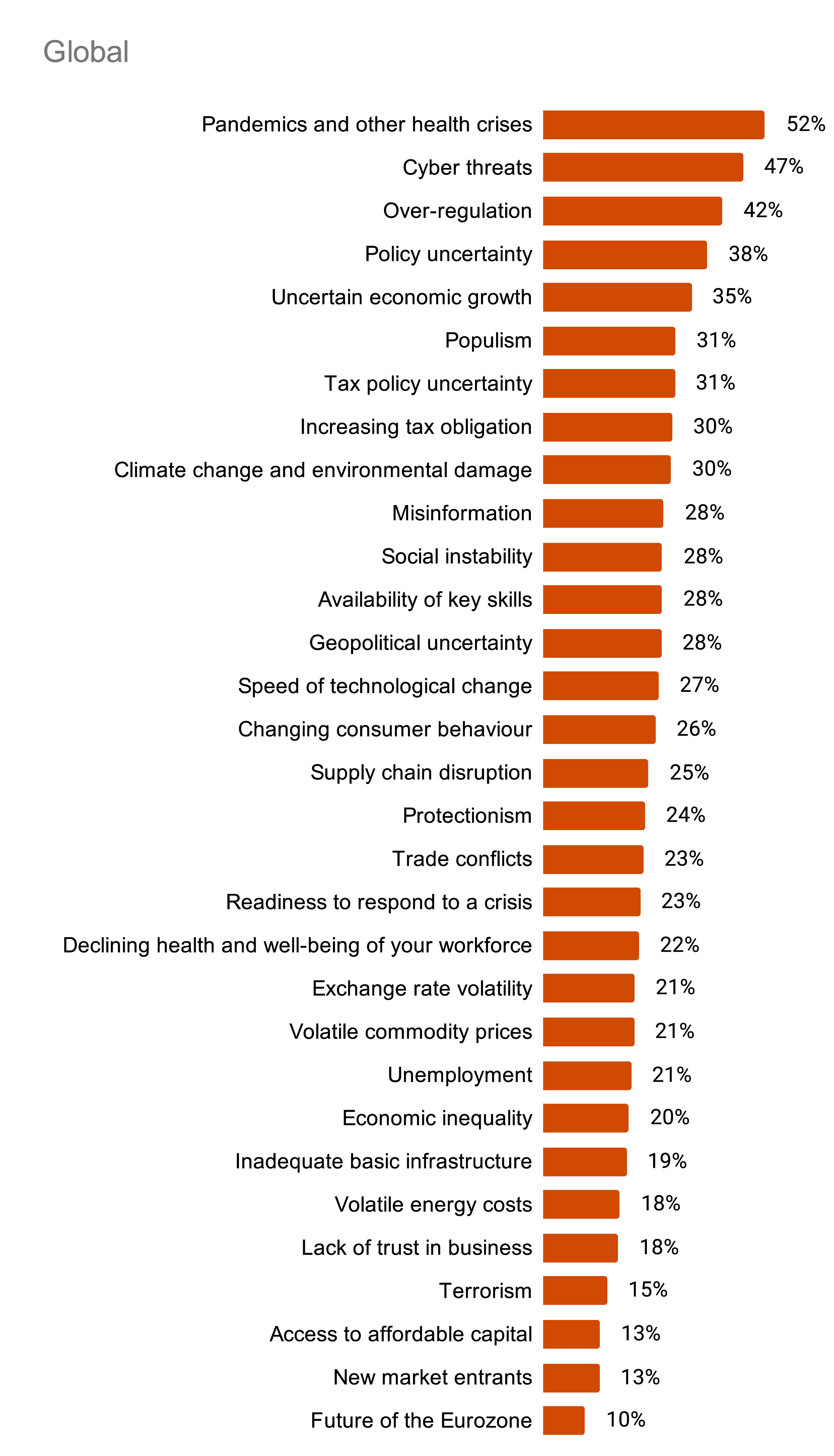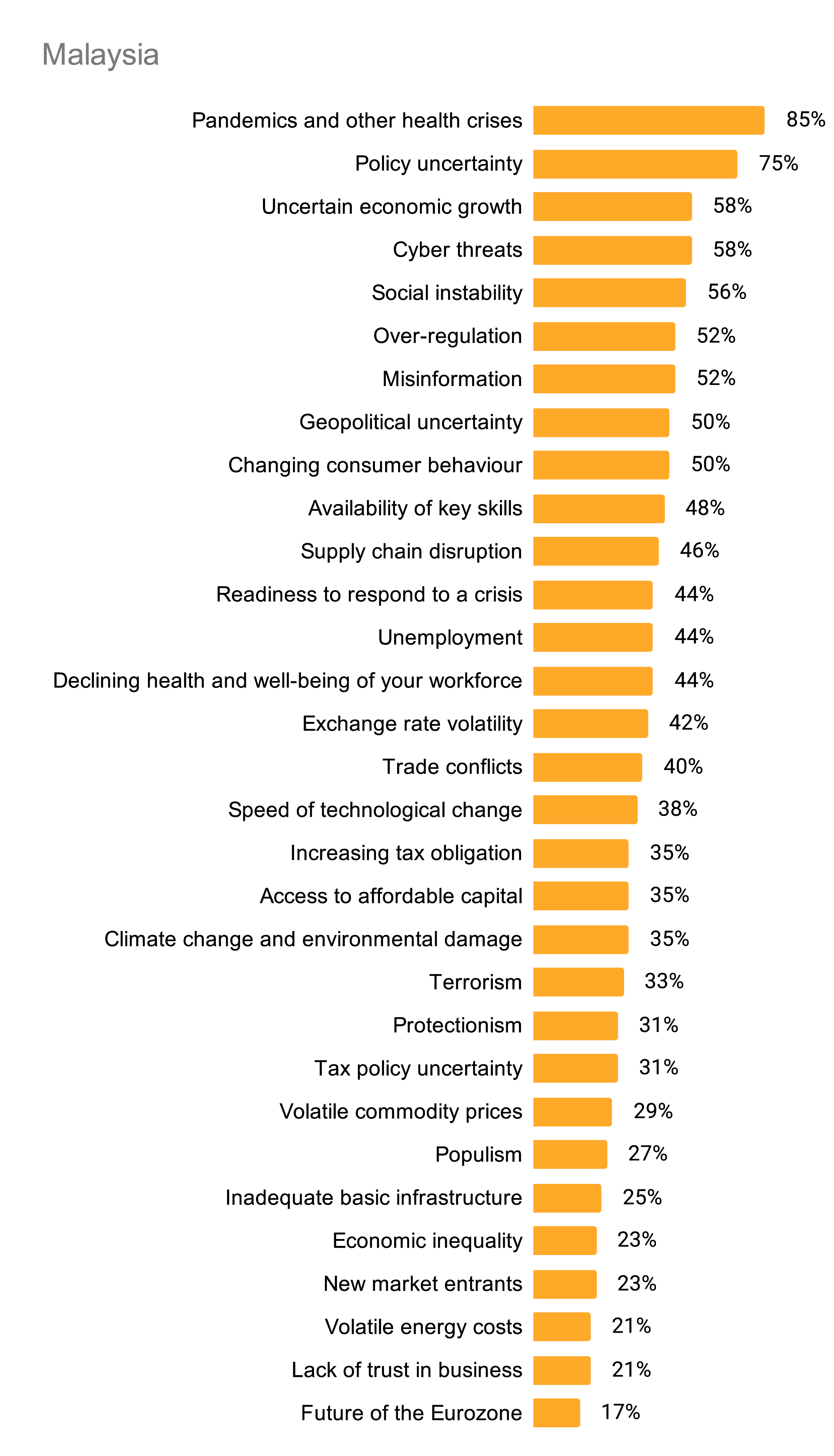 Upskilling is a top priority
In Malaysia, only 48% rated availability of key skills as a threat to be extremely concerned about, although this could be because 63% have factored this in their risk management activities. CEOs in Malaysia believe that building a skilled, educated and adaptable workforce should be the top priority for both government (73%) and businesses (73%). This is reflected across territories globally.
It's encouraging to see that upskilling is top of mind for CEOs. As investments in digitalisation and digital transformation continue to accelerate, the risks of a digital divide comes into focus. Upskilling or reskilling employees is crucial to enable them to contribute effectively to the organisation amidst an ever-changing work environment. As the half-life of learned skills is currently around 2.5 – 5 years according to several studies, it makes sense for organisations to continuously assess the skills they need in their workforce, to remain relevant.
An upskilling programme is only as good as its implementation and strength of support from the business. We find that employees are hungry to upskill, but only 38% are given many opportunities by their current employer to improve their digital skills outside their normal duties. To expect employees to become adept at using a tool with little to no training is to set them up for failure, which could ultimately affect team morale and performance, not to mention incur additional financial and time costs to fix issues that arise.
Ultimately, it's important to tailor programmes so they cover development of not only digital skills, but also the human skills that will complement how they'll work alongside machines. After all, human skills like empathy and leadership cannot be replicated and will become more critical as we continue on our digital journey.
Q. Which three of these outcomes in the country/territory in which you are based do you think should be:
Government priorities
Priorities for business to help deliver (showing Malaysia findings)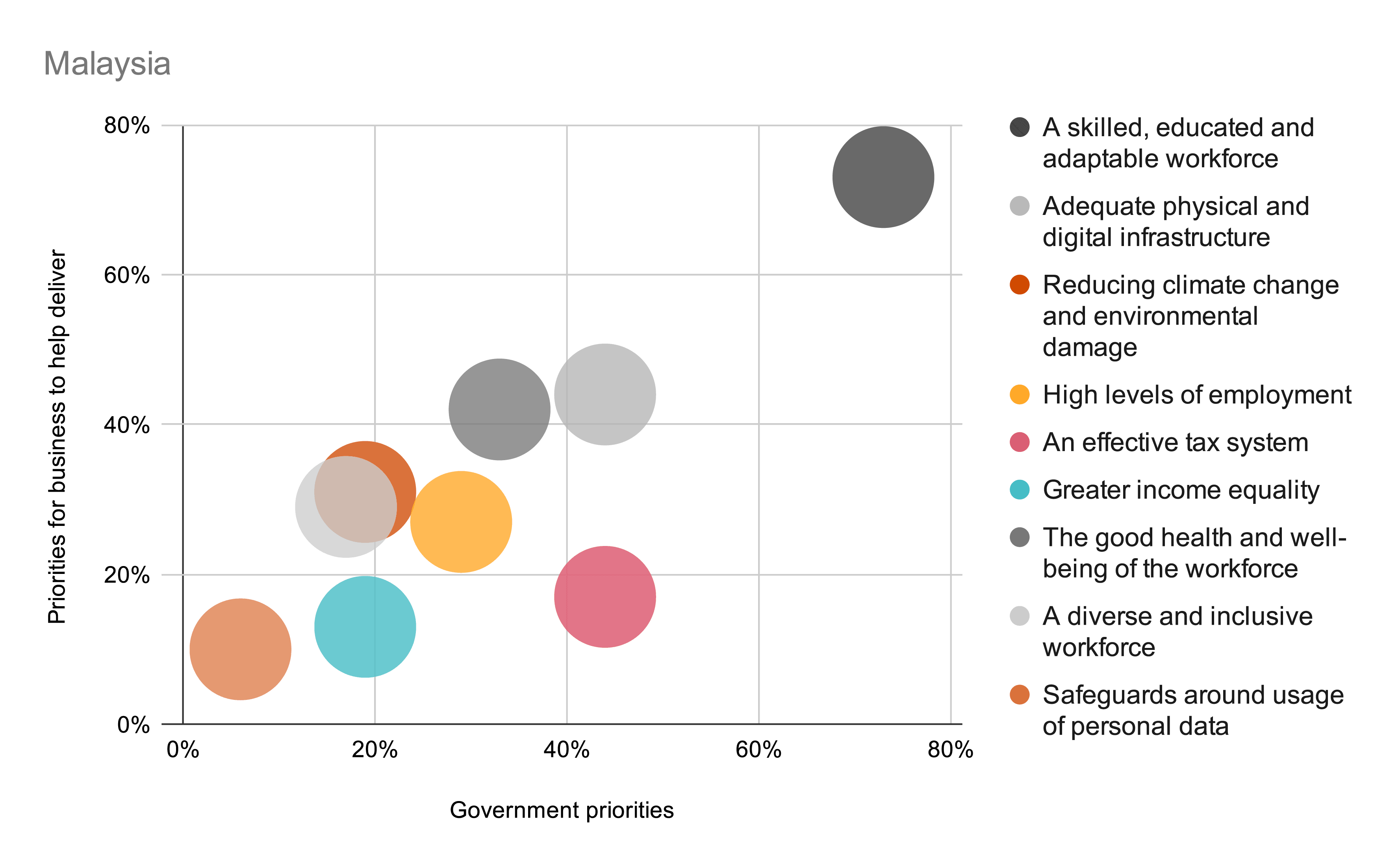 Digital transformation and the dangers lurking online
Just behind pandemics on things CEOs worry about is cyber threats, likely in response to a rise in cyberattacks over the past year. Cyber threats tied in third place with uncertain economic growth as areas of concern for Malaysian CEOs (58%). We saw similar sentiments reflected in the Malaysia cut of PwC's Digital Trust Insights Survey 2021, where 70% of respondents said that they would adjust their cybersecurity strategy due to COVID-19.
The rise of cyber threats on CEOs' list of concerns coincides with the rapid acceleration of companies' digital transformations during the pandemic, with no plans to slow down: nearly half of CEOs globally, and 56% of CEOs in Malaysia plan to increase their investments in digital transformation by 10% or more and 38% are planning to increase investments in cyber security and data privacy by 10% or more.
With digitalisation and cybersecurity becoming key pillars of organisations' strategies, it's clear that businesses need to move quickly to embed technology into their DNA, to align the value they can create with accelerating Malaysia's digital economy.
Q. How do you plan to change your long-term investments in the following areas over the next three years, as a result of the COVID-19 crisis? (showing Malaysia findings)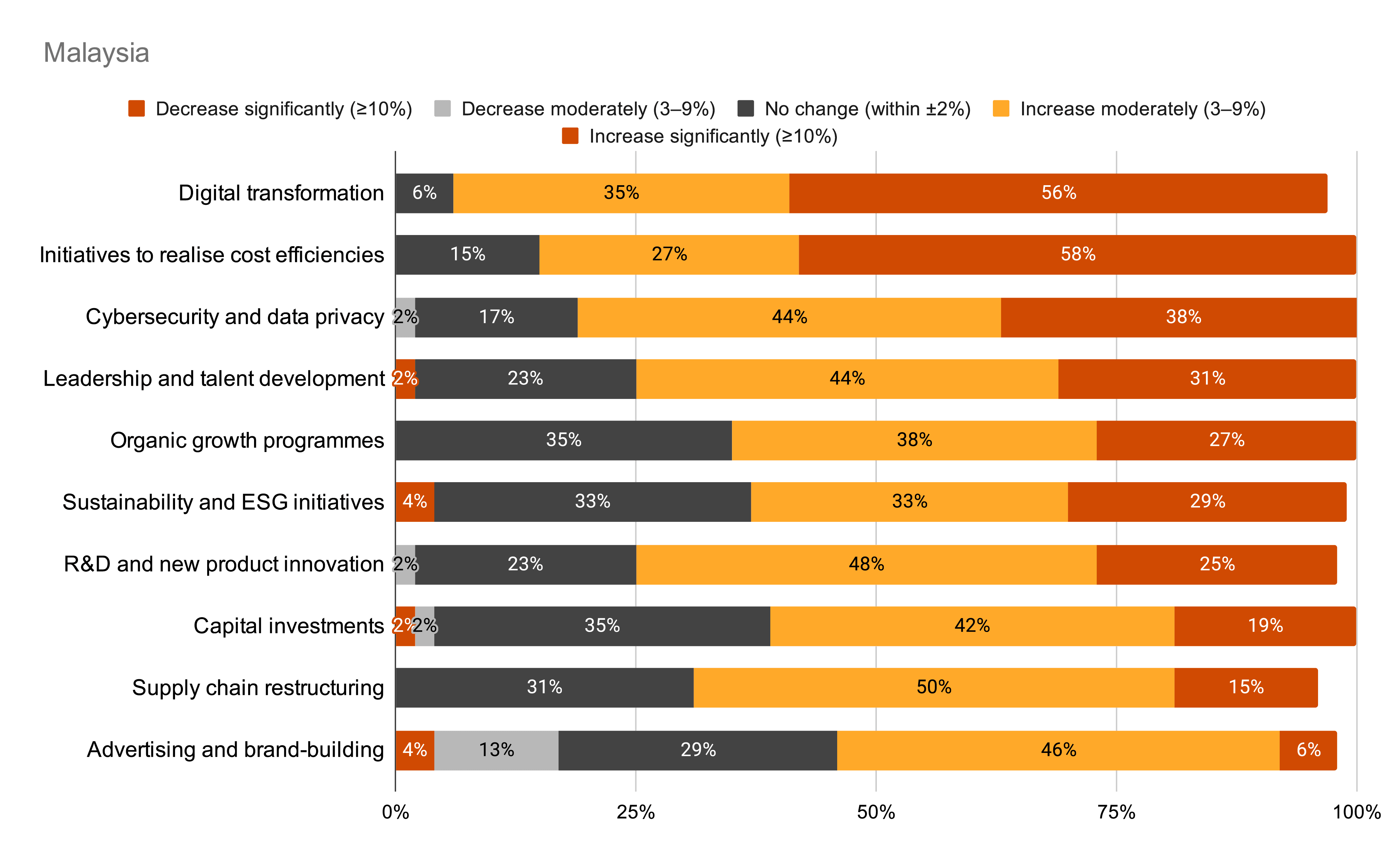 Climate change is not being approached with urgency
Surprisingly, the threat ranking of climate change has been solidly modest; it was selected by just 24% of CEOs globally in last year's survey, and 30% this year. We see this reflected in CEOs' risk management priorities, with only 40% of CEOs globally factoring climate change into their strategic risk management activities. In Malaysia, the trend is similar, with 35% of CEOs seeing climate change as a threat, and 38% tackling it as part of their risk management approach. Only 29% say they are looking to significantly increase long term investment in this area in the next three years, though a total of 68% say they are increasing investment overall (moderate and significant increase).
Despite the seemingly lukewarm reception of CEOs towards mitigating the impact of climate change, 2020 saw a number of Net Zero commitments made by countries and organisations worldwide.  As we've seen, Malaysian companies are facing increasing scrutiny in their environmental, social and governance (ESG) practices from regulators in other territories, institutional investors calling for corporates to disclose and address ESG risks, as well as rising public awareness. Malaysian organisations are taking heed; they believe they need to do more to measure (44%) and report (38%) on environmental impact.
Beyond reporting, ESG needs to be embedded in Malaysian organisations' strategies to future-proof themselves. Opportunities for ESG in Malaysia, for example, in renewable energy and the low carbon economy, are areas companies can start thinking about.
There's no overnight solution to running a business responsibly, but businesses can start by investing in the proper technologies to improve social and environmental performance, like water pollution and health and safety requirements. Leveraging these technologies can open up opportunities for businesses looking to improving their ESG management, and boost the country's global competitiveness and attractiveness for investors, especially now, given that sustainability is progressively securing its place as a core business focus worldwide.
Q. Which of the following threats, if any, are explicitly factored into your strategic risk management activities? (showing Malaysia findings)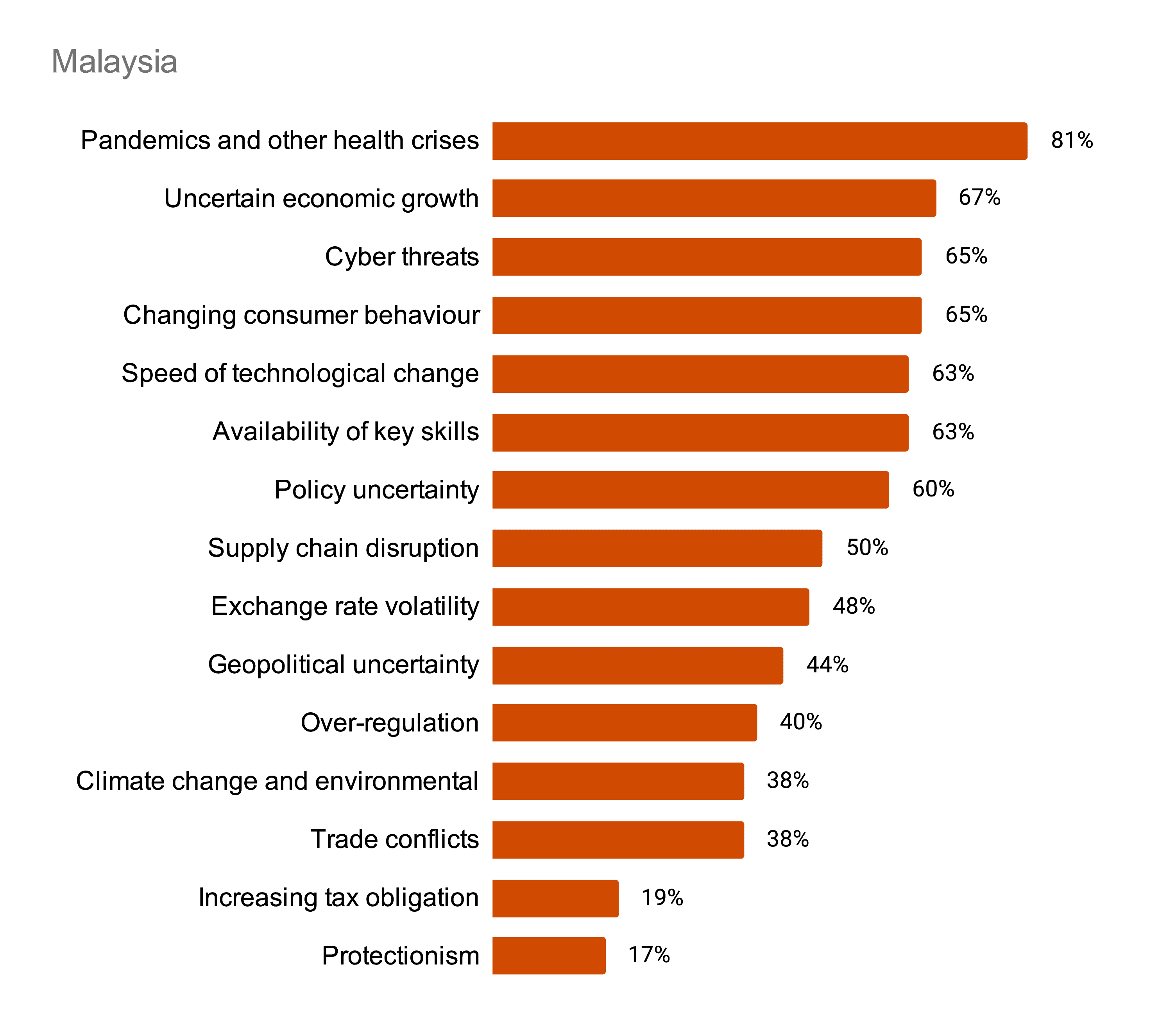 Malaysian CEOs, like CEOs everywhere, are still riding out the aftershocks of the pandemic. But for the first time in years, CEOs are starting to show more optimism about the world's economic trajectory and their own possibilities for reinventing the future.
However, we should not miss the trees for the forest – short-term interventions need to be balanced by long-term sustainable solutions. Digital transformation and upskilling are top of mind, but the focus on climate change and sustainability sits lower on the priority list than we're comfortable with. Addressing sustainability risks will require significant government policy interventions, long term planning and public private sector partnership, to secure our place in the future.
Most Read