The Securities Commission Malaysia (SC) has released an updated version of the Malaysian Code on Corporate Governance (MCCG) on 28 April 2021. The MCCG 2021 introduced new and updated provisions and best practices to improve board policies and procedures, strengthen oversight of sustainability risks and opportunities, promote meaningful engagement between the company and its stakeholders, improve the adoption of best practices and raise the quality of CG Report disclosures. Companies with a financial year ending 31 December 2021 will have to report on the adoption of these revised provisions. According to SC's Chairman, Datuk Syed Zaid Albar, MCCG 2021 supports boards in building the company's long-term resilience through the adoption and implementation of corporate governance policies and practices that will help the organisation to navigate during uncertain times and keeping the company on track in a changing world.
The updates focus on: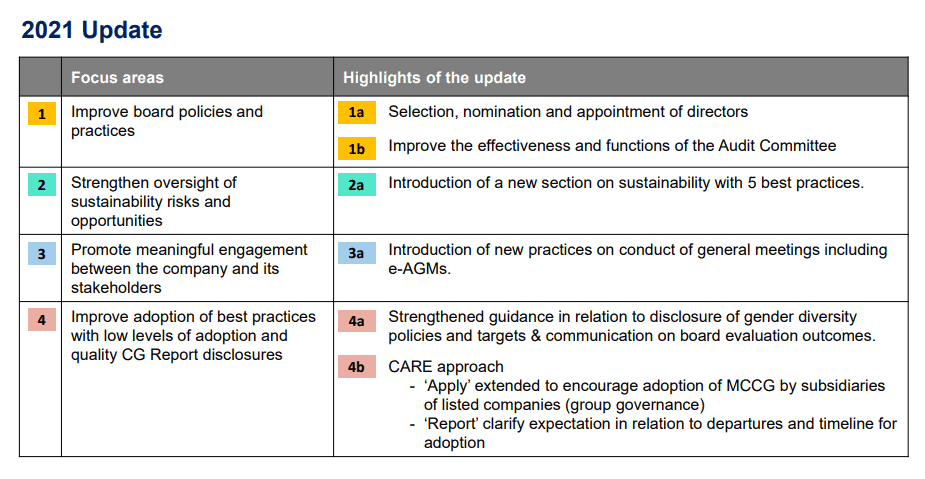 Click here to attend ICDM's MCCG Revision 2021 – Changing the Game in Corporate Governance Programme.
We can also conduct the session for your board and management as a bespoke service, please reach out to haniza@icdm.com.my for more details.
Click here for the full MCCG 2021.
---
The Summaries below provide a good overview of the MCCG:
---
For ICDM's latest publication on Malaysia Board Diversity Study & Index and the recording of the launch, click here.
To find out more about ICDM Director Sourcing services, click here.
To find out more about ICDM Board and Directors Effectiveness Evaluation services, click here.
To find out more about ICDM programmes, click here.