On 28 June, Prime Minister Tan Sri Dato' Mahiaddin Yassin announced RM150 billion Pakej Perlindungan Rakyat dan Pemulihan Ekonomi "PEMULIH" Stimulus Package with RM10 billion fiscal injections. PEMULIH is the second-largest stimulus package since the RM250 billion PRIHATIN  stimulus package that was announced in March 2020.
The three main focus of PEMULIH are: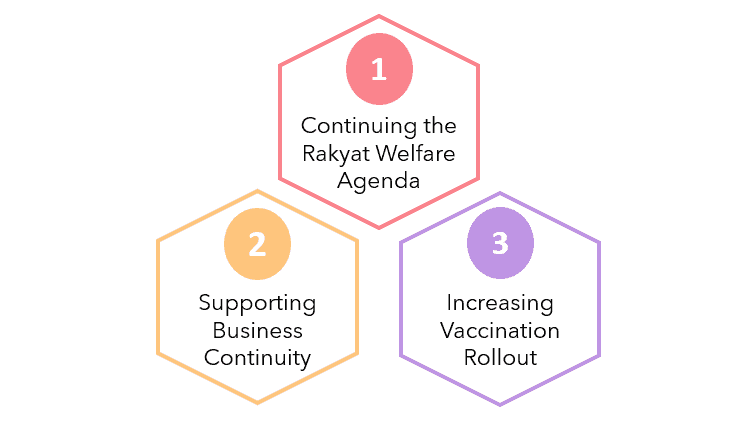 Below are some of the highlights of the PEMULIH package in supporting business continuity:
Human Resource Development Corporation (HRD) levy payments will be automatically exempted for two months for employers that are unable to operate during phase one of the recovery plans.
Employers from the new sectors from the expansions of the Human Resources Development Fund Act 2001 will be given a levy extension until 31 December 2021.
10% electricity bill discounts will be extended until December 2021 for hoteliers, theme parks, convention centres, shopping malls, local airlines offices, and travel agencies.
Wage Subsidy Programme (WSP) 4.0 will be supporting 500 employees per employer with RM600 per employee for four months.
There will be no salary limit conditions which previously were capped at RM4,000 a month.
Two months of the WSP4.0 will be given to all sectors in the second phase of the National Recovery Plan (NRP).
Another two months for sectors categorised as negative in the third phase of NRP.
Extension of PenjanaKerjaya Programme with several improvements such as:
Salary eligibility from RM1,500 to RM1,200 for the Malaysianisation programme to give incentive for the employer to hire local workers.
Employment contract period will be reduced from 12 months to 6 months for employees aged 50 and above, disabled persons, and ex-convicts.
Increase of RM20 billion guarantees ceilings from Syarikat Jaminan Pembiayaan Perniagaan (SJPP) to assist SME's business expansion as well as for working capital.
Additional RM2 billion from Bank Negara Malaysia to aid Micro SMEs and SMEs to get access to financial assistance.
Prihatin Special Grant (GKP) 4.0 amounted to RM1,000 will be distributed to Micro Enterprises in September and November 2021.
Additional RM100 million for SME Digitalisation Grant for Micro SMEs and SMEs to get matching grant of up to RM5,000 for purchase or subscription of digital systems.
A six-month blanket moratorium for all individual borrowers across all income brackets and SMEs and all applications will be automatically approved.
The summaries below provide a good overview of the PEMULIH Stimulus Package:
Baker Tilly Tax Updates 29 June 2021 | PEMULIH (Pakej Perlindungan Rakyat dan Pemulihan Ekonomi) Stimulus Package
Summaries and full speech of PEMERKASA+ initiative is available here.
Refer to PEMULIH infographic here.
Full speech of PEMULIH Stimulus Package is available here.