Synopsis
In entrepreneurship, you have to come to terms with the reality that there is no certainty in anything. The life of a business owner is fraught with regular unpredictability, and business people are taught to be continuously prepared, and be ready for any eventuality.
This session will talk about entrepreneurial mindset for the SMEs where it is about being able to take calculated risks, accepting uncertainty, learning to best utilise your limited resources, influencing people around you, and creating an environment where your team is willing to push themselves for an idea while breaking through their barriers of fear.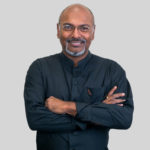 Shankar R. Santhiram
Executive Leadership Coach & Managing Consultant of EQTD Consulting Malaysia
Shankar R. Santhiram is an Executive Leadership Coach. He is also Managing Consultant of EQTD Consulting Malaysia. He obtained a law degree from the University of Sussex in the UK in 1993.
Through a 20-year career of being the chief executive of two institutions of higher learning, and by entrepreneurial leadership of numerous start-ups, Shankar has first- hand practical knowledge in managing teams effectively, for the delivery of outstanding results.
Shankar has a daily radio segment on Lite Malaysia called the "The Right Perspective with Shankar Santhiram". Since 2016, Shankar also writes a weekly column called "Work, Matters!" every Friday in the Business section of the New Straits Times (NST).
In June 2016, Shankar released his first book, "So, You Want To Get Promoted?" Distributed via MPH Distribution, the book has to date, sold over 3000 copies, making it a national bestseller.
At present, apart from his work as an Executive Leadership Coach and Consultant, Shankar also owns or has substantial interests in a range of businesses, from Malaysia's first dedicated stand-up comedy club, a restaurant in Kuala Lumpur, to a boutique hotel and landscaping business in Austria.