Malaysia report of PwC's 2020 Global Economic Crime and Fraud Survey is a biannually survey to better understand fraud, corruption, and other economic crimes.  From the report, fraud in Malaysian organisations remains at worrying levels, affecting businesses in more diverse ways than ever before. Since the last survey in 2018, the incidence of fraud in Malaysia remains high.
43% of Malaysian respondents have experienced fraud or corruption within the last 24 months (vs 41% in 2018). Trust continues to be fragile as organisations in this part of the world continue to grapple with bribery and corruption, asset misappropriation and cybercrime among other disruptive frauds. Malaysia has seen a big fall in fraud committed solely by internal perpetrators. However, collision between internal and external actors, which is a form of bribery, has risen and is much higher in Malaysia (35%) than the rest of South East Asia (21%).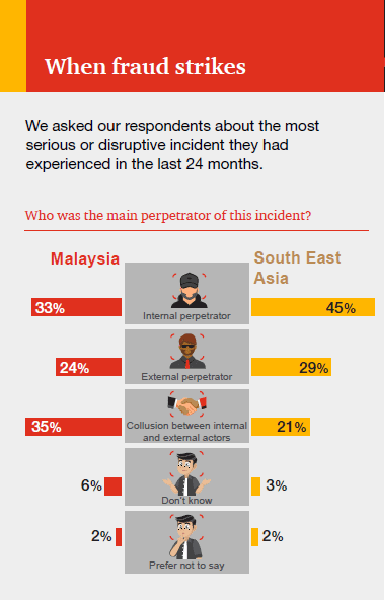 According to the report, fraud was detected mostly through suspicious activity monitoring (18%) and internal audit (10%), up from 4% in 2018. However, fraud detected through tips-off and whistleblowing hotlines fell significantly from 42% in 2018 to 14% today.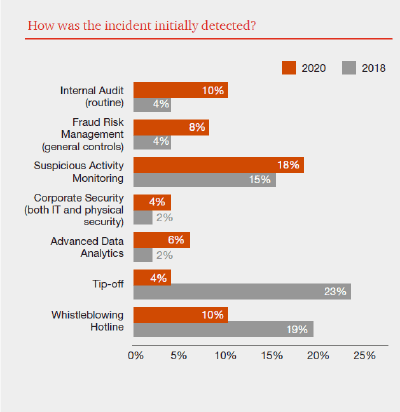 Organisations are also not doing enough to report their most serious incidences, which indicate that they do not fully understand the root causes of the crisis impacting them. These findings signal an urgent call for Malaysian companies to be proactive in combating fraud.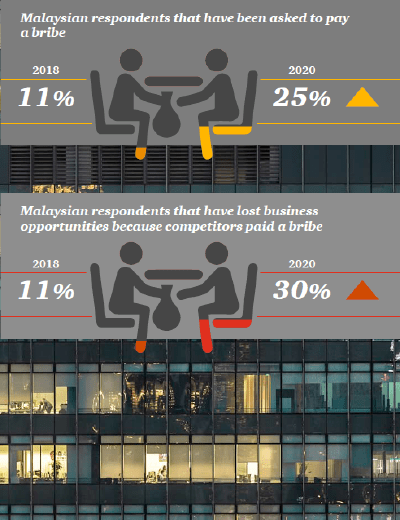 To read more about PwC Malaysia's cut for Economic Crime and Fraud Survey, click here.